How to Remove a Watermark Using VSDC and Other Mac/Windows Software
There is no shadow of a doubt that the VSDC is a potent instrument for the editing of videos. It produces a wide variety of visually arresting effects for videos. Some can be implemented with just one click and do not call for any prior expertise. PIP, video stabilization, and the capability to upload several files at once are some of the unique features exclusive to VSDC that you won't find in any other free video editor. Since it can do different things, some people want to try using it to eliminate watermarks. So, if you desire to know how to remove watermarks from a video in VSDC, read the information below.

Part 1. Brief Introduction to VSDC Free Video Editor
The VSDC Free Video Editor is an excellent program that lets you easily modify the movies you like using. It is easy to use for novices and more experienced users on a tight budget. It is compatible with all audio and video formats and codecs. It lets users record voice commentary, capture desktop screen activity, and record video.
The program comes with a wide variety of video effects, including a backdrop remover, split monitor, and color grading, amongst others. Vloggers, video gamers, and action camera owners make up most of VSDC's active users.
When you export your files using VSDC, watermarks will not appear on them. You are free to watch the videos you edit here without the facility's watermark appearing on them. It is highly recommended that you buy the product to access all of the additional video editing tools. The watermark you placed on the movie cannot be removed using this application, even though it is a free editor.
Part 2. How to Use VSDC To Remove Watermark
In VSDC, removing the watermark may be accomplished in several methods. However, we shall concentrate on making use of the De Logo. If you choose to use this strategy, the watermark will be rendered almost undetectable. This guide will exhibit how to use DeLogo to get rid of the watermark in VSDC.
Step 1: Follow the on-screen instructions to finish installing the VSDC Free Video Editor. After that, import your file by selecting Open Project from the drop-down menu.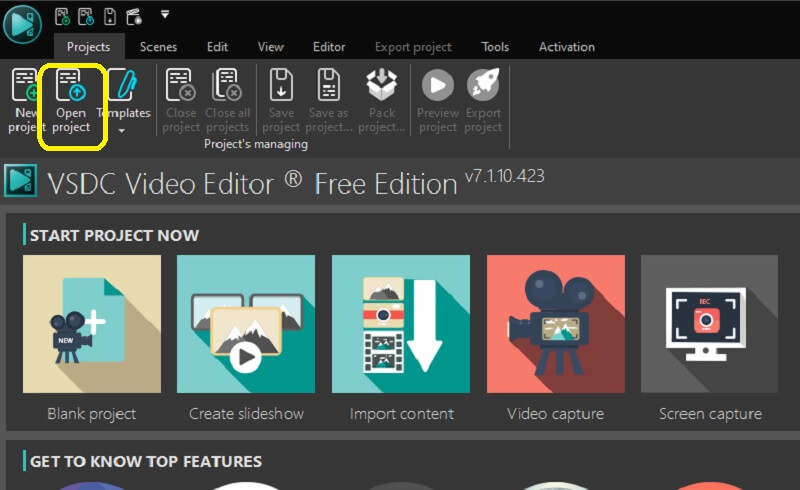 Step 2: Launch the Video Effects menu, and then go to the Filters option from the menu bar. Following that, select the DeLogo option.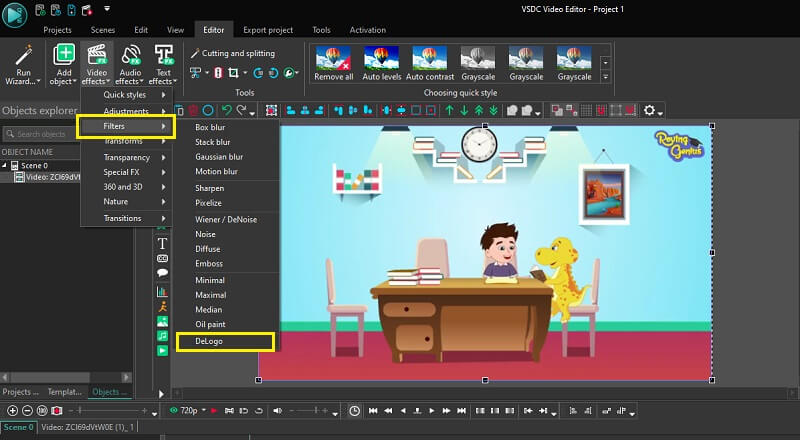 Step 3: Take note of a pixelated patch in the form of a rectangle in the image. Meanwhile, a new tab will appear on the timeline with the DeLogo filter already applied to it. It is now possible for you to store it on your device.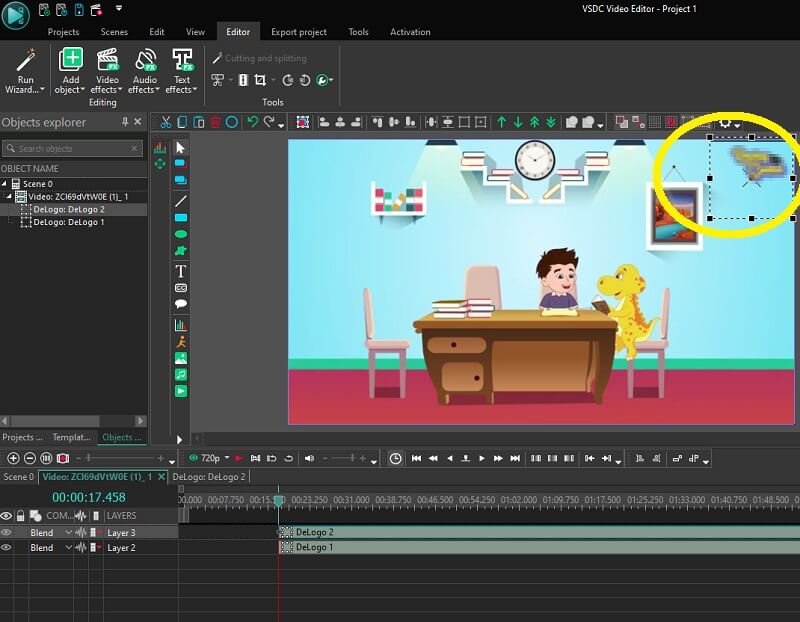 Part 3. Best VSDC Alternative to Get Rid of Watermark
Vidmore Video Converter is the most cutting-edge and robust software available to you for removing the VSDC watermark from your videos. This utility allows you to directly disable the watermark removing function, which is something that many other pieces of software do not provide you. It does a thorough job of erasing the movie's watermark while leaving no sign of the region from where it is removed, which is where you initially placed the watermark.
In addition, this instrument has advanced features and capabilities that are absent from competing for software packages. This application supports artificial intelligence technology. There is nothing to be afraid of about your computer's specifications since the program is compatible with low-end versions of both Windows and macOS. Importing and exporting are both areas in which it performs very well in terms of performance. There is nothing more to look for outside the detailed guide provided below on how to use VSDC to erase the watermark placed on the video.
Step 1: You may start downloading the program straight to your desktop by clicking the Free Download button that can be seen below. After that, go with the required installation and configuration steps, and click the Start Now button to launch the application on your desktop.
Step 2: After starting the program, navigate to the Toolbox menu and choose the Video Watermark Remover option to employ the software's most potent watermark remover.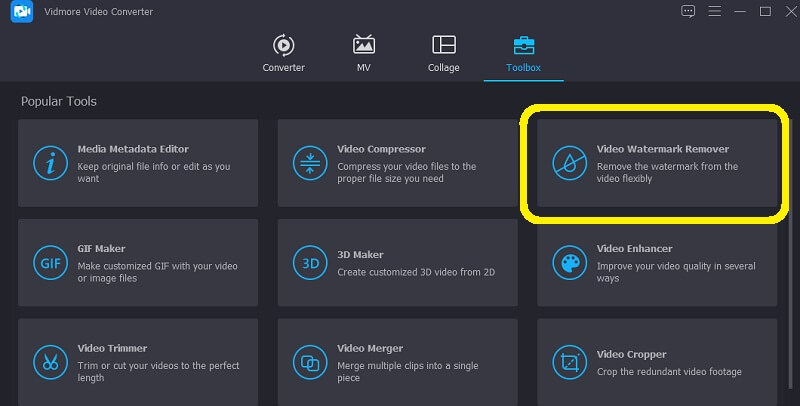 To submit the video with a watermark, you must click the Plus sign on the window that will appear on your screen.
Step 3: Choose the area from which you want the watermark removed, and click the Add Watermark Removing Area button. When you publish the video, you won't be able to see the watermark on it. So you can relax and enjoy viewing it once you've placed the selection box over the region containing the watermark and covered it completely.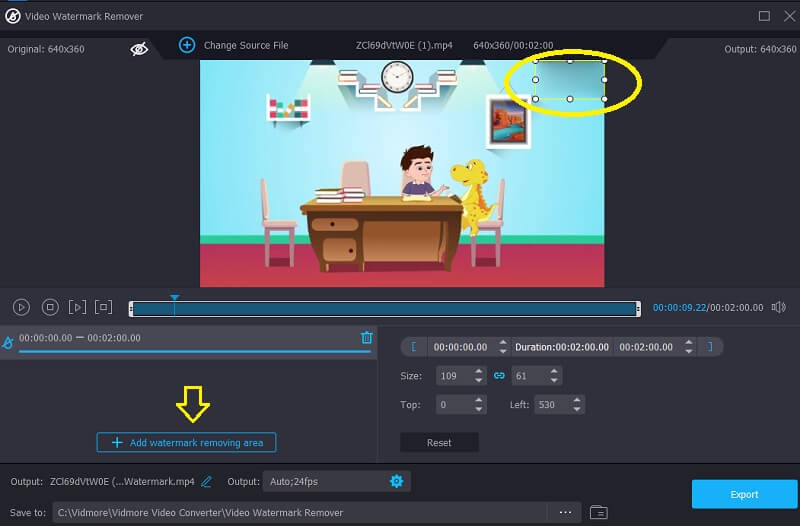 Step 4: To save the clip without the watermark, you must click the Export option once the watermark has been removed.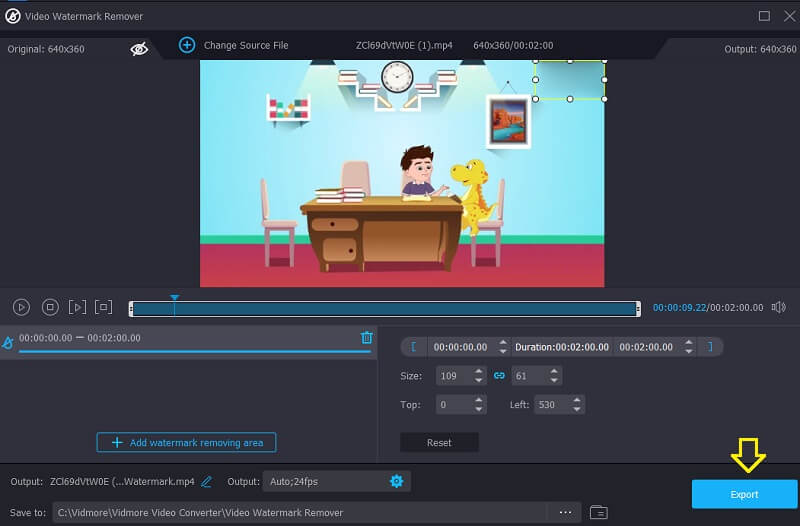 Part 4. Comparison Chart
| | | |
| --- | --- | --- |
| Features | VSDC Free Video Converter | Vidmore Video Converter |
| Supported by Mac and Windows | | |
| Easy to use | | |
| With various editing tools | | |
| It accepts more than a hundred file formats | | |
Part 5. FAQs About Removing Watermark in VSDC
How much does it cost to use VSDC?
VSDC is offered as a free program and a Pro edition, which you can purchase for $19.99. This price is substantially lower than other software suites that perform the same functions. The software provides the standard assortment of functions that users have come to anticipate, such as clip editing and editing, transition effects, and audio insertion.
Is VSDC capable of displaying 4K content?
If you want, you may export movies with this program at a resolution of up to 4k. Nevertheless, the procedure is time-consuming compared to processing other video resolutions, such as 720 and 1080. Even though the rendering process will take the same amount of time, the tool can still produce a very high definition video quality, such as 4k, if required.
Is VSDC superior to Premiere?
Reviewers agreed that VSDC Free Video Editor offers the highest level of continuing product support, making it the superior choice among the available choices. The Adobe Premiere Pro strategy was favored by our reviewers more than the VSDC Free Video Editor direction regarding feature releases and guidelines.
Conclusions
For VSDC to remove its watermark, you need an authentic watermark that you can count on. You may rely on the most powerful software available as an alternative to VSDC if you find that you are having difficulty carrying out the task. The Vidmore Video Converter is in question here. This program will undoubtedly provide you with all the support you want.