Resize Images in Word and with an Online Program Quickly and Easily
Enlarging and shrinking fall on the same meaning, which is resizing. These operations are popular in photos. You will shrink a photo when you are going to send photos through email or posting on the web. Meanwhile, enlarging a photo is best for printing or making high-resolution images. Whatever your reason is, there is a program appropriate for your needs.
This tutorial will teach you how to resize a picture in Word. That is right! Besides being a text process, Microsoft Word may also serve as your photo resizer. You will be surprised just as we are after reading the post. On that note, see how you can resize a picture using Microsoft Word after the jump.

Part 1. How to Resize a Picture in Word
If you are only using Microsoft Word for processing text, it is about time that you will learn about its other capabilities. You can also rely on Word if you need to resize a photo. That is right. You can either enlarge or shrink a photo using this program. Not to mention, the height and width can be resized individually to get your desired photo dimension. Additionally, users may apply artistic filters and effects. There is a pencil sketch, light screen, photocopy, pencil grayscale, and many more.
Apart from that, you can also adjust the size using the cropping tool of the program. Crop to different shapes if necessary. On top of that, you may resize photos by simply clicking and dragging. In other words, you have the method of setting the exact height and width as well as the clicking and dragging methods.
Follow the step-by-step tutorial below to learn these methods:
1. Set an Exact Height and Width
Step 1. Open your Microsoft Word on your computer and open the document that has the photo you wish to resize. You may also load a picture by clicking Insert on the ribbon above. Tick the Pictures and load your target photo from your folder.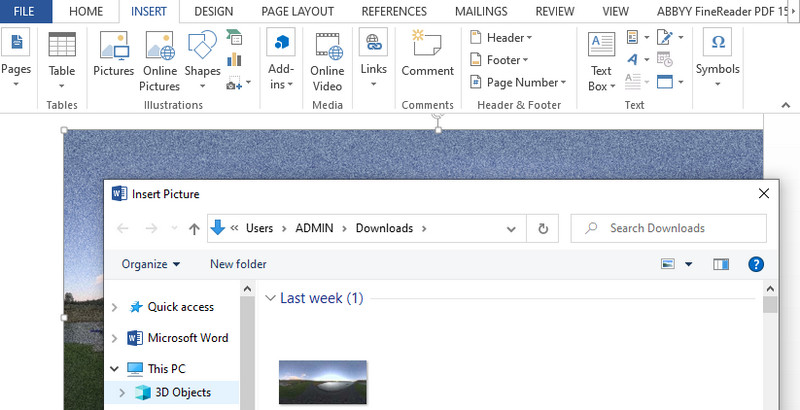 Step 2. Next, hit the Picture Format or Format under the Picture Tools menu. Then, the options for resizing and editing photos will show up in the menu. On the Size menu, you will see the field for Width and Height. To resize, you can type in the value or use the up-down arrow.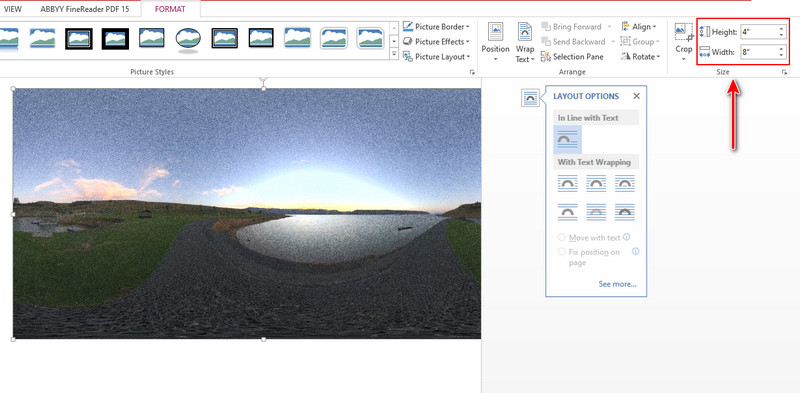 Step 3. You may also resize the photo to the exact proportion by opening the Layout menu. Tick the small icon next at the bottom right corner of the Size menu. Then, a dialog box will appear, allowing you to edit the dimension, rotate, and scale by percentage. If locking the aspect ratio is not your thing, you can also disable it here. Once done, hit the OK button.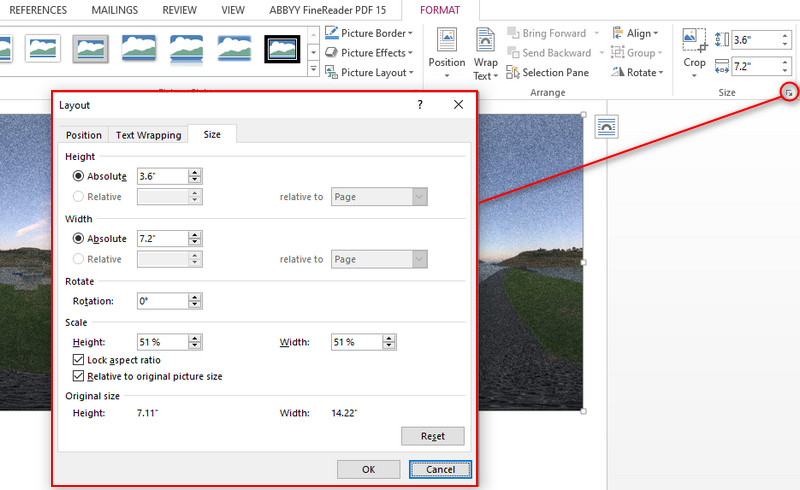 2. Click and Drag an Image to Resize
Step 1. In the same drill, launch the Microsoft Word application on your personal computer and load the document with the photo you wish to resize. Do the same procedure as above when loading photos from your computer.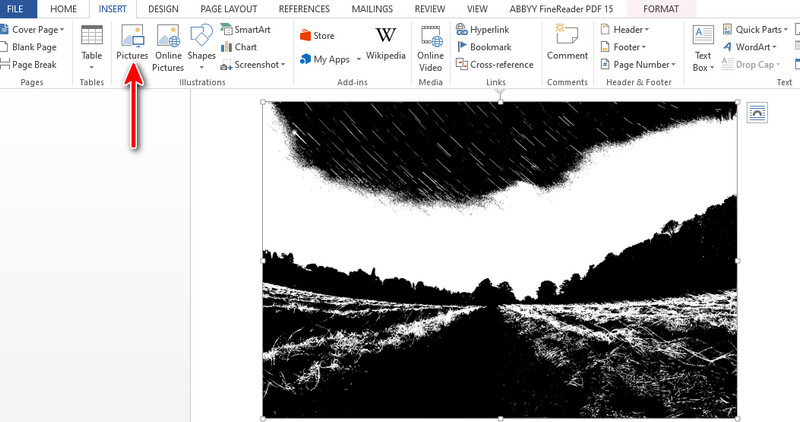 Step 2. This time, select the photo to see the Sizing handle on the photo's edges. You will notice that each corner of the photo has a sizing handle. It means you can resize from a particular corner, left, right, bottom and top.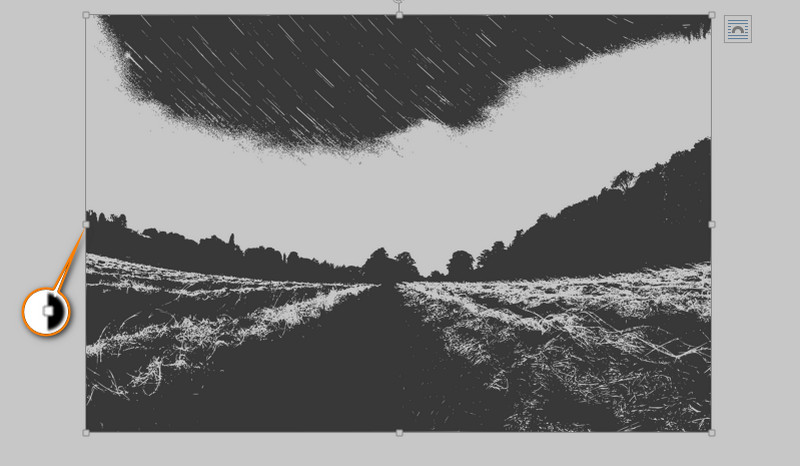 Step 3. Suppose you want to keep the original proportion of the photo. Press and hold the Shift key on your computer keyboard. Afterward, drag the photo until you get the desired size of the photo. That is how to resize a picture in Word.
Part 2. Best Way to Resize Pictures Without Losing Quality
You may also use a program dedicated to resizing an image, such as Vidmore Free Image Upscaler Online. The app has the ability to enlarge a small photo with excellent quality. Moreover, it works for clearing up blurry photos. Therefore, if you wish to enlarge and clear up blurry photos, this program is your best option.
Besides that, the tool comes with four magnification factors, giving you four results. You can adjust the upscale factor between 200, 400, 600, and 800. Best of all is you can view the original and resultant photo's details using the magnification tool. You can rely on the steps below if you wish to learn how to resize a picture in Word alternative.
Step 1. Go to the program's website by typing its link on your browser's address bar. You can launch any browser on your computer, or you prefer.
Step 2. Next, import your photo to resize or upscale by ticking the Upload Photo button. Also, you may drag the photo from your computer folder to the upload area.

Step 3. When successfully uploaded, the photo will be upscaled to 2X by default. On the other hand, you may change the upscale factor, quality, and size. You can choose between 2X, 4X, 6X, and 8X. During upscaling, hover over the photo to see the comparison of details from the original and resultant picture.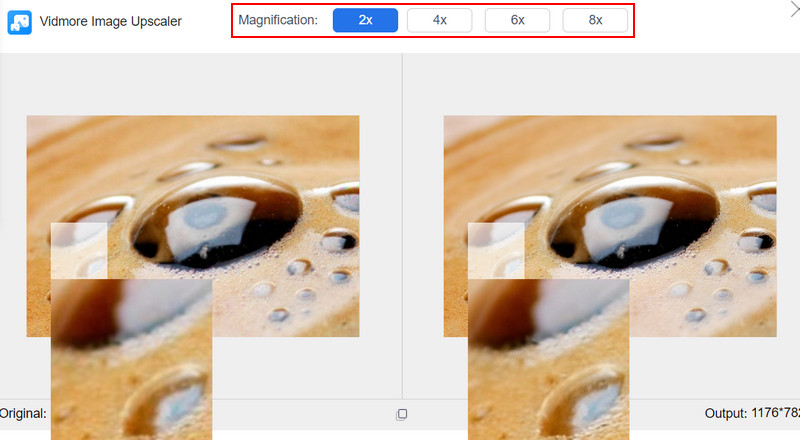 Step 4. Lastly, hit the Save button at the bottom right corner to download a copy of your modified picture. Meanwhile, you can process another photo by ticking the New Image button on the opposite side of the Save button.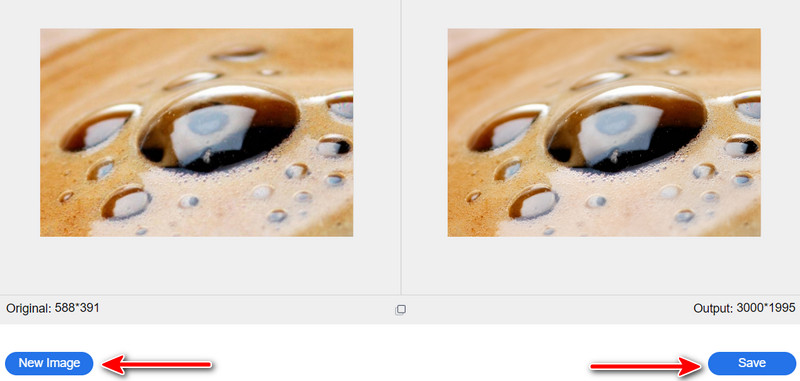 Part 3. FAQs About Resizing Pictures in Word
How can I resize photos in Word while maintaining the proportion?
This is where the lock aspect ratio comes into play. Simply navigate to the Layout menu, and the layout window will appear. Now, put a mark on the Lock aspect ratio option under the Scale menu. This operation will help you resize proportionally.
How can I resize automatically in Word?
The automatic way of resizing a photo in Word is by using the Size group. You can set the precise size of height and width. Now, the manual way is by dragging the sizing handles of a photo.
Can I save an image to a picture format in Word?
No, there is no option for saving pictures as an image format in Word. What you can do is by converting the Word doc with pictures and convert it to PDF. After that, you can convert it from PDF to PNG or JPG. Some tools will help you turn Word doc into an image file.
Conclusion
True enough, Microsoft Word does not only function as a text process. It may also work as a photo resizer, as seen in the how to resize a photo in Word tutorial above. Aside from that, you can also look forward to this feature on Vidmore Free Image Upscaler to enlarge a picture with excellent quality.