Resize BMP Online: 5 Reliable Ways to Change Image Size
Images have multiple file formats. Some are in the JPG, PNG, TIFF, and WebM file formats. Additionally, some of the photographs are in BMP format. A picture stored in the Bitmap raster image format that Microsoft created is a BMP file. Along with the image information, it consists of uncompressed image data that you may use for either black-and-white or color pictures. The BMP file format is widely used to store 2D digital photographs. Despite this, there are situations in which you will need to modify the size of a BMP file. This article is meant for you if you are seeking a solution to the problem. Find out how to resize BMP in the following sections below.

Part 1. How to Resize BMP Online Without Losing Quality
1. Vidmore
It is a good idea to resize BMP photos with the assistance of several professional image editing software. However, not everyone will find these technologies to be user-friendly. And here is where having an image resizer that is enhanced with artificial intelligence may be of great assistance to you. Vidmore Free Image Upscaler Online is yet another online application that will assist you in resizing your image so that it is saved in BMP format. This website offers a free online picture resizer, as suggested by its name. This application does not need you to sign up for a subscription or pay for a premium plan to use all of its capabilities.
Vidmore Free Image Upscaler is compatible with any operating system device. Any browser will allow you to alter the picture size you're working with. Another thing, for novices who only want to modify the size of their photographs, it is highly recommended that you do this. The assistance of the artificial intelligence built into the instrument explains this. It takes just a few clicks to accomplish the automated resizing of the picture. Images may be resized and zoomed up to 8 times with Vidmore's help. And lastly, even if the picture is scaled down, the resolution quality is not affected in any way.
Step 1: Go to the website's homepage, click the button that says Upload Photo, and then find the image you want to make larger.

Step 2: After you have uploaded the photo, you will be given a selection of scale levels from which to pick. Vidmore allows users to magnify images up to eight times their original size.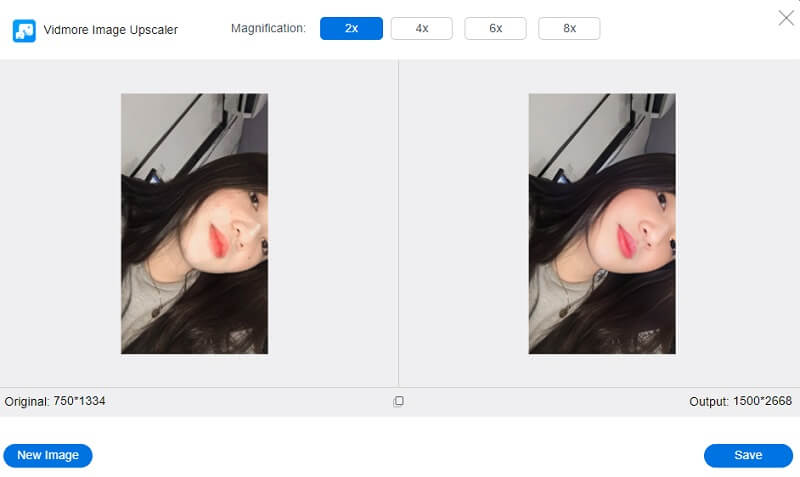 Step 3: If you have already attained the required size, you may continue saving it on your file. There is no need to delete it. Use the Save icon to keep your modifications.
2. Promo Image Resizer
You can rapidly upload a picture to Promo Image Resizer since it is an easy-to-use tool with a drag-and-drop user interface. It enables you to swiftly add a photo by dragging it to the specified area, designating a file path, or pasting a link. You can also choose a file size. After that, you can easily change it to whatever size you want so that you may post it to your social network account. Images may also be resized so they can be emailed or posted on a blog. This service supports these types of advertising formats.
When you use this service, changing the dimensions of your picture in preparation for uploading it to a social networking platform is fast and easy. When the picture has finished being processed, you will have the option to save it to your device. Before resizing a picture, you have the option to choose whether you wish to resize the whole photograph or only a portion of it.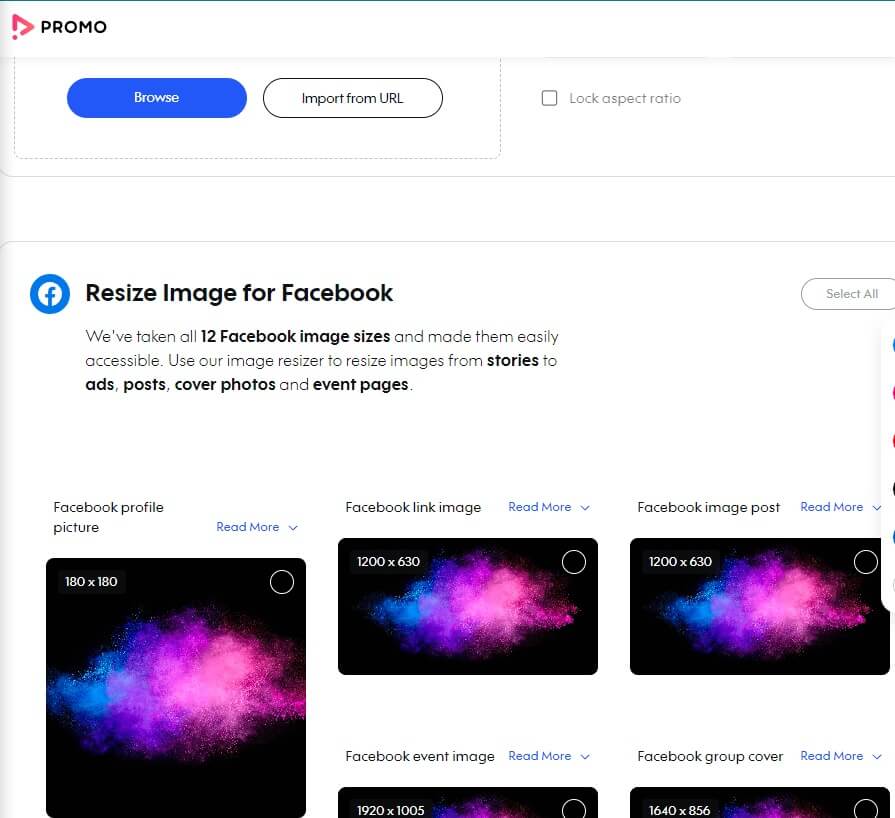 Pros:
It comes with a variety of pre-made templates.
It features a straightforward user interface.
It provides a wide variety of picture sizes.
Cons:
There is no assurance that it is risk-free.
3. Online Image Resize
Suppose the only modification you need to make to your picture is to change its size. In that case, you may utilize the most basic image resizing software. You may make changes to the size of the image by simply sliding the slider in this software, which is the primary option available. You may also change the proportions of the photographs, but you could crop them instead. This tool enables you to do several other things, like rotating or mirroring the image, so it is beneficial. This bare minimum of capability enables the application to process photographs in bulk and individually, allowing it to do so at lightning-fast speeds.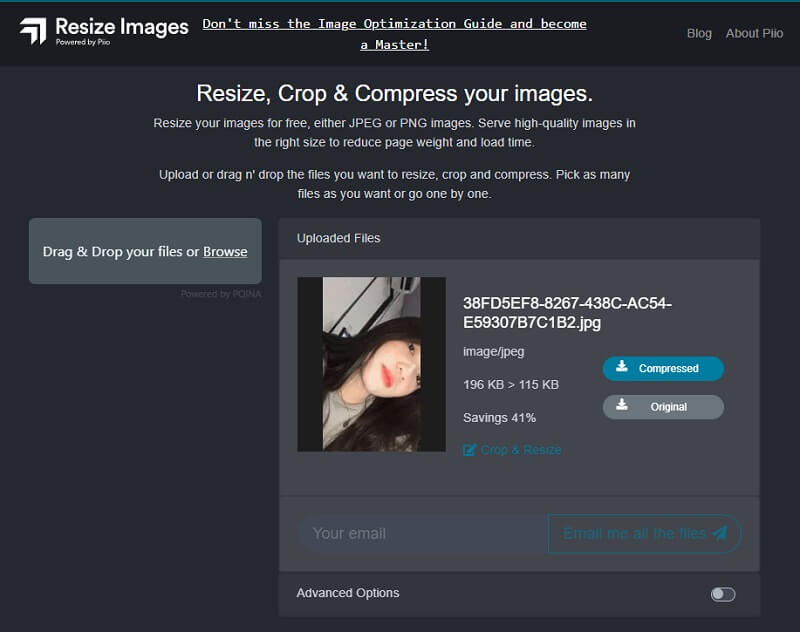 Pros:
It is simple to put into use.
You can adjust the quality of your photographs by your preferences.
It gives you a chance to compare the before and after images.
Cons:
It provides access to a restricted number of editing tools.
4. iLoveIMG
Another excellent method for adjusting the dimensions of your photographs is the iLoveIMG. Because it is an online service, you can do uploads simply from local and cloud storage. In addition to the standard file formats, a few less common ones are supported. Processing in bulk is exceptionally well-organized, and you have access to a few tools that might assist. For example, suppose you have several different photographs of varying sizes. In that case, you may adjust the settings for all of them to have the exact dimensions, resulting in some images being cropped while others being stretched. You also have the choice of modifying so that you may avoid retouching the smaller photographs and maintain the quality of the larger ones.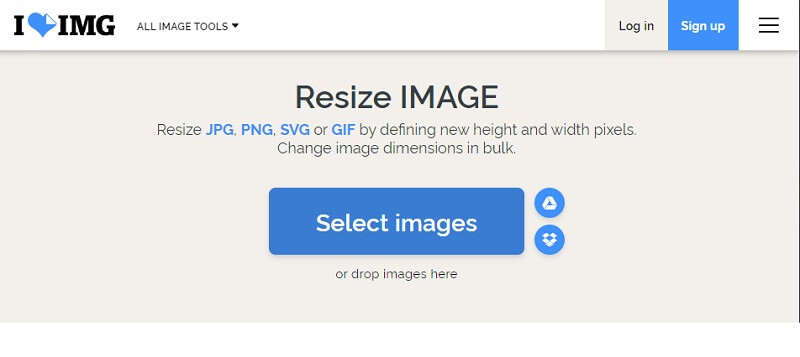 Pros:
It enables the processing of images in batches.
Cons:
Image resizing in percentage mode is not supported by this tool.
5. Bulk Resize Photos
This software can simultaneously process many different photos, as suggested by the program's name. It is the most straightforward choice that you could make, given the circumstances. There is no need for payments to be made, nor is an account even required, and the website's user experience is relatively straightforward. This free photo resizing program also has various methods for cropping pictures for you to choose from. The most popular types are percentages and precise measurements; however, you may also restrict the width or the height. It is possible, for instance, for landscape and portrait photos to have a width identical to what you've given, which makes batch processing relatively straightforward.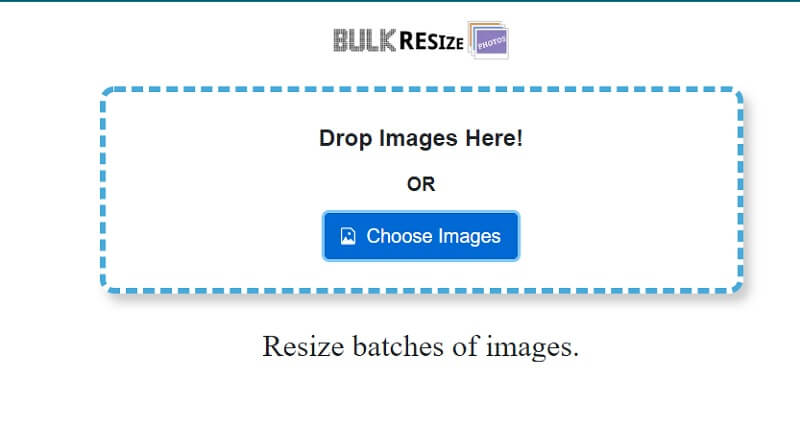 Pros:
It features a straightforward user interface.
It enables the processing of images in bulk.
Cons:
Cloud storage is not included in this product.
Part 2. FAQs on How to Resize BMP
What are the key distinctions between JPG and BMP files?
In contrast to the JPEG standard, the BMP file format permits editing, manipulation, and relocation of images without degrading their quality.
What are the limitations of the BMP file format?
The BMP file format may be obsolete since it was first developed for older Windows desktop apps. Back when mobile, Android, and Apple devices weren't as expected. Compared to JPEGs and PNGs, uncompressed BMPs may have substantially greater file sizes, making it more difficult to send them to other people.
Do you recommend PNG or BMP?
PNG files can store more colors, be transparent, and compress without losing quality, all while being smaller in size. In conclusion, compared to BMP, the PNG file format is superior since it can do everything with a smaller file size than BMP.
Conclusions
That takes us to the end of the discussion! It is not necessary to have any previous experience to resize BMP pictures. Resizing BMP online is possible with the aid of the AI picture resizers listed above.