Top Programs to Enhance Low Pixel Pictures Online and Offline
You may have gone through a situation wherein you did not have a good grip on the camera or phone which turns your photo blurry. There are also instances where you ask someone to take you a photo but are not a techie in photo-capturing. That is frustrating, especially if you are stuck with just one blurred photo. You likely want to take another shot, but getting back to the venue is a hassle.
Fortunately, you can create high-resolution images from your low-res photos. By then, you will be confident in sharing or posting them online. On that note, this post will walk you through the process how to restore low-resolution photos using the recommended programs. Check them out below.

Part 1. How to Restore and Enhance Low-Resolution Photos Online
You can obtain natively high-resolution files with practical upscaling tools, like Vidmore Free Image Upscaler Online. The program is infused with advanced SRCNN neural network AI technologies responsible for enhancing photos without losing quality. In addition, this feature will give you a simple and safe experience of the program. On top of that, it runs well on all mainstream browsers, including Google Chrome, Edge, Safari, etc. For more features of the program and a step-by-step guide on how to low-resolution images, continue reading below.
Key Features:
◆ It offers an auto enhancer feature for super-resolution photo output.
◆ Upscale photos to different magnification factors.
◆ It supports almost all popular formats, such as PNG, JPG, TIF, BMP, etc.
◆ Enhance photo's quality on a web browser without installation required.
◆ Preview the output before downloading it to your computer.
Step 1. Visit the program's website
Open your preferred browser and visit the Vidmore Free Image Upscaler Online website. Once you reach the homepage, hit the Upload Image button, and your file folder will appear. From here, select and load your desired photo into the program. Remember that the image cannot exceed 5MB, but you can upload any image format.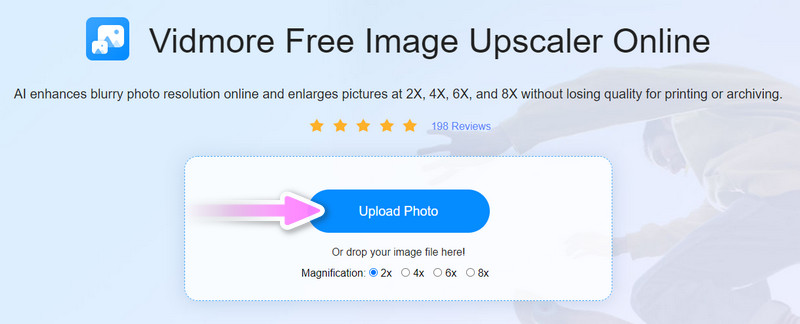 Step 2. Upload an image and adjust the magnification factor
Upon uploading your photo, the program will automatically upscale the photo by a 2X magnification factor. On the other hand, you can upscale the photo by 4X, 6X, or 8X while maintaining the quality.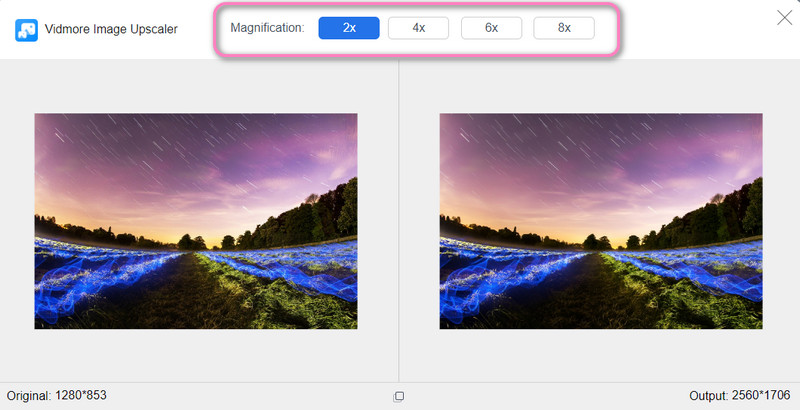 Step 3. Preview and save the modified photo
After upscaling the photo, hover over the image to see the details or the changes in the upscaled photo. Once satisfied with the results, click on the Save button at the bottom right corner. To process another photo, simply press the New Image at the bottom left corner. That is how to restore low-resolution photos with ease.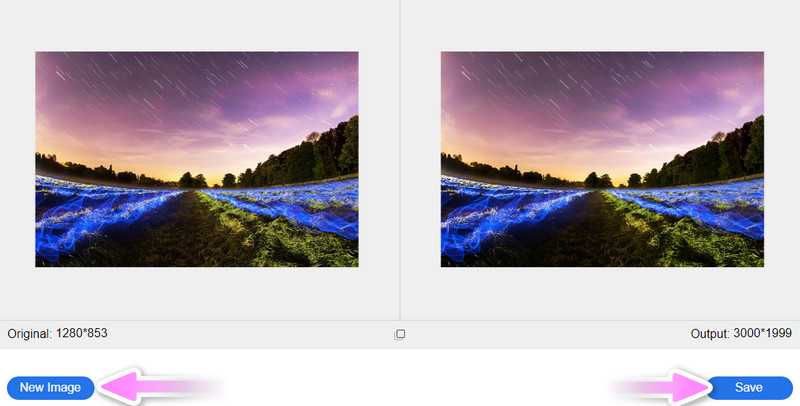 Part 2. How to Enhance Low Pixel Pictures Using Photoshop
A professional photo editor is also of great help in terms of low-resolution image fixes. Photoshop comes with a myriad of editing methods. Thus, many graphic designers use it, even typical people who are into photo editing. Ultimately, it enables you to adjust the resolution of your photo. You can either increase or reduce the resolution accordingly. In addition, you can choose to resample the image and alter the width and height. If you want to learn how to sharpen a low-resolution image, follow the simplified guide below.
Step 1. Get the app from its official website and install it on your computer. Right after, have it launched and open the image in Photoshop.
Step 2. On the program's top menu, select Image and pick the Image Size option from the selection. Then, the dialog box will expand. This box reveals the dimension of the photo and the resolution.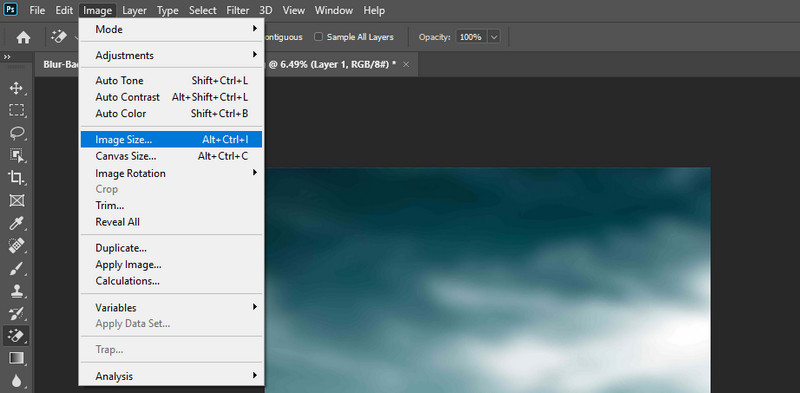 Step 3. If the photo's resolution is 72, change it to 300 pixels. You can choose whether to resample the photo or not. Once done, hit OK to save the changes.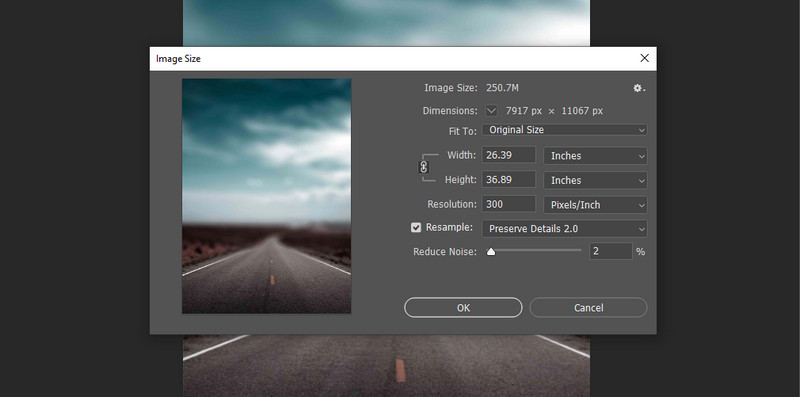 Step 4. You can save the converted photo to high-resolution by going to File > Save As. Then, set a file destination where you wish to save it. That is it! You have just fixed a low-quality image in Photoshop.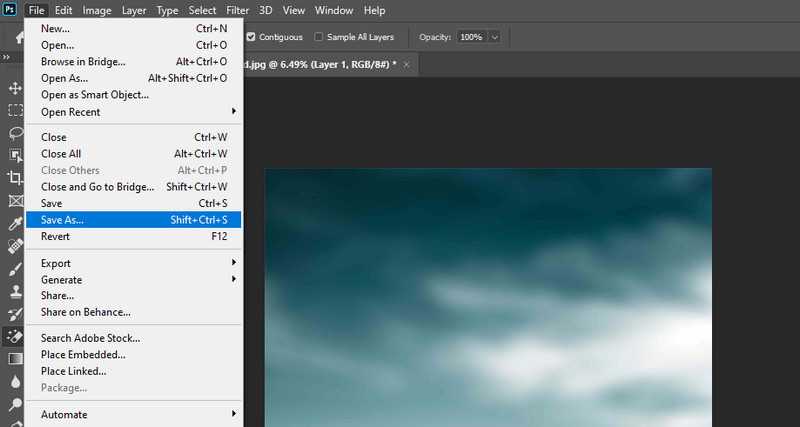 Part 3. Tips to Avoid Low-Res Photos
There are a bunch of factors that could contribute to making the photo low-resolution. It can be the camera shake, shutter, speed, or aperture setting responsible for a low-resolution photo. On the other hand, there are different methods you can apply to restore the resolution of the loss of pixels. Yet, as the cliche goes, 'Prevention is better than cure.' Hence, the following tips will help you to mitigate low-resolution photos. Check them out.
◆ Shoot in burst mode.
One potential solution to eliminate low-resolution photos is to take multiple shots. You do not have to settle for taking just one photo at a time. You can switch to burst mode and capture several photos at a time.
◆ The camera must be stable and still.
If you are prone to losing grip on the phone or camera, using a tripod would greatly help you. The camera must be still and super stable for you to avoid camera shaking so as to make the photo clear.
◆ Get the optimal shutter speed.
You can also try increasing the shutter speed, enabling you to capture clear, razor-sharp, and crip photos.
◆ Set the camera aperture settings to the largest number.
With a more significant number of apertures, there will be a narrow opening. Using this setting, you can produce shots with an increased depth of field, achieving a clear and sharp foreground and background.
◆ Avoid increasing the size with significant changes.
Increasing the dimension of photos by more than 30 or 40 percent results in a loss of sharpness. It is a general rule for all images.
Part 4. FAQs About Enhancing Low-Resolution Photos
How can I increase the resolution of an image on an Android phone?
If you want to increase the resolution of pictures on your Android phone, you can take the Photo Resizer. This mobile app will help you enhance pictures and the quality of your photos.
Can resizing a small photo get me a higher resolution?
You are always better off with a larger image because resizing it to a smaller picture will not affect the quality much. Yet, if you are stuck with a small photo, you may use the Vidmore Free Upscaler Online to enlarge and improve the photo's quality.
How do I sharpen images in GIMP?
Open your image in GIMP and to Filters. After that, go to Enhance and access Sharpen (Unsharp Mask). Then, adjust the values for radius, amount, and threshold to sharpen the photo.
Conclusion
If you need to learn how to restore low-resolution photos, the above tutorials will significantly help. Both methods are 100% working. Yet, when choosing the best tool, it is best to consider factors like price and usability. Usability-wise, Vidmore Free Image Upscaler Online outperforms Photoshop because the tool is equipped with AI technology. Moreover, there is no registration or subscription required to use it.