How to Sharpen Blurry Images Using 3 Reliable Tools
Dehazing, eliminating blur, and improving features are the three steps in sharpening a digital picture. It's a fundamental step that every photographer should be familiar with. In most cases, sharpening is necessary to correct photographs that are out of focus and adjust for blur caused by camera shaking and motion. It may also be necessary for photographs that are shot on a foggy or overcast day and those that have faults in the depth of field or are unclear. Some individuals, though, aren't familiar with editing tools and aren't acclimated to the interface. So, AI image sharpeners are a tremendous benefit in this regard. At this point, we will show you some ways to help sharpen your image online.

Part 1. How to Sharpen an Image Online
1. Vidmore Video Converter
Vidmore Free Image Upscaler is an internet program available for free use and can help you sharpen fuzzy photographs. Because it offers a straightforward user interface, this online application is suitable for those with little prior experience. In addition, it can provide you with four outcomes up to a magnification of eight times, which is an outstanding result. Additionally, you don't need to consider your data's security since Vidmore Free Image Upscaler guarantees that it is risk-free to use. It eliminates any need for you to have concerns in this regard.
Even more impressive is that this tool uses artificial intelligence technology, which automatically identifies the sections of the image that are blurry. Additionally, you can completely repair the missing pixels, color textures, and other elements with the help of this program. Please read the following instructions before you use this tool to enhance the quality of your photograph.
Step 1: Search for Vidmore Free Image Upscaler in the web browser's search bar. You may upload the picture you wish to scale up by clicking the button labeled Upload Photo on the primary user interface. The files on your computer will urge you to pick the low-quality picture you want to post, and then you may upload it.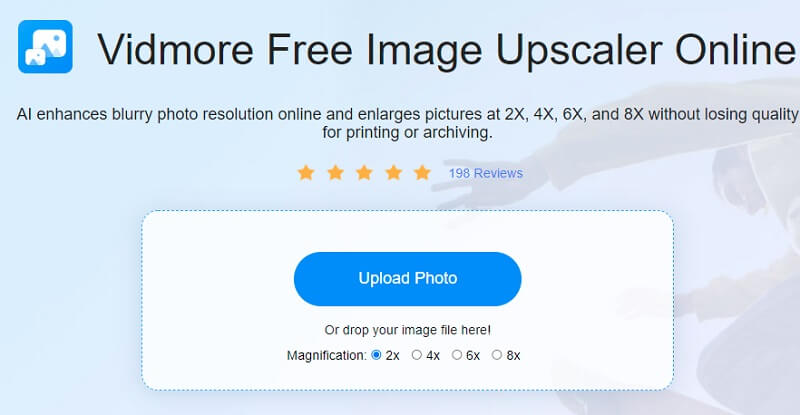 Step 2: After that, choose the level of magnification you wish to apply to your picture. When the magnification is increased, the image quality also improves. You can select a 2x, 4x, 6x, or 8x magnification.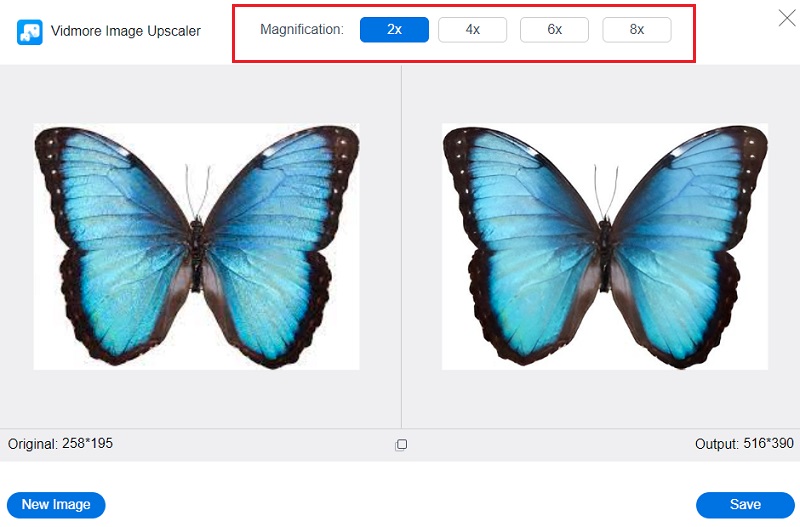 Step 3: Press the Save button to save your improved image on your computer folders.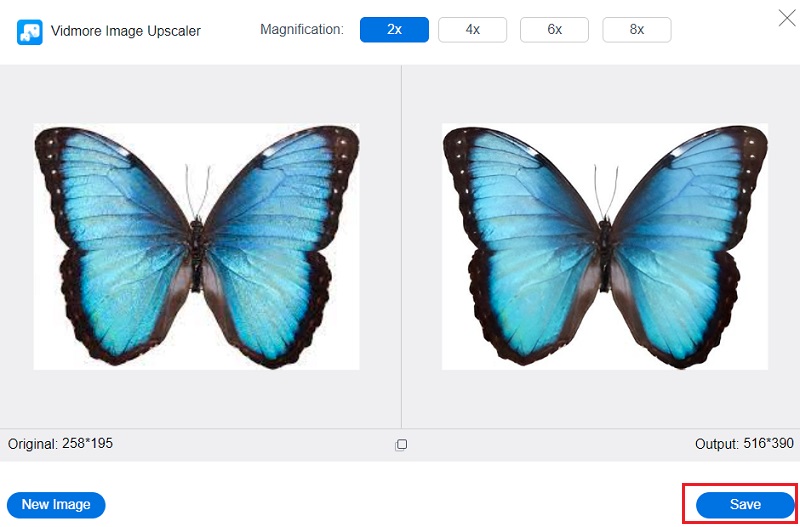 2. Icons8
The online picture pixel enhancer available via Icon8 may help you eliminate the noise present in the low-quality snapshot that you have. This online application can read and write various file formats, including JPG and PNG images. In addition, it will automatically detect the parts of your image with a low pixel count. You also can download the better version of your photo in a way that is both straightforward and free of charge.
In addition, it automatically adjusts the color and contrast of the image you are currently working with to make it seem better. On the other hand, given that software is dependent on the internet, it will also delay the sharpening process if your internet connection is terrible. It is because the application depends on the internet.
Step 1: Open your preferred engine and type the Icons8 into the search box to begin your investigation. After that, select the browse option from the primary user interface.
Step 2: Icons8 employs AI technology, allowing it to determine the portion of your picture that is blurry automatically.
Step 3: Choose the picture you want to save on your computer and click the Download option.
3. FotoJet
You may sharpen your picture using any internet browser with the free program FotoJet, which is available to you. In addition, it allows you to automatically improve the quality of your photo, regardless of how low the resolution may be. Additionally, you will have the ability to export your videos from Fotojet to several other social networking sites with ease.
Additionally, it has a tool that allows you to ideally composite a photo, which is a handy feature. Last but not least, you may use FotoJet on any computer running any version of Windows, Mac OS X, Linux, or an Android device. When using a modern web browser, users won't have any issues getting to the user interface for creating. There is also the fact that they're utilizing a newer gadget.
Step 1: Visit the FotoJet webpage and hit the Get Started button in the middle of the page. After that, select the Computer from the drop-down menu that appears after clicking the Open button.
Step 2: Scroll through the Advanced section once you upload your picture using the interface. Select the Sharpen option from the toolbar, then adjust the level of sharpness using the slider until you are satisfied with the result. After that, choose the checkbox next to Apply. Please note that you will first need to upgrade to the premium account to utilize the sharpness tool.
Step 3: In the end, all you need to do is click the Download icon up top and then wait for the result.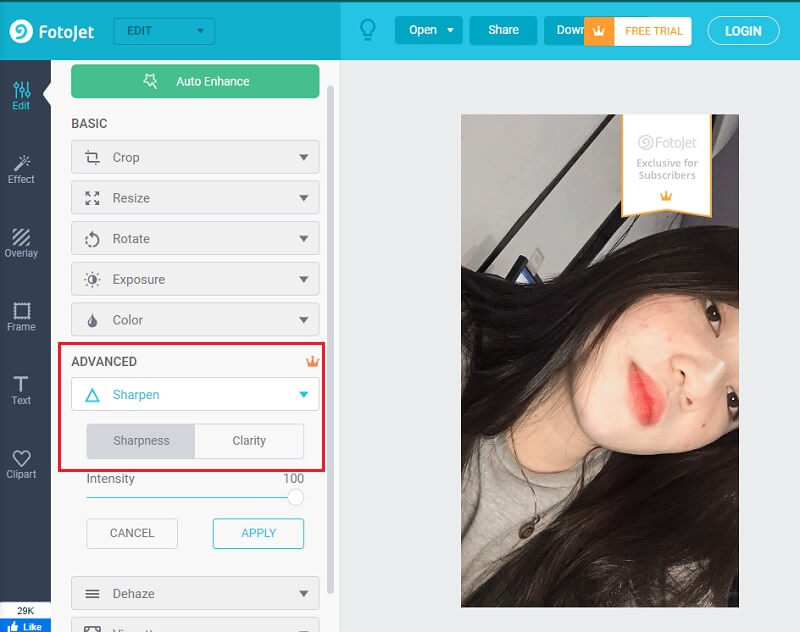 4. UpscalePics
If you want to improve the overall quality of your photograph, you might think about using UpscalePics.com. You may improve the quality of your picture by utilizing an online pixel enhancer called UpscalePics. This tool can assist you in improving the quality of your photo. In addition, it has a function that uses AI technology to eliminate JPEG noise and flaws. PNG, JPG, and WebP have supported image formats and many other file types for images.
Step 1: You may upload the photo you wish to sharpen by searching for it on the UpscalePics website in your browser and then clicking the Select Image button.
Step 2: The picture will be processed, making necessary enhancements. However, you are unable to make changes to it on your own. The image sharpener is going to be the one to carry out those duties.
Step 3: Please click the button below if the output meets your expectations to upload your file.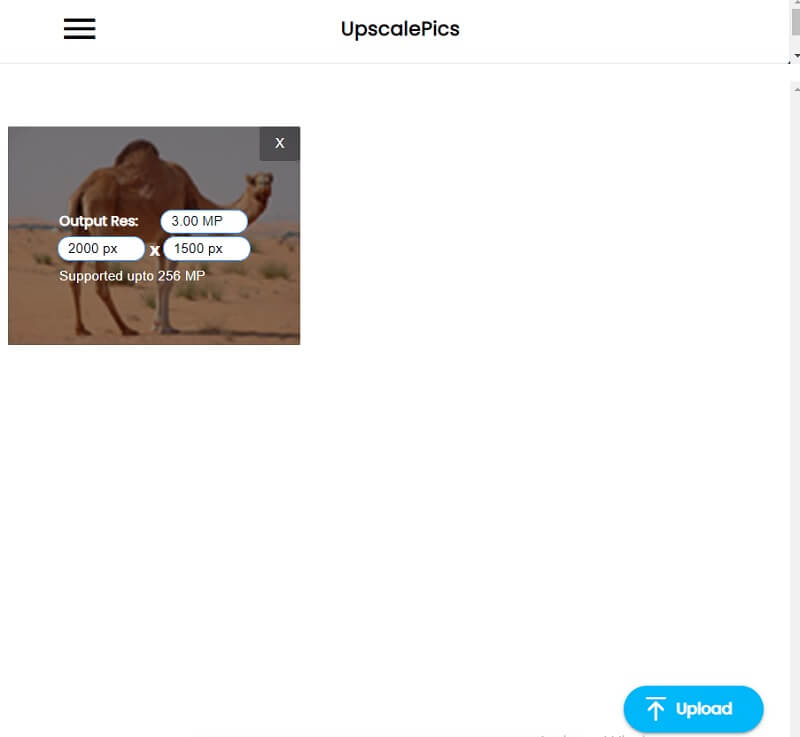 Part 2. FAQs on How to Sharpen an Image
How to sharpen a picture using the GIMP program?
Choose the Sharpen tool from the toolbox, and then use the hand-painting feature to sharpen the needed areas. Launch the Filters menu, go to the Enhance submenu, and pick the Sharpen option.
Sharpening is used for what?
The sharpening of a picture improves the definition of the image's edges. You can improve most images by using a sharpening filter, captured with a digital camera or scanned.
Is there a relationship between resolution and sharpening?
A more significant number of pixels in a picture results in a sharper image when the image has a higher resolution. On the other hand, if a picture with a high resolution is blurry or out of focus, all you get is a vast blurry photograph.
Conclusions
Now that you know how to sharpen an image, you may now do it even if you don't have prior experience in editing. You need the right set of tools to help you!