How to Remove Watermark in StarUML: 3 Reliable Methods You Need
StarUML is an open-source system and software design tool to support the Unified Modeling Language architecture. It differentiates conceptually among models, perspectives, and representations. The most outstanding feature of this application is that it facilitates the graphical and organizational visualization of the project's needs.
However, since this is a premium product, your project will have a watermark. There are methods for removing these stamps, which is fortunate. Here are three methods that can assist you on how to remove the watermark from StarUML documents.

Part 1. How to Remove Watermark in StarUML (Paid)
The only way for StarUML to remove its watermark is to pay for its license. If you purchase a personal license of StarUML, it will cost $99. Here's more information about StarUML. This section will state its features, pros and cons, and the price of this software.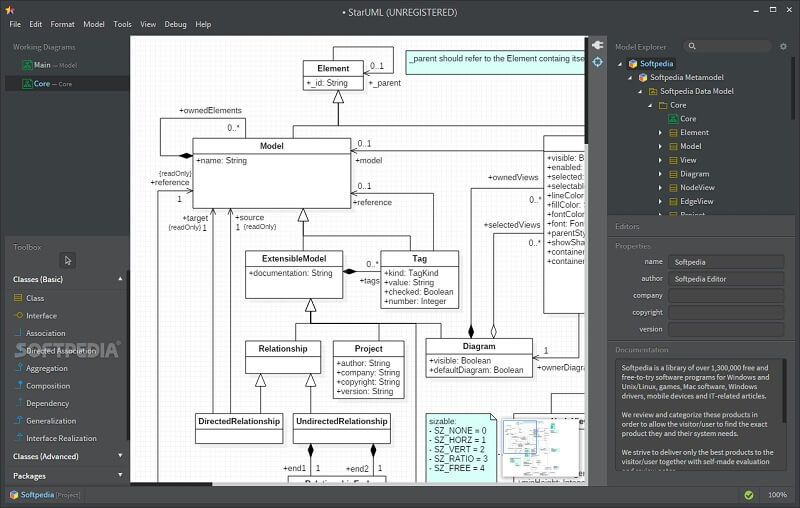 Features of StarUML:
◆ StarUML offers variables that may apply to the user's agile development, project platform, and programming language for maximum customization of the user's environment.
◆ StarUML offers exceptional flexibility and adaptability. It offers Add-In structures for expanding the tool's capabilities.
◆ In contrast to many current technologies that inefficiently handle their legacy format models, StarUML maintains all data in the standardized XML format.
◆ The approach concept is manipulated by StarUML, which then creates settings that are adaptable to any process.
◆ It creates program code in programming languages, translates them into models, accepts Rational Rose files, shares modeling information with other programs through XMI, and supports design patterns.
Pros of StarUML:
It comes with different features and several choices for formatting.
It can produce source code based on the UML diagram that is provided.
C, C#, and Java are the supported programming languages.
It is possible to export diagrams in JPG and XMI formats with this tool.
Cons of StarUML:
It will be challenging for someone who is just starting to manage it.
It is no longer part of a cycle of releases.
It is not accessible with other operating systems and is only available for Windows.
Part 2. How to Remove Watermark for Free
Since StarUML doesn't remove watermarks unless you purchase a license, there are other solutions to help you remove the watermark for free.
1. Free Watermark Remover Online
Free Watermark Remover Online is the tool you need to use if removing the watermark from your file without paying for a license is a priority for you. It is suitable for the operating systems used by Macs and PCs alike. You may quickly remove marks and other content from your photographs with this program without leaving traces behind.
Vidmore Free Watermark Remover can work with a wide range of file formats. There is nothing to panic about since the image will be preserved as if nothing had occurred regarding picture quality.
Step 1: Launch your search engine of choice and get on over to Free Watermark Remover Online. You may submit the picture with the undesirable mark on it by selecting the option to Upload an Image located in the middle of the page.

Step 2: Once the image has been mirrored on-screen, press the Lasso button to its right. Begin your search for the watermark, if one exists, after that. When the watermark becomes red, please remove it by pressing the Remove button in the top right corner of the relevant picture.

Step 3: Once the watermark has been removed, you will be able to alter the image's dimensions to meet your needs. Choose Crop and Save from the menu, then adjust the image's dimensions.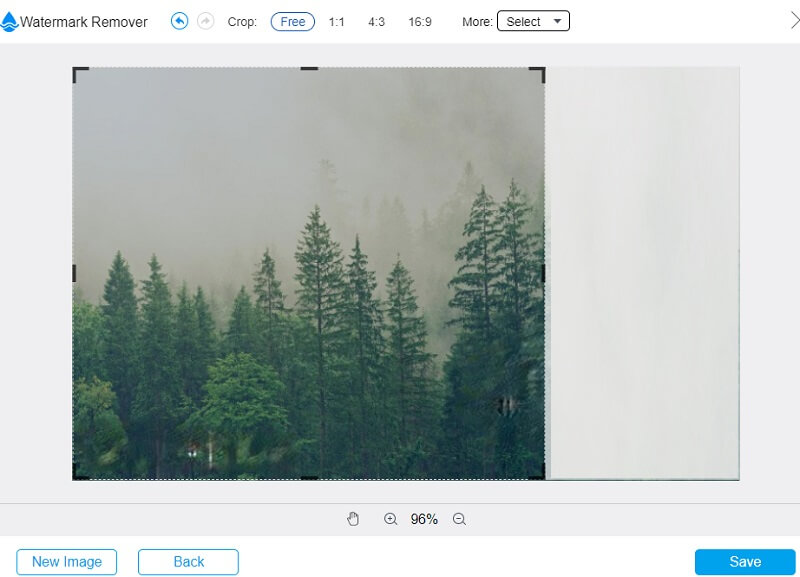 Step 4: After you modify your photo by cropping it, click the Save button located on the right side of the screen. It will allow your image to be saved in the chosen folder.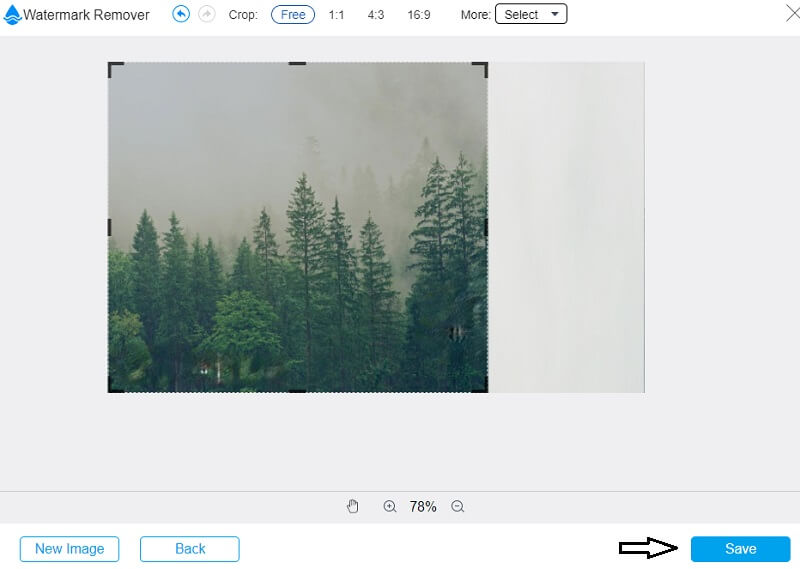 2. Watermark RemoverTool.com
The WatermarkRemoverTool.com software is a terrific product that comes highly recommended by industry experts. This watermark remover has a rapid processing speed, enabling you to eliminate any watermark, including a background image or any other object behind the image, in a matter of seconds. You may use it on any mobile and desktop browser to get around the watermark, and the removal of the watermark will not degrade the picture quality. It is compatible with any gadget known.
Step 1: To submit your photos, you will need to go to your search engine, type in WatermarkRemoverTool.com, and click on the option that says Remove Watermark from Image.
Step 2: When you choose that menu item, it will urge you to hold off on moving on for 15 seconds.
Step 3: Last but not least, when the allotted time has passed, it will present the option to Download Now, which you should pick.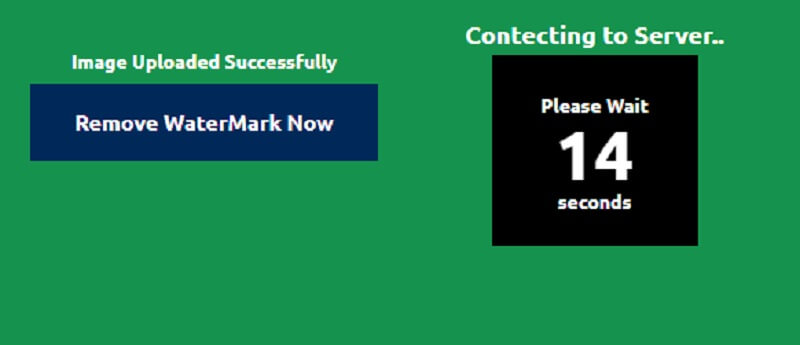 3. Watermark Remover.io
The Watermark Remover.io website offers yet another method for removing a watermark from a picture uploaded to the internet. This software uses artificial intelligence to assist users in automatically removing stamps from images, and you can download it here. It makes an educated guess as to the position of the watermark. It distinguishes the colors of the watermark from the colors of the backdrop in the picture. While simultaneously removing a watermark from a picture, this web-based program does not reduce the image's quality.
Step 1: Go to the Watermark Remover.io homepage on the browser of your choice and look at the original page. Please scroll down and then hit the Upload Image button underneath it.
Step 2: After you've uploaded the picture with a watermark on it, you'll need to wait for it to be reviewed. When it is completed, it will let you know that all watermarks have been removed from the image.
Step 3: If you are satisfied with how your photographs turned out, you can now click the Download Image button to save them in the folder of your choice.

Part 3. Comparison Chart
Here is an in depth illustration to see the similarities and differences of the watermark removers.
Features

Assisted by artificial intelligence

Shows the preview of the image

It is cross platform
| | | | |
| --- | --- | --- | --- |
| StarUML | Vidmore Free Watermark Remover Online | Watermark Remover.io | WatermarkRemoverTool.com |
| | | | |
| | | | |
| | | | |
Part 4. FAQs About Removing Watermark in StarUML
What is StarUML's function?
The primary objective of StarUML is to facilitate modeling that is both brief and agile.
What is the meaning of stereotypes in StarUML?
A modeling element known as a stereotype includes specifications that you may apply to the essential UML modeling components to provide additional features and restrictions to those elements.
Is UML a language for programming?
No, but tools exist to create code in several computer languages from UML diagrams.
Conclusions
Since the only option for StarUML to remove its watermark is by purchasing a license, you can still come up with the distinct methods offered above. The tools above are guaranteed to help you remove any mark on your file without losing the original quality.