Review of the Best AVI Metadata Editor for Mac and Windows
One of the best ways to be at the top of your video searches and help keep your video files organized is by editing their metadata. The process is easy when you have the right program to use. Yes, you will need to use a program that will allow you to edit the metadata of your video files, such as AVI. Now, if you have difficulty searching for exceptional tools to accomplish this task, we handpicked the best AVI tag editor. If you wish to learn more, check out the post and read through the review of each program. Bonus, you will learn how to complete this with a capable program.

Part 1. Best AVI Tag Editor
If you are looking for a reliable and capable tool to help you edit AVI file properties, look no further than Vidmore Video Converter. The tool supports AVI files and other video formats, including MP4, MOV, WMV, and many more. Moreover, it enables you to modify the title, composer, genre, comments, data creation, and track. Additionally, users may add or edit the cover artwork of their video files.
Apart from the mentioned features, Vidmore Video Converter comes with useful facilities. You can use it to convert videos, music, or photos. It allows you to add a logo or watermark and edit the video aspect ratio, brightness, and sharpness. On the other hand, here are some of the pros and cons for your reference.
Pros:
Neat user interface.
It supports a lot of input formats.
OS compatibility is also good.
It allows editing video playback.
Cons:
Works with one video at a time only.
The free version has a limitation on the features you can use.
Part 2. Recommended AVI Metadata Editor Online
If you like to edit AVI file properties without downloading any application, an online program may be suitable for you. To help you, we listed the two most powerful tools to make an AVI metadata edit. Check below to learn more.
1. Metadata2Go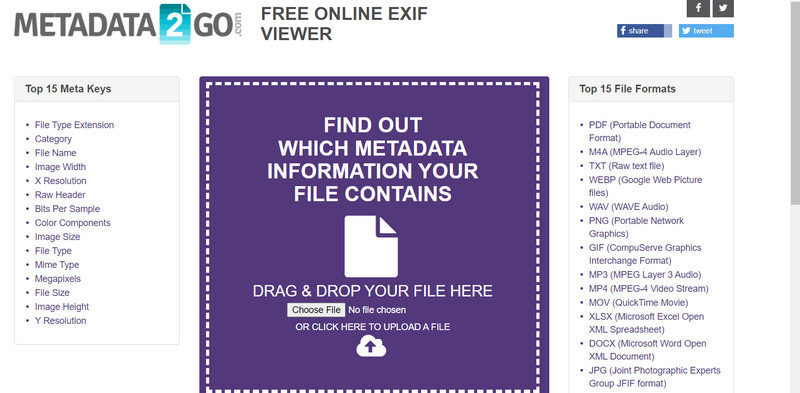 You should definitely go with Metadata2Go to help you view and edit the metadata of your AVI files. Since it is a browser-based program, online users will have a swift route to understanding the program's navigation and functionalities. Additionally, the program offers a simple yet understandable user interface. It comes with a drag-and-drop interface that is convenient for uploading AVI files.
Pros:
Browser-based service.
View and edit AVI metadata.
It works with almost all browsers.
Cons:
The comprehensive interface could be intimidating.
Loaded with advertisements.
2. GroupDocs.Metadata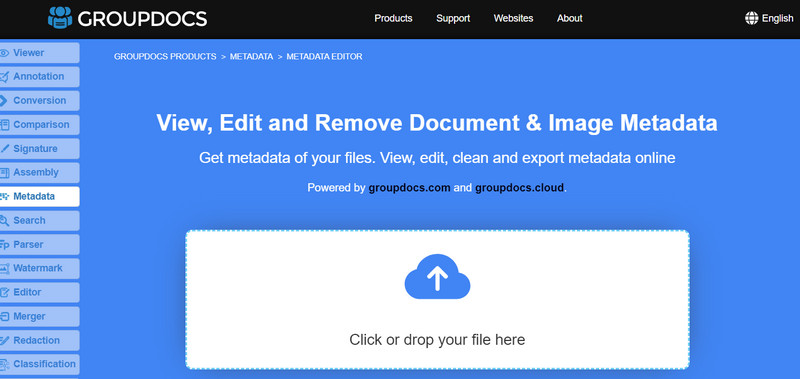 GroupDocs is a straightforward and user-friendly web-based tool for editing information associated with multimedia files such as videos, documents, audio files, and photos. The program's front page is designed to be user-friendly, with a drag-and-drop window for instantaneous action. Only AVI, MOV, and QT video files are supported by the program. Users who want to edit video files' metadata will need to look elsewhere. On top of that, you can use the program for bulk editing of metadata to help you save time and effort.
Pros:
Edit metadata of AVI files in batches.
Drag and drop feature is supported.
Best for AVI video files.
Cons:
You cannot use the tool to edit MP4 metadata.
The interface can be overwhelming, especially the facilities.
Part 3. How to Edit AVI Metadata Effortlessly
You may wonder how or where you will start. We have anticipated that already. And so, we prepared a detailed guide on how to edit AVI properties with Vidmore Video Converter.
Step 1. Get the software and set it up as the first step
Get the software, obviously. A free download button tailored to your operating system is provided for your convenience. Then, try running the program on your computer to ensure it is functioning properly.
Step 2. launch the Media Metadata Editor
Vidmore Video Converter's supplemental features are grouped together in one place—the Toolbox tab. Now go to this menu and choose the Media Metadata Editor. A dialogue window will pop up after that. You can select the AVI video you wish to modify using this program.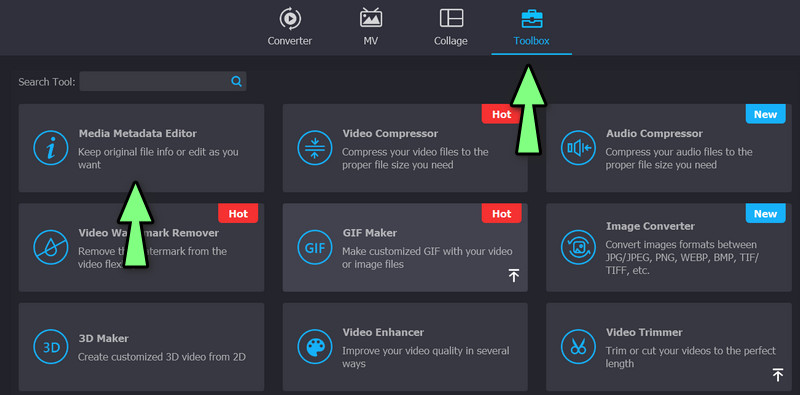 Step 3. Insert an AVI file
You can insert your desired sound file by clicking the add symbol in the metadata editor. After that, you will be able to fill out the AVI's metadata with details like the title, genre, track number, and cover art.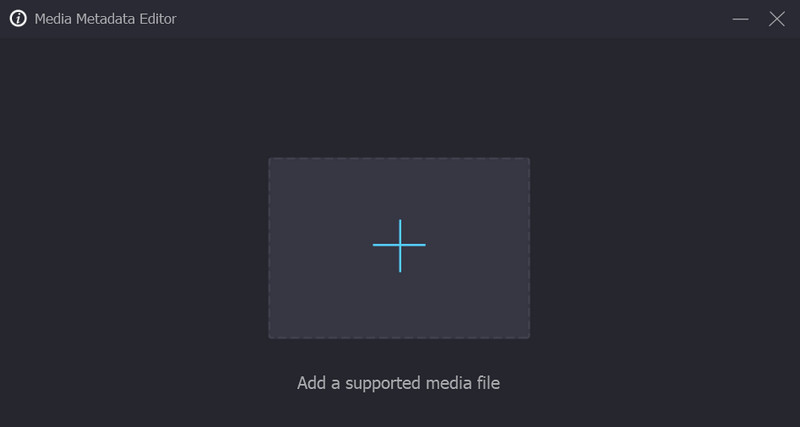 Step 4. Edit AVI metadata properties and save
Metadata fields are available after a file has been uploaded, and they can be filled up in great detail. Adjustments to the AVI metadata can be made in the right-hand pane. Select the metadata that you wish to edit. Select the Save button once you are through making modifications. That is a quick and simple method to edit AVI properties.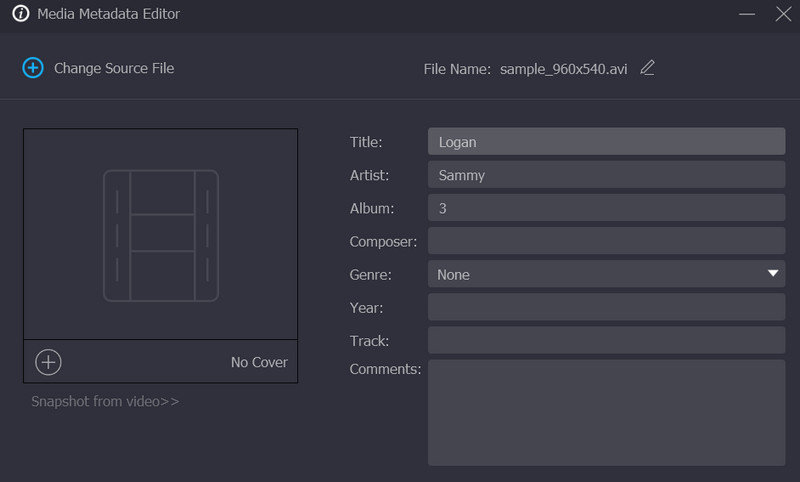 Part 4. FAQs about AVI Tag Editors
How can I view AVI metadata?
If you wish to look into the information of your AVI file, you can use the above programs to view AVI metadata. By then, you may decide to edit them for intellectual property concerns.
Can I edit video metadata on Android?
Yes. Like on a PC, there are tasks that can be done by a computer that is also possible to accomplish using Android applications. In other words, what your computer performs, mobile or smartphones also perform.
Can I edit AVI metadata in VLC?
Definitely, yes. What procedures have been done before for editing the metadata of videos is the same. You can now access the metadata and even incorporate copyright.
Conclusion
With the broad selection of programs to edit AVI properties, it can take time to try them all. On the other hand, the tools are divided in such a way that everyone can enjoy them. There is a program for offline and online users to help you find the right tool for your standards and needs.