How to Convert AVI to GIF for Windows, Mac, and Online
AVI or Audio Video Interleave is a video file format popular in movies and TV shows. It can store both video and audio content for synchronized playback. The only drawback though is that you cannot easily upload AVI files online since the file size is large. This can be inconvenient because most of the video-sharing platforms limit the size when it comes to uploading. Instead of sticking to its original format, you can attempt to transform the AVI file format to a compressed GIF format. As we know, GIFs can render a lossless file format while maintaining the animation of a video. In the following sections, we will have a rundown of the best AVI to GIF converters.

Part 1. How to Convert AVI to GIF on Mac and Windows
With widespread format acceptance, Video Converter by Vidmore can convert your AVI files into any format including GIF. This allows you to generate your GIF profile allowing you to configure the frame rate, resolution, and color settings according to your liking. Aside from that, you can also convert videos to formats compatible with devices such as iPhone, Android, TV, Roku, or Chromecast.
Price: $29.95
Distinctive Feature: The tool comes with Video Enhancer where you can add text, apply effects, filters and edit the video before converting to GIF.
To simply use the tool and change AVI to GIF, here is an instructional guide you can follow.
Step 1. Launch the software
First and foremost, download and install the Vidmore Video Converter on your computer. To do this, you may click the Free Download button that corresponds to the system your computer is running.
Step 2. Upload AVI file(s)
Go to the Toolbox tab and select GIF Maker. Then click the Video to GIF button to add the AVI file you want to convert to GIF from your local folder.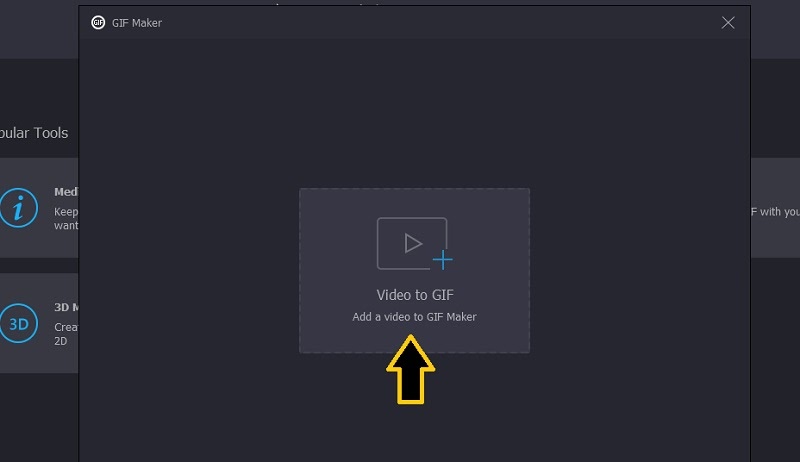 Step 3. Trim the AVI video
You can trim the AVI video you are trying to convert by clicking the Cut button. Then you set the start and end points or drag the trim control to your target clip. Once done, hit the Save button for the changes to reflect.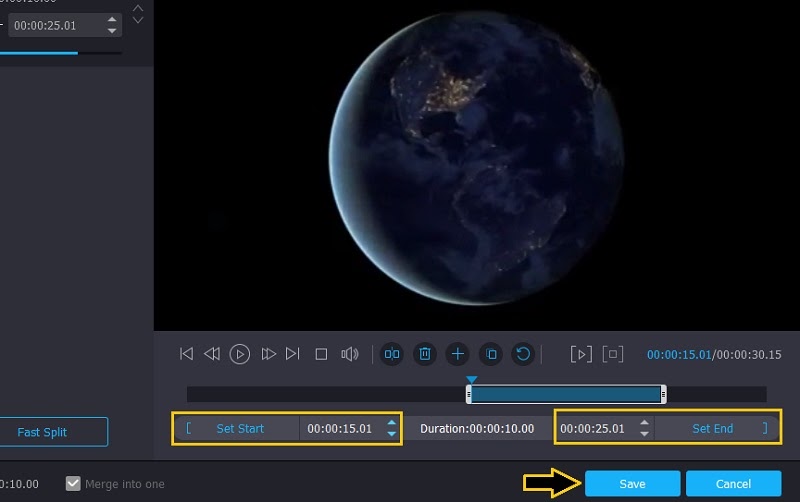 Step 4. Generate GIF from AVI file
To save the file as GIF, set a file location where you want to save the converted file. Simply click the Output folder icon and select your desired folder. Next, click the Generate GIF button to finally produce the GIF.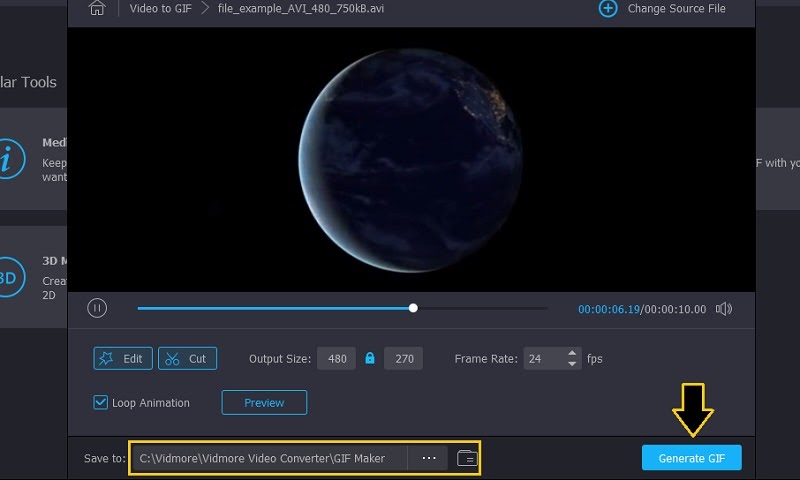 Part 2.Top 5 Online Free AVI to GIF Converters
1. Vidmore Free Online Video Converter
For an online solution, Vidmore offers a web-based version of the above tool. There's no need for you to download an app because you can directly process the conversion from the webpage. Unlike other similar programs, you can utilize the Vidmore Free Online Video Converter without signing up for an account with unlimited access to all its features. Not to mention, it can cater to any browser you find comfortable using. Here's how you can convert AVI to GIF for free.
Step 1. Access the website of Vidmore Free Online Video Converter and upload an AVI file. Just click the Add files button and upload the file. For first-time users, you need to download and install the launcher.
Step 2. On the converting panel, choose GIF as the output format. To get your desired output, you may configure some preferences like resolution and frame rate.
Step 3. Once satisfied, click the Convert button to initiate the process and set an output folder. When it is done, open the playback of the video from the folder where it is saved.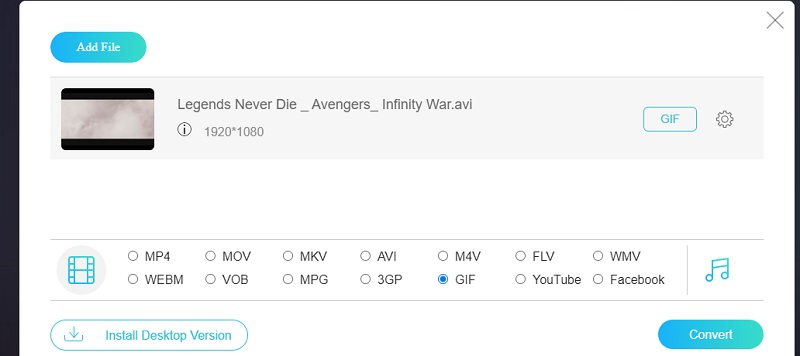 2. Convertio
Another online and free AVI to animated GIF converter that you can use is Convertio. This tool comes with different options for uploading video or audio files. You can convert media content via URL. This is particularly helpful if you are trying to convert videos from your favorite video-sharing platforms. Aside from that, this also allows you to import your files from well-known cloud storage such as Google Drive and Dropbox. To learn how to use this program, you may check the instructions below.
Step 1. Go to the official website of Convertio and import your AVI file by clicking the Choose Files button. Optionally, you can upload files from Dropbox or Google Drive.
Step 2. Once the file is added, click on the Format drop-down menu and hover your cursor to the Image option, and select GIF.
Step 3. To start the conversion process, click the Convert button followed by the Download button to save the GIF file.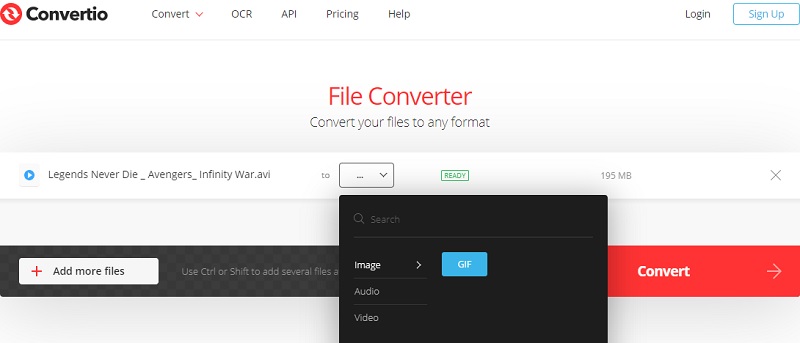 3. Ezgif
Ezgif is also a great addition to the list of AVI to GIF software converters. This tool is also equipped with basic video editing options which can help users crop, cut, and rotate a video. It also has a function to reverse a video that enables you to create a video playing backward. For a step-by-step guide, you may refer to the steps below.
Step 1. Visit the website using any browser and click the Choose File button to import an AVI file.
Step 2. Click the Upload video! button and make sure that the video is no more than 100 MB in size or else it will fail to load.
Step 3. Once successfully uploaded, you can further make some adjustments with the duration of the video, crop the video, etc.
Step 4. Now click the Convert to GIF! button and you will see a preview underneath the interface. To secure the file, simply hit the Save button.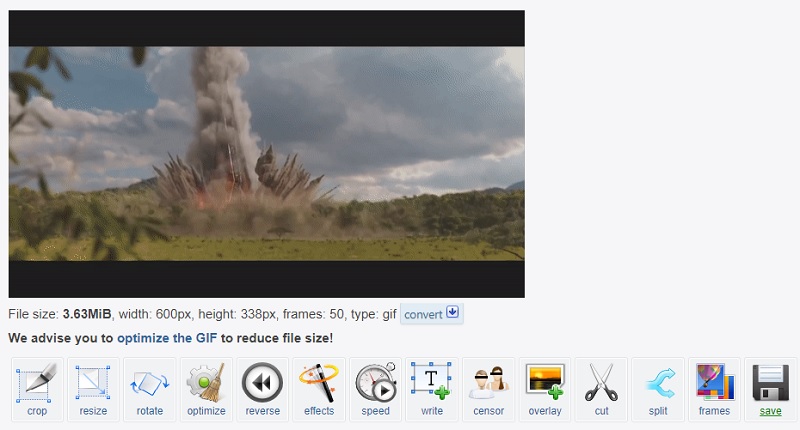 4. Zamzar
Zamzar is among the simplest yet efficient tools that you can use for converting media content and documents. Just like Vidmore Video Converter, it supports conversion in batch. It is useful when converting a playlist of videos. Moreover, this allows you to convert transparent videos while retaining the animation in the video. That means if you need to convert a no background AVI to GIF transparent, this program can help you out. If you wish to have all these advantages, follow the provided instructions.
Step 1. First, access Zamzar's website and click the Add Files button from the main interface.
Step 2. From the Convert To menu, choose GIF under Image Formats.
Step 3. To start the task, click the Convert Now button then hit the Download button which will appear when the conversion process is done. By then, you will be able to save the file on your local drive.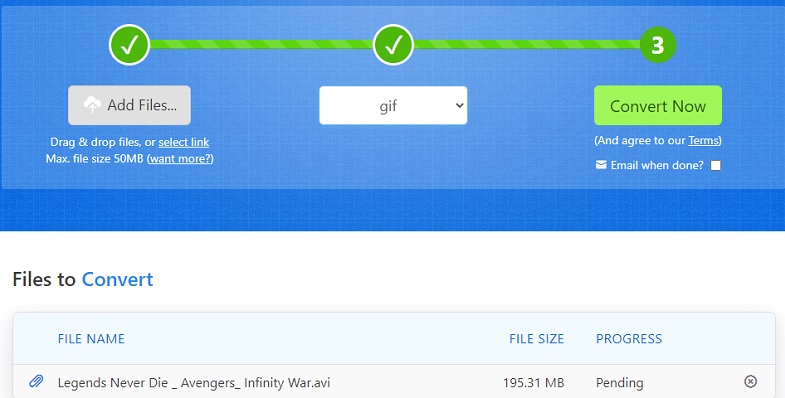 Part 3. FAQs of AVI to GIF
How to make a GIF from a video on my phone?
One of the convenient and efficient methods to convert your AVI files on your phone is using online tools. Ezgif is an ideal tool for this kind of need since it is compatible both with smartphones and computers.
Can I use Photoshop to convert AVI to GIF?
This may work when you are using older versions of Photoshop. Unfortunately, on later versions of Adobe Photoshop like PS 2020, and 2021, converting AVI to GIF files may not be feasible.
Can I reduce the size of an AVI file and while retaining good video quality?
Yes. First, you can convert the AVI video to another video or image format like GIF. To further reduce the file size, you may need a tool that will allow you to shrink the AVI files by configuring some video parameters. In this case, you will surely find Vidmore Video Converter helpful. With it, you have the option to modify the bit rate and resolution to dramatically reduce the file size of an AVI file.
Conclusion
All of the methods above are effective for converting AVI to GIF. True enough, online solutions are quite convenient. However, they are limited when it comes to functionality. Better yet use a desktop solution like Photoshop. Yet if you are looking for a more user-friendly tool, Video Converter by Vidmore is an ideal choice.