GIF Speed Editor: Learn How to Change the Speed of Your GIFs
You may easily create entertaining GIF memes by speeding up animated GIF images, which is something you can do if you want to. You'll be able to give the GIF file a smoother appearance and lower its file size in this approach, both of which will facilitate easier distribution. It could be a little challenging to speed up GIF files because animated GIF is an image format that consists of multiple photos rather than films. Don't be concerned. In this post, you will learn four practical methods to speed up a GIF on a Windows or Mac computer.

Part 1. 4 Best GIF Speed Changers Online and Offline
Here is a list of four GIF editors, two of which are online and two of which are offline, that may assist you in fast changing the speed of the GIF files.
1. Vidmore Video Converter
Suppose you want to speed up GIF files on Windows or Mac while preserving a high frame rate and decent quality. In that case, the application you need to rely on is Vidmore Video Converter. It allows users to change the pace of a GIF in some ways, including slowing it down, speeding it up, or looping it. In addition, because of its unique settings, the picture's resolution, frame rate, and quality can each be easily altered to suit your preferences. In addition, you can depend on this program to carry out extra modifications, such as slicing films into smaller bits or integrating multiple movies into one. These are just two examples of what kinds of adjustments this application is capable of making.
Pros of Vidmore Video Converter:
It makes it possible to get speed boosts of up to eight times the average pace.
It has a component devoted to regulating the speed of movies, and it comes standard.
The program has various tools that you may use to edit audio and video material.
It makes it possible to get speed boosts of up to eight times the average pace.
Cons of Vidmore Video Converter:
Simple in design, it requires nothing in the way of instruction.
2. Ezgif - Speed Changer
The website EZgif.com offers a speed changer for GIF files, which enables users to pick the frame rate of the converted file before choosing either GIF or MP4 as the output format. EZgif.com also offers a speed changer for MP4 files. Should you decide that merging GIFs is something you want to undertake, our GIF speed editor may also help you with that process. If the file is too big, you might try optimizing it further to see if it reduces the size. It is accomplished by the application of compression to the file.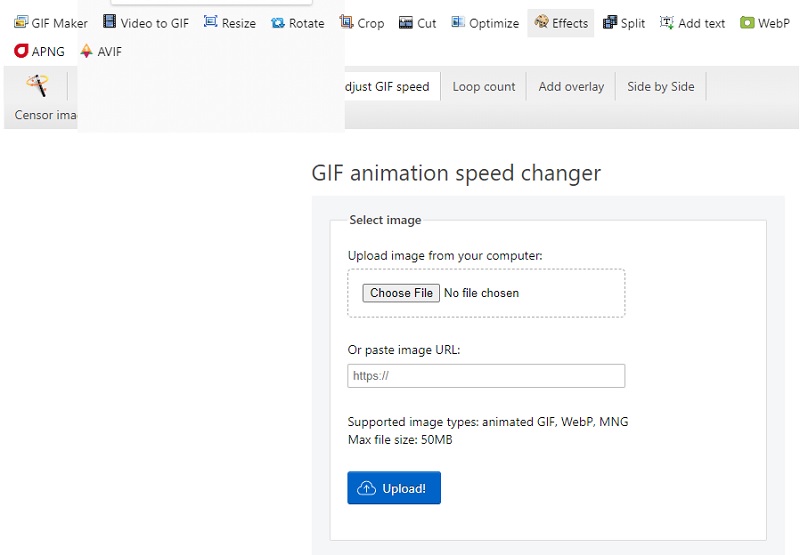 Pros of EZgif:
The following are examples of available features: compress, resize, filter, clip, overlay, and trim.
It allows users to connect to photographs hosted online.
It is simple to use, and there are neither use restrictions nor mandatory registration requirements.
Cons of EZgif:
It takes a while to finish the procedure.
3. Lunapic - An Online GIF Speed Changer
Lunapic is yet another online program that may modify the speed of a GIF file and is referred to as a GIF speed editor. In addition to being able to speed up or slow down the tempo of a GIF, it can also change individual frames, create transitions, and perform various other operations. Select the pre-defined speed choice and the looping function once the file has been uploaded. You can deactivate this function, which is a great helpful thing if you do not want the GIF you created to loop.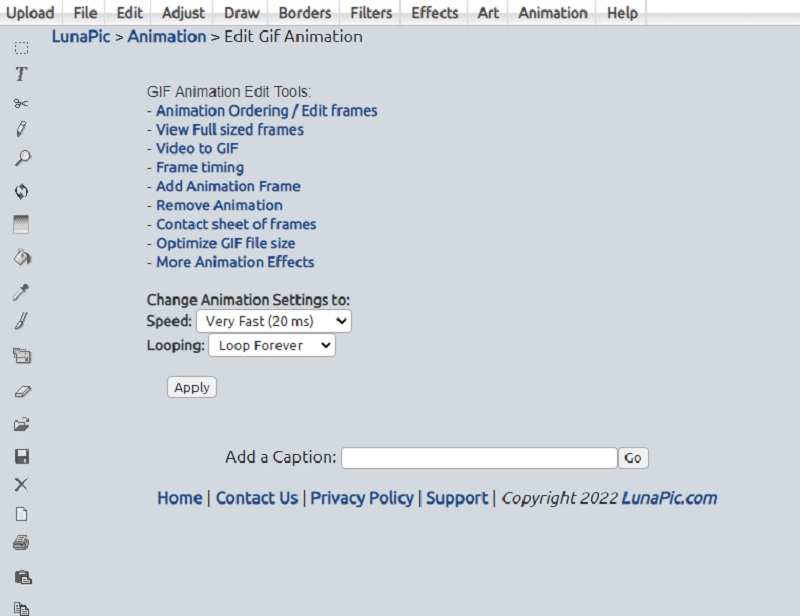 Pros of Lunapic:
It alters the order in which the pictures are shown in the GIF file.
It is capable of removing frames.
Cons of Lunapic:
This online tool does not allow for setting an actual frame rate or speed.
4. Gifntext.com
Suppose you are looking for an online GIF editor that lets you add layers, text, animation, and other features and allows you the option to do so. In that case, Gifnext.com is a beautiful alternative for you to consider. After the photo has been attached, you will have access to the full editor, which is helpful if the software does not meet your requirements as you would desire.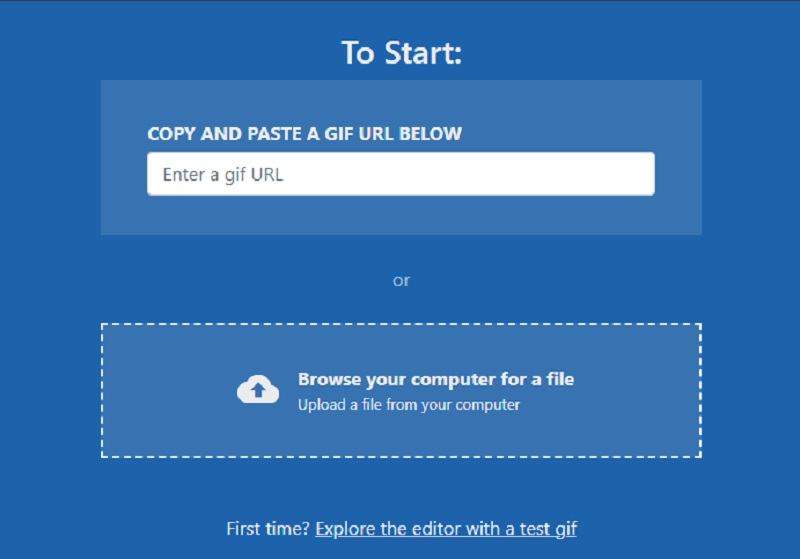 Pros of Gifntext.com:
It also can trim GIFs, modify the pace, and add moving text.
It offers some fundamental editing tools.
Cons of Gifntext.com:
Several choices do not have the proper formatting.
Part 2. How to Speed Up or Slow Down a GIF
You may alter the pace of your GIF by using any of the options given to you above. In addition, this part will provide you with an additional piece of advice by demonstrating how to adjust the playback speed of movies using Vidmore Video Converter.
Step 1: Vidmore Video Converter may be downloaded for free and started on your Windows or Mac computer.
You may access the Video Speed Controller via the Toolbox menu by clicking on it. When the box that pops up appears, click the Plus symbol to add the GIF files you want to speed up the process.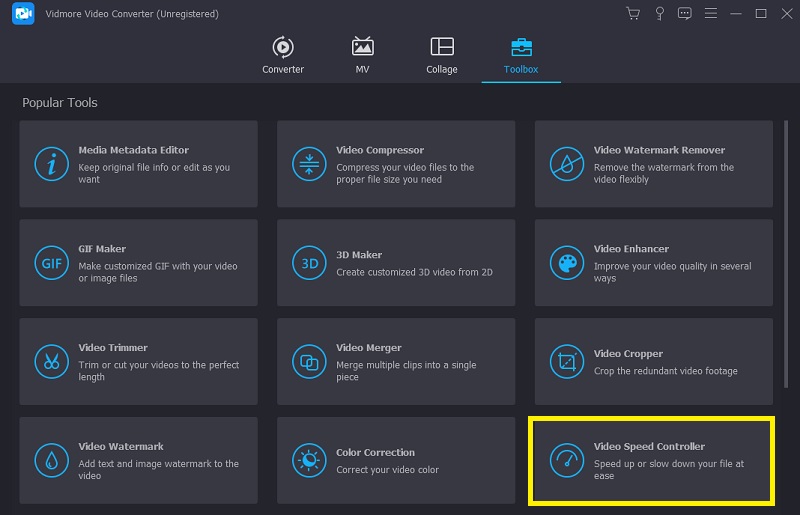 Step 2: After that, you will be able to see nine various speed rates, ranging from 0.25X to 8X. You can choose the ideal pace that you prefer to speed up the GIF. You may quickly modify the setting and tweak the effect by previewing the accelerated GIF files on the screen. It allows for easier customization.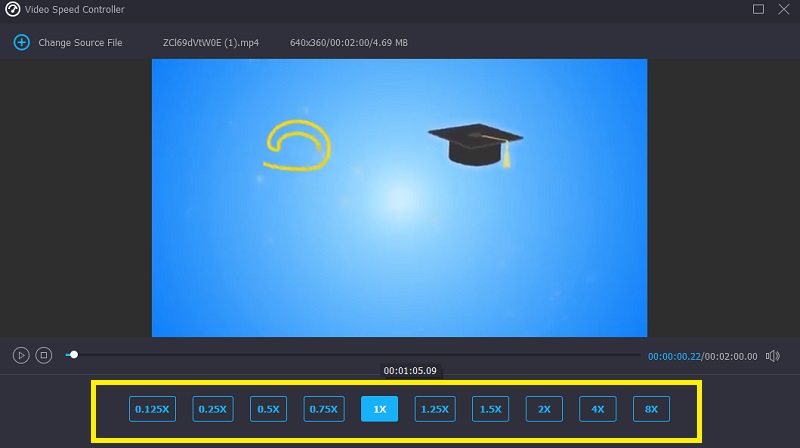 Step 3: You may also choose the Output option before exporting the accelerated GIF files. At this point, you can alter the resolution and frame rate as necessary to maintain excellent quality. To save the changes to the settings, click the OK button. You may save the animated GIF by clicking the Export button once the relevant storage path has been selected.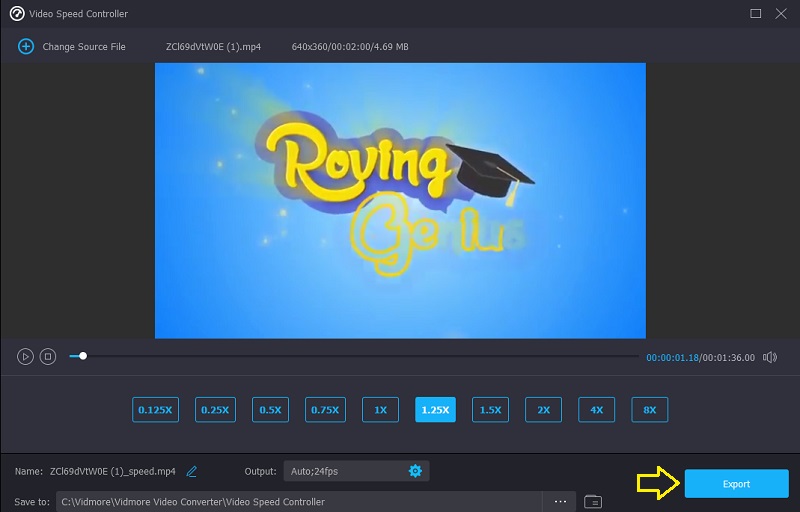 Part 3. FAQs About GIF Speed Editors
What happens to the GIF's quality if it's sped up?
Increasing the speed of a GIF will result in a higher frame rate. However, suppose you cannot modify the settings and must maintain the original frame rate. In that case, the video's quality will suffer. Therefore, the best way to speed up GIF while maintaining its quality is to utilize Vidmore Video Converter Ultimate.
Can the size of a GIF be decreased by increasing its speed?
Increasing the speed at which GIF files are saved would indeed cut down on the amount of time required for playing and the overall size of the file.
Can the speed of a GIF be adjusted on an iPhone?
The iMovie software on the iPhone enables users to alter the pace at which a GIF plays.
Conclusions
The various GIF speed changers described above will assist users in developing an engaging animation. Users will find that it is somewhat restrictive, though, because of the constraints imposed by some internet tools. With that, it is strongly suggested that you use the offline utility Vidmore Video Converter.