Top 6 Notable Video Speed Editor You Will Find Useful
The expansion of cameras and video recording apps for smartphones has led to an increased number of individuals who like shooting their films. Concurrently, video-centric social networking sites are seeing phenomenal growth. As a result, in today's world, many individuals have a greater interest in recording comedic videos. Using a video controller is one of the methods they employ while creating video content. In this instance, the pace of the file depends on whether it is moving slowly or quickly. You can rely on our site to provide the information you need to give your video clips the same impact. This blog will include video speed controllers for Macintosh computers, Windows computers, and Chrome.

Part 1. Top 5 Video Speed Controller
1. Vidmore Video Converter
Vidmore Video Converter is an all-in-one tool that can change the pace of videos on Windows and Mac computers. You may use it when you need to alter the speed of a video. You have a variety of speed settings at your disposal with the video speed editor, enabling you to speed or slow down the video files. You may increase the speed to 8X or slow it down to 0.125X without worrying about the sync problem. To get movies of better quality, you may also alter the audio and video settings.
In addition, Vidmore Video Converter Ultimate can convert many videos, and audio formats is an influential video editor and can create video montages and collages. Most significantly, it supports over 300 file formats, so you do not have to be concerned about the format of your videos.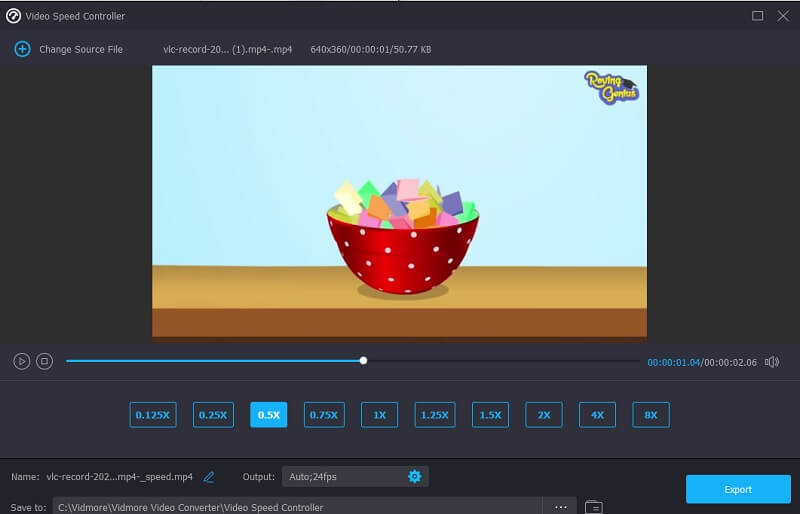 Pros of Vidmore Video Converter:
The user interface is straightforward.
You may play the video in either rapid or slow motion.
In addition to the speed controller, it also has various editing tools.
It is compatible with over 200 different file types
Cons of Vidmore Video Converter:
Due to its simplistic design and editing tools, experts may find it uninteresting.
2. Accelerate
Accelerate is the perfect extension if you use Safari and want to modify the pace at which videos playback. It is a robust extension that allows for complete customization and provides full control over video playing and speed in Safari. Accelerate allows you to accelerate or decelerate HTML5 videos via customized keyboard shortcuts effortlessly, right-click mouse controls, or an item in the toolbar. You can also use this software on most of the most popular websites.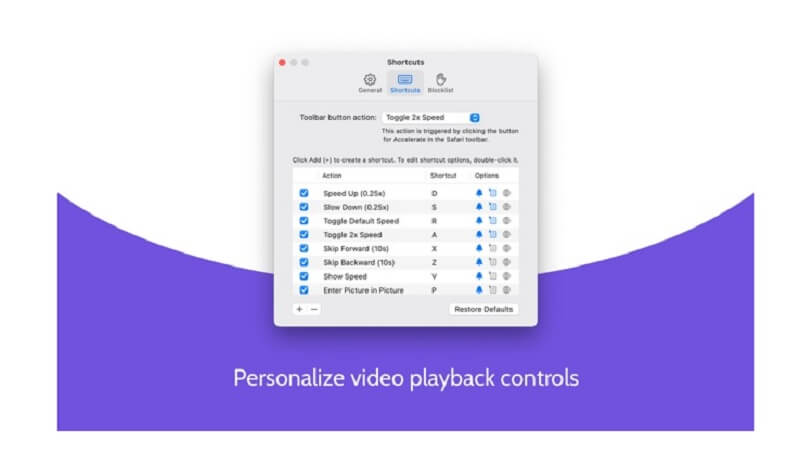 Pros of Accelerate:
In addition to other capabilities, picture-in-picture functionality is included.
Additionally, it is compatible with a variety of websites.
It gives users the freedom to personalize a shortcut to modify the speed.
Cons of Accelerate:
The visual speed makes it very difficult to explore the menus.
3. Video Speed Controller
Without question, the Video Speed Editor Chrome extension is the one that has the most users. Any HTML 5 video may have its playing speed adjusted quickly using this tool. When you access a website that contains HTML5 videos, you will see a speed controller in the upper left part of the video player. If you have, it is installed in your browser and viewing a page containing HTML5 movies. In addition, it has many shortcuts that might help you get things done faster while you're using it.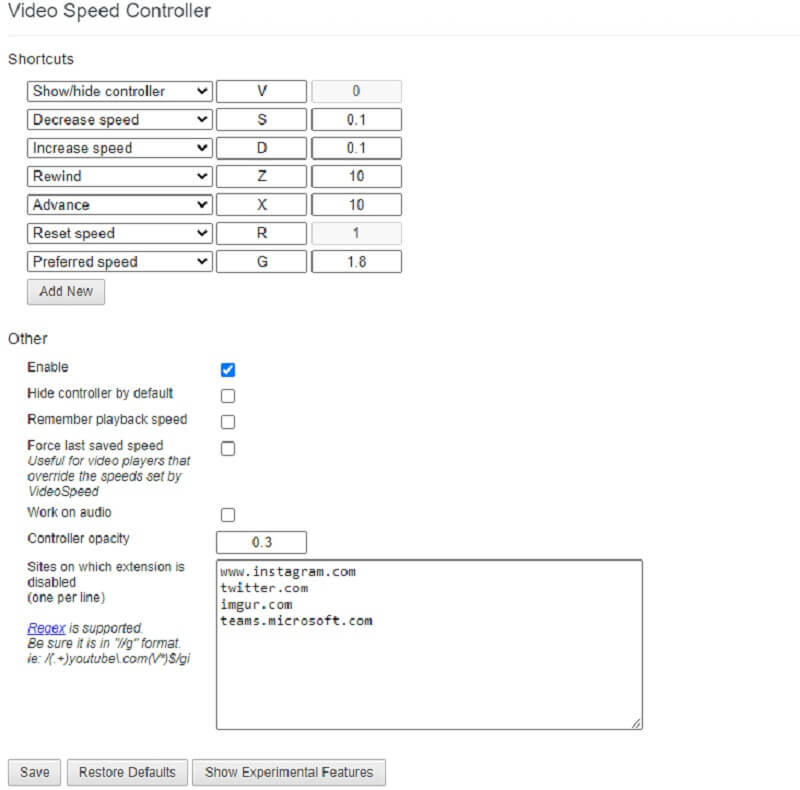 Pros of Video Speed Controller:
You can make adjustments to the playback speed very quickly.
Controlling the video's pace is made simple using an intuitive user interface.
Cons of Video Speed Controller:
There are a few options available for the video speed controller.
4. Kapwing Online
Kapwing is the best online video editor since it offers various tools tailored to meet the requirements of particular projects. You can speed up a video by a factor of two or four when you use this tool. You may create films that stand out from the crowd by employing options like resizing, trimming, cropping, or adding text. In addition, it is pretty simple to use. It means that even someone who has never edited before can edit, create GIFs, and produce animations using various effects and transitions.
Users can also change the speed of the background music and separate the audio and video tracks from one another with this feature. This online application is helpful for inexperienced users and novices. However, it is not suggested for more experienced or professional moviemakers or video editors. It does not provide access to more sophisticated video editing or features.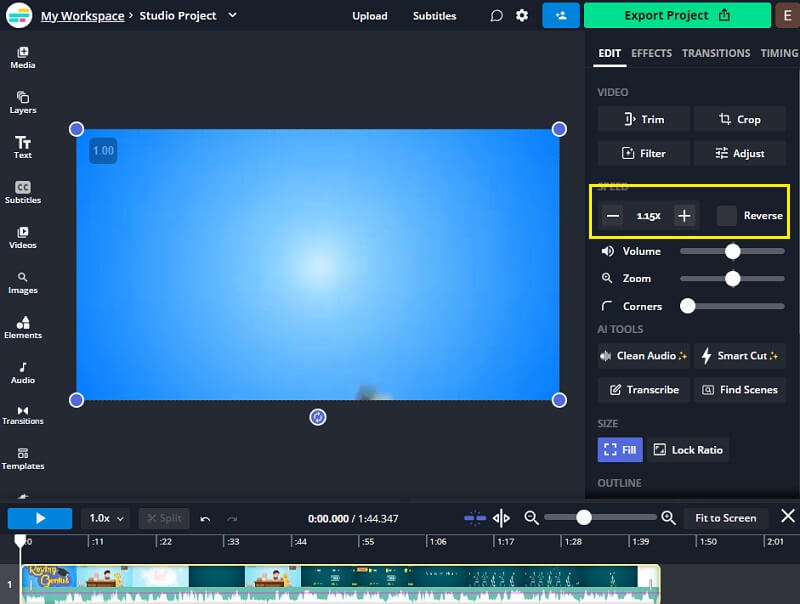 Pros of Kapwing Online:
It works well for both novice and semi-professional video editors.
It enables the personalization of pre-formatted stories for use on various social networking networks.
It is compatible with every operating system.
Cons of Kapwing Online:
In the free version, a watermark appears on the image.
The procedure of uploading takes an excessive amount of time.
5. Clideo - Change Video Speed
Clideo is a professional online video editor offering an online video speed changer. It enables you to vary the pace of your movie in a matter of seconds by giving you the option to make it either faster or slower. You have the option of selecting the desired speed using the slider, or you may choose one of the six speeds that are the most often utilized. You can upload a video clip from either your computer or a mobile device, as well as from Google Drive, Dropbox, or a URL.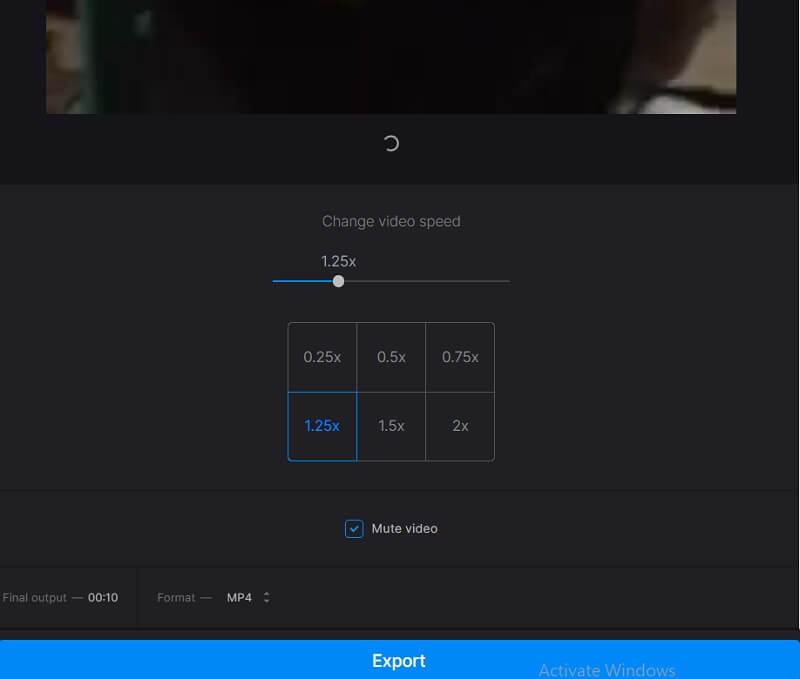 Pros of Clideo:
You may adjust the video speed between 0.5 and 4 times the average speed.
It is compatible with the majority of video formats.
Cons of Clideo:
If you do not upgrade to the premium account, the video you export will have a watermark.
There is a video editing function, although it is essential.
6. FlexClip
Because of its intuitive user interface, FlexClip makes it possible to alter the speed of a video in a matter of seconds, whether you want to speed it up or slow it down. In addition, FlexClip is compatible with any standard video format. This video speed changer is suitable for use with an extremely high percentage of videos. When you change the speed of your movie, it is free to use, and the exported video does not have a brand name. It is because the speed-changing feature uses the original video file.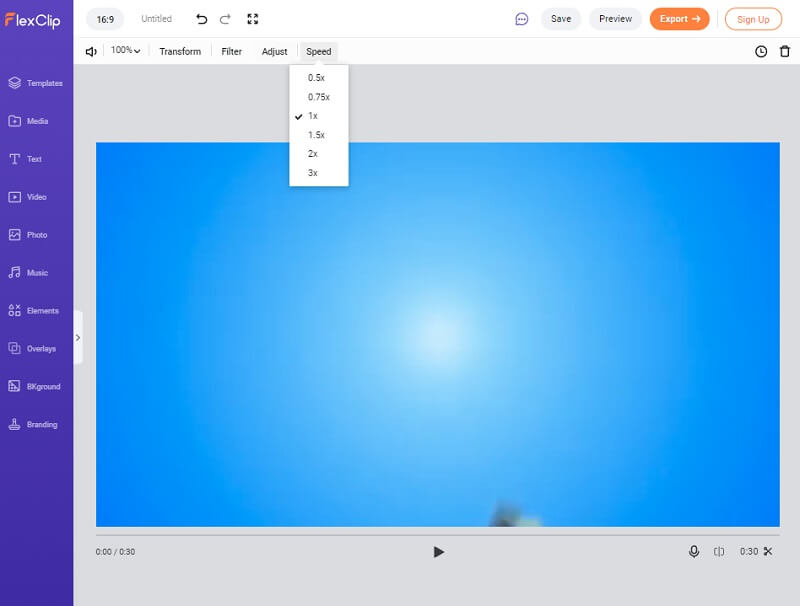 Pros of FlexClip:
It does not cost anything, and navigating it is a breeze.
Users are given the ability to modify the video speed by up to 8 times.
There includes a large selection of editing tools.
Cons of FlexClip:
The procedure moves at a snail's pace when combined with a sluggish internet connection.
Part 2. Comparison Chart
| | | | | | | |
| --- | --- | --- | --- | --- | --- | --- |
| Features | Vidmore Video Converter | Accelerate | Video Speed Controller | Kapwing Online | Clideo | FlexClip |
| Operating systems | Windows and Mac | Mac | Chrome Extension | Online | Online | Online |
| Interface | Easy | Easy | Easy | Easy | Easy | Easy |
| Video speed | Up to 8x | Up to 2x | Up to 4x | Up to 4x | Up to 8x | Up to 8x |
Part 3. FAQs About Video Speed Controller
What is a speed controller for a video?
A video speed controller is a set of several tools that you may use to change the playback speed of a video. At the same time, it is being edited or being played back. For instance, you might use one to play back a film in thirty seconds, or you could speed up a video if the speaker in the video is talking too slowly. Video speed controllers are lovely tools that may assist you in improving the watching experience and the experience of creating videos.
Can I change how fast the video plays for good?
Yes. Suppose the only change you need to make is a basic one. In that case, all you need to do is alter the playback speed. You can do that with any media player or the video speed controller mentioned previously. Instead of doing it yourself, you should invest in a professional video converter to give your movie the impression you want it to provide.
How can I slow down a YouTube video?
You may slow down a video in a variety of different ways. By pressing the Playback Speed button in the Settings option, you may reduce the speed at which a YouTube video is played from the standard 1x to 0.25x. You may also alter the speed of a YouTube video using the keyboard shortcuts or toolbar. You can install the video speed controller extension discussed earlier in this section and add it to your browser.
Conclusions
This page provides information about the six video speed editors available for Windows, Mac, Chrome extension, and internet use. However, you should go with the Vidmore Video Converter if you are looking for the most refined video speed controller compatible with both Mac and Windows.