All About Speed Up Video Apps on Mobile and Desktop
One of the strategies that video editors use nowadays is to modify your video clips in some way, such as by speeding them up or slowing them down. It is just one example of this approach. Doing so makes their material more engaging to the people watching it. Are you aware you can also do this on your video clip using only your phone? Indeed, such a thing is feasible! Because of the availability of speed-up video apps for both iPhone and Android, a desktop computer is no longer necessary in today's world. Learn more about them as you continue to read this page.

Part 1. Best Video Speed Controller on Mac and Windows
You may depend on Vidmore Video Converter regardless of whether the operating system on your device is based on Windows or Mac. This software program can accomplish many things, one of which is speeding up or slowing down the rate at which a video plays. It is only one of its many features. With only a few clicks of the mouse, you can maintain the excellent quality of the movies while adjusting the pace of the video, changing the format of the video, and changing the format of the video.
You can also use it to enhance and trim your videos to make them seem better and more professional. You can do it with the guide software.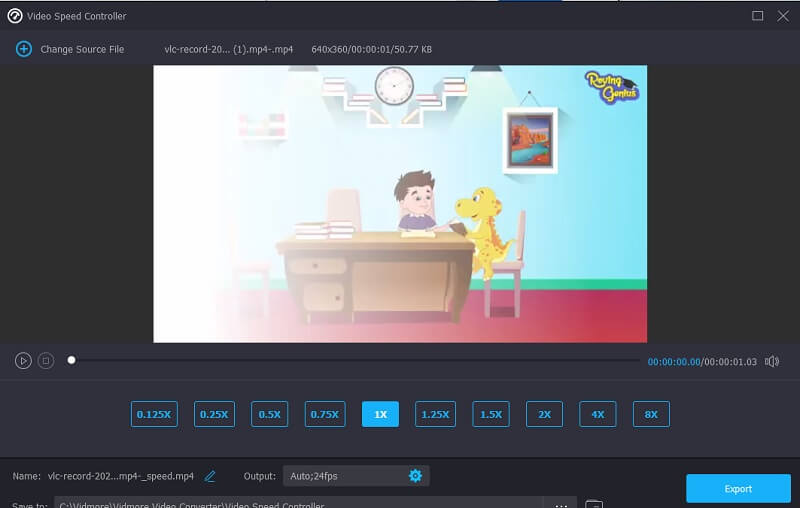 Pros of Vidmore Video Converter:
It is possible to alter the speed of a video by anywhere from 0.25% to 8.0 times its typical rate of progression.
You can modify the video format and frame rate while the video's excellent quality is maintained throughout the process.
It has various editing options, such as trimming, chopping, and adding filters to the video.
You can watch a preview of your video before and after editing it using this feature.
Cons of Vidmore Video Converter:
It is pretty easy to put into use.
Part 2. 3 Easy Apps to Speed Up Video
1. iMovie
iMovie is one of the best applications for accelerating video because not only is it easy to use, but it is also optimized for iOS. It comes with all of the fundamental editing capabilities that will assist you in producing cinematic films in a matter of minutes. If you want to speed up video, iMovie is one of the best applications you can use. You have complete control over the video's pace and may change it to match your needs by making it faster or slowing it down. In addition, you will have access to various storyboards and templates that you may utilize to improve the quality of your movies.
This program can assist you in producing videos that are at least several minutes long and may be used at no amount to you. The best feature is that it is entirely free to use.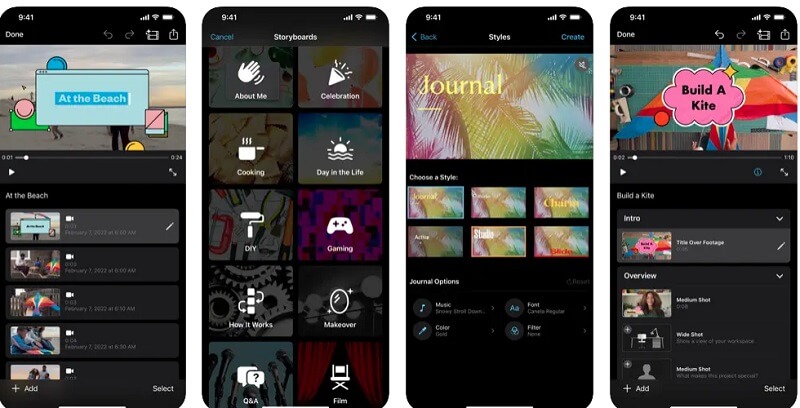 Pros of iMovie:
You get complete access to all functions since it is free.
It gives you premade storyboard templates to use as a beginning point for the editing process. And it does this by providing you with the templates.
It is ideal for those with little to no previous expertise interested in more advanced editing capabilities.
Cons of iMovie:
It cannot upload videos to any of the social media sites supported by it.
It demands a more significant amount of room in the storage area.
2. FilmoraGo
FilmoraGo is a robust video speed editor for Android smartphones that provides numerous options for accelerating or decelerating the playback speed of your movie. You can use this app to make your clip seem to go faster or slower. It does not leave a watermark in any version, even the free edition. Because of how easy it is to use, it is an excellent tool for users who are just starting but also for those with more expertise.
It also enhances the quality of your films by giving presets and filters that you can apply to them. It allows you to post your movies directly from the app to the various social media networks you use.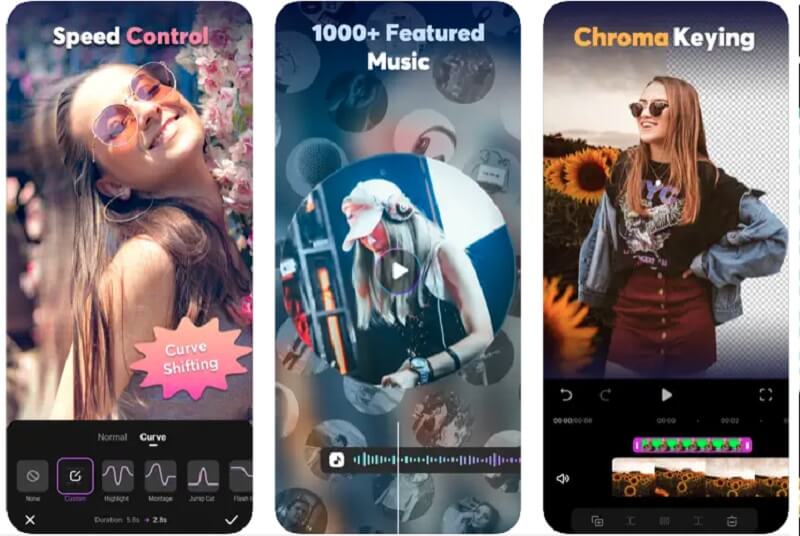 Pros of FilmoraGo:
It comes with a comprehensive selection of other configurations.
It enables the export of video in high quality, which is quite helpful.
Cons of FilmoraGo:
For first-time users, another practice may be required to get comfortable with all the features.
3. InShot
InShot is a well-known video editing tool regarded as one of the best programs currently available for increasing the playback speed of movies on mobile devices. It runs on the Android and iPhone operating systems. Adjusting the movie's pace is simple, thanks to the inclusion of a slider in the player's interface. You have the power to edit, clip, as well as add text, stickers, music, fades, and glitch effects, in addition to controlling the tempo at which the video plays.
Suppose you are just getting started and looking for an app that can help you speed up the video while offering you many additional possibilities. In that case, the ideal choice is InShot, which offers all these features.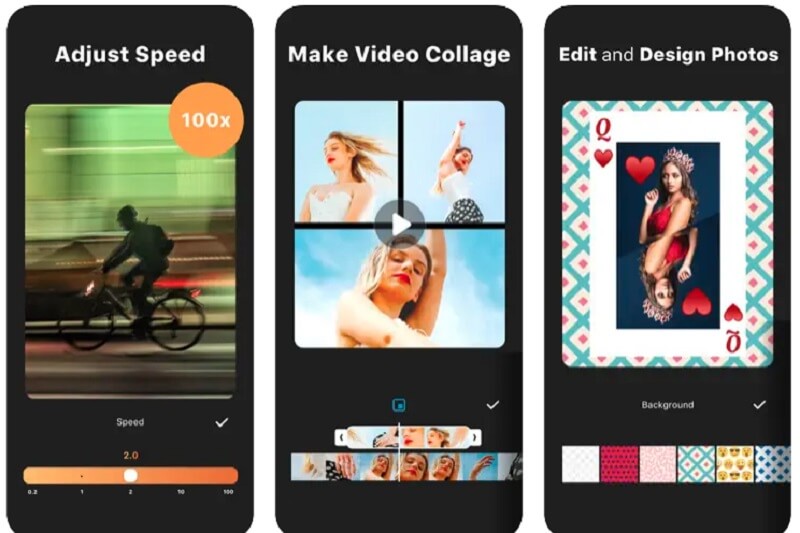 Pros of InShot:
It offers comprehensive editing capabilities.
It offers consumers a great deal of convenience.
Cons of Inshot:
When you make a mistake in editing your films on our website, there is no way to reverse it.
Because of all of the adjustments included in the free edition, it might be challenging to concentrate.
Part 3. FAQs About Speed Up Video App
Is the service of Inshot free?
You don't have to pay anything to get the InShot app; once you have it, you can access a good portion of its features without spending any money. On the other hand, if you enjoy the program and want to use it quite a bit, you will most likely want to update it at some time. Or, at the very least, spend a tiny bit of money on improvement packs that you can use again.
How many files can iMovie handle?
The largest file size you can import into iMovie is 2 gigabytes, a little over 9 minutes. When it comes to the size of the project, it may be as big as your hard drive will allow, but a good rule of thumb is to cap it at 500 videos.
Is it free to use FilmoraGo without a watermark?
When you export a video from the free edition of Filmora, there will undoubtedly be a Filmora watermark on the final product. It is the case even if you utilize the free trial version of Filmora movies. Even the commercial edition of Filmora may immediately assist you in removing watermarks from your videos. Many video editors choose not to purchase it because of its high price.
Conclusions
Now more than ever, you can exercise your creative side with nothing more than your mobile device! And if you want to edit your video, including speeding it up or slowing it down, feel free to consult the apps to speed up videos on Android and iPhone.