Discover 3 Picture Video Makers + Instructional Guide
Do you wish to create something out of your photo and video collection? There is a way for that. You can turn your multimedia files into exciting and creative content. Besides that, it is an excellent approach to sharing your treasured moments with your family and friends. So when you want to hark back at your photos, you can see it all together in one frame. Do you want to learn this method? This post will present photo video makers and easy steps to follow. Stay with us because this post has a lot to share with you.

Part 1. Photo Video Maker for Computer
Are you searching for a program that allows you to add photos and videos without limitation? Besides that, it enables you to customize your project using various editing options. Did you know that Vidmore Video Converter checks all the mentioned qualifications? Indeed, this is the best photo video maker you can access that can transform your multimedia files into a stunning presentation.
This program provides numerous ready-made themes to select and apply to your project. Can you add text and music using this program? The answer is yes, you can. It allows you to insert a beginning and ending text and your desired music. In addition, you can use the other editing options, such as rotate, crop, effects and filters, and watermark.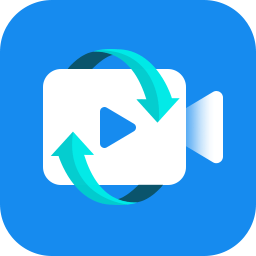 Vidmore Video Converter
Allows users to add images or videos without a number limit.
Text can be inserted from the starting and ending parts.
Music of your choice can be added.
Equipped with several ready-made themes, effects, and filters.
Packed with editing tools helpful in customizing a project.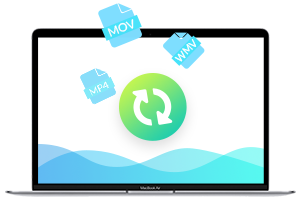 Learn how to make a picture video with music using Vidmore Video Converter:
Step 1. Download and install the program to have complete access. Open the program and select MV from the top menu bar. Then, hit the + Add button to add the photos and videos you will use. Once the multimedia files are added, you can place them in your preferred order.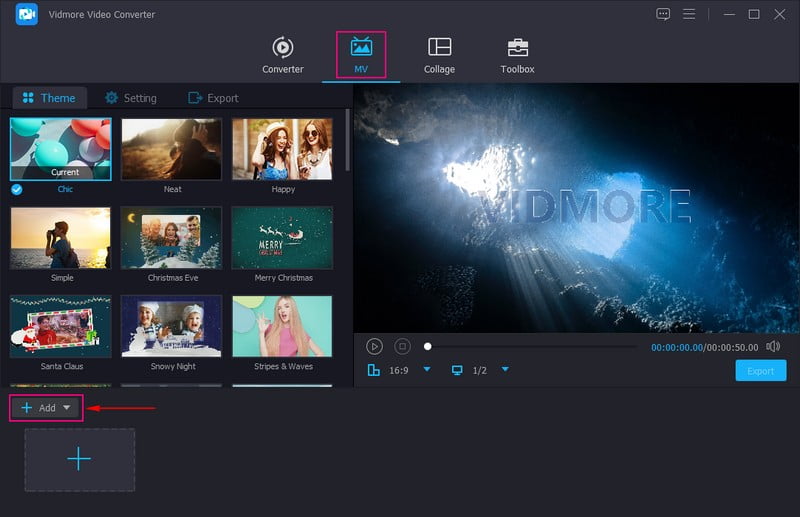 Step 2. Above your imported files, click the Edit button to open a new window where various editing options are located. Here, you can rotate and crop your multimedia files, apply effects and filters, and embed an image or text watermark.
Note: Click the OK button for every change you make to save them.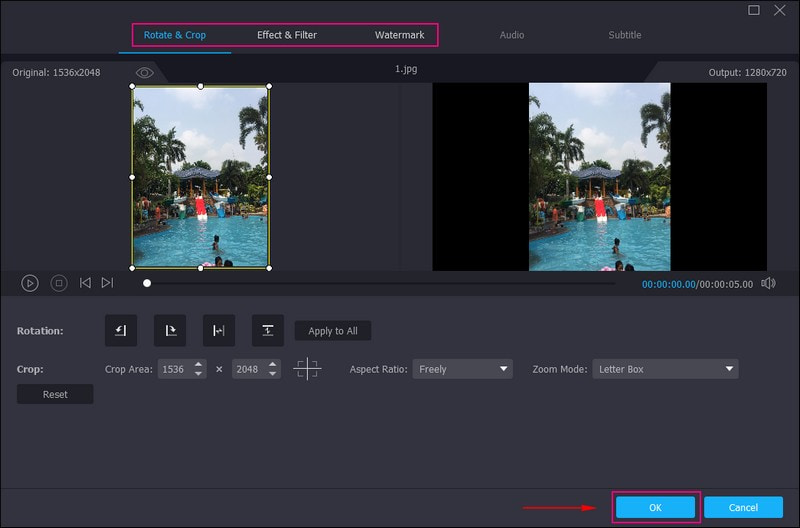 Step 3. Go to Theme and select your preferred design from the list. You will immediately see the theme you selected has been applied on the preview screen. Move to Settings and Start & End to insert text into your project and pick your desired text color, font style, and more. Besides that, put a checkmark beside Background Music if you want to insert audio into your output. You can also modify the Volume and Delay of the sound according to your preference.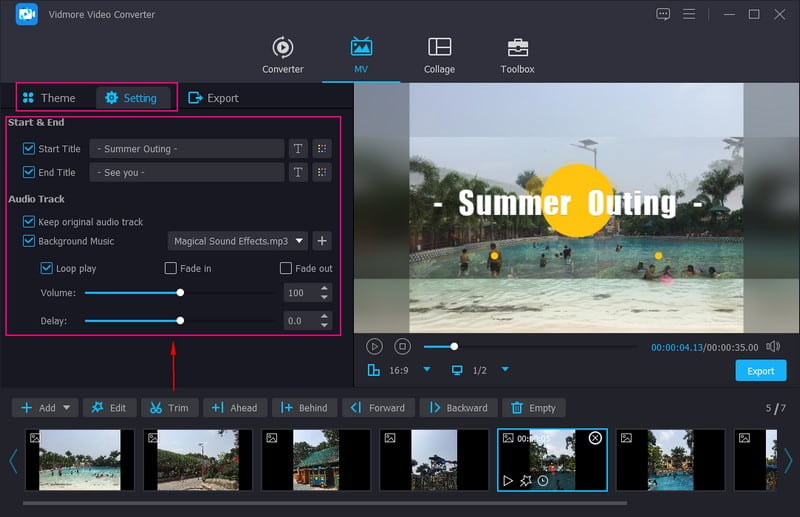 Step 4. Lastly, head to the Export option to enter a file name and change the video format, quality, frame rate, and resolution. Once satisfied, hit Start Export to save your photo and video output.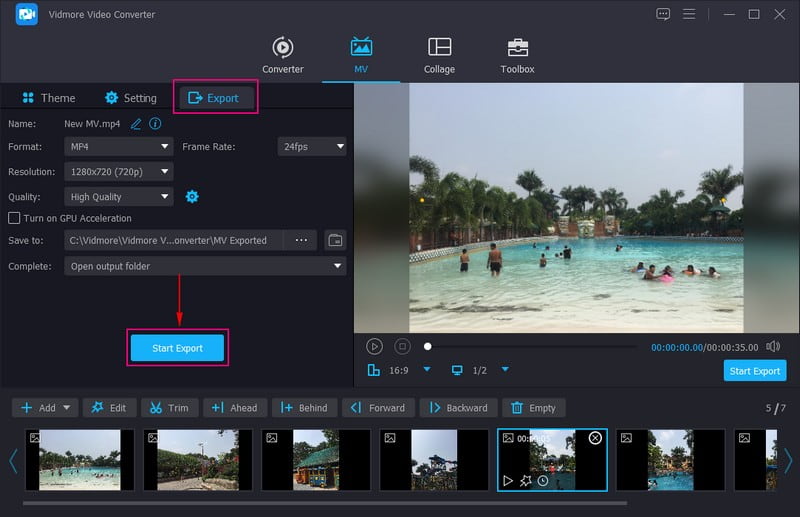 Part 2. Free Online Photo Video Maker
For instance, you prefer to accomplish your task online without downloading anything to your device. For that reason, Clideo - Video Maker is recommendable for you. It is a free photo video maker with music online, enabling you to create a presentation using various multimedia files. It enables you to add music and set a duration in each file you insert into your project. In addition, it provides several resolution presets for social media platforms.
Key Features:
It works with all the modern audio, image, and video formats.
Files uploaded are protected.
Users are allowed to add music.
Set an image or video duration.
Discover how Clideo's video maker creates a photo and video project:
Step 1. Visit Clideo - Video Maker's official website using your browser. After that, click the + Choose Files from the center part of the interface to import your image or video files.
Note: The image or video files will be imported quickly, depending on the stability of your internet connection.
Step 2. Once the image or video files are uploaded, you can change their order according to your preferred position. Next, incorporate audio and set the volume; you can increase or decrease the volume sound based on your liking. You can also check the crossfade box if you want a smooth transition between each file.
Step 3. When done, press the Play button to ensure the project looks exactly how you expected. If so, click the Export button to download your photos and video output to your device or save it to cloud storage.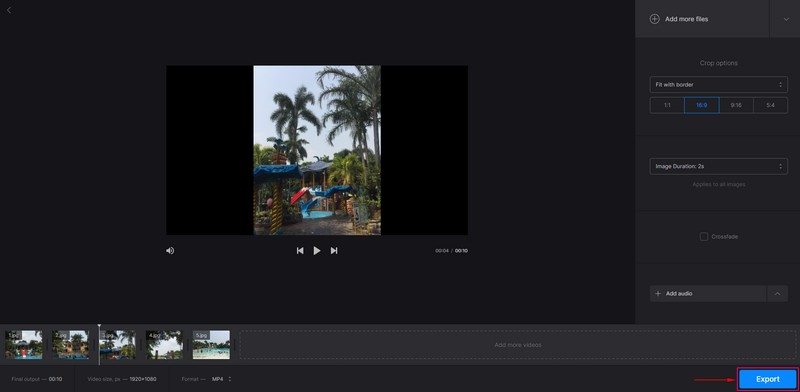 Part 3. Photo Video Maker for iPhone and Android
If you are most used to using a phone to edit an image or video, we got your back. This part will present a picture video maker you can access using your mobile phone.
PowerDirector is a picture-video maker and editor that allows you to create high-quality output quickly and hassle-free. It offers various ways to edit your content using slow-motion options, collages, and slideshows. The editing process is fast and smooth and promises to deliver high-quality outcomes. In addition, it has a built-in stock library from where you can access high-quality images, different music and sound effects, and more.
Key Features:
Free backgrounds, music, sounds, effects, filters, and more.
Allow users to trim, slice, crop, and rotate content and edit it with a few clicks.
Produce high-quality content output.
Find out how PowerDirector's photo video maker with music work:
Step 1. Download and Install PowerDirector using your mobile device.
Step 2. Launch the application and click + New Project to open your phone gallery. You can select photos and videos from the different options. Afterward, click the Next button to move to the next part.
Step 3. As you can see, your photos or video files are combined, which you can preview from the preview screen. Head to the editing options to customize your content. Add text, audio, stickers, effects, change the aspect ratio, and more here.
Step 4. When satisfied, press the Save icon at the upper right of your screen to export the output to your folder.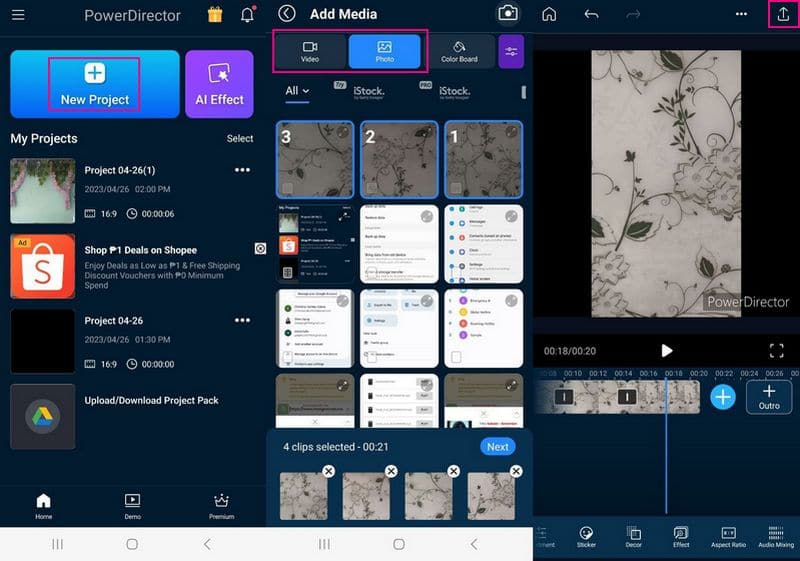 Part 4. FAQs about Photo Video Maker
What is the file limit for Clideo?
Clideo's maximum file upload size is 500 megabytes, and the extreme video full length for automatic subtitle recognition is 30 minutes.
How long should a photo video be?
The recommended photo-video length is 10-15 minutes long. The average number of images used per minute is 10-12. Therefore, 100 photos can produce a 10-12 video full length.
Can music be added to photo video content?
With Vidmore Video Converter, you can keep the original audio track and add background music. You can also play the audio in-loop and apply the fade-in and fade-out audio effects.
Conclusion
There you have it! You have learned the various picture video makers you can access online, offline, and using mobile devices. These all enable you to add numerous images or video files simultaneously. Besides, they have several editing options beneficial for editing a project to create a striking output. But if you wish to use a desktop photo video maker, rely on Vidmore Video Converter. It will surprise you more with what it can offer and surely meet your expectation.