Best YouTube Movie Maker – Create Stunning YouTube Videos (Beginner Software)
To rank a good position and gain more likes on YouTube, the YouTube video content quality is crucial.
How to create sizzling content for your YouTube channels?
The appearance of recording software lets you give up an expensive studio rent.
What leaves you is to find an awesome YouTube video maker.
With a YouTube video maker, you do not need any professional editing skills and can make a binge-worthy YouTube video easily.
That's what you shall discover in this post, the best 5 YouTube movie maker software.

The following content focuses on video editing for YouTube. The video recording process is skipped via a free screen recorder, and you can check it for more information.
Adobe Spark – Free Make YouTube Movies Online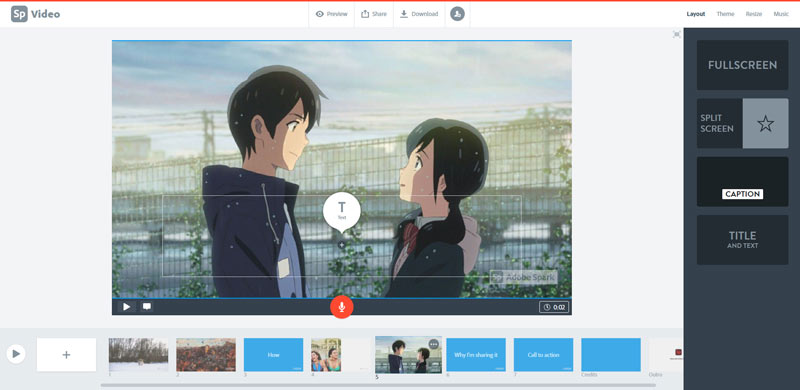 Pros
Easy to use for beginners.
Do not need to download any software.
Download created YouTube video and share it online directly.
Cons
The editing tools are limited.
The free trial version has limited features.
Adobe Spark is an online YouTube video maker for Instagram story, Instagram post, Facebook post, Collage, web page, video and more. To make a video, you need to sign in for a free 14 days trial. While creating a project, it offers you some free templates to choose from, then you can follow the production tips to create a video.
Various themes are offered to make a different movie style. For video layout, you can use the split-screen feature and add a title and caption. It lets you choose from its music library, and also upload your voice-over narration or music file to set as background audio.
With Adobe Spark, you can complete your YouTube production quickly with simple tools.
To use more templates, you should upgrade your plan.
Animoto – Create YouTube Videos with Photos and Videos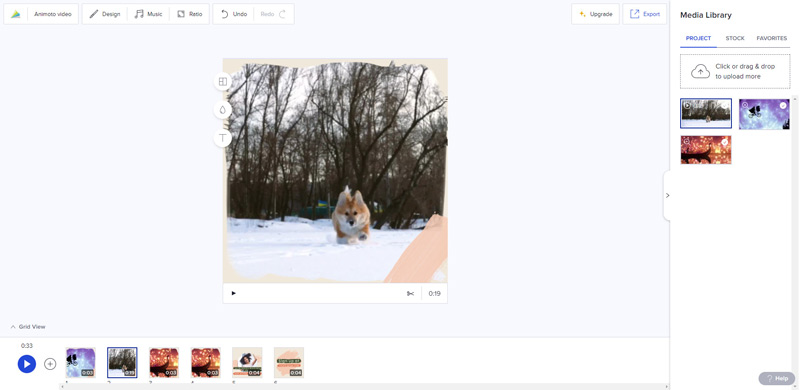 Pros
Offer various templates for different events.
Give more feasible controls to edit the video effects.
Free to make a YouTube video.
Cons
The free version is built in Animoto watermark.
Many editing features are not free.
It is not smooth when editing a video online.
Animoto is another free online YouTube video maker. Compared with Adobe Spark, it offers more themes for its different templates like event, holiday, list, narrative, product promotion, slideshow, teaser, tutorial, testimonial, and more.
With its templates, you just need to upload your videos and photos online, and then choose your favorite design (text style, video transition style and filter, and watermark design), pick the background music from its library, or upload it from your local computer, set the video ratio (1:1, 16:9, or 9:16), and finally export it.
The created video can be downloaded to compute drive, shared with Instagram Feed, Facebook Feed, LinkedIn Feed, or share the link directly.
To be clear: The free version of created YouTube video is watermarked. To remove the watermark from the created YouTube video, you have to upgrade it.
Vidmore Video Converter – Edit YouTube Videos for Beginner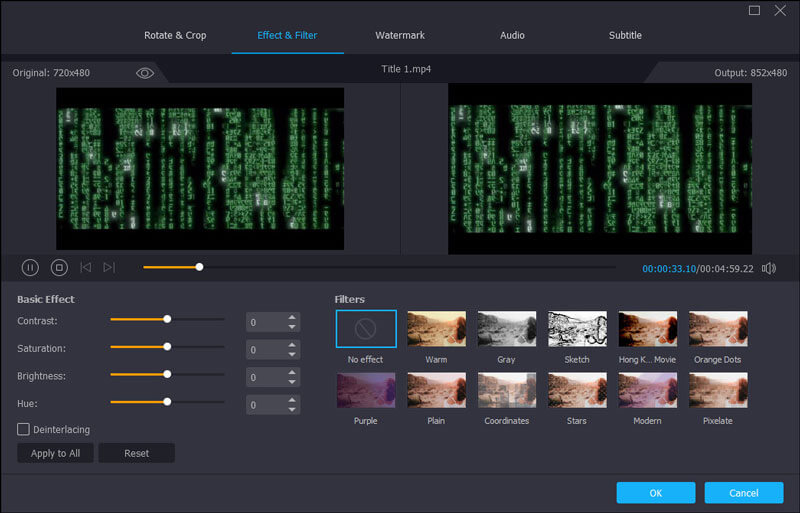 Pros
User-friendly for beginners.
Powerful video editing features for YouTube.
Edit video smoothly with hardware acceleration support.
Cons
Its free trial version
The free trial version has limited features.
Vidmore Video Converter is a YouTube video editor before posting a video online. It helps you edit and create movies, intro videos, tutorial videos, music videos, and more. No matter which style of video you want to make for YouTube, this YouTube video maker can offer all the basic editing features for beginners like you.
It crops, splits, merges, rotates, and adjusts effects for a video. For the video subtitle and audio track, it can also remove and replace with the ones that you want. The filter effects can help you create a fantastic video based on your needs.
What's most amazing is its MV feature, which can be a YouTube video maker with photos, videos, and music with ready-made themes and customized templates. Its split-screen can produce a picture-in-picture YouTube video for game videos, tutorial videos, meeting sharing, and so on.
Its toolbox can create a 3D movie, enhance video quality, make GIFs for YouTube videos, edit video information like a thumbnail for YouTube, artists, and more.
AnyMP4 Video Editor – Create YouTube Video Presentations on PC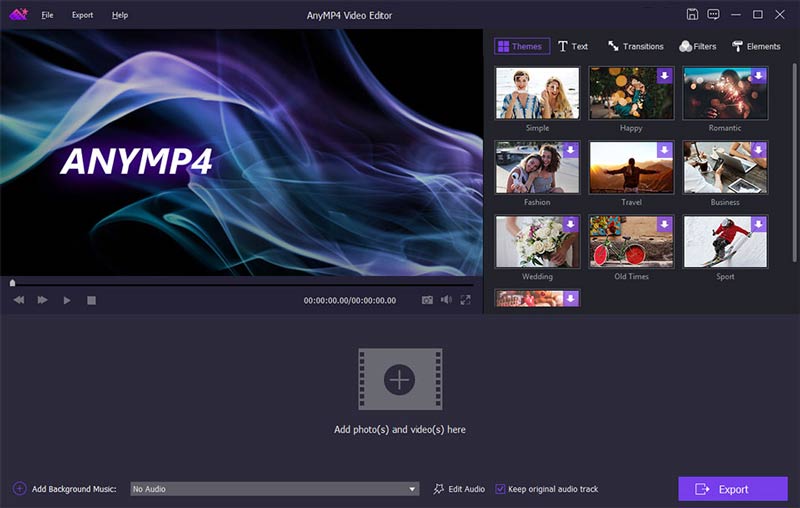 Pros
Simple for beginners to create YouTube videos with ready-made themes.
Convenient to use the customized options to make videos.
A wide range of effects for you to use.
Cons
Its free version has limited templates.
AnyMP4 Video Editor is a YouTube video creating software for Windows computer. It can be a music video creator by creating video slideshow presentations. You just need to upload photos, videos, and music files into this software, and it can create a quick video presentation with its ready-made themes.
Apart from ready templates, it also lets you customize your video effects by adding the effects of transition, texts, and elements.
Offering almost all basic editing effects, this YouTube movie maker can crop video black edges, rotate and flip videos, add filters to videos, trim and merge video clips, create a watermark for YouTube movies, and so on.
To create a YouTube video quickly and easily, this software can help you exactly.
YouTube Video Editor – Edit YouTube Videos before Publishing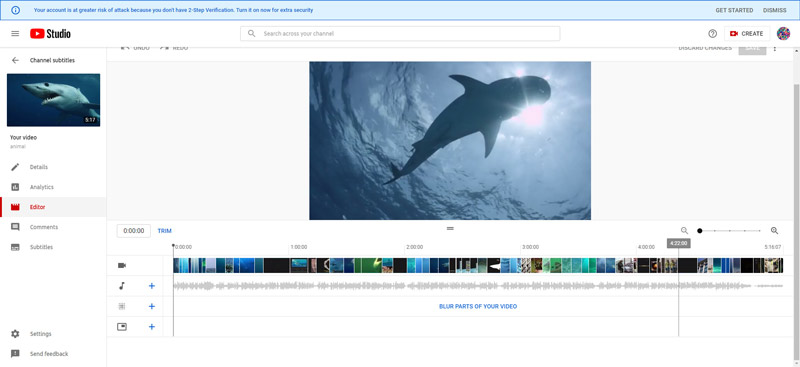 Pros
100% free to edit video online.
Insert end-screen video recommendations.
Cons
Lack of editing features of producing a video for YouTube.
The editing process is not smooth due to the network connection.
Before you upload a video to YouTube, the last video editor you can use is the built-in video editing software from YouTube, YouTube Editor. It offers some basic editing tools like adding background audio and add a blur effect in your uploaded video.
Different from other video editors, it lets you add end screens from your uploaded video playlist, which can capture your audience to watch the next video from yours.
Besides, it lets you upload and edit the subtitle, and set the thumbnail to get your audience's attention.
It can be a good video editing helper after you nearly complete the video production.
FAQs of Best YouTube Movie Maker
Does YouTube have a video maker?
Yes. YouTube is a built-in video editor online after you upload your video file. It lets you edit your video anytime and anywhere if you have a computer.
Is YouTube movie maker free?
Yes. It is totally free to use YouTube movie maker online.
How many views do you need on a YouTube video to make money?
It is hard to get an exact rate. A ballpark figure seems to be that a video with enough ads can make somewhere between $3-5 per 1000 views, but even that figure depends on the quality of the particular ad and the other factors mentioned above.
Conclusion
YouTube videos can help people to earn money. When you want to make an intro video, tutorial video, animation video, cartoon video, music video, or more for YouTube, a good YouTube video editor is essential. This post collects the best 5 YouTube video maker app for computers. Even if you are a YouTube vlog beginner, you can easily output your YouTube videos.
Which YouTube video maker app is your favorite one?
Or you may have other YouTube video creator recommendations?
Let me know by leaving your comments below.