Useful and Effective Video Editor to Brighten A Video
A video you recorded or downloaded online could occasionally be too dark to watch. Are you trying to look for the best solution how to make them clearer? Luckily, Windows, Android, and iPhone users may brighten films using various brighten video apps. Many of these applications let you make clear and professional films, and some even provide you with additional editing tools and fun effects. There are several excellent programs for brightening movies, but it can be overwhelming to sort through them all and choose which one to use. To help you make a more concrete decision, we have collected a list of the best applications to brighten videos on your Windows, Android, and iPhone devices you can try.

Part 1: Best Application to Brighten the Video on Windows
The best app to lighten a video using your Windows is Vidmore Video Converter. This application lets you lighten up your video in the most straightforward way. It offers an easy-to-understand interface that is beneficial to all users. Using the Color Correction Tool, this offline tool is dependable for adjusting the brightness of your video. Based on your desired result, you can change the brightness of your video. Aside from the brightness, you can also adjust your video's saturation, hue, and contrast, especially if you want to change and enhance the color of your video.
Pros
It can adjust the video color, including brightness, saturation, contrast, and hue.
It offers a smooth exporting process.
You can convert various video formats, such as MOV, AVI, FLV, MKV, WMV, MP4, and more.
It has an intuitive interface that is suitable for the non-professional user.
The procedures are straightforward.
It has more great features.
Cons
To enjoy more great features, get the paid version.
Step 1: Download Vidmore Video Converter on your Windows by clicking the download button below. You can also download the Mac version. After installation, launch the application.
Step 2: Navigate to the Toolbox panel and click the Color Correction tool. This is the tool you will use to brighten your video.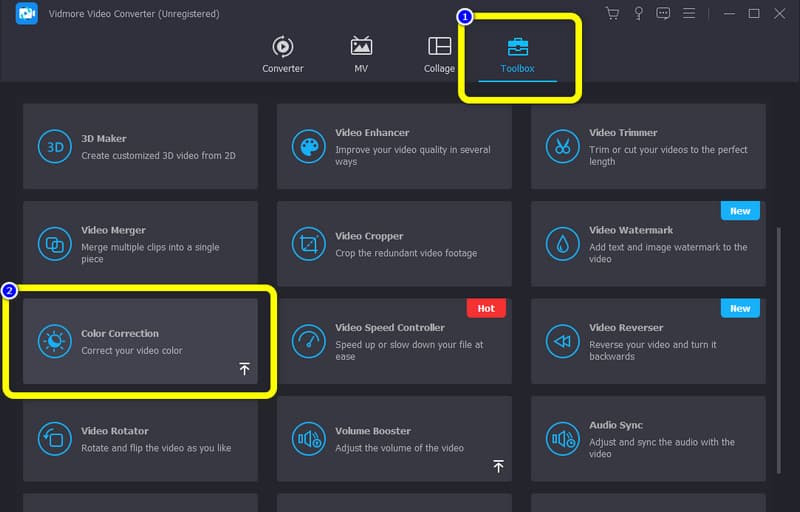 Step 3: After that, another interface will pop up on the screen. Click the + icon to see your folders and choose the video file you want to brighten.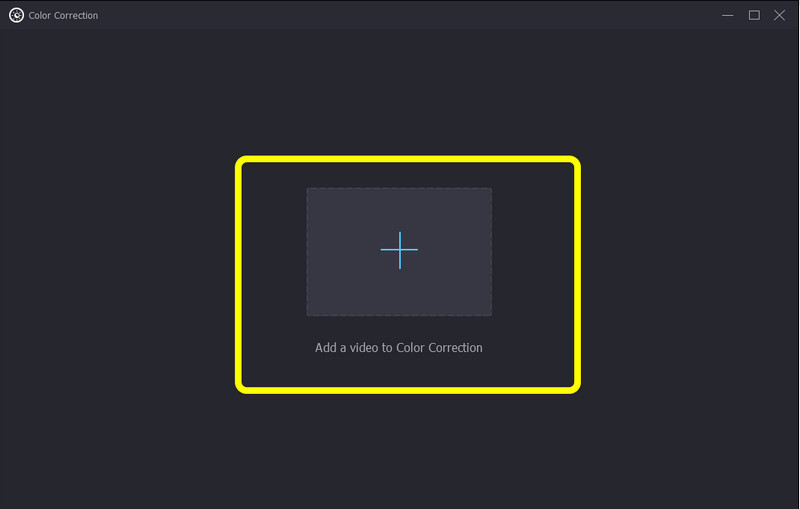 Step 4: If you have already added your video, go to the sliding bar of the brightness option at the lower right of the interface. Move the sliding bar from the center to the right to brighten your video.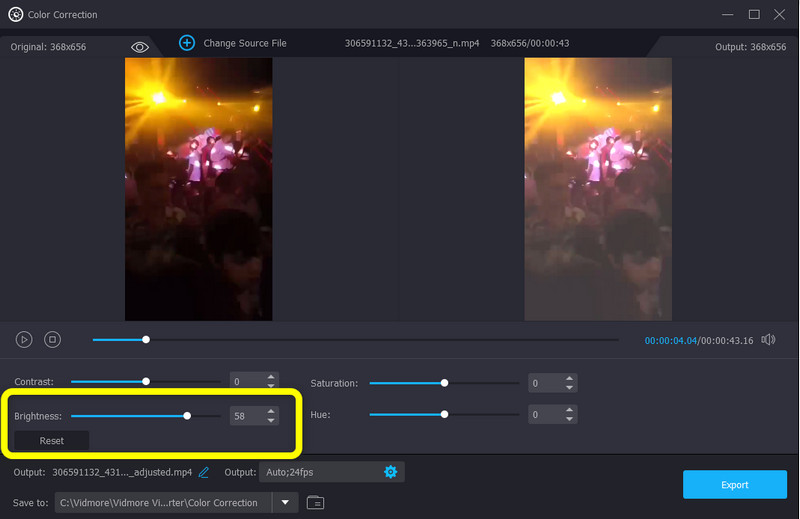 Step 5: Other than changing the brightness of your video, you can also change your video's frame rate, zoom mode, encoder, and resolution and change your desired video format by clicking the Output settings. Then, change all the parameters based on your preference. Then press OK.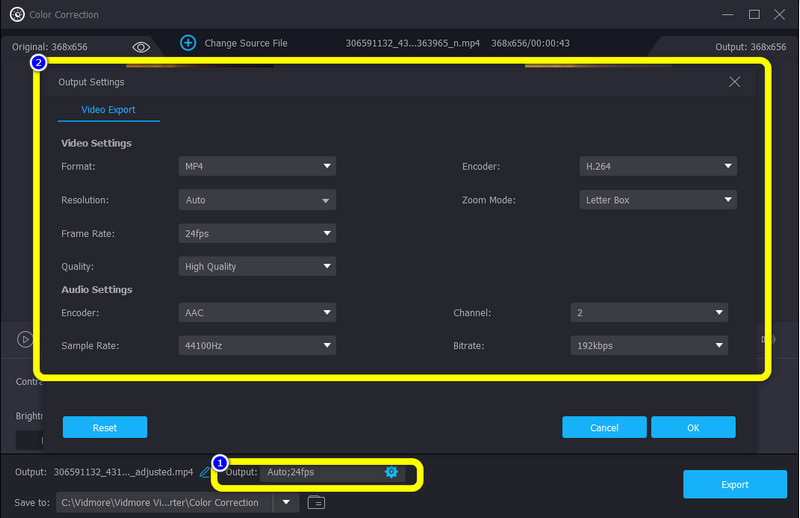 Step 6: For the final step, if you are satisfied with the results of your video, you can save your output by hitting the Export button. Wait for the exporting process and save your video on your desired file location.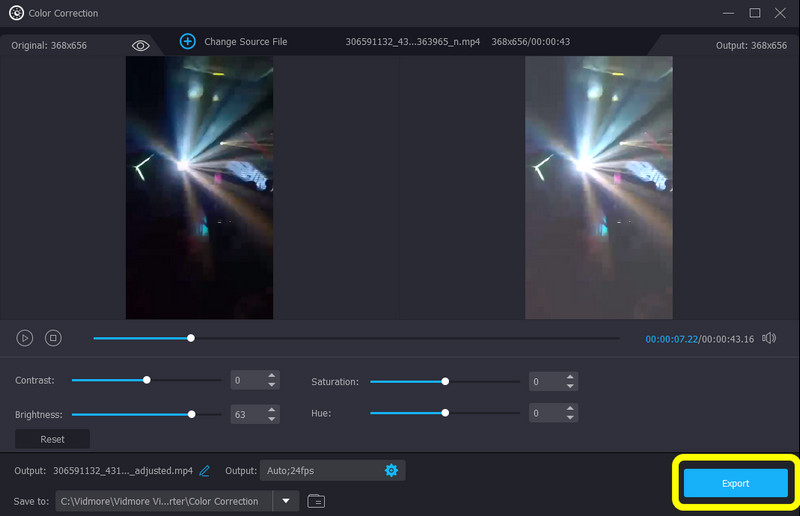 Part 2: Brighten A Video Using Android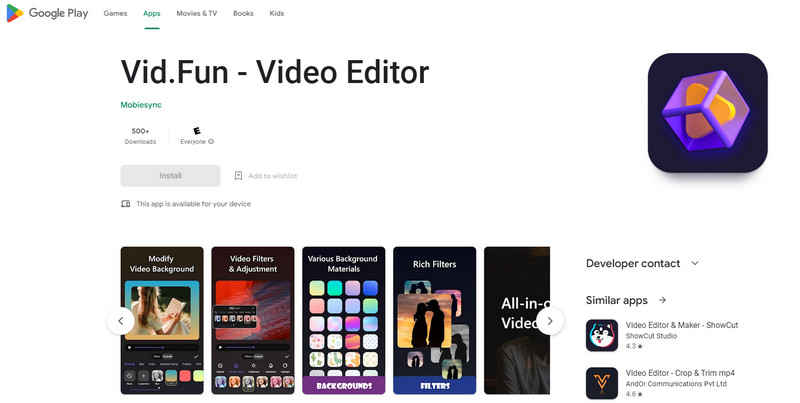 One of the best brighten video apps on Android is Vid.Fun - Video Editor. Using this application, you can ensure that your dark video is possible to enhance by adjusting the brightness of your video. Also, this application is perfect for beginners. It has a simple video editing procedure and an understandable interface that is not confusing. Furthermore, all-inclusive video editing features are available on Vid.Fun. It enables you to edit, customize, and produce original videos. Video trimming, picture cropping, video rotation, background changing, video adjustment, video filters, and other functions are included in this application's features.
Pros
Suitable for non-professional users.
It offers an intuitive interface.
Reliable in enhancing the brightness of the video.
Cons
Some features are confusing.
Sometimes the application is not performing well.
Part 3: Brighten A Video Using iPhone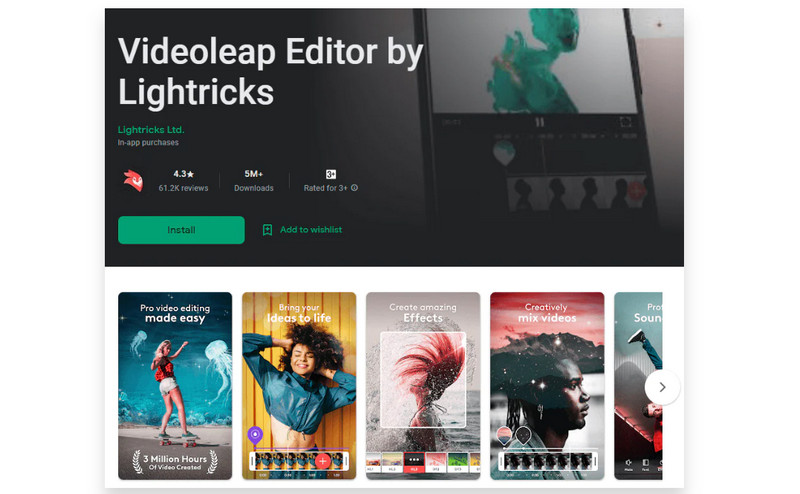 If you are looking for an outstanding app to brighten a video using iPhone, use VideoLeap. It is a fantastic video editor for all users: professional and non-professional users who want to make videos for entertaining friends or for serious ones like business, marketing, promotions, advertisements, and more. Therefore, you may use Video Leap to edit and brighten your movie to make the greatest quality videos. However, this application is not 100% free. It can only offer a free version with limited features. If you want to utilize all features, you have to purchase the pro version.
Pros
All users can utilize the application.
The interface is understandable.
Cons
The free version has limited features.
Purchasing a subscription is costly.
Part 4: FAQs about Brighten Video App
1. What is the best app to brighten dark videos?
To brighten your dark video, use Vidmore Video Converter. It has the capability to lighten up your video using the Color Correction tool easily. You can download this application on both Mac and Windows for free.
2. Can I use the Photos app on Android to brighten my videos?
Absolutely, yes. Open your photo, proceed to the Edit option and select Adjust. After that, click the Brightness option and adjust the brightness of your video.
3. How to brighten dark video on Mac?
If you are using Mac, you can use the iMovie application. You can download and launch the application. Go to Color Correction and adjust the slider to change the brightness of your video. In addition, the best alternative you can use is Vidmore Video Converter. This application is also accessible on Mac, allowing you to brighten dark videos.
Conclusion
These are the three excellent software to lighten dark video using Windows, Androids, and iPhone. With this detailed information, you will be given a chance to choose what application you can utilize. But, if you want the easiest and most free app to brighten a video, use Vidmore Video Converter.