Add a Copyright Symbol to Documents, Photos, Videos, and Resources
Business owners can safeguard their intellectual property by using copyright watermarks, which are graphic design aids that superimpose a logo, word, stamp, or signature onto photos and other items. It is a crucial tool for raising awareness about intellectual property rights and facilitating the tracking of individual photos and other digital assets.
Besides business owners, it is also helpful for typical users whose purpose is to protect their resources, including music, photos, videos, and other resources. We are delighted to provide references to the most helpful software to add copyright symbols to websites, documents, and other content.

Part 1. What is a Copyright Symbol
The copyright sign denotes that the right to reproduce and distribute the work has been granted to a specific individual or organization. The copyright symbol, a circular C, can be found on many different media types, including books, websites, and television broadcasts. However, a P inside a circle may replace the C for sound recordings with the same general meaning. Copyright protection could be vital to you if you run a business or engage in a pastime that involves the creation of written or visual content, musical or visual works, or even structural designs.
Part 2. How to Add a Copyright Symbol to a Video
After learning about the copyright symbol, we will now move on to adding copyright symbols to videos. Here are the programs you can use to add a copyright icon.
1. Vidmore Video Converter
When searching for an effective method to copyright video, there are a few factors to keep in mind. Whether or not it has a simple interface, is simple to set up, and provides straightforward functionality. You should try the Vidmore Video Converter. This tool can adjust the copyright in size, font, color, and transparency. In reality, newcomers can soon become proficient. Furthermore, you have access to a wide variety of powerful editing tools, including cutting out unnecessary parts of a video, cropping the screen, adding subtitles, and applying a wide range of effects and filters. On the other hand, refer to the following steps to learn how to add a copyright symbol to your videos.
Step 1. Obtain the program and install
First of all, acquire the Vidmore Video Converter using the Free Download button provided below. Select the installation link that is compatible with your computer's OS. Right after, start using the program by circumnavigating it.
Step 2. Add a video to the program
This time, tick the Add Files button on the app's main interface, then locate the video you wish to apply a copyright symbol to. Once done, insert your desired video to edit. Alternatively, you may tick the plus sign button to add video file(s).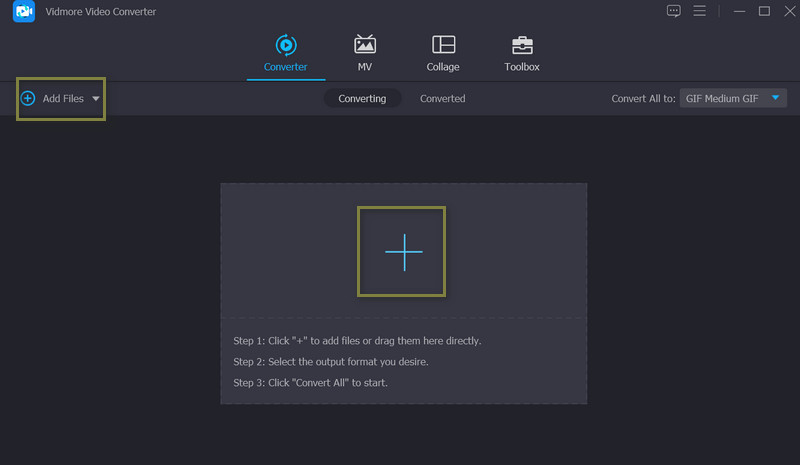 Step 3. Apply the copyright symbol to the video
After uploading videos, hit the Edit button located right beside the video thumbnail or preview, and it will launch the editing studio of the program. Here, you will be provided access to different editing tabs. Now, go to the Watermark tab to add the symbol. Tick the Image radio button and hit the Plus icon associated with this option. Then, select the copyright symbol, and it will be overlaid to the video.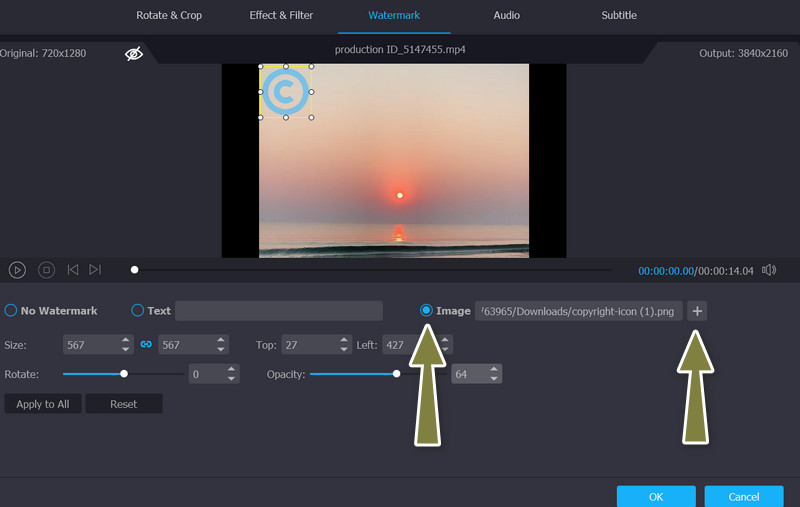 Step 4. Choose an output format and download
Hit the OK button from the Watermark tab, and you will get back to the Converter tab. At this point, open the Profile menu and select a format according to your needs. At last, hit the Convert All button to get the copyrighted video.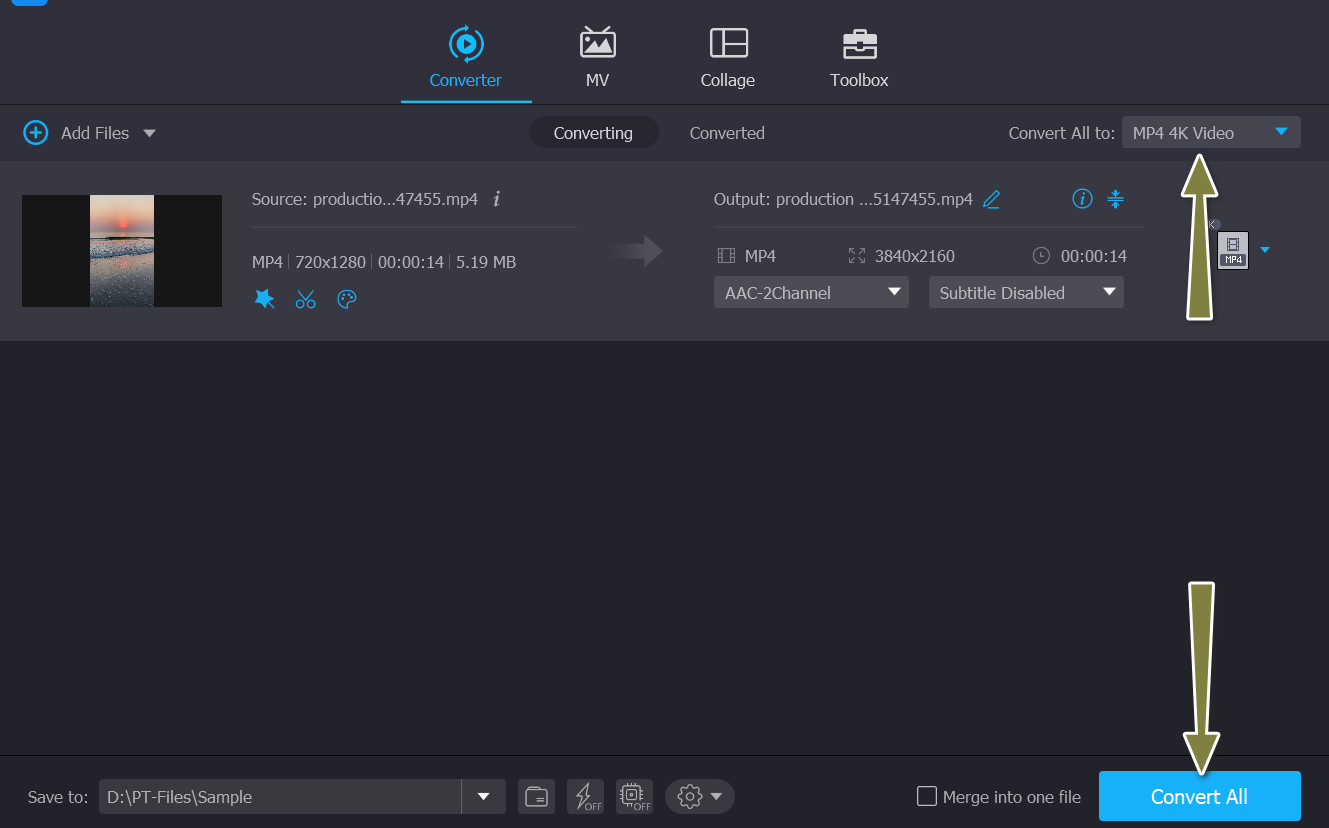 2. VLC Media Player
From its original release as the VideoLan Client Media Player, VLC Media Player has progressed to its current state of sophistication. New features in the app include the ability to stream videos in 360 degrees via Chromecast. This little open-source player is capable of playing a wide variety of media formats. Moreover, you can use it as a video download for YouTube and learn how to add copyright to YouTube videos. Few know of this, but it is possible. Here is how.
Step 1. Get started by firing up VLC on your computer. Launch the video you intend to watermark right now.
Step 2. Then, navigate to the tab labeled Tools. Click Effects & Filters in the menu's pull-down.
Step 3. In the window that appears, go to the tab labeled Video Effects. Choose the Overlay submenu under Video Effects.
Step 4. Select the watermark file and turn on the Add logo option. Now, alter the line's opacity and top and left line adjustments. When you are finished, select Save. That is how to add a watermark in a video using VLC.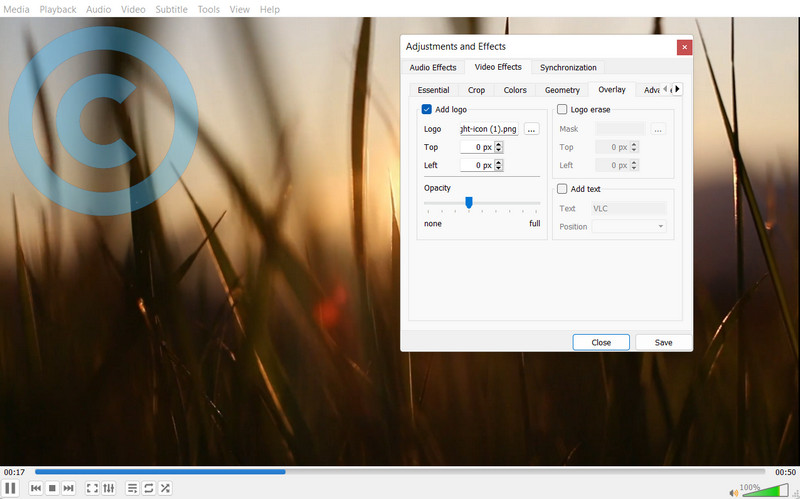 3. Kapwing
Other than copyright protection, Kapwing has a wide range of editing options. However, you should know that the MP4 format is the only one supported for video storage. In order to add a copyright symbol to your film, please read the instructions below.
Step 1. Start up Kapwing on your computer. Then select Upload to import your video.
Step 2. When you are ready to make your own copyright for the video, select the Text or Images option from the menu at the top left of the screen.
Step 3. To begin creating the file, select Export Project and be patient while it loads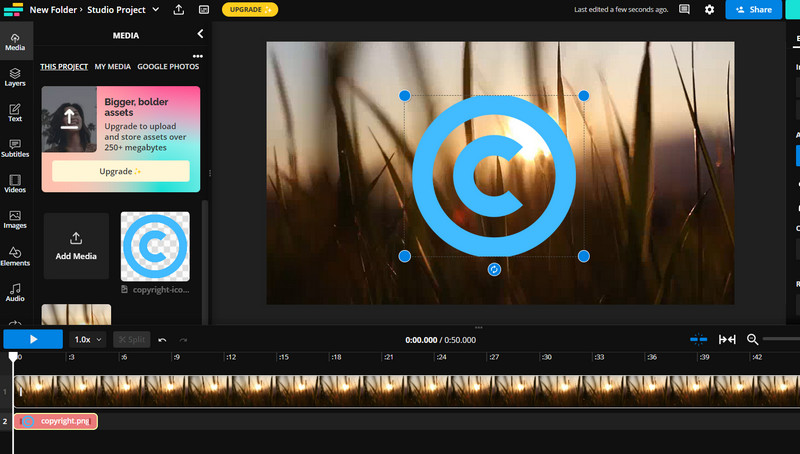 Part 3. FAQs about Copyright Symbol
What are the other forms of intellectual property?
Other sorts of intellectual property including trademarks, which identify who supplies specific types of things, and patents, which protect rights to inventions
How do patents work?
Patented inventions are frequently branded with their patent number, which is a unique serial number provided by the Patent and Trademark Office when a patent is granted
How to trademark content?
The registered trademark symbol, which is a capital 'R' in a circle, is frequently used to identify trademarks. This means the trademark has been registered with the United States Patent and Trademark Office
Conclusion
The post is all about how to add a copyright symbol to videos and everything about copyright symbols. If you want to help others protect their resources, be sure to share this article with them.