How to Put Audio Over a Video with Reliable Tools for All Platforms
Music plays a massive role in creating an attractive and stunning video. Aside from touch-ups like effects, color hues, overlaying texts, or animations, audio or sounds seem to be a great need. It makes the video look more professional, aside from the benefit of making it interesting to watch.
Albeit this task can be a little challenging to deal with, tons of software and applications will enable you to add music easily.
You don't need to have technical skills. You can avoid the complexities by using the programs we will scrutinize today. There are programs for all platforms, so you can choose which program suits you the most. Therefore, if you are interested in putting music on a video, check the efficient and easy-to-maneuver applications below.

Part 1. How to Put Music on a Video Perfectly
For a professional yet easy-to-use application, Vidmore Video Converter is the best program to go. This is a desktop software that you can use to add music to the video, no matter the audio file format. It has extensive format support, including MP3, AAC, AC3, FLAC, OGG, OGG, etc. Equally important, you can convert nearly all audio and video formats to your desired format with the ability to select the audio quality. Beyond all these, you can either increase or decrease the volume. Also, you can match the audio in the video using the audio sync feature of the program. See the steps below to learn how to put music behind a video.
Step 1. Acquire the Vidmore Video Converter
Before anything else, grab the app's latest version using the Free Download buttons presented below. After that, install and open it on your computer to start using the program.
Step 2. Add video into the software
Click the Plus sign button to import a video file. You can also drag and drop the file into the software to upload. Once the video is loaded, you will see it appear in the interface with its basic information like video format, frame rate, etc.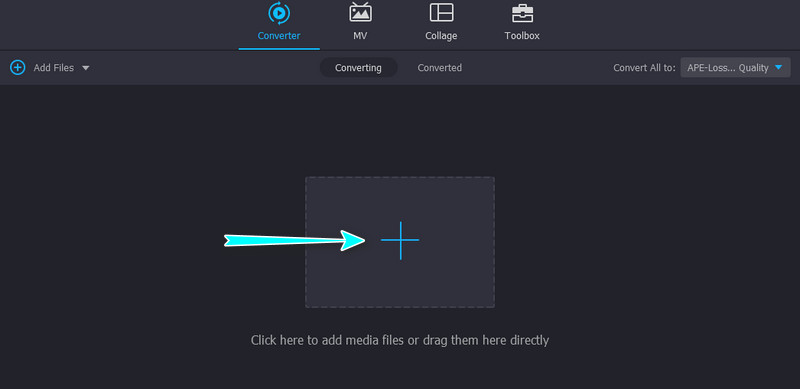 Step 3. Put music to the video
Unfold the Audio Track field and click the Add Audio Track option. The tool will open a file folder on your computer. Now, locate the audio that you wish to add to the video. Aside from the audio track, you may add subtitles to the video as you wish.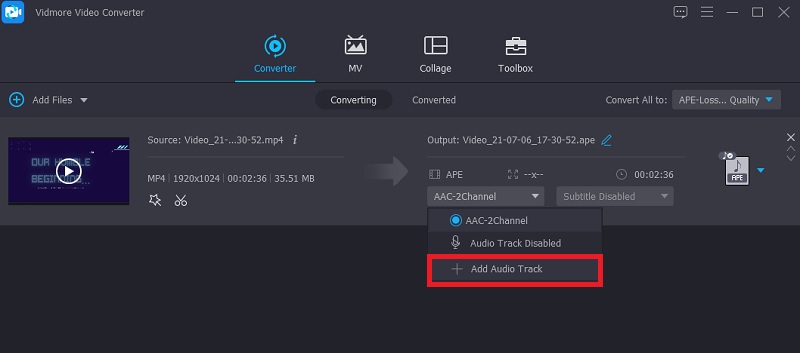 Step 4. Confirm the operation
At this point, choose the appropriate format for the video by selecting an output format from the Profile tray. After that, click the Convert All button to confirm the operation and process the video.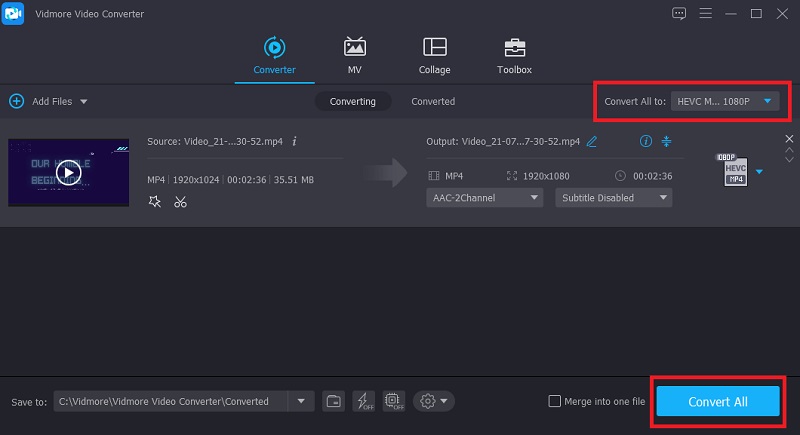 Part 2. How to Put Music on a Video Online
1. Kapwing
Another app to put music over video is Kapwing. This online program allows you to add audio from your own voice recording, recording sounds, and even local audio files. You also have the option to remove the original audio of the video and replace it with the new one. Beyond that, it comes with its own library, where you can choose from the pre-saved audio tracks for different categories. If you wish, you can apply filters, visual effects, subtitles, fan cam effects, and so much more. Thus, if you are interested in learning how to put music in the background of a video in Kapwing, follow the steps below.
Step 1. First, open a browser and visit the program's official website using the link (https://www.kapwing.com/tools/add-music-to-video) provided.
Step 2. Click the Upload File button from the main page or paste the video URL that you want to manipulate. You should arrive at the video editing interface of the program afterward.

Step 3. On the left side menu, click on the Audio option. Next, upload the audio that you want to insert into the video.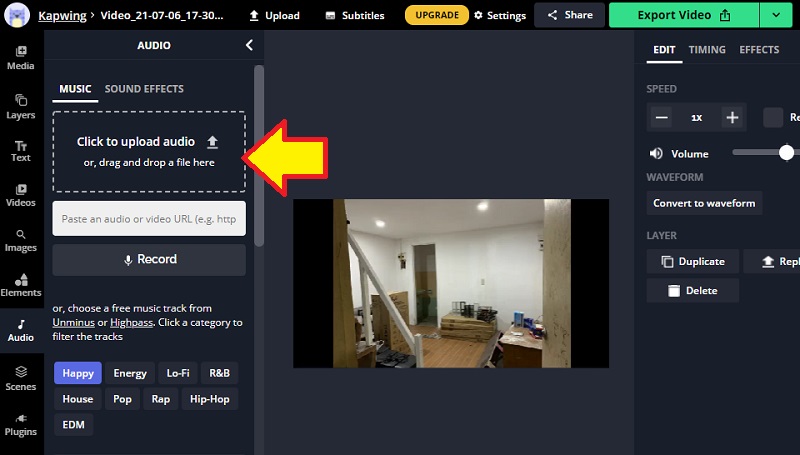 Step 4. Once the file is loaded, it will automatically be added to the timeline. Before saving the file, you may edit the track by adjusting length or volume.
Step 5. Export the file to save the changes and get the final output of the video. To do this, click the Export Video at the top right corner and select the suitable video format. Finally, download the video to get the output file.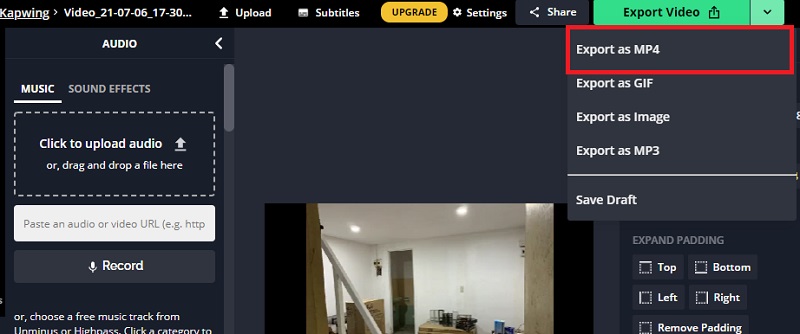 2. Clideo
Suppose you want to put audio over video online with another program; Clideo is a way to go. This tool supports almost all audio formats, including WAV, WMA, VOB, WMA, OGG, and many more. Besides, you can also upload audio files online via cloud storage or local files from your local computer drive. And because it works through your browser, you can use it on computers including Windows and Mac, and even on mobile devices such as iPhone and Android. Below is a walkthrough on how to put the video online.
Step 1. Access the website of Clideo and locate the Add Music to Video operation. Then, click the Choose file button to add a video to the program. Or, click the drop-down button to upload from cloud storage.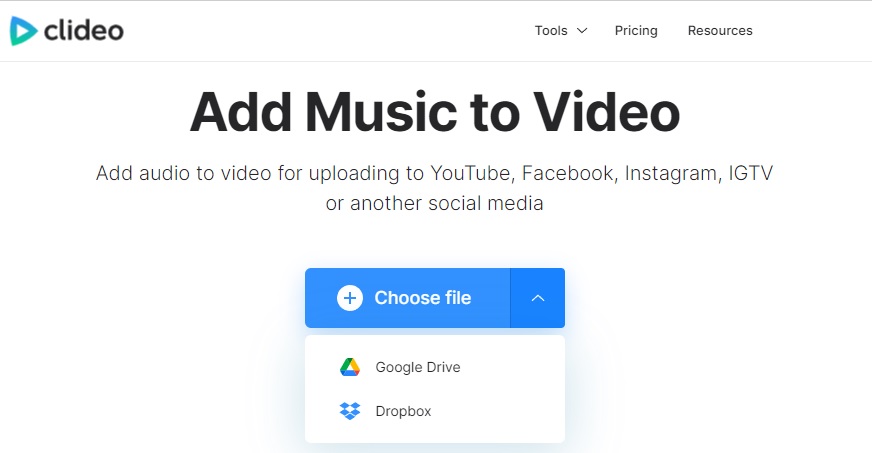 Step 2. When the video is loaded, you should see it in the timeline. From here, click the Add audio button or select upload from cloud storage via clicking the drop-down. Next, locate and add the audio track you like to add to the video. Wait for the upload to finish.
Step 3. Before confirming the process, you can trim the audio and adjust both the audio and video volume. Also, you may apply the loop effect to the audio.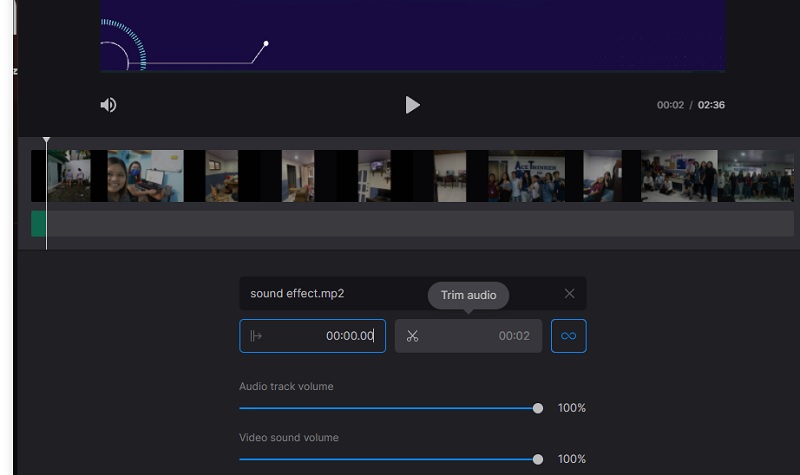 Step 4. After that, select a video format and hit the Export button to confirm the operation.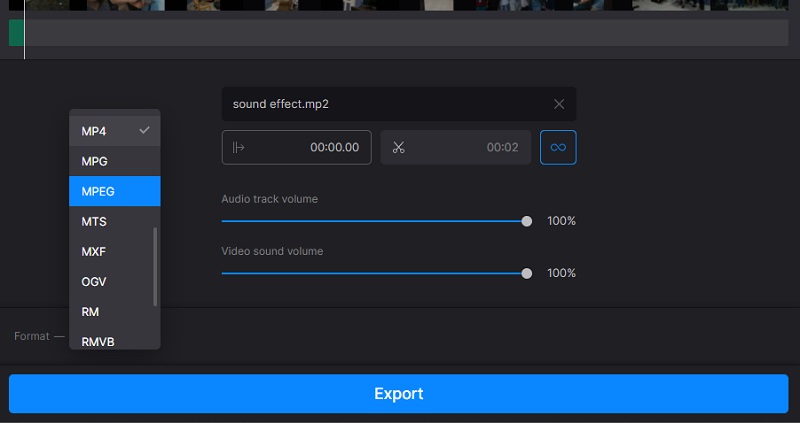 Part 3. How to Put Music on a Video on Mobile
1. iMovie
You can add audio to video for free on iPhone and iPad using iMovie. With it, you can arrange the audio clips according to your desired order. It also comes with a library for music and special effects that you can apply to your video. Likewise, you can detach the original audio from the video clip and add a new audio clip. For your information, you may move the audio to the background or foreground according to your preference. Not to mention you can choose to add three foreground clips in one video. Hence, if you want to know how to put music over a video on an iPhone, iMovie is a native program you should use.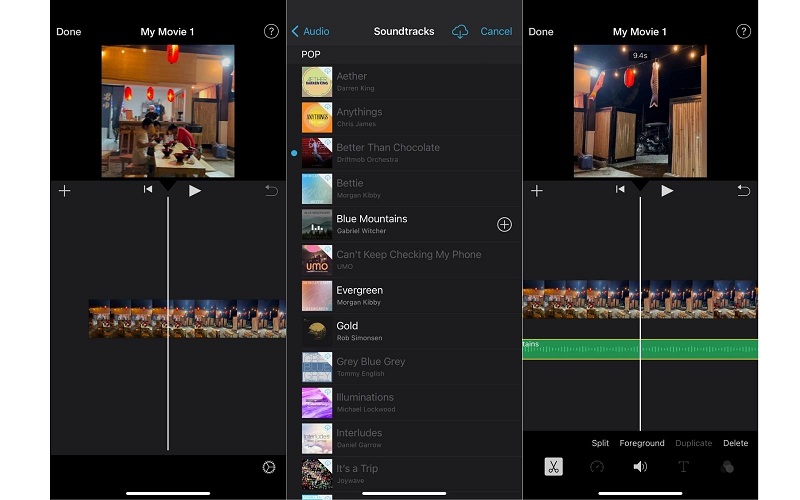 2. VidTrim
VidTrim is a mobile application suitable for Android devices allowing you to perform some basic editing operations. This will enable you to merge audio files, trim, cut, grab frame, rotate video, and a lot more. By using this program, you will be able to put music audio clips to your videos through transcoding. Besides, you can compress and resize video depending on your needs. Now, suppose you are not a native speaker of the language. In that case, there are available programs that you can switch to supporting Turkish, Italian, Russian, German, etc.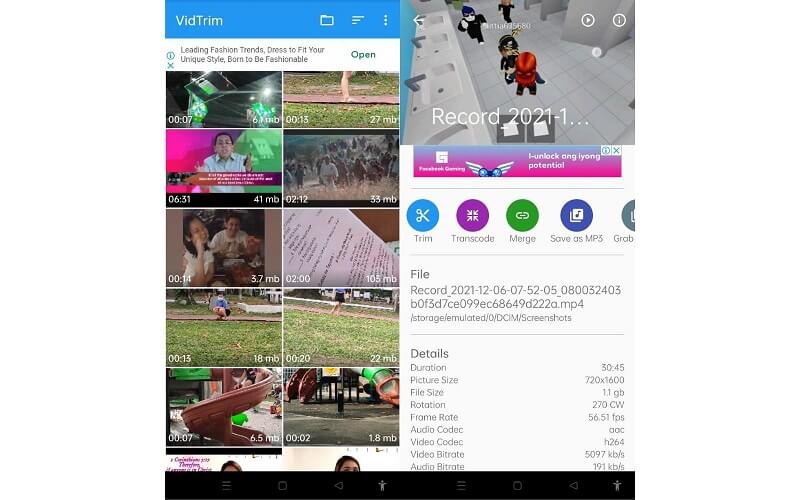 3. VivaVideo
VivaVideo is a multi-purpose program that works as a moviemaker, photo editor, video editor, slideshow maker, and converter. With this mobile video editing app, you can add a soundtrack to your video to produce an interesting video. Plus, you can apply effects from pre-made themes, stickers, filters, animated videos clips available in the program. Furthermore, you can import local music or download from the songs available in its music library.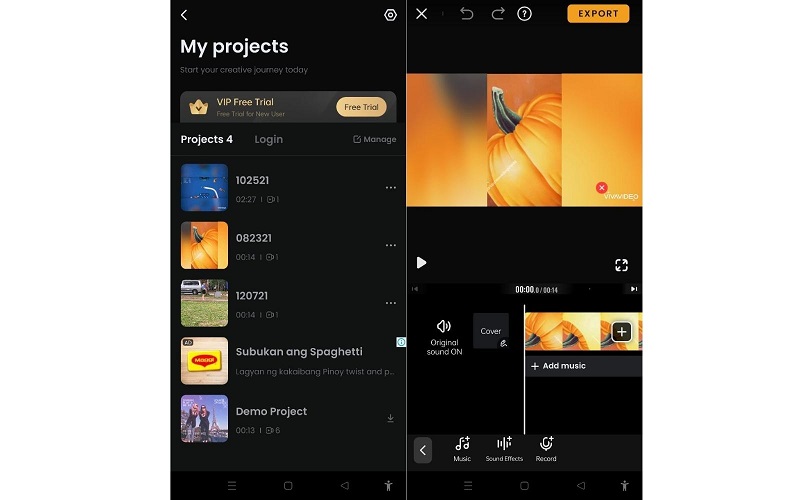 Part 4. Comparison Among the Tools
Below is a table illustration that will help you examine which tool to use to help you attach audio to video if you are still unsure.
Vidmore Video Converter

Kapwing

Clideo

iMovie

VidTrim

VivaVideo
| | | | |
| --- | --- | --- | --- |
| Interface | Platform | Editing tools | Best for |
| User-friendly | Windows and Mac | Cropping, trimming, changing audio track | Beginner and advanced user |
| User-friendly | Web | Split and record audio | Beginner |
| User-friendly | Web, Android, and iPhone | Adjust audio length and volume | Beginner |
| A bit complex | Mac, iPhone, iPad | Trim and detach audio | Trim and detach audio |
| Loaded with ads | Android | Merge and trim audio | Beginner |
| Complicated interface | iPhone and Android | Split. Trim, cut, etc. | Advanced user |
Part 5. FAQs of Putting Music on a Video
How can I add music to a video for free?
To add music to a video for free, you can use the above tools. Some of the tools offer free trials, while other programs can be used totally free of charge.
Can I add a 10-second copyrighted song?
Typically, copyright-free music only provides 10-30 seconds so you won't have any copyright obligation. So to answer the question, yes, you can add a 10-second copyright song. It is just that you can only use the portion of the soundtrack.
How to detach a voice from a video?
Removing a voice from a video is not that complicated. You may use Vidmore Video Converter to accomplish this task. After loading the file, select Audio Track Disabled from the Audio track field.
Conclusion
Those are the easiest and efficient ways on how to put music on a video. You can indeed use the online tools for the convenience of not installing an application. However, their performance specifically processing the files depends on the internet connection's stability. Better yet, use a desktop program that comes with powerful editing options and features. On the other hand, mobile apps are suitable for not-so-demanding editing operations.