Add Watermark in Instagram for Videos and Photos [Resolved]
Many websites and articles advise readers not to watermark their Instagram images and videos. They believe that watermarks will destroy a fantastic media file and that they will not protect you from privacy violations because they are easily removed. However, suppose watermarks such as signatures and trademarks are used correctly. In that case, they will safeguard the authenticity of the videos and images while not drawing people's attention away from appreciating the image.
For your convenience, we've gathered a list of the best Instagram watermark apps for your videos and photos. Please keep reading to learn more about them and how to add Instagram watermarks in videos and photos.

Part 1. How to Add an Instagram Watermark in Videos
Vidmore Video Converter is one of the most straightforward watermark generator applications available on the internet. It is suitable for both beginners and advanced users who want to save time during the video editing process. The batching of watermarks is an important feature of Vidmore. You may add watermarks to a huge number of files at once with just a few clicks.
You can add a watermark on Instagram for videos using text or images with the help of this program. Furthermore, users may access other, more useful tools. That includes converting, merging, and editing videos. Also, you may convert photos here. If you want to know how to use Vidmore Video Converter and learn how to add an Instagram watermark in video, follow the guidelines below.
Step 1. Obtain Vidmore Video Converter and install it
To obtain the software, please click the Free Download option. Select the installer that is compatible with the operating system on your computer. You can then start using the software. Continue by investigating the app's features and learning how to use them.
Step 2. Add a video file
Then, select the video from the program's main interface to which you wish to add a watermark and click the Add Files button. Then, add your Instagram video from your files.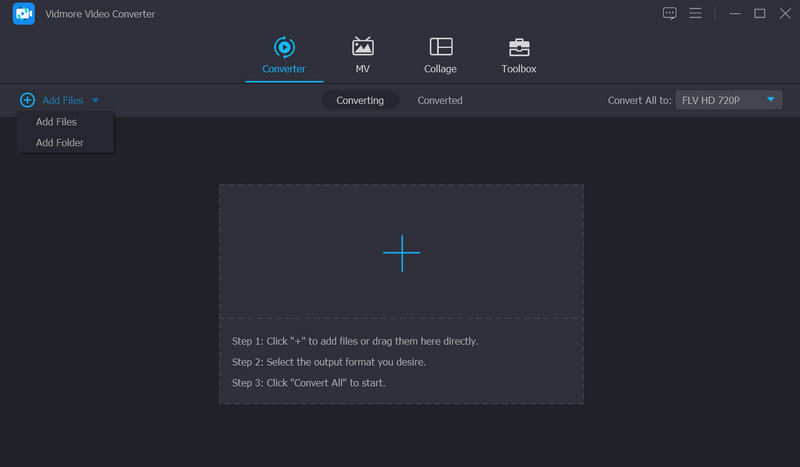 Step 3. Add a watermark to the Instagram video
To apply a watermark to an already-created clip, select the Edit button located on the main interface and then navigate to the Watermark menu from the video editing studio of the program. Both the text and the photos can have watermarks added to them here. In addition to that, you have complete control over the watermark settings.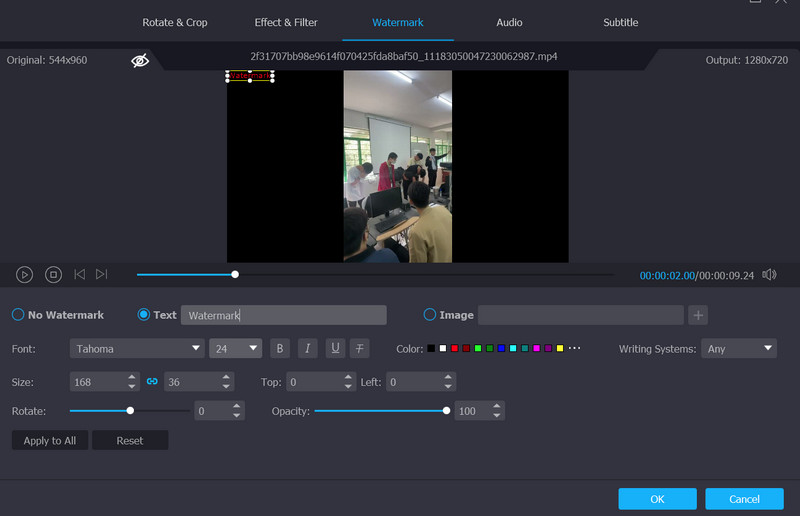 Step 4. Confirm that the process has been completed
When you are finished applying a watermark to a video, you can exit the program by clicking the OK button. When the magic wand button becomes darkened, this indicates that the alteration has been applied successfully. Before you click the Convert All option, you will first be prompted to select the format into which you want to convert all of your videos.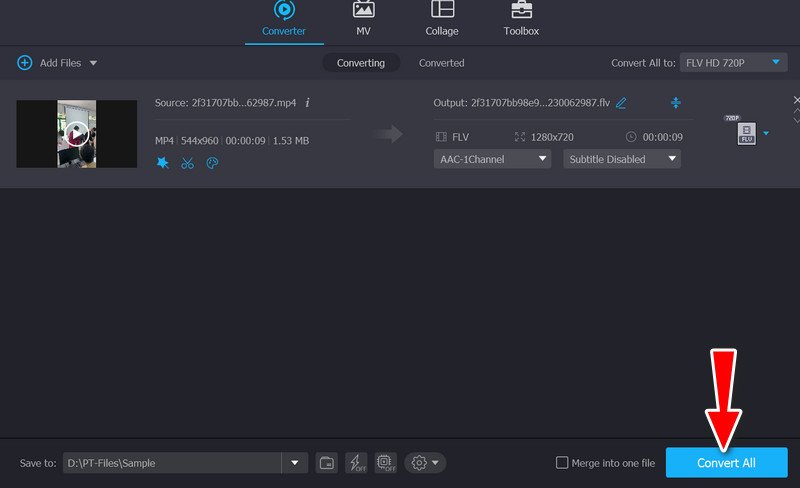 Part 2. How to Add a Watermark to Instagram Photos
Now, photos can also be watermarked with the tools available on the internet. There are many mobile apps you can use to do just that. With that said, we compiled the best programs you can use for both iOS and Android devices. Check them out below to learn how to add watermarks to Instagram photos.
1. Photo Watermark for Android
On Android devices, one of the best apps for adding watermarks is called Photo Watermark, and it can also be used to add watermarks to photographs uploaded to Instagram. This application offers a straightforward and simple-to-use user interface that makes it simple for everyone to use. You have the option of utilizing it to capture pictures or directly add photos from your phone. After that, you may imprint your own personalized watermark on it by selecting from hundreds of text fonts, colors, and effects.
How to use Photo Watermark:
Step 1. Get the program from the Google Play Store.
Step 2. Open the mobile app and tap My Instagram Photos. After that, sign in using your logins, then choose the pictures you desire to add a watermark into.
Step 3. This time, you can choose to add a watermark using text, signatures, or transparent pictures to your target Instagram photos.
Step 4. Finally, tap the share icon to share it on your Instagram account.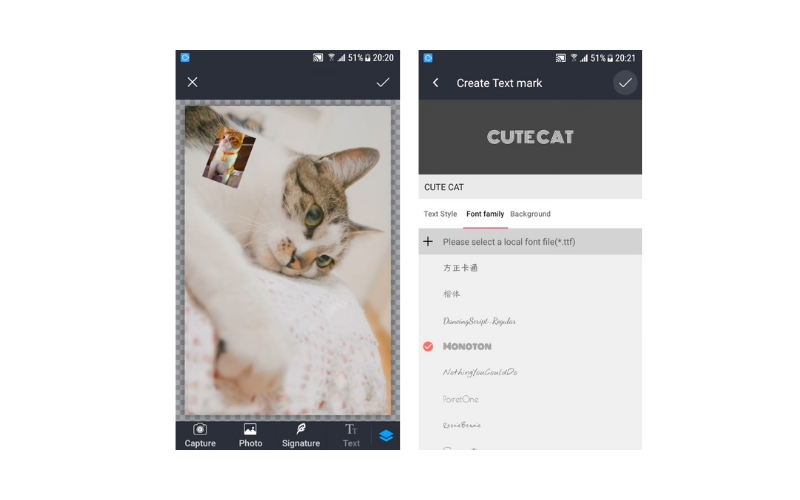 2. eZy Watermark Lite for iOS
eZy Watermark Lite is the best Instagram watermark app for iOS users who are looking for a watermark app that is simple to use and who wants to publish their images on Instagram swiftly. When you use it, you may add a signature, text, logos, and other elements to your photographs in order to imprint a magnificent watermark on them. Besides these features, it offers a selection of over 150 typefaces, colors, and opacities to choose from. After you have finished adding your photo watermark, you will be able to post the photos on social networking platforms other than Instagram, including Instagram itself.
How to use eZy Watermark Lite to Add Watermark in Instagram:
Step 1. Get the program from the App Store, and launch it on your iPhone or iPad
Step 2. On your main screen, choose Instagram, located in the Single Image option.
Step 3. Log in with your Instagram account and choose the photo you wish to edit. Then, tap the Instagram icon and add a watermark to the photo.
Step 4. At last, tap the check icon and export the edited photo to your Instagram account.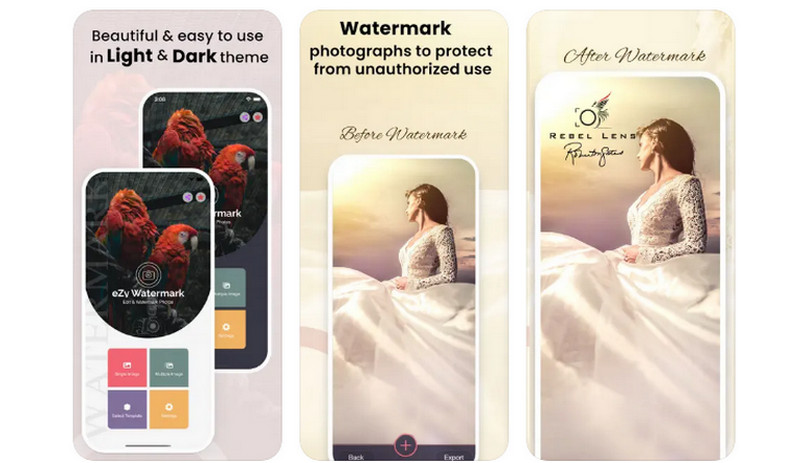 Part 3. FAQs about Adding Watermark on Instagram
Can I add a watermark to Instagram photos without an app?
Unfortunately, there is no way you can add a watermark for your photos. But, if you wish to establish a brand, you can use our programs above before uploading your photos or videos to Instagram.
Why should I watermark my Instagram videos?
One of the reasons why you need to add a watermark is to prevent theft. It is rampant these days that many online users are claiming they are the owner of certain media files.
Can I add a watermark online?
Yes. You can use programs like Kapwing to edit your videos and add a watermark to your videos directly from your browser.
Conclusion
Every user on a social network has the option of adding a watermark to their Instagram photos. Using the tutorial above, you can learn how to add an Instagram watermark in videos. Therefore, if you wish to establish your brand or safeguard your media files, the guide above will come in handy.