Ineffably Effective Ways to Change Video Metadata on iPhone
More and more people or users of iPhones are reliant on the metadata of their video files when looking for a particular video. Unfortunately, the embedded metadata by the application or your device can be incorrect sometimes. As a result, it is difficult to search for video files, especially when their metadata needs to be more accurate. Information like the date, place, time and many more are important.
Taking this concern into consideration, we have compiled the best tools and methods on how to change video metadata on iPhone. Read on to learn more.

Part 1. Change Video Metadata on iPhone
With iPhone apps, you can edit or change the video metadata on your iPhone. However, with lots of options to choose from, it can be challenging to find out which tool works well. Here are some of our handpicks you may find helpful.
1. Metapho
Metapho is a robust application for viewing, altering, and eliminating metadata from pictures and movies. The most significant update is that the program now supports video. That means you can edit the properties or information about your video files. Upon loading videos, the video metadata is displayed immediately. These data or tags can then be edited or modified. What is more, it also shares its function of metadata editing on photos. In that case, you will also learn to edit the information in your photos. On the other hand, here is a step-by-step procedure on how to change the video metadata on the iPhone.
Step 1. On your iPhone, go to the App Store and look for the Metapho application. Then, install and launch the app.
Step 2. Then, you may want to choose your target video files from your Photos app on your iPhone. After choosing, proceed to edit metadata.
Step 3. Next, a setlist of editing will be presented to you. Here, you will see tags and edit them accordingly.
Step 4. Tap the Save button once everything is set.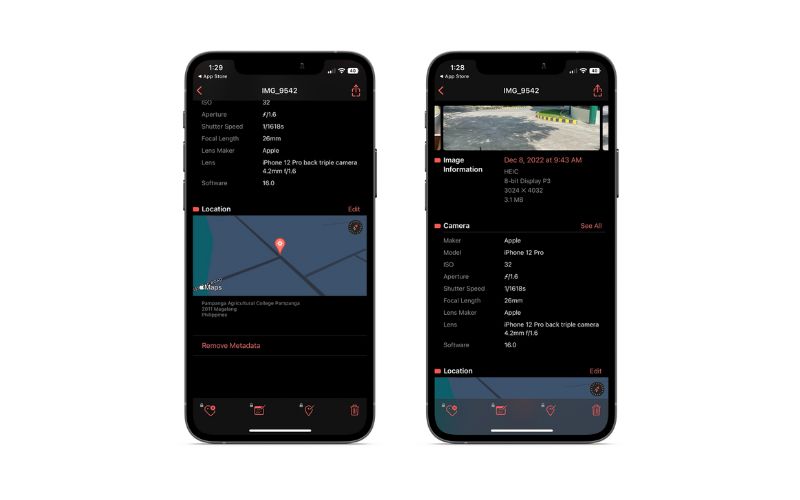 2. Exif Metadata
Suppose you thought of changing live photo tags and photo metadata, or EXIF in particular, you may go with the EXIF Metadata program. The tool displays a comprehensive description of your photos. It would be more detailed when the user upgraded an account to the pro version. But for general users, the basic version of the program will suffice. On the other hand, there are people who wish to access more about their photos or EXIF files. Therefore, follow the steps to learn how to change the iPhone metadata for photos.
Step 1. First, get the program from the App Store. Install and open it.
Step 2. Next, tap the plus sign icon to add media. Then, choose the image metadata you wish to change.
Step 3. Finally, tap the Edit button and input the necessary information. Once done, tap the Save button to confirm the changes.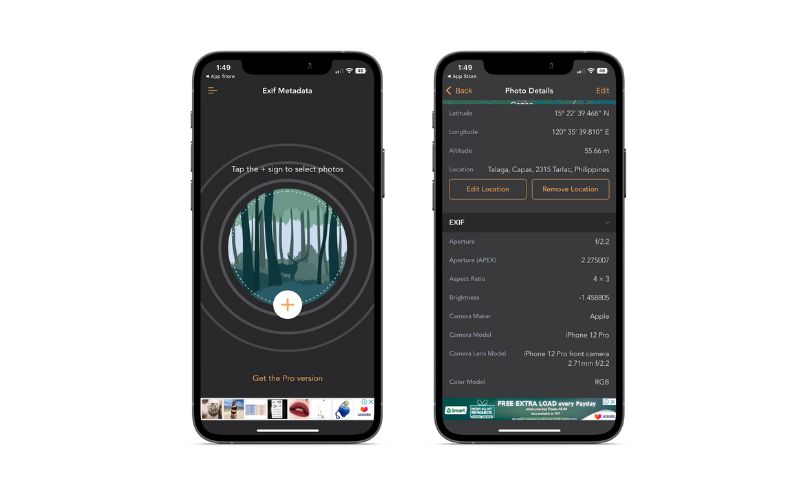 Part 2. How to Change iPhone Video Metadata on Mac and Windows
We have also received some concerns if they can change video metadata on their computer devices, such as Mac and Windows devices. There are definitely workarounds you can do to help you achieve it. To guide you, here are some of the methods you should not miss.
For Mac Only
Mac and iPhone come with a special feature called AirDrop to send files from one device to another. These devices could be an iPhone, iPad, and Mac. They can transfer and receive files from each other long as the AirDrop is activated. Now, here is how you transfer files to help you change video metadata on your iPhone.
Step 1. Open the AirDrop on your iPhone from the control center. Long press on the connectivity panel and look for the AirDrop and toggle it on. Do the same with your Mac. Turn on the AirDrop to make these devices recognizable.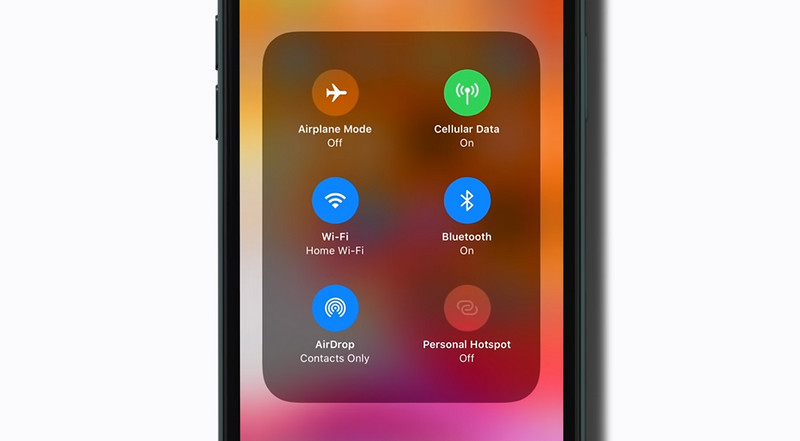 Step 2. Next, choose the videos you wish to change the video metadata of from your Photos app. Then, tap on the Share icon on your iPhone screen and select your Mac AirDrop name.
Step 3. Once the transfer is done, you should see your video files moved from the iPhone to Mac. Then you can proceed to the changing of metadata.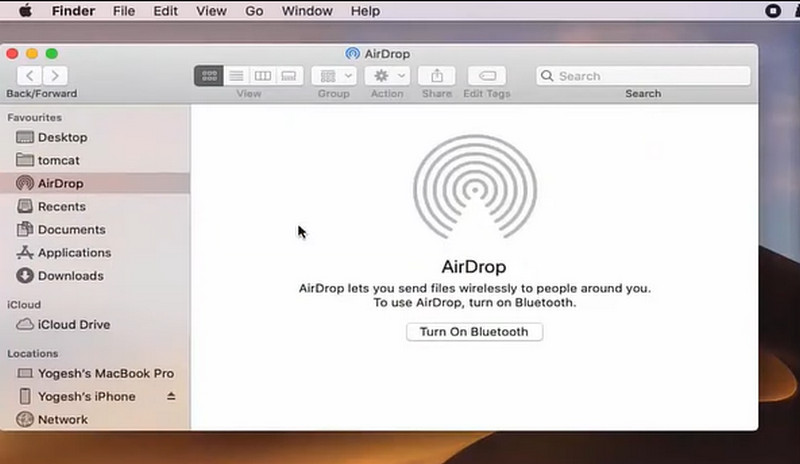 On Mac and Windows
Suppose the previous applications and methods do not allow you to change video metadata on iPhone. You can accomplish it easily with Vidmore Video Converter. This is a program built for Windows and Mac computers, helping you to change the metadata of your video and audio files. It comes with detailed information tag editing while supporting many video file formats. Videos from iPhone, Android, Mac, and Windows are acceptable, and metadata is editable. To cut to the chase, read the instruction below to learn how to change video metadata on Mac and Windows.
Step 1: Get the tool and begin to use it
Before you can change your file's metadata, you must download the program. You can do this by clicking on any Free Download icons below. There is a button for both the Mac OS and the Windows OS to download it. After that, you should set it up on your computer and start it up.
Step 2. Access the Media Metadata Editor
You will notice different tabs in the upper portion upon launching the program. Now, go to the Toolbox section and open the Media Metadata Editor.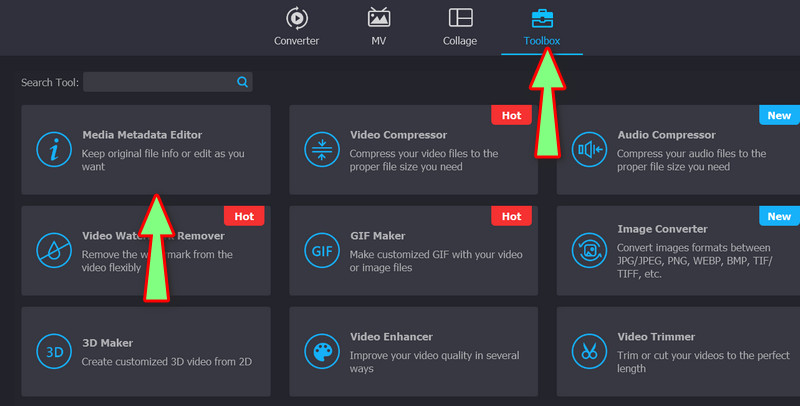 Step 3. Add a video
After that, a plus sign will appear in the pop-up dialog box. Hit the icon and look for your target file from your computer folders.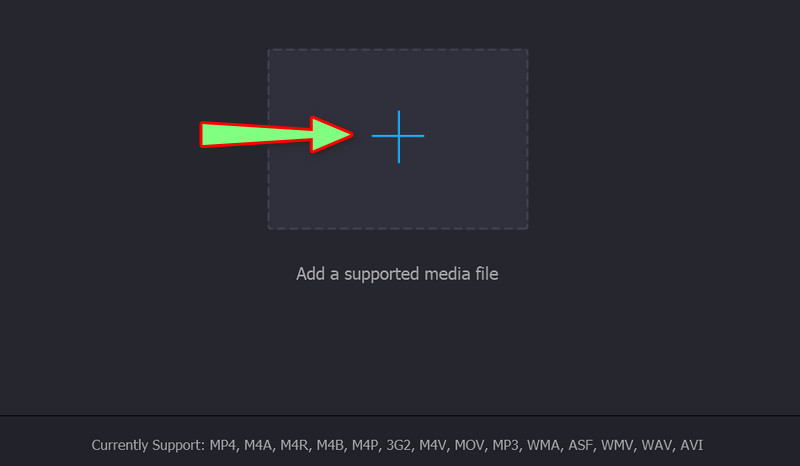 Step 4. Change video metadata
In the next window, you will be given the properties concerning your video file. You may now edit the video's title, artist, composer, album, or genre. Once done, hit the Save button.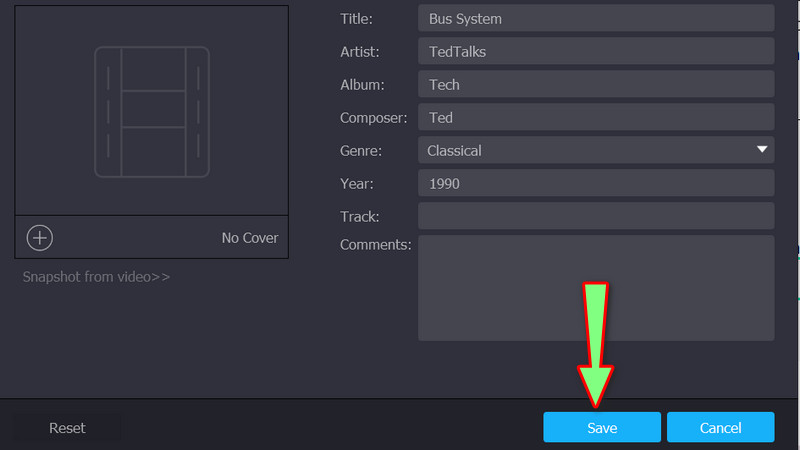 Part 3. FAQs about Changing Metadata on iPhone
How to change metadata on iPhone without using an app?
You may adjust some information in your videos and photos using the Photos app on your iPhone. It allows you to modify the date, time, and location.
When should I remove metadata on my media file?
There are people who are interested in the information about your creation. They can do that using the metadata of your file. In that case, it is safe to remove them.
Can I edit the metadata on any video taken from my iPhone?
Yes. As long as you have the right program for the appropriate device, you will not have a problem. There are applications for iPhone and desktop devices.
Conclusion
To change the video metadata on the iPhone, you need these applications and programs to help you. We encourage you to try each tool to find the best tool for your needs. On the other hand, they all share the same purpose and work effectively.