How to Fix a Blurry Video Using Different Devices
Have you ever shot an important video on your phone, and when watching, you find it blurry? This scenario might happen at one time or another for various reasons. The video might have been compressed, corrupted, low-resolution, and has a problem regarding the camera settings. No one likes to watch a blurry video as you can miss the necessary information, and it provides a not-so-good-viewing experience. The question is, do you want to get rid of blur videos? If so, you are in the right place.
This post will present various ways to unblur the videos that annoy you while watching them. It will provide online and offline applications that you can use to unblur videos hassle-free. It will only take a minute to accomplish an unblur-video product you wish to have. To learn how to unblur a video, continue reading.

Part 1. How to Unblur a Video on Computer
1. Best Way to Unblur Videos with Vidmore Video Converter
Vidmore Video Converter is a video-editing program with built-in features and editing functions. It has a converter, ready-made themes, collage makers, and sections where additional tools are located. You can count on this if you want the best program to unblur a video. It has a built-in tool to upscale video resolution, optimize brightness and contrast, remove video noise, and reduce video shaking. Are you ready to learn how to make a video more clear using this program? If so, rely on the instructional guide presented.
Step 1. Download and Install Vidmore Video Converter
To have full access, download and install the program to your desktop, whether you are using Mac or Windows. After the installation process, launch the program to start unblurring your videos.
Step 2. Select Video Enhancer
Once you open the program, navigate to the Toolbox tab, and from the applied list, look for Video Enhancer. Click the (+) icon that will appear on your screen. It will open your desktop and folder, and select the unblur video you want to clear using the program.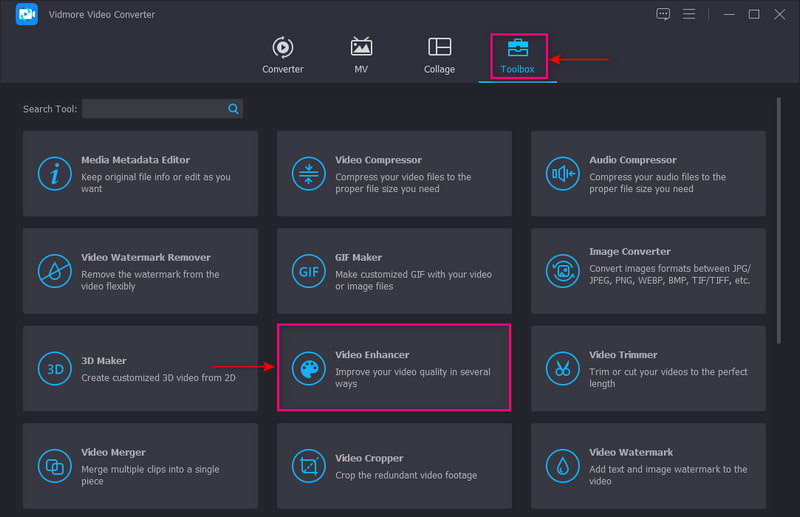 Step 3. Enhance Video Quality
A new window will appear on your screen where the following options to enhance video quality are presented. These key features that can help you unblur a video are Upscale Resolution, Optimized Brightness, Contrast, and Remove Video Noise and Shake. Put a checkmark beside the small boxes of the four key features. Once settled, click the Preview button to check the blurry removal result.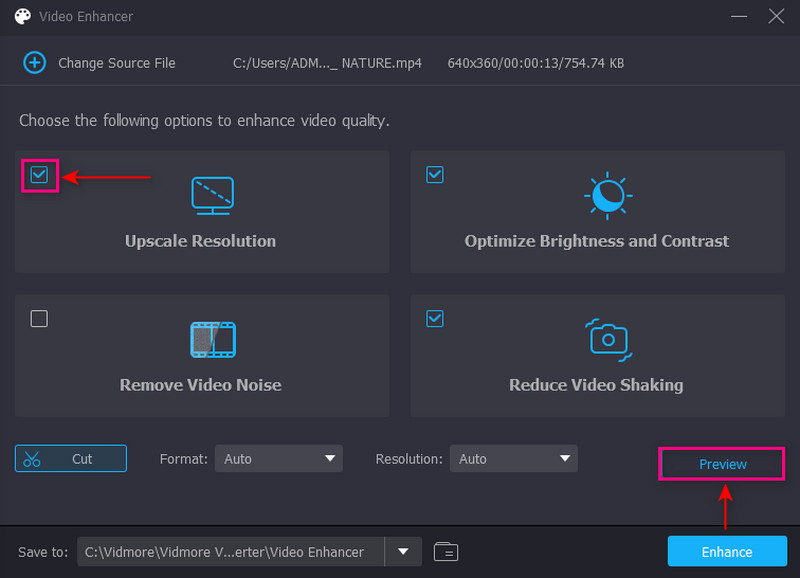 Step 4. Save Unblur Video
Once settled, click the Enhance button on the lower right of your screen. After that, the unblur-video output will be saved to your desktop folder.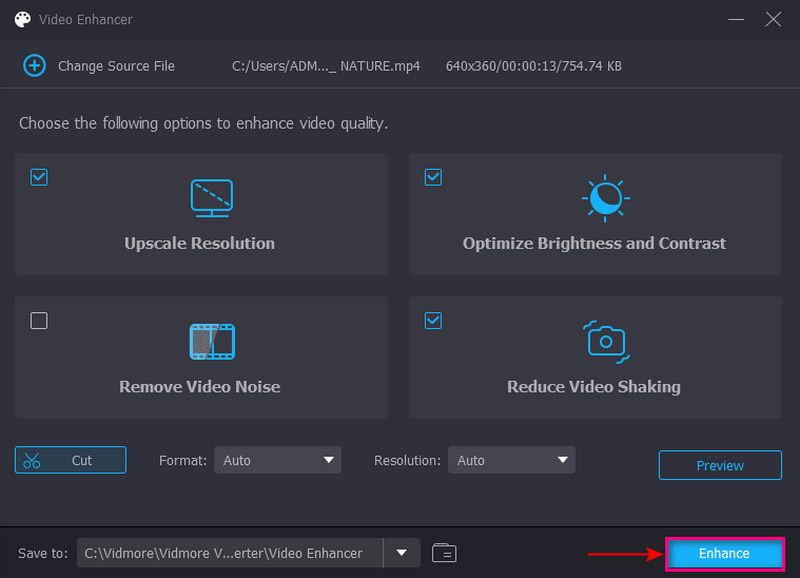 2. Fix Blurry Video in Premiere
Premiere Pro is one of the leading video editors that most professionals use in video production. It has easy-to-use built-in features and tools to help you accomplish your goal hassle-free. It is commonly used for making content, films, and videos you can share on social media. Rely on the steps to know how to fix blurry video in Premiere.
Step 1. First and foremost, download and install the program on your desktop. After the installation, open the application and proceed to Create new project button.
Step 2. The next step is to import your video for sharpening and drag it to the timeline section. From the Media Browser option, hit the file folder and make an adjustment layer. This process adds effects after dragging the new adjustment layer on the timeline above the video clip. After that, hit the adjustment layer, choose the Effects control, and look for Unsharp Mask from the list. Once you find the effect, drag it to the adjustment layer, and it will be added to your video. Click and expand to see the Amount, Radius, and Threshold you can modify based on your preference.
Step 3. Modify the slider to sharpen your video clip with the amount you want to apply to your video clip. After the parameter settings, render and export the video clip.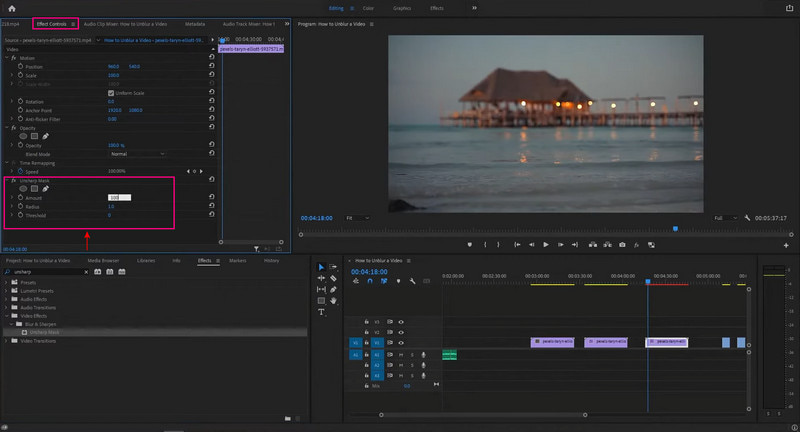 3. Fix Blurry Video Online Free
If you want a free web-based tool to fix your blurry video, you can count on Clideo. This platform is commonly used to make and edit photos and videos in one place. It has editing functions, such as compressing, cropping, rotating, merging, resizing, etc. You can edit your video straight online without downloading and installing a program. To learn how to fix blurry video online free, read the following steps.
Step 1. Visit Clideo's Video Cleaner website on your browsers. Next, click the Choose File button to upload the video clip you want to unblur.
Step 2. Once your video is uploaded, you will see different options on the right corner of your screen. Adjust the default settings of brightness, contrast, saturation, and hue to fix the blurriness of your video.
Step 3. Once settled, hit the Export button on the lower right of your screen to save your output on your desktop.

Part 2. How to Fix a Blurry Video on iPhone and Android
Do you want to learn how to unblur a video on iPhone and Android? With that, count on PowerDirector as it can help you accomplish your task. PowerDirector is a popular video editing platform designed to edit, refine, and share videos. It has an intuitive beginner-friendly interface, useful editing functions, and produces high-quality video.
Step 1. Download and install PowerDirector on Google Play or App Store. Once done, launch the application, and click the New Project button.
Step 2. A small window will appear, asking you to choose your preferred Aspect Ratio. Next, look for the video you want to fix. Afterward, click the Stabilizer from the editing tools to fix blurry portions of your video.
Step 3. Once done, click the Export button to save it on your phone gallery or upload it on your social media accounts.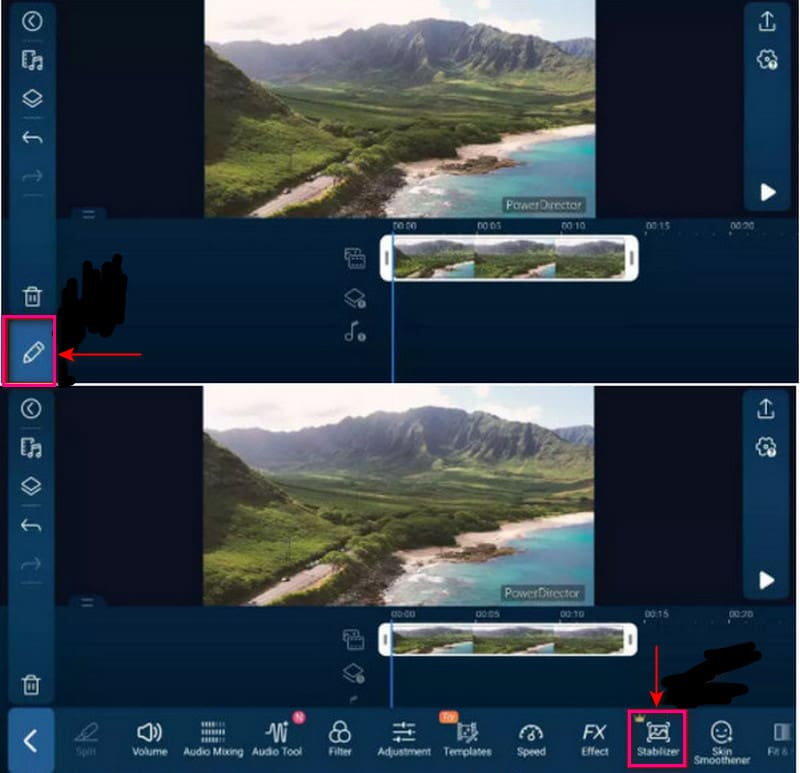 Part 3. FAQs about Blurry Videos
Why do videos come out blurry?
When you zoom in or scale the video larger than you originally recorded, your video becomes blurry. To avoid blurred videos, get away with scaling or zooming larger than one hundred percent.
Why is my MP4 video blurry?
When a video is originally blurred due to recording problems, it might be because of camera shaking, wrong focus, and many more. In addition, if a video is stored on any drive, it becomes blurred due to compression and corruption. Which commonly happens due to virus infection, improper file transfer, and downloading issues.
Why does my phone make videos blurry?
480P or 720P is the standard density for Android devices, while for iPhone is 1080P. With that, sending photos or videos from one system to another will appear small and blurry.
Conclusion
It is inevitable to take or shoot a blurry video for various reasons. It could be due to the position of taking the video, not focusing on the subject, or an issue with the camera. When you watch a video on your device or other platforms, you do not want to watch a blurred video. It annoys you and gives you a terrible viewing experience because you might miss the essential details. Therefore, this post will provide solutions on how to fix a blurry video using various applications and ways. Whether you are using a mobile or desktop device, there is a perfect tool you can count on.