2 Reliable AI Video Upscaling Tools to Increase Video Resolution
Do you have an old video you want to play using a different device that has a low resolution? And you want to upscale the video to enlarge low-resolution video content to fit on higher-definition screens and monitors. It is given when you take a video from a smartphone or compact camera; the video might be low-resolution. The method of upscaling is commonly used to increase video resolution. No changes will appear, or additional information will be presented once you undergo your video into an upscaling process. It will only upgrade your video from a low-resolution to a higher-resolution display. In that case, you need an AI video upscaler to help you upscale your video to high resolution. This post will provide easy and hassle-free methods to upscale your video using the upscaler application presented. What are you waiting for? Proceed to the following parts to start the video-upscaling procedure.

Part 1. How to Upscale Video with AI Offline
If you are looking for the best video upscaler application, you can count on Vidmore Video Converter. It is a program that can work without the internet. It will not require you to connect to an internet connection to accomplish your goal. The last thing you need to do is to download the program to your desktop. When upscaling a video, it would be better to accomplish your task using a larger screen. Because of that, you can easily see the changes you made to your project.
The good thing about this program is that it has numerous built-in features and editing options, and tools. It has a converter, ready-made themes, and collage makers. In addition, it has a section where additional tools are located that you can access. This program supports numerous media file formats, so you do not need to worry if you can upload your video. To start the upscaling-video process, proceed to the following instructional guides.
Step 1. Download and Install Vidmore Video Converter
To have complete access, download and install the program on your desktop. Once the installation is done, launch the program to start the upscaling procedure.
Step 2. Upload Video File
You are directed to the Converter tab once you open the program. Click the (+) icon to upload your video to the converter section. Select one video you want to upscale from your desktop folder. After that, your video will be placed in the converter section.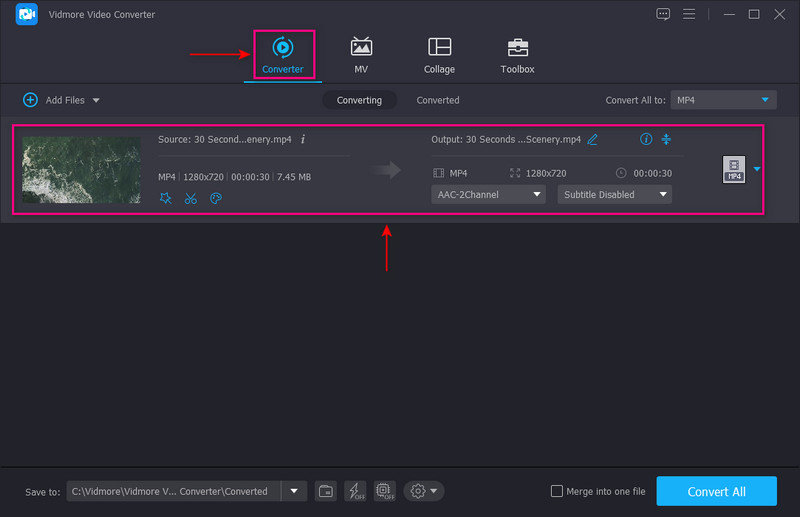 Step 3. Upscale Video Resolution
To proceed to the video-upscaling procedure, click the Painting icon beside the Scissors icon. After that, a small section will open with the following options to enhance the video. Put a check on the box beside the Upscale Resolution function from the list presented. This function enables you to improve your video resolution. Once done, click the Save button on the lower right of the screen. It will close the screen and head you again to the converter section.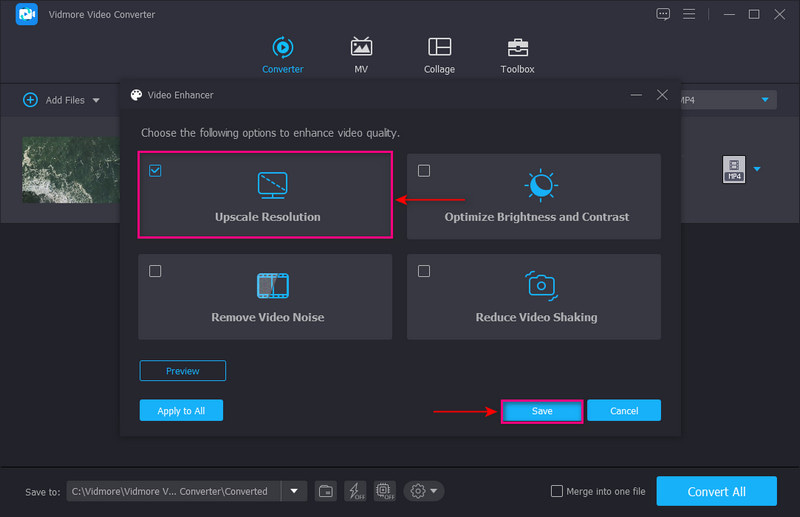 Step 4. Export Upscale Video
If you want to change your output format, click the down-down menu from the right corner of your screen. Once done, click the Convert All button to upscale your video. After that, you will only wait a few seconds to get your upscaled video.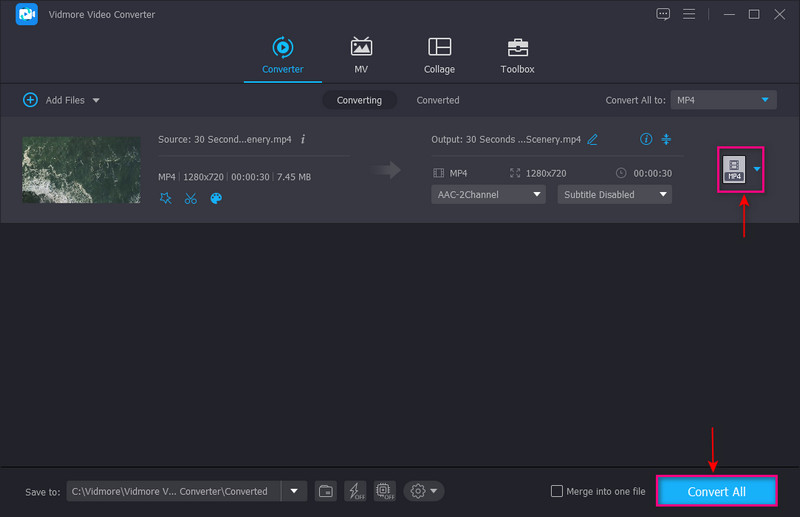 Part 2. AI Video Upscaling Online
If you are looking for an AI video upscaling online, you can rely on Aimages. It enables users to upscale videos straight online. You do not need to download or install anything on your computer. But you must sign in to your account to open the main functions. This web-based online video enhancer can improve and upscale video using AI from a web browser. It has editing tools to clean, deblur, sharpen, and upscale videos. Also, it can upscale your video up to 4K video resolution. If you have many videos to enhance, you can transfer your videos via a password-detected physical hard disk. With a few clicks, you can get your output using the email account you logged in to the application.
Step 1. First and foremost, visit Aimage's official website. After that, click the Try for Free button at the center of the website. You must sign in to your account to proceed to the main section. Next, choose the Video Enhancer button, where you will upscale the resolution of your video.
Step 2. Click the + Upload video button to open your folder, and select one video you want to upscale. Afterward, click the Upload 1 file and then the Done button to place your video. Hit the Enhance button on the right corner of your video and choose up to 2 AI filters to apply to your video.
Step 3. You will receive your upscaled video output through your email account once the video is ready for download.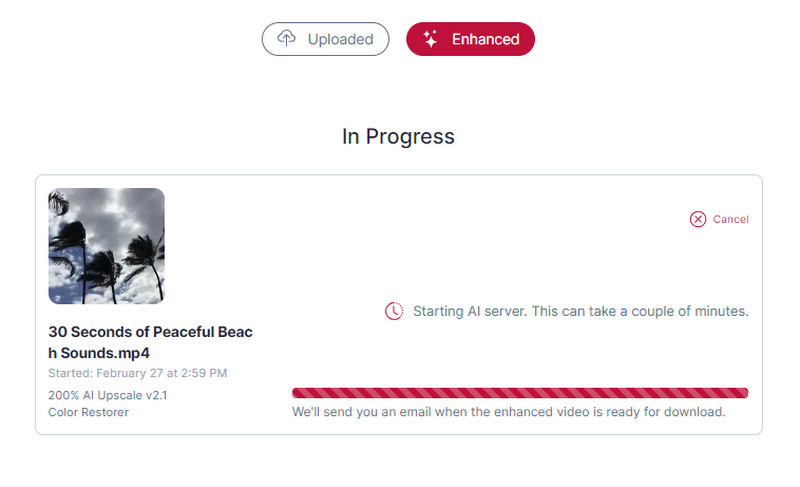 Part 3. FAQs about Video Upscaler
Can you upscale 480p to 1080p?
It is possible to convert 480p to 1080, but remember that the upscaling-resolution process might affect the image quality of the video. And so, it is suggested to use a program capable of converting the resolution of the video. At the same time, it can maintain the quality of the images in the video.
Does upscaling increase performance?
When you upscale a video, the original video will not change or present additional information. But after the upscaling process, you can see how the resolution changes from low to higher. Despite that, it undergoes a conversion procedure; the video will not lose quality.
What does upscaling a video do?
Upscaling a video involves enlarging a lower-resolution video content to fit on a higher-definition screen. The purpose of upscaling is to increase the size of the video while maintaining the quality.
What is the purpose of upscaling?
The purpose of upscaling is to increase the pixel count of a video that has a lower-resolution image. With that, it allows the picture meant for a screen with fewer pixels to fit into a particular screen.
Conclusion
There are numerous video editing applications you can count on in the market. But only some of these applications can enhance and upscale your video. This post presented different methods to upscale your video: offline and online. These tools will help you to get great results when upscaling your videos. In that case, the best AI video upscaling application you can use is Vidmore Video Converter. It can upscale your video in seconds and is an easy process. In addition, it has numerous editing tools and options if you want to make alterations or changes to your video. With that, you can produce an enticing video with a higher resolution.