Top 7 Most Credible AI Image Enlargers You Can Depend On
There are other instances in which we have discovered the ideal image that we are looking for, but they are on a more intimate scale. And other times, we realize that some photographs are hazy, only to discover that the size of the image is not proportional to the size of the original image. In this scenario, you will want a tool to assist you in increasing the size of your photograph. This article will comprehensively analyze some of the most tried-and-true photo enlargers that are simple for you to use. Get an idea of the tool's capabilities and advantages and disadvantages.

Part 1. Top 7 AI Photo Enlargers
1. Vidmore Free Image Upscaler Online
Vidmore is a web application that performs admirably on a wide variety of various platforms and hardware. You won't run into any problems, irrespective of the operating system that you use on your computer. Vidmore Free Image Upscaler Online program is cutting edge. It is powered by artificial intelligence, which places it at the front of the most recent technological developments. Customers do not have any difficulty trying to resize their images or increase the quality of those photographs as a direct result of this. In addition, the function that allows you to magnify images makes it simple to zoom in on and out of your shots.
Additionally, a variety of photo file formats are supported. A reliable application does not degrade the quality of an image after it has been edited in some way. One example of such a tool is the Vidmore Free Image Upscaler Online.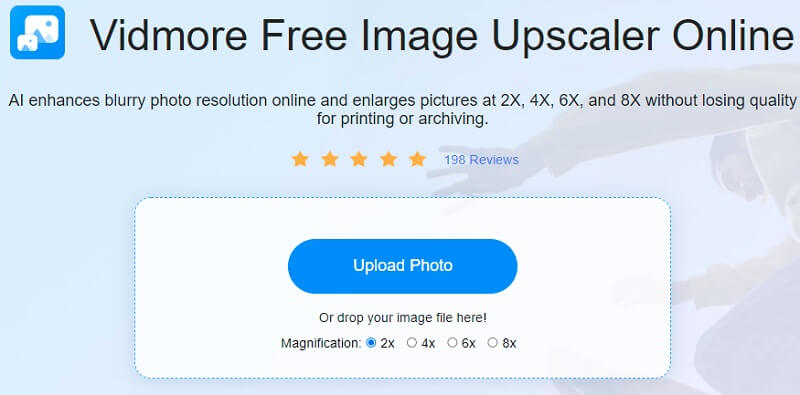 Pros of Vidmore Free Image Upscaler Online:
The maximum picture magnification that you may achieve is eight times.
Excellent for those just starting.
It does not lower the overall quality of the picture in any way.
It does not cost anything at all.
It works well across platforms.
Cons of Vidmore Free Image Upscaler Online:
When there is a problem with the internet connection, downloading might be a little bit slower.
2. VanceAI Image Upscaler
It's conceivable that VanceAI is the solution most suited to your needs. You have the opportunity to scale images to a size that is up to eight times larger than their initial dimensions, as it comes with a selection of sizes to choose from. When the AI takes charge, it is possible that undesired blurring and random noise will be automatically removed. VanceAI is a brand of artificial intelligence. It does not only offer you fantastic editing and enhancement skills. You can access it for your images online, providing an outstanding overall user experience. You may edit and improve your photos with VanceAI.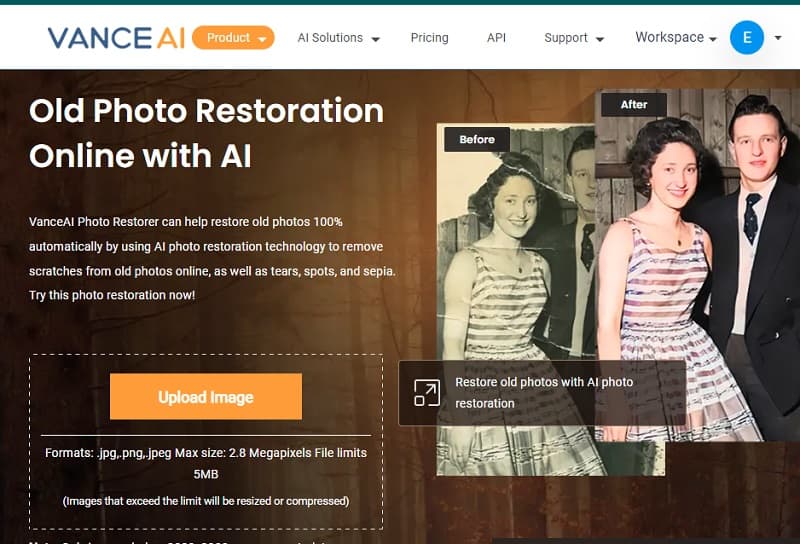 Pros of VanceAI Image Upscaler:
It provides a free trial of 3 photographs per month, which means that you may upgrade up to 3 images every month to see how the AI works.
The process of picture upscaling eliminates blur and reduces noise.
It enables you to scale up photographs to eight times their original size without compromising their quality when viewed online.
Cons of VanceAI Image Upscaler:
It does not have any editing tools.
3. Waifu2x
Waifu2x is a photo enhancer that works particularly well for manga and anime artwork. In addition to that, this AI picture upscaling application enables photo processing. It is capable of upscaling photos that are hosted online. Even though the user layout of its site is not very effectively designed or structured, the features to improve the quality of a picture are pretty decent. You can upload photographs from a local file or enter the URL of an internet image.
This online image is more upscale, enables noise reduction, and can magnify photographs by a maximum of two times. Nevertheless, this capability is somewhat restricted compared to the other online image upscalers discussed.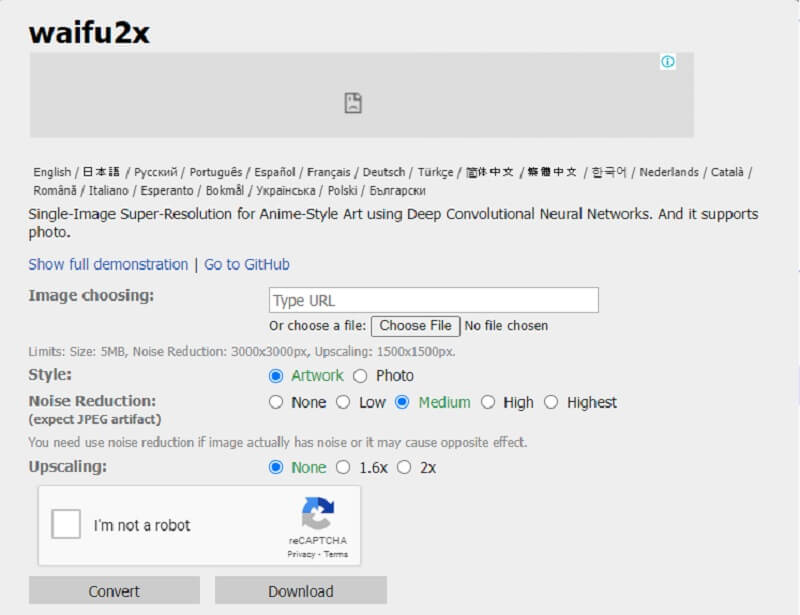 Pros of Waifu2x:
It enhances photos by up to two times at no additional cost.
Image noise reduction is supported. However, it cannot show the JPEG artifacts.
The conversion of batches is supported.
It works well for improving the quality of anime images.
Cons of Waifu2x:
It is only available at a restricted scale.
4. UpScaler
Using the online image more upscale, known as UpScaler, individuals can get a resolution boost for their images that is as high as a factor of four. This more upscale image was supported by AI picture upscaling, which enabled it to increase the resolution of photographs hosted online without reducing their overall quality. Even more importantly, it could scan the upscaled picture to restore the details removed during the upscaling process.
The maximum file size you may use for a photo is 5 megabytes, and the maximum width and height you can use for an image are 2500 pixels. This artificial intelligence picture more upscale tool works exceptionally well as an anime image more upscale. It is especially effective at boosting comics, anime, and other computer-generated pictures. It also works well with other types of computer-generated images.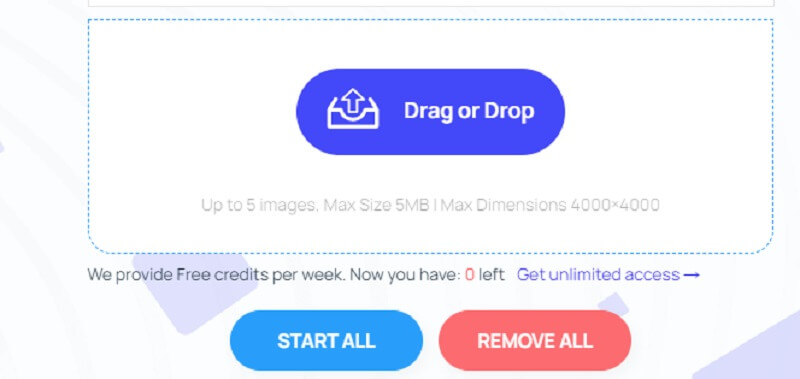 Pros of Upscaler:
It allows for the blurring of pictures to be removed.
After compression, remove artifacts from the JPEG photos, making them seem much better.
Cons of UpScaler:
It is only available at a restricted scale.
5. Let's Enhance
Let's Enhance is a content image upscaling program that aims to achieve 4k upscaling without compromising the quality of the image. This image resolution enhancer uses various techniques, such as improving colors, retrieving lost surfaces and details, and removing compression. Another method to improve the quality of pictures is by a factor that is 16 times higher than before. If we had access to the most powerful image processor currently available, upscaling an AI picture would be a piece of cake.
The photo could only be scaled up to a resolution of 4k using the free feature's only accessible choice. To complete upscaling to 4k resolution and to have a more efficient processing experience, you will need to subscribe to a premium plan. It is the only way to accomplish these goals.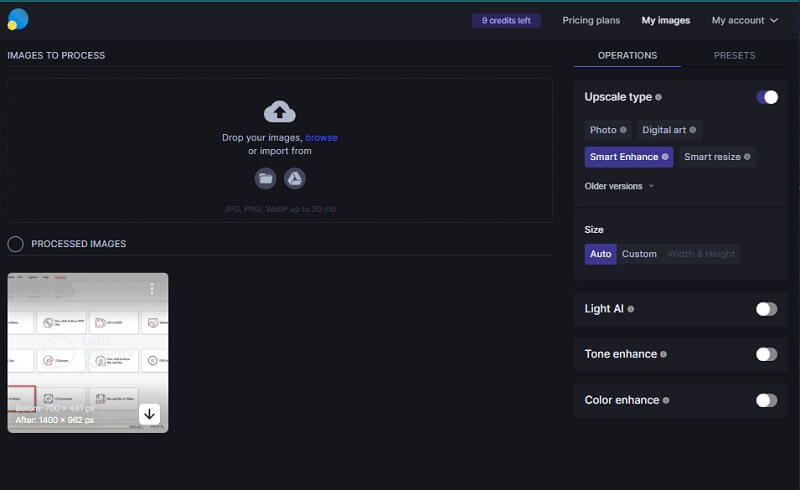 Pros of Let's Enhance:
Both the Windows and Mac operating systems are supported by it.
You are not charged anything extra to upgrade your picture to 4k while doing it online.
It enables the amplification of colors.
Cons of Let's Enhance:
It comes with a free trial that has a time restriction.
6. Topaz Gigapixel AI
Topaz Gigapixel AI can upscale photographs without sacrificing their quality while reducing the effects of camera shaking. This AI-powered picture upscaling program can tackle the problem of image blurring after processing has been completed. It may eliminate blurring caused by motion and make handheld photos seem like they were shot using a tripod. This picture upscaling program is supported by artificial intelligence machine learning. It enables you to transform low images into full-resolution files correctly. You may use it while restoring any features you lose during the process.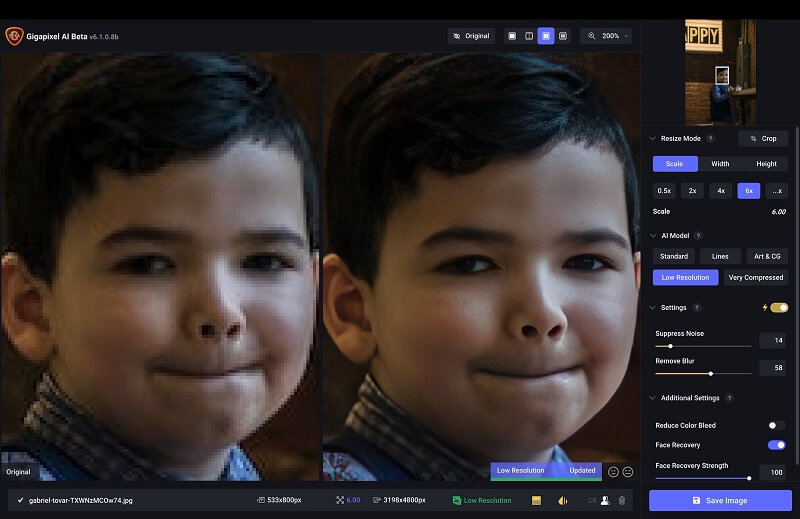 Pros of Topaz Gigapixel AI:
It has a naturally occurring correction for focus and a decrease in shaking.
It does things like improve edge quality and adds artifacts, as well as fix blur.
It may increase the resolution of photographs by up to 600 percent.
It facilitates work done in batches.
Cons of Topaz GigaPixel AI:
There is a maximum on the scales.
7. BigJPG
Because BigJPG can process anime photographs and drawings as well as upscale images without negatively impacting the quality of the originals, it has been given the moniker of Anime Image Upscaler. Throughout the whole of this process, the colors, the details, and the borders will all be meticulously filled in. This picture, more upscale, offers an API in addition to its other features. More but not least, one last thing to keep in mind is that the more upscale image has a limit set for an uploaded photo of 3000 pixels by 3000 pixels at the moment.

Pros of BigJPG:
It makes use of high-performance servers that are both quick and reliable.
This tool is knowledgeable because it doesn't sacrifice any quality.
It can handle photos of up to 10 megabytes in size.
Cons of BigJPG:
There is a maximum file size restriction.
Part 2. FAQs About Image Enlargers
Is there a quality loss while scaling up?
It can take information with a lesser resolution and show it over the whole of a 4K panel. The image quality of 1080p video shown on a 4K screen is often superior to that of 1080p content displayed on a standard 1080p screen.
What is upscaling?
The process of resizing an image is referred to as scaling. The term 'upscaling' refers to the process of magnifying and improving the quality of a picture so that it seems more significant and impressive. A photograph with a low resolution may be transformed into one with a high resolution or even a super-resolution via image upscaling.
Can you upscale 720p 1080P?
You may use the Vidmore Free Image Upscaler Online to bring 720p videos up to 1080p.
Conclusions
With the AI image enlargers above, enhancing your image will never be a hindrance anymore! Because of the review included in this piece, we can observe how impressive the outcomes that AI enhancers can provide are. They allow the picture resolution to be increased by up to 16 times without sacrificing quality. Some of them, such as Vidmore Free Image Upscaler Online, would also increase the image quality by boosting the photo details. It is how it works.