iMovie for Windows: The Best iMovie Alternative for Windows
Regarding a video editor, iMovie is one of the go-to applications for Apple users to edit their projects. However, it is unavailable for everyone since iMovie is only accessible for Apple devices. For that reason, many users wonder if there are any iMovie for Windows. Do you know if there is?
This post will present an alternative program you can use and access to edit your videos. It is an easy-to-use program packed with numerous built-in features and editing options beneficial for editing. Are you excited to know this program? If yes, keep scrolling to read the following information.

Part 1. What is iMovie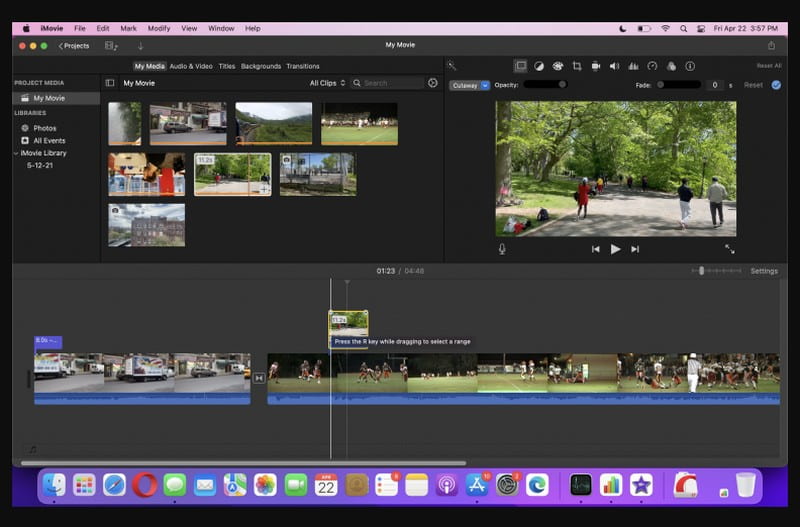 This part will introduce what is iMovie, which helps present the necessary information about the application. This application is pre-installed for Apple devices and is available for iPhone, iPad, and Mac. It is designed to be accessible to first-time users and has no video-editing experience. With a streamlined design and editing features, iMovie enables you to produce Hollywood-style videos like never before. It includes editing options, such as cropping and rotating video clips, color correction, stabilization, transitions, and changing video clips' speed. It provides fancy transitions and special effects, which can be applied to your project. In addition, it can enhance and manipulate the audio of the project you are working on by boosting audio levels and reducing background noise.
Indeed, iMovie allows you to create impressive cinema-quality videos and let your imagination run wild. Besides that, you can design your project from scratch or get help shaping your story using magic movies and storyboards. After creating your project, you can share and upload your video from various social media channels. It entirely functions and has everything you need to edit, create, and share your videos.
Part 2. iMovie for Windows Alternatives
Unfortunately, iMovie cannot be used and is not accessible for Windows operating systems. With that, you must look for a program to help you create and edit eye-catching videos hassle-free. When searching for a program, you must consider that it meets your basic needs and expectations. It is necessary that you will be satisfied with how the program works and produce a high-quality video. Considering these qualifications, Vidmore Video Converter checks all the boxes. It will transform the project you are working on into a unique project that deserves recognition. Why should you use Vidmore Video Converter as the best iMovie for Windows alternative for Windows?
Below are some reasons that we want to share with you:
1. Straightforward Interface & Clear Editing Working Flow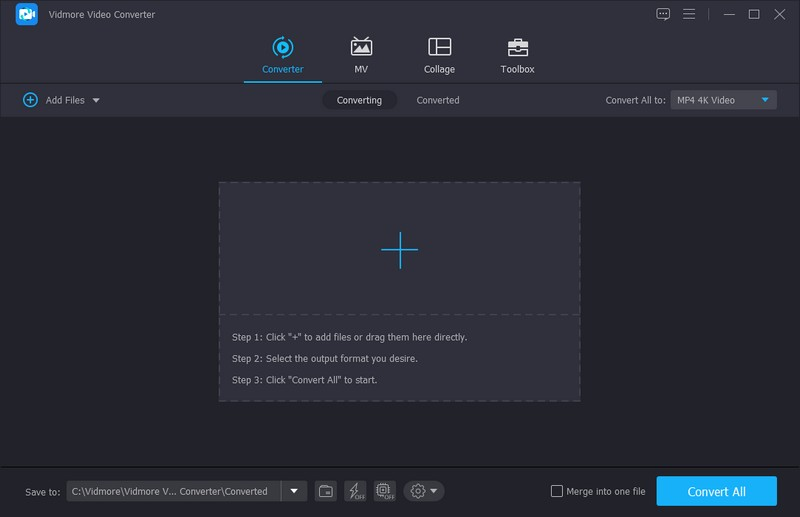 This program has a straightforward interface and clear editing working flow, which benefits first-time or professional users. It would be trouble-free for them to use and navigate the built-in features and editing options it offers. They can do their thing hassle-free without experiencing any confusion while working on their projects.
2. Excellent Editing Options
If we are talking about editing options, Vidmore Video Converter will not fail you on that part. It is because it provides numerous editing tools for editing images and videos.
Crop & Rotate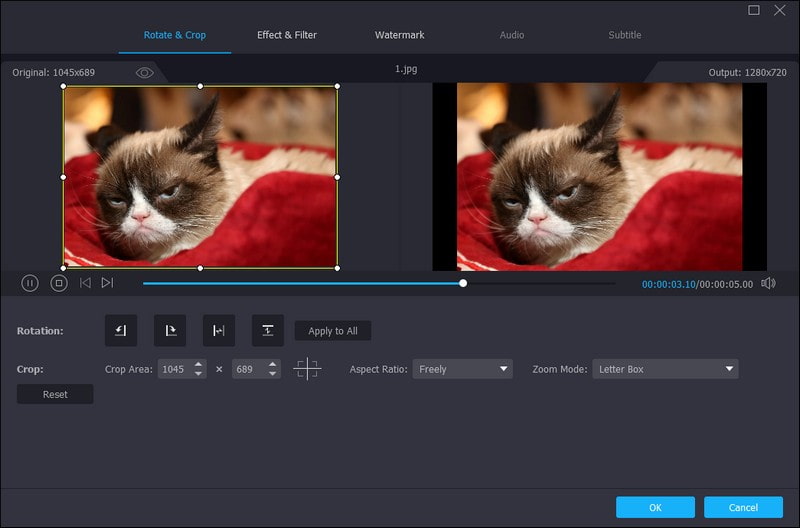 You can rotate your projects left, right, horizontal, and vertical corners based on your needs. Besides that, you can crop your multimedia file from the preview screen or input a specific crop area. Also, you can pick your preferred aspect ratio according to the social media channel where you will share your output.
Effects & Filters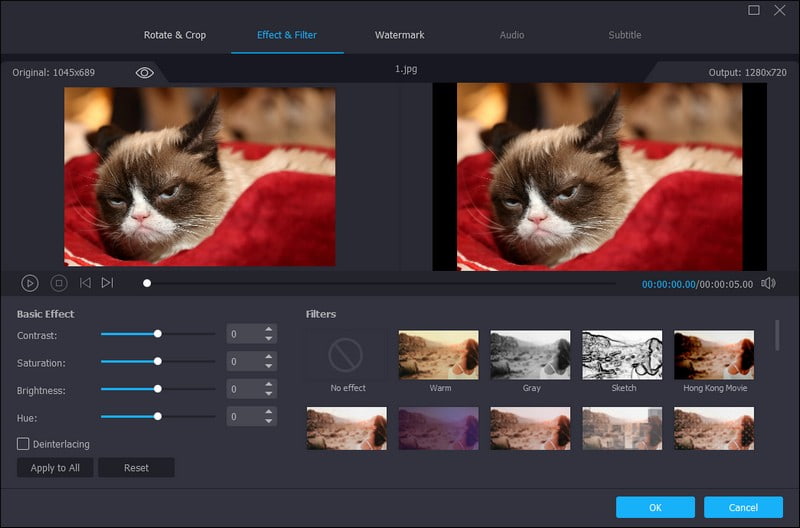 You can modify your multimedia files' basic effects, such as contrast, brightness, saturation, and hue, according to your liking. In addition, it offers more than forty filters, which you can apply to your project.
Watermark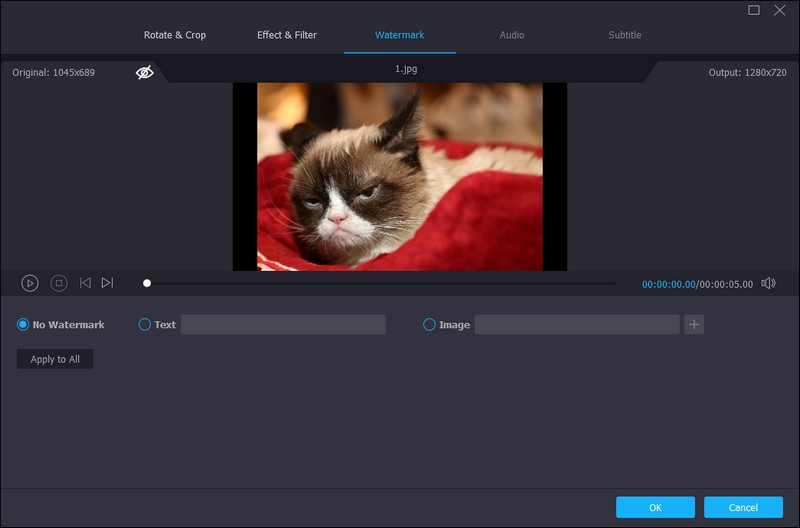 You can embed a watermark to protect your output from theft and indicate your ownership and authenticity of your content. You can add a watermark, whether an image or a video. You can use various editing options to add a text watermark, such as font, writing systems, color, size, and more.
Ready-Made Themes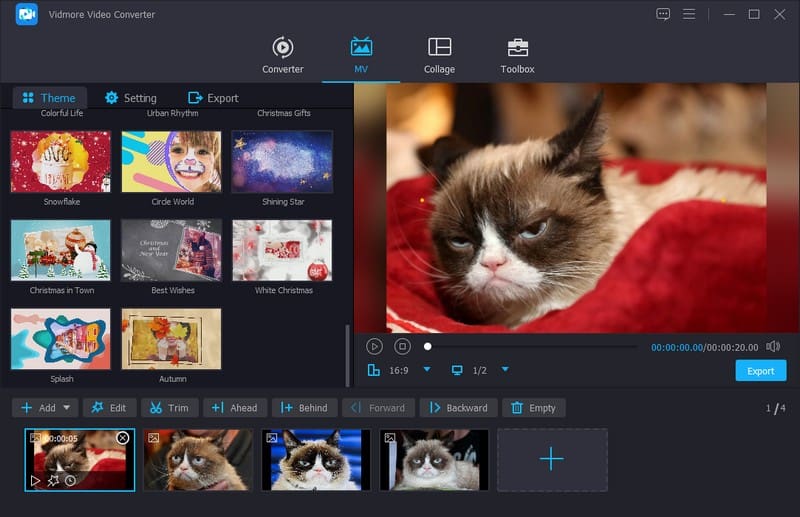 To level up your project, you can use a ready-made theme with various styles, designs, and related occasions. It has a ready-made theme for Christmas Eve, New Year, Snowy Night, Romantic, Fashion, Travel, Business, Weddings, Sport, and more.
Add Start & End Title & Audio Track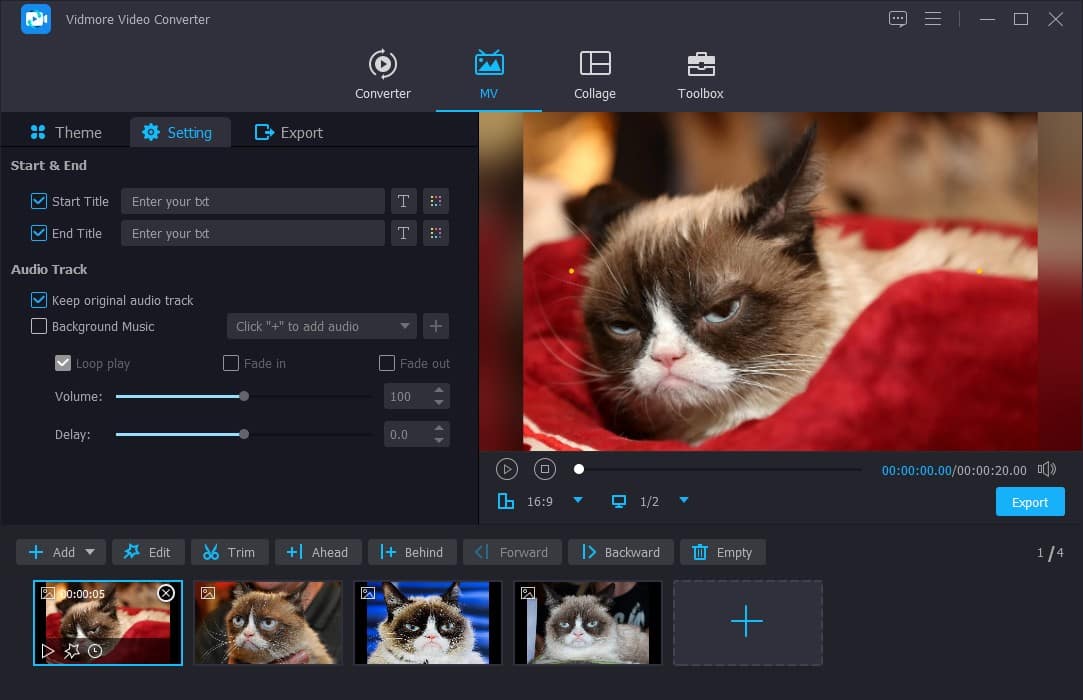 You can incorporate the necessary beginning and ending texts into your project. Also, you can further edit the text by using the text's editing options, like color, font, size, type, and more. Besides that, you can add background music to make your output livelier compared to a muted video.
Video Settings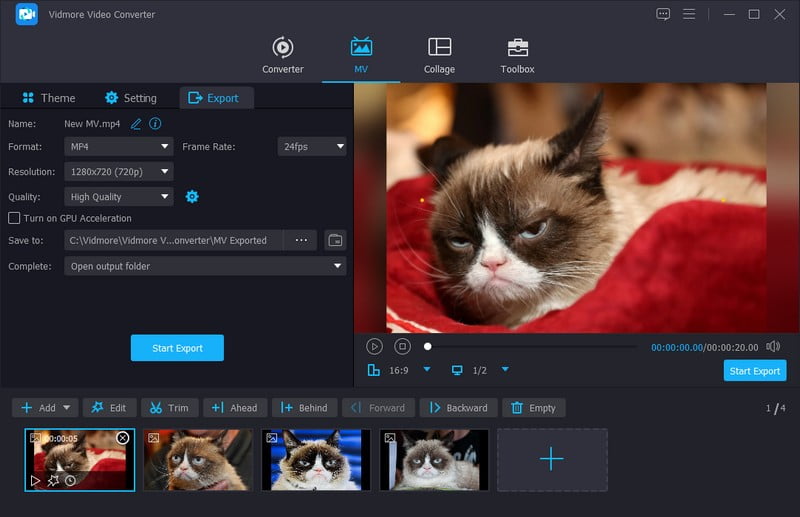 You can change the video settings according to your preference, such as format, resolution, frame rate, quality, etc.
And for other built-in editing features and tools, you can unlock and explore them. It will surely surprise you with what it can offer. Check them out now!
Supported Operating Systems: Mac and Windows PC
Part 3. Comparison Table of iMovie and Its Alternative
| | | | | | | | | |
| --- | --- | --- | --- | --- | --- | --- | --- | --- |
| | Usability | Interface | Supported Video Formats | Supported Audio Formats | Background Music | Text | Filters | Highest Resolution Supported |
| iMovie | Satisfied | It has a beginner-friendly interface. | MP4, MOV, and M4V. | M4A, MP4, WAV, AIFF, and MP3. | ✔ | ✔ | ✔ | 4K |
| Vidmore Video Converter | Satisfied | It has a straightforward interface. | MP4, MOV, M4V, MKV, MPEG, AVI, WMV, ASF, WEBM, OGV, M2TS, and more. | MP3, WAV, WMA, M4A, M4B, M4R, APE, AAC, AC3, MKA, APE, and more. | ✔ | ✔ | ✔ | 4K |
Part 4. FAQs about iMovie
What is iMovie for Android?
The best iMovie for Android you can access is Vid.Fun. It is a mobile video editor application that enables users to produce high-quality videos, which can be edited using its editing options. The main features are video trimming, content rotation, background changing, video filters and effects, texts, stickers, and more. Indeed, it can help you edit your videos, which you can upload on different social media channels.
Does iMovie reduce file size?
Yes, iMovie can reduce the size of your file by splitting long videos into clips or cutting unnecessary parts without sacrificing quality.
Does iMovie automatically save?
Yes, iMovie automatically saves your work, as the file menu has no separation option. With that, iMovie will handle that to save your created project.
Does iMovie change audio quality?
This program has several equalizers presets, which you can use to fix or enhance audio in your project. You can select an equalizer preset in a clip to improve vocal quality, treble, or boost bass.
Conclusion
As mentioned above, iMovie is not available for Windows devices. And so, if you want to use an alternative program as capable as iMovie, you can rely on Vidmore Video Converter. It is the best iMovie on Windows alternative, providing you with the best experience in editing your projects. In addition, several editing options help create the eye-catching video projects you desire to have.