How to Improve Quality of Video on Facebook [Ultimate Guide]
Facebook is one of the most used social media platforms worldwide. It has a total of 2,630,000,000 users as of today. Undoubtedly, it reached more users as it provided better service. Facebook is commonly used to share and upload content like pictures and videos. If you scroll over the application using your account, you will see a lot of captured moments by your friends and following. Therewithal, it enables users to react like, heart, commenting, and sharing regarding the post.
Have you ever considered why users get thousands of likes when posting video content? To answer your question, they have a better video quality that provides a better viewing experience. Video quality plays a significant role in having a better-quality video output. With that, you need to ensure that you upload a better-quality video. This post will provide details on how to upload high-quality videos to Facebook. Also, it will provide a video enhancer application you can use to improve video quality. Continue reading to learn more about this information.

Part 1. How to Improve Video Quality for Facebook
1. Vidmore Video Converter
If you want a program that can work without the internet, you can rely on Vidmore Video Converter. This program does not require an internet connection to accomplish your task. The only thing you need to do is to download the program on your computer. This program has an intuitive interface that is easy to understand and master. Even if you are a first-timer in video editing, you can easily use the editing options and built-in features. This program has numerous built-in features like the converter, ready-made themes, collage makers, and a section full of tools.
Video Enhancer is one of the tools from that section that can help you improve video quality. It consists of the following key features that can enhance video quality. These key features are upscale resolution, optimized brightness, and contrast, removal of video noise, and video shaking. Once you enable these four key features, you can get the better-quality video you wish to upload on your social media account. Join us to see how to improve Facebook video quality using this program.
Step 1. Download and Install Vidmore Video Converter
Download and Install the program on your desktop device, whether using Mac or Windows. Once the installation is done, launch the program to have complete access.
Step 2. Choose Video Enhancer
When the program is opened, head over to the Toolbox tab, and locate Video Enhancer from the tools presented.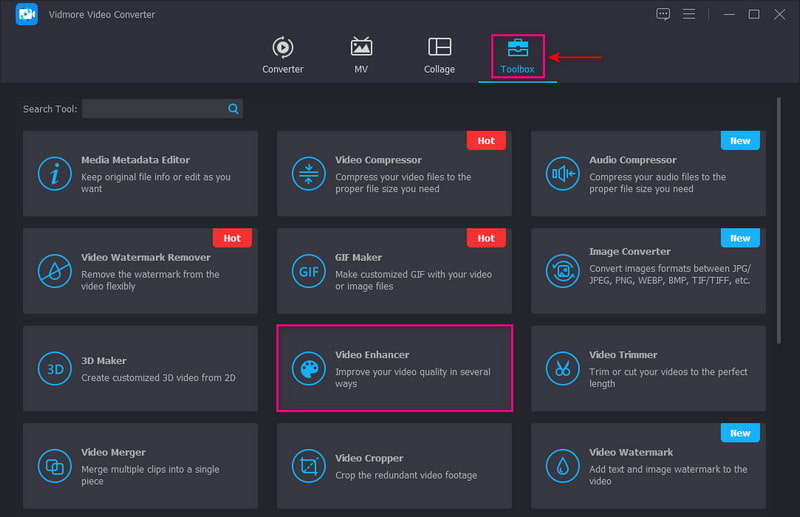 Step 3. Upload a Video to Video Enhancer
Hit the (+) icon to upload your video to the program. Select a video from your desktop folder to improve the video quality. After that, it will lead you to another screen.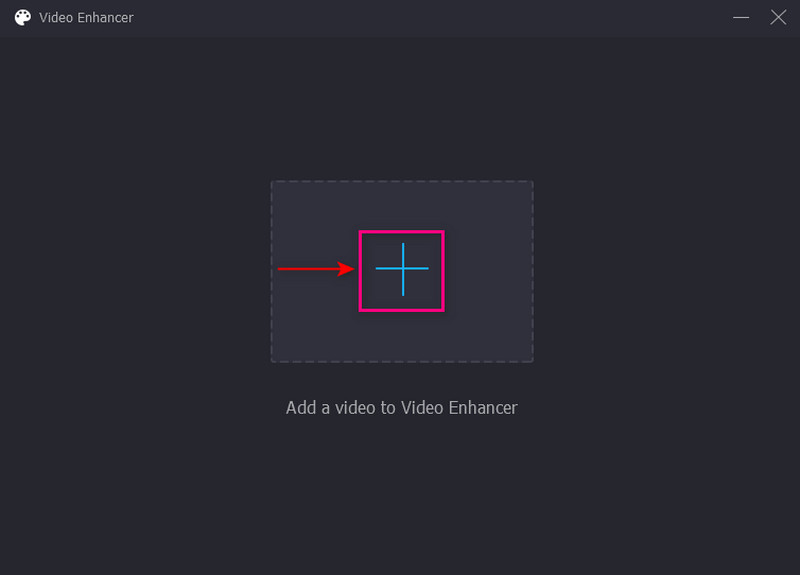 Step 4. Improve Video Quality
The newly opened screen presents you with the following key features that can help you enhance video quality. These key features are Reduce Video Shaking, Remove Video Noise, Optimize Brightness and Contrast, and Upscale Resolution. Put a checkmark beside the four key features to enable them. In addition, set the Resolution based on your preference, which can be a factor in producing a high-quality video.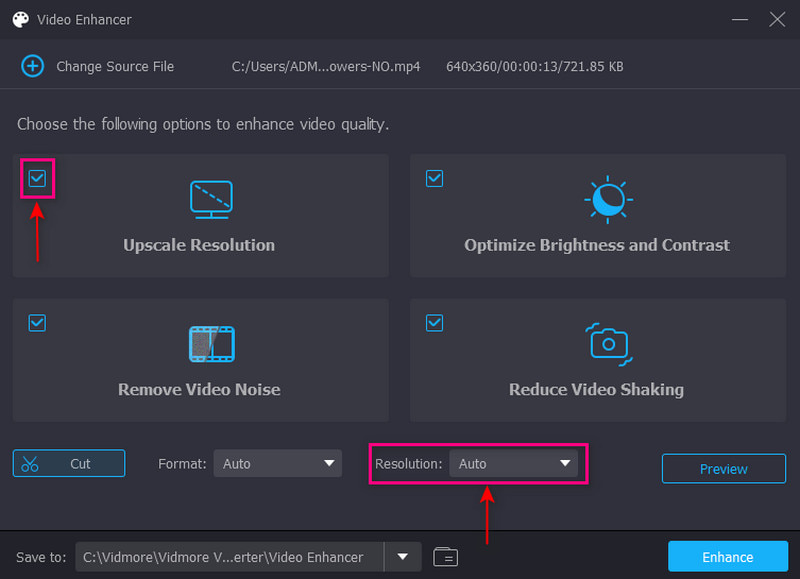 Step 5. Save Improved Video Quality
Once settled, hit the Enhance button to start the enhancement process. Your video will be saved in your desktop folder. After that, your video is ready to upload to your Facebook account.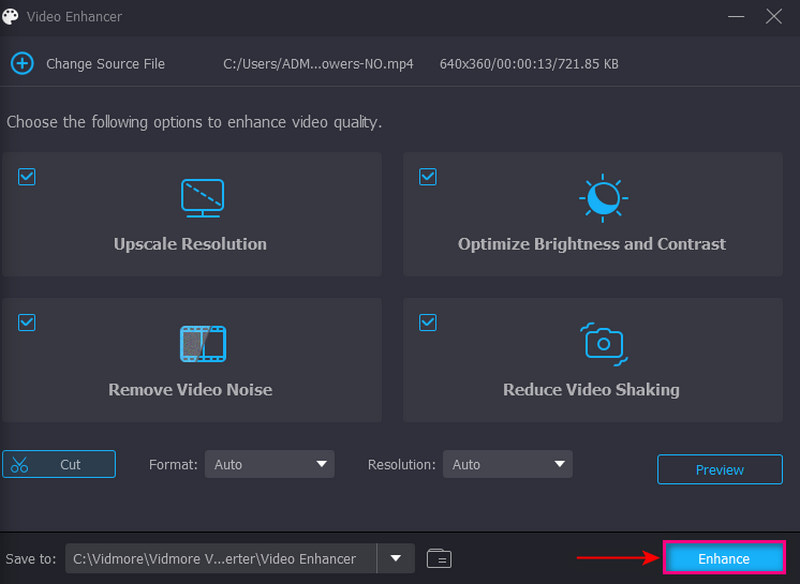 2. VideoShop
VideoShop is a cross-platform mobile application that is capable of enhancing your video. It has editing options such as trimming, applying music and sound effects, and slow and fast motion. This video enhancer lets you change basic effects like brightness, contrast, temperature, saturation, etc. In addition, you can improve the quality of the video by picking a higher resolution from the exporting process. Proceed to the instructional guide below to learn how to improve video quality using this application.
Step 1. First and foremost, download and install the application on your mobile device. Once the installation process is done, launch the application to get started.
Step 2. On your screen, hit the Import clip button to add the video you want to improve the quality. Afterward, hit the Adjust Display button to change the video's brightness, contrast, saturation, and more.
Step 3. Once settled, hit the Tick, leading you to the saving options. After that, locate the Resolution section, and choose a higher resolution to incorporate into your video. Once done, proceed to save your improved video quality. Afterward, you can upload it to your Facebook account and share it with your friends and followers.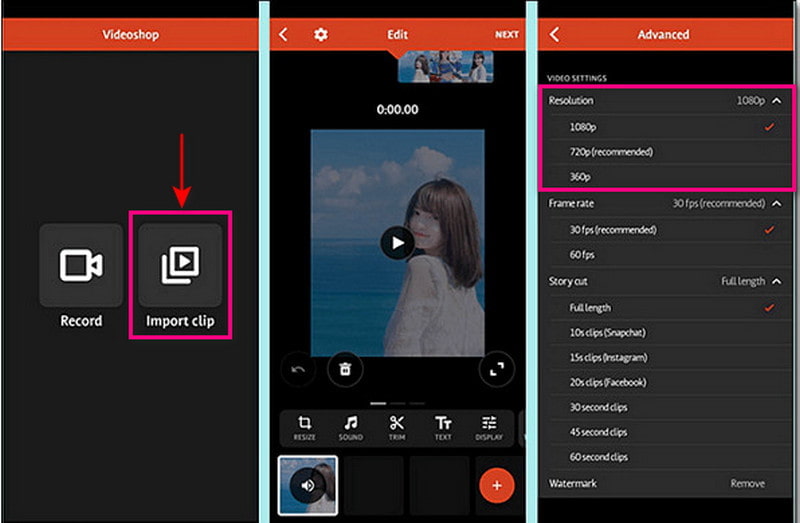 Part 2. Tips for Using Facebook
This part will provide tips on how to post a high-quality video on Facebook. By changing one setting, you can start uploading videos in high-definition output. Below are the guidelines on how to upload a better-quality video.
Step 1. Open your Facebook account, and head to the Menu icon. The menu includes your profile picture with three horizontal lines on the lower right corner of your screen.
Step 2. Scroll down, and click the Settings & Privacy option. Next, click Settings, scroll down, and select Media, leading you to the Videos and Photos settings page.
Step 3. Head to the Video Quality option and ensure to enable the Optimized.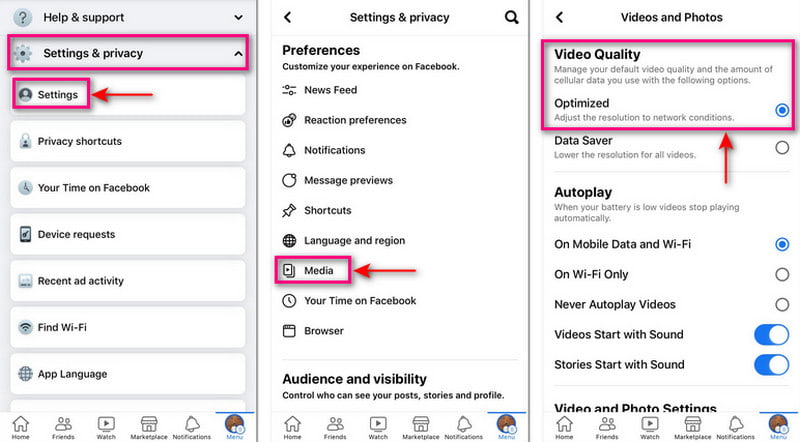 With this setting, Facebook will improve the quality of your videos based on how fast or stable your internet connection is. If you have a strong internet connection, Facebook will upload your videos in the highest quality possible. Changing the Facebook video quality can help you achieve your goal of posting a better-quality video.
Part 3. FAQs about Facebook Video Quality
How do I fix low-quality videos on Facebook?
Your video appears low-quality on Facebook or any social media platforms because of the compression. The platform must compress your video to save server space, which usually happens to any platform.
Why are my Facebook uploads low-quality?
Facebook compress, resize, and format pictures or videos to enable the page to load faster and save space on their servers.
What is the highest video quality on Facebook?
The video resolution should be at least 1080P or less. Facebook supports file sizes up to 10 GB, and videos must not exceed 240 minutes long.
Does Facebook upload in 4K?
Facebook does not support 4K resolution video. It can only hold a resolution of 1080 or under, and files up to 10 GB are not supported. If you have a larger video file and a poor and slow internet connection, it will take time to upload.
Conclusion
Facebook is one of the on-the-go applications when you are resting and want some entertainment. If you want to watch video content, Facebook offers various videos uploaded by different users. Consider having a better-quality video when planning to upload a video on this application. Through that, your video will gain more likes, reactions, and comments. In this post, you have learned how to improve Facebook video quality. Also, it presents video enhancer applications you can use to improve the quality of your video.