How to Resize Videos for Facebook without Quality Loss
Facebook is a great platform for sharing and connecting with your friends. You can not only watch stunning videos but also upload your own. If you're a video sharer, it is essential to ensure the high-quality of uploaded videos, then you might find that the high-quality file usually represents a large file, which means the uploading will take a long time, or even fail. Therefore, video compression without quality loss has become the primary requirement. Luckily, with the development of modern technology, there are many tools available to do video compression without losing quality. Next, we will show you the ways how to compress videos for Facebook without quality loss.

Part 1. Best Way to Compress Videos for Uploading to Facebook without Quality Loss
Whether you're using Mac or Windows, Vidmore Video Converter – a simple yet powerful media compressor can compress your videos for Facebook to a smaller size, without significant reduction in visual quality. Works with MP4, MOV, AVI, HD files and all types of video formats. Perfect your video clips and compress them to manageable file size so you can upload to Facebook, Instagram, YouTube, and other social media platforms. Download the program and follow the instructions below.
Step 1. After installing the Facebook compressor, run it on your computer. Navigate to the Toolbox feature and choose Video Compressor. Click the PLUS icon to upload the video you want to compress.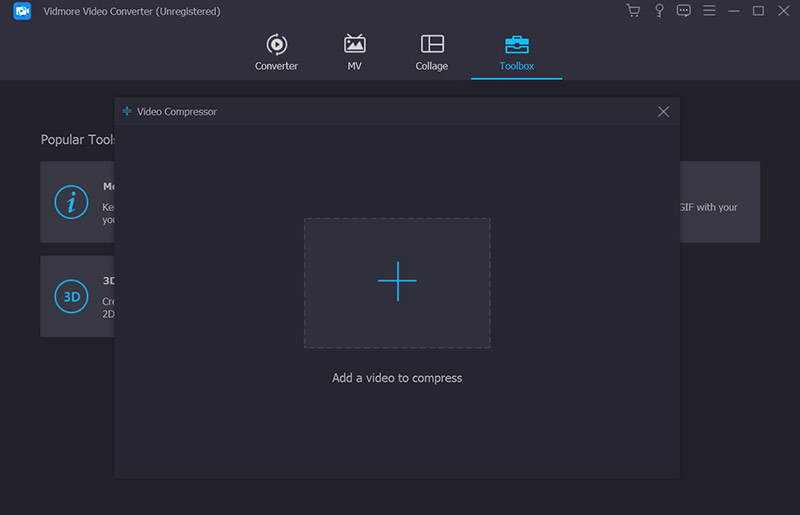 Step 2. Then, a new window will appear where you can select compression options. You can adjust the slider to make sure your video file is less than 4 GB – the maximum for Facebook and then choose a suitable resolution and format.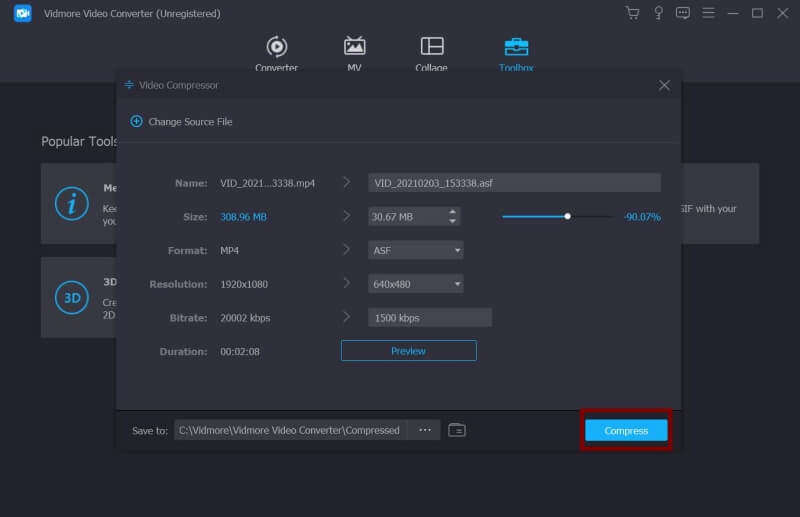 Step 3. You can preview the video before the compression. If you're now ready to compress your videos for Facebook, open the Folder icon to choose the output folder and hit on the Compress button to compress and save the file on your computer.

Wait for a while, the folder for saving your compressed video file will be open. You can have a check and share it with friends & followers. Upload it to Facebook, or send it via email!
Part 2. 2 Tools to Compress a Large Video for Facebook Online
Vidmore Free Online Video Compressor
Vidmore Free Online Video Compressor is an online compression program, you can compress your video files in a matter of seconds. It can run in any browser without downloading a large program installation package and only needs to install a small browser launcher for running support. No sign-up, no email required. Just click the link to use our web Facebook video compressor.

Key Features:
It can compress videos for Facebook, Instagram, YouTube, Vimeo, and other platforms.
You can convert the compressed file to a web-supported file format like MP4, WebM, etc.
It does video parameter configuration, including resolution, bitrate, etc.
Completely free to use.
No registration or installation required.
Pros:
Simple and intuitive interface makes it super easy to use, even for beginners.
It doesn't add any watermark to the compressed video.
Cons:
There are limited options for output video.
Clipchamp
Clipchamp is another excellent web-based tool for Facebook compression. This website is accessible on any browser. It empowers you to compress any video for Facebook, YouTube, and other social media sites. It also supports video editing and recording.
Key Features:
Resize the video size for Facebook while maintaining the quality.
A powerful video editor.
It has various templates to perfect video creation.
It supports converting video formats.
Pros:
It has numerous templates.
It has some basic video editing tools.
Cons:
The free version put watermark a on the output video file.
It requires registration.
Part 3. Must-know Technical Requirements for Facebook Upload
File Size: maximum of 4 GB.
Duration: maximum of 120 minutes.
Video Formats: MP4 and MOV formats.
Resolution: 1280 x 720 pixels with a minimum width of 600 pixels
Size: No more than 4 GB.
Frame rate: maximum of 30 fps.
Part 4. FAQs of Compressing Videos for Facebook
Will there be any loss in quality when compressing videos?
Making a video smaller will almost always result in a loss of quality. But Vidmore Video Converter could ensure your video will be exported at the maximum possible quality.
Can I compress videos for email?
Yes! The above-mentioned video compressors can help you reduce the video size for email.
Can I change bitrate, resolution and format of the video?
If you're looking for more options to tune parameters of your video file, Vidmore Video Converter lets you reduce file size by changing codec, bitrate, frame rate, resolution, format, etc. to your desired specifications.
Conclusion
Whether you're compressing your videos on Windows or macOS, Vidmore Video Converter is the best video compressor – easy to use and compatible with all file formats. If you prefer shrink Facebook video file size online, Vidmore Free Online Video Compressor and Clipchamp are also good choices.