How to Improve Video Quality on Zoom [100% Working]
Zoom is commonly used as a platform to attend various online classes and meetings. It is a communication platform that enables users to connect with audio, video, and chat using different devices. It is accessible straight on the website or installed on your devices. But, it requires an internet connection to attend the meeting. This communication platform offers content sharing, interactive whiteboard, live chat, and many more. No doubt, it can hold different meetings with a huge number of participants. Has it ever crossed your mind the full potential of this application, especially regarding the video quality it offers?
This post will present methods to improve zoom video quality using the built-in feature and another program. With that, you will know how to improve zoom video quality to appear better on your screen. Do you want to have a high-quality video meeting via Zoom? If yes, proceed to read the following parts.

Part 1. How to Improve Zoom Video Quality
If you prefer a program that can do its job without an internet connection, you can count on Vidmore Video Converter. This program does not require you to connect to an internet connection to accomplish your task. Vidmore Video Converter has a user-friendly interface that is easy to control and understand. It is capable of improving the Zoom video quality in four different ways. It can upscale video resolution, optimize brightness and contrast, remove video noise, and reduce video shaking.
Step 1. Download and Install Vidmore Video Converter
To have complete access, download and install the program to your computer. After the installation process, proceed to launch the program to get started.
Step 2. Choose Video Enhancer
Once the program is opened, click the Toolbox tab from the top menu bar. A lot of tools will be present on your screen. From these tools, look for Video Enhancer, the primary tool you can use to improve the quality of your recorded Zoom meeting.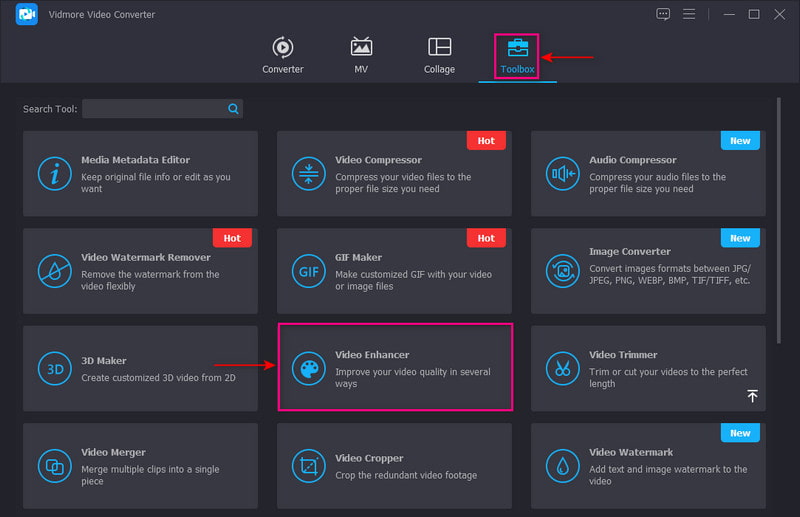 Step 3. Add a Video to Video Enhancer
Click the (+) icon at the center of your screen. It will automatically open your desktop folder and select the recorded meeting for enhancement.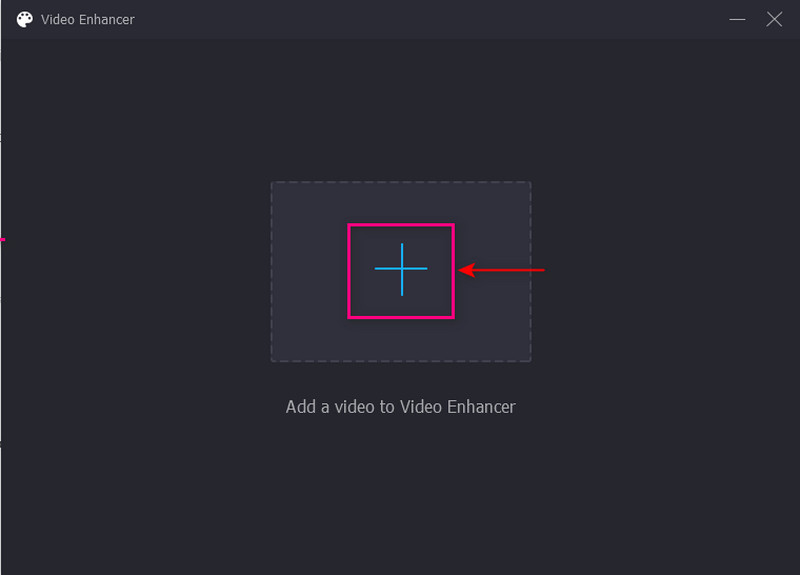 Step 4. Enhance Video Quality
A new window with the following options to enhance video quality will appear on your screen. These are Upscale Resolution, Optimize Brightness and Contrast, Remove Video Noise, and Reduce Video Shaking. You have full control to enable the four key features to enhance your video. With that, tick a check on the small box beside the options.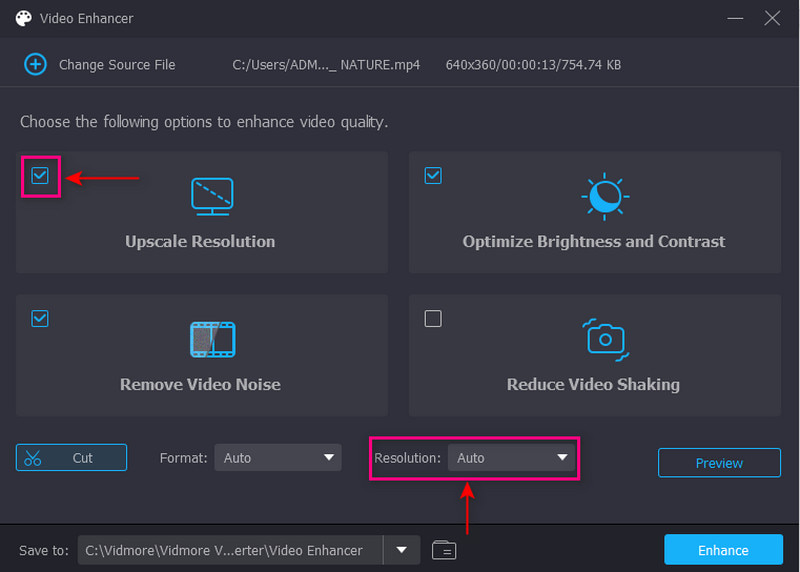 Step 5. Save Enhanced Zoom Meeting
Once settled, click the Enhance button on the lower right of your screen. Wait for a few seconds until the procedure is complete. After that, your output will be saved in your desktop folder.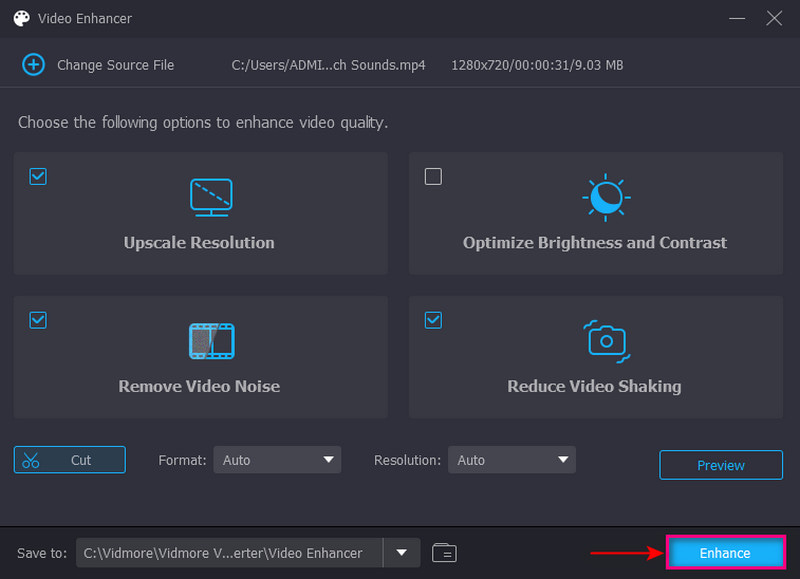 Part 2. How to Improve Video Quality on Zoom Directly
Zoom has built-in options to improve the video quality before recording a class, conference, or meeting. It is essential to note that you need to pay for the Business, Enterprise, or Pro version to have a better quality-recorded output. In contrast, if you record using the free version, expect the quality to be not-so-good, and you only have a limitation. You can still sign in on the free version if you cannot afford to subscribe to the paid version. But remember that when you only have access to the free version, you only have limited features.
Here are the steps you can rely on to learn how to improve video quality on Zoom:
Step 1. First and foremost, download and install or browse the application on your web browser. Next, sign up with Single Sign-on (SSO) if you want full access to the application. Alternatively, you can sign up for the free version using your pre-existing accounts, such as Apple, Facebook, and Google.
Step 2. Click the Host Meeting button in the upper right of your screen. Next, select With Video On to attend a meeting while your camera is on. Afterward, click the Launch Meeting button after reading the terms and conditions of the program. After that, it will direct you to the Zoom Meeting section.
Step 3. Head to the Join Audio upward menu and select the Audio Setting option. After that, another window will appear that consists of applied settings options. These are General, Video, Audio, and many more options presented. From there, click the Video button, and then put a checkmark beside the HD to set the camera resolution.
Step 4. Before recording the meeting, hit the Recording icon and select a folder for your recorded zoom meeting. Once settled, hit the End button and then the End Meeting for All option on the lower right of your screen.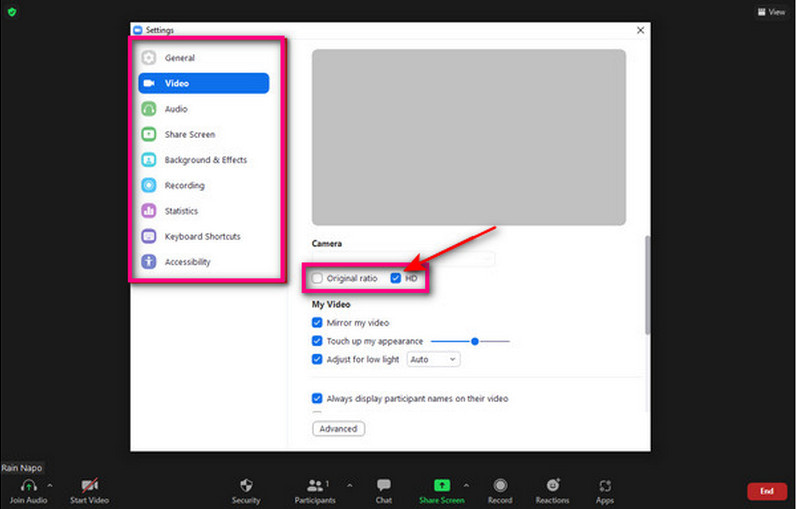 Another way to improve Zoom video quality is by enabling the Low Light Adjustments. With the help of this option, it will balance your video quality even if you do not have enough lighting. It will automatically brighten your video, which can help you achieve better video quality when attending a meeting. To learn how to enable this option, follow the steps below.
Step 1. Click your Zoom profile picture, then choose the Settings option to present the applied menu list.
Step 2. From the Settings menu list, click the Video option, and it will lead you to another option.
Step 3. Head to the Adjust for Low Light option under the Video section. Next, select Auto or Manual from the toggle button.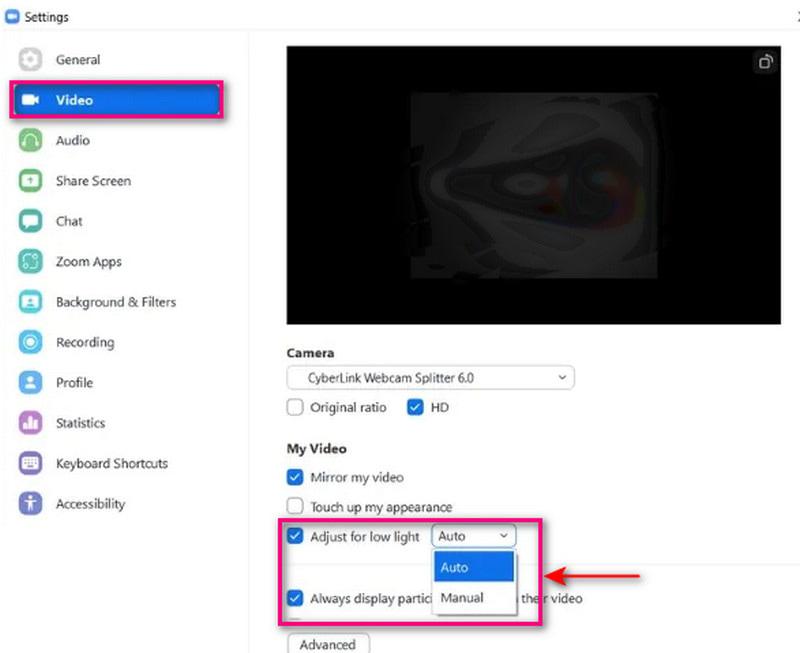 Part 3. FAQs about Zoom Video Quality
Is it free to use zoom?
Zoom can hold up to 100 interactive participants for free and host unlimited video meetings. All you need is a device connected to an internet connection with a camera, microphone, and speaker.
Why is my video so blurry on Zoom?
Your video is blurry on Zoom because of poor lighting and video noise from small image sensors, which causes graininess. If you have poor lighting, the camera will boost the signal from the pixel on the sensor to brighten the image. In addition, it also boosts the noise that boosts video noise, which appears grainy to your video.
Does Zoom support 4K video?
Zoom does not support 4K video resolution, as with other platforms like Microsoft Teams.
What is important for video quality?
The essential factor of video quality to a video is that it presents how clear, realistic, and sharper the video is. If you have a high-resolution video, the images presented will appear clearer on the screen. With that, it will provide a good and better viewing experience.
Conclusion
Zoom only has limited recording capabilities and depends on a fast internet connection. With this post, you get comprehensive information on how to improve video quality on zoom. You can now improve the quality of your zoom meeting with the help of the steps provided. In addition, count on Vidmore Video Converter if you want to enhance your video in four different ways.