Best Video Editors with Video Zoom in Effect - Comprehensive Tutorial
After a series of taking videos, you are now in the process of editing them to produce a stunning output. One particular effect you wish to apply is the zoom-in or out video effect. What this effect does is that it drives the attention of your viewers or audience. Specifically, where an object in the video is zoomed in or out. Good thing you are on the right page to read, as we will reveal to you how you can start using the zoom-in or out effect.
Here, we will introduce the best zoom video editor programs to help you apply zoom in or out video effects on the video you shoot. Actually, there are several programs to help you do this task. On the other hand, we did the research to simplify your work. Applications for PC, Android, and iOS devices will be provided along with their review and pros and cons. Read on to learn more.

Part 1. How to Zoom in/out Video on Windows and Mac
One of the best apps to zoom in on video or zoom out is Vidmore Video Converter. Using this amazing tool, you can create impressive cinema-quality and Hollywood style movies through its easy-to-navigate user interface. From your self-shot videos and movies, you can stitch them into one and produce something stunning. The tool offers different zoom effects for your videos. You may choose modes like Letter Box, Pan & Scan, and Full.
You may also use the frame handles to zoom in on your desired object or subject. When you are not confident whether the subject is in focus, it comes with a Center to Video feature to focus the view on the subject. Not to mention, the tool offers a preview panel, so you can see the changes you made in real-time. If you are ready to learn how to zoom in on a video with this program, check out the steps below.
Step 1. Install and launch the program
First of all, get the program by ticking the Free Download button provided below. Ensure that you acquire the installer according to the OS of your computer. Then, follow the setup wizard for the installation and run it on your device.
Step 2. Add a video file
Now, let us start adding a video to zoom in or out. Tick the plus sign button on the main interface of the program. It will launch File Explorer on your computer, where you will find and select your target video. You should see the thumbnail of the video on the main interface after successfully uploading a video.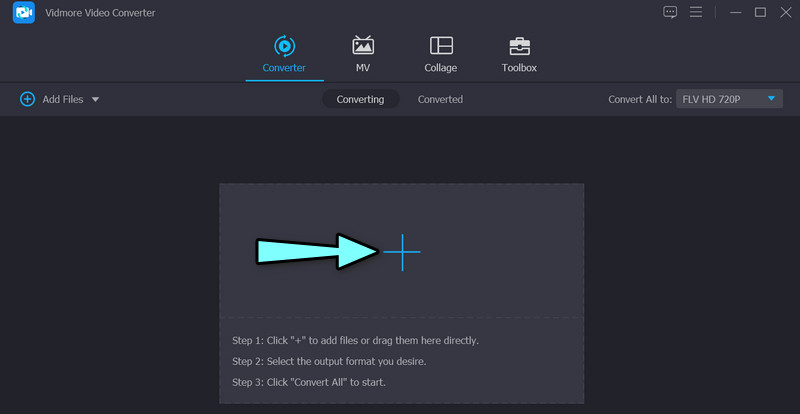 Step 3. Open the zoom in video editor
To open the zoom video editor tool, tick the Edit icon that looks like a magic wand. Then, the video editing panel will show up. From here, you will be able to access the zoom effect, rotate, and more.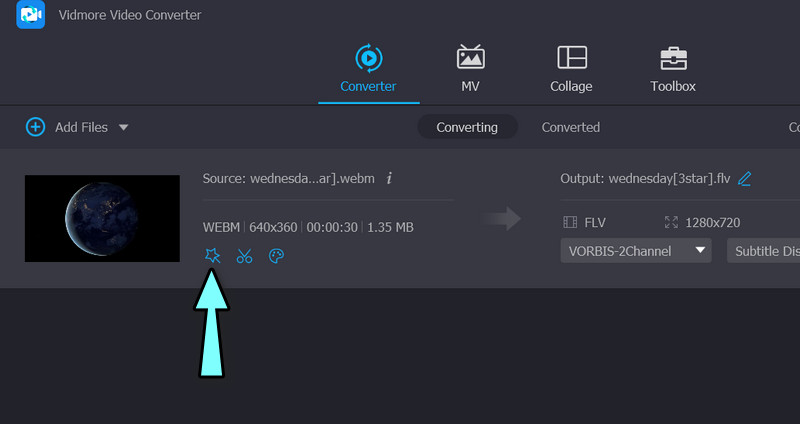 Step 4. Zoom in or out of the video
Initially, the tool will redirect you to the Rotate and Crop panel. Under this tab, you can edit the zoom video effect. Before zooming in or out, you can choose to crop or rotate video. If you do this on all the videos uploaded to the program, you can hit the Apply to All button. Now, tick the Zoom Mode drop-down menu and select among Letter Box, Pan & Scroll, and Full options. Hit OK at the bottom right corner to confirm the changes.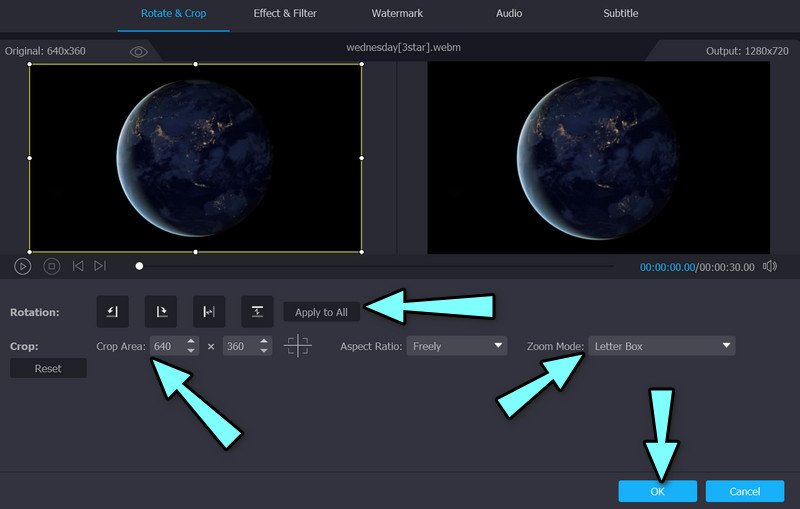 Pros
Full, Pan & Scroll, and Letterbox zoom effects.
Center to Video feature to instantly focus on objects.
Edit videos in batch using the apply to all features.
Cons
Some features are limited in the free version of the tool.
Part 2. How to Zoom in/out a Video on iOS and Android
For Android and iOS users, you can consider using the CapCut application as your mobile zoom video editing program. This program is available on Google Play Store and App Store. That means you can use this tool on your Android and iOS devices. It offers basic video editing features, like trimming and shortening clips, merging videos, and many more. Advanced features of this tool include keyframe video animation, creating smooth slow-motion with a speed curve tool, and optical flow features.
Additionally, you can animate video clips using the zoom-in/out effects of the program. You can use the keyframe tool or apply this effect from its collection of effects. On the other hand, here is a tutorial on how to zoom in on a video editing tool.
Step 1. To get started, download and install this tool on your mobile devices from the App Store or Google Play Store. After that, open it on your smartphone.
Step 2. From the main interface of the program, tap the New Project button, then choose the video you want to zoom in on from your phone gallery.
Step 3. You should see a menu below your screen. Now, hit the Effects button, followed by the Video Effects. Then, go to the Basic tab and tap the Zoom Lens.
Step 4. Finally, tap the small checkmark to apply the effects. A purple clip on the timeline will appear afterward. That is how to zoom in on a video using CapCut.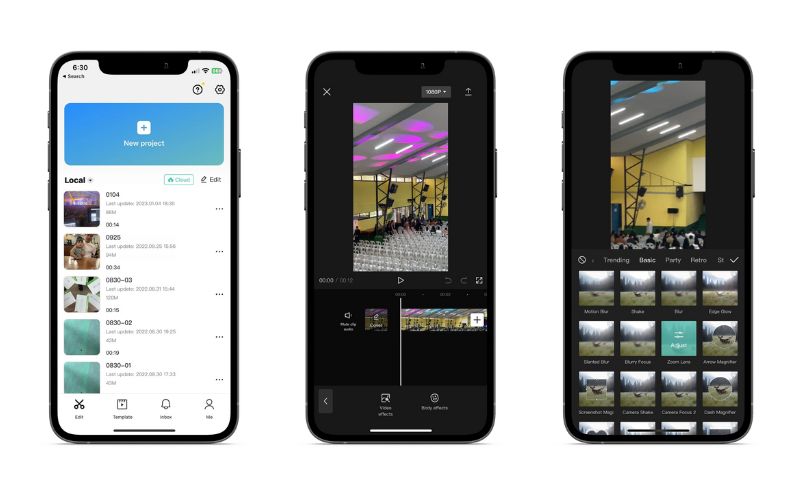 Pros
Adjust video effect settings: range, speed, etc.
It offers a lot of video effects.
It works on Android and iOS mobile devices.
Cons
Some video effects are only available on premium accounts.
Part 3. How to Zoom in/out Videos Online
If you intend to do video zooming online, so you do not have to download an application, you can rely on Clideo's Video Zoomer. It zooms out videos in a straightforward way. There are complicated settings you need to tweak to zoom in or out videos. Additionally, it works with almost all video formats. Therefore, you can expect that it will accept any video file format. Check out the steps below to learn how this video editor with zoom effect works.
Step 1. Launch any browser on your computer and visit the official site of the program. Hit the Choose file button to upload videos from your local computer drive.
Step 2. This time, select an aspect ratio from the list of options on the right portion of the interface. You can also move the aspect ratio frame to mimic a zooming effect.
Step 3. Lastly, select a format for the video and hit the Export button.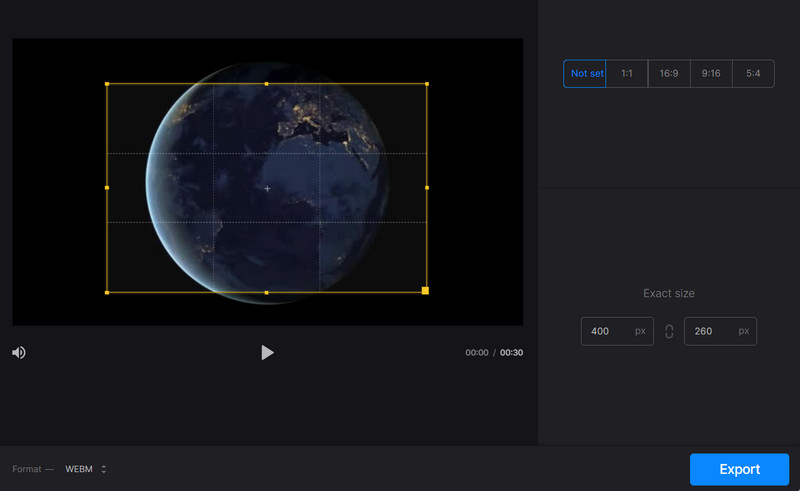 Pros
Freely move the aspect ratio to mimic zoom in or out effect.
No need for download and installation.
It works on major web browsers.
Cons
It is not dedicated to zoom in or out videos.
Part 4. FAQs about Zooming in and out Videos
Can I zoom in and out of videos without using applications?
Yes, it is possible. You can record a zoomed-in or out video while shooting the video. You can do that, especially when you are using a mobile device. While recording the video, pan, and zoom on the recording.
Is it possible to zoom in on videos without losing video quality?
It is possible to retain the quality of the original video by selecting the same video format source after doing some changes to it. You can use Vidmore and utilize Video Enhancer to improve the quality of your video files.
What does zoom in mean?
Zooming in on the video lets you get a closer look of the subject or object. The dimensions of the video and project are changing in this process.
Conclusion
Videos are best shared when there is something interesting about it. As we know, videos with zoom effects garner more audience, and videos are better than videos without any spice on them. Therefore, you can use the zoom video editors above to help add spice and flavor to your videos. It will not be plain and dull but exciting and stunning.