Livestorm vs Zoom: Which Is Better for Video Conferencing
Nowadays, more and more companies are willing to make use of video conferencing tools to communicate and collaborate with colleagues or supervisors, as well as keep both remote and in-house team members in touch. Some video meeting solutions like Google Hangouts and Skype can't meet the demands for conferencing capacity, high-quality image and audio, etc.

Part 1. The Comparison between Livestorm and Zoom
Livestorm and Zoom both provide the best conferencing solutions and also have its own competitive features. The right choice for you depends on your existing personal cases. The following comparison focuses on their respective video conferencing features, pricing and the pros and cons.
Features
Livestorm is a simple but powerful video communication tool which provides a webinar solution that works on any browser or device without downloading any software. Attendees can attend your webinars on mobile or desktop with their desired browser. Livestorm can handily help companies of all sizes to host live webinars, online meetings, live product demos, customer training sessions, online courses, and more. Moreover, Livestorm also provides on-demand webinar, automatic webinar, and scheduled meetings to meet diverse needs.
With Livestorm, you can share your screen with your attendees to better present your content and engage with your audience. More importantly, your webinar will be automatically recorded with no storage limit. It is convenient for those people who didn't show up to view a replay of your webinar. So there is no need to worry about missing a replay or short on storage capacity.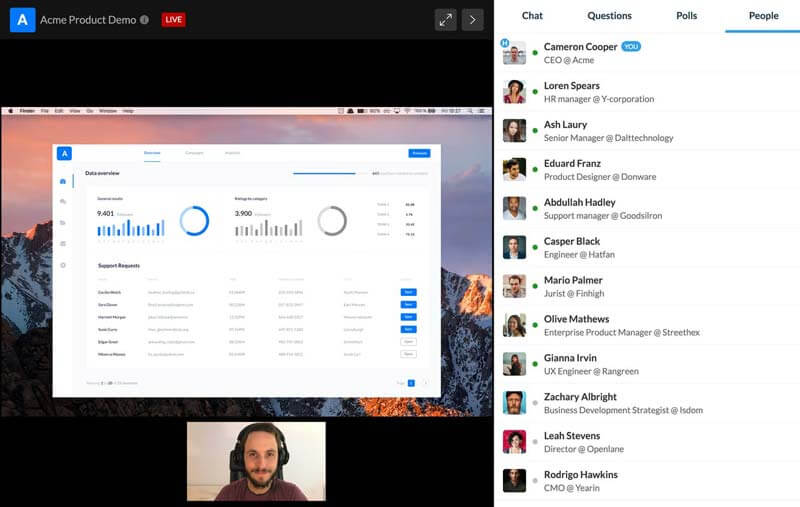 Zoom is one of the most popular and reliable video communication platforms for video and audio conferencing, video webinars, and more with real-time messaging and content sharing. It is easy to start, join and collaborate meetings across any device. While hosting online events, you can stream your events across social channels with Zoom's Facebook Live, YouTube Live, and custom service integrations.
Zoom also endows advanced screen sharing features that allow you to share either your entire desktop or only specific applications and files with everyone, as well as let multiple participants share their screens simultaneously while bringing HD video and audio to your meetings. Additionally, you are able to record your meetings or webinars locally or to the cloud. However, only the hosts and co-hosts have the right to record the meeting in Zoom. If you are a participant, you need to get the permission from the Zoom host first or you can choose a webinar recorder to directly record Zoom meeting without permission.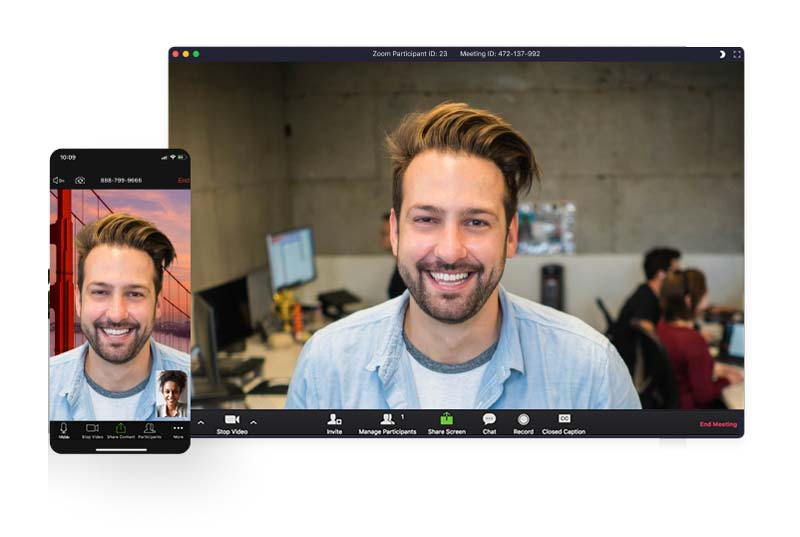 Pricing and Plans
Livestorm
Zoom
Free Version
1. All features included;2. Unlimited webinars;3. Unlimited moderators.
1. Unlimited one-to-one meetings;2. 40 minute limit on Group calls;
Pro Plan

Webinar Premium: $109/month per host

1. Unlimited webinars;2. Unlimited moderators;3. Unlimited on-demand webinars;4. 4h limit per webinar session;5. Up to 100 live attendees per webinar.

Meet Premium: Free for Covid-19 relief

1. All features included;2. Unlimited meetings;3. Unlimited moderators;4. Up to 4 hours per meeting;5. Up to 12 participants per meeting.

$14.99/month per host

1. Unlimited number of group and one-on-one meetings;2. 24 hour limit on all meetings;3. Maximum 100 participants per meeting, can upgrade to 1,000.
Business Plan

$19.99/month per host

1. Maximum 300 participants per meeting, can upgrade to 1,000;2. Ability to add your branding to the dashboard;3. Custom Zoom URL and managed domains.
Enterprise Plan
1. Multiple workspaces with unified billing;2. Premium training with a Livestorm expert;3. SLA;4. Dedicated CSM;5. Floating licences.

$19.99/month per host

1. Maximum 500 participants, can upgrade to 1,000;2. Unlimited cloud storage;3. Dedicated customer service representative.
The Pros and Cons
| | | |
| --- | --- | --- |
| | Livestorm | Zoom |
| Pros | 1. It is easy to use and can be accessed from any browser;2. Good quality of audio and video during sessions;3. Record high-quality online conferencing for further reviewing;4. Support downloading handouts during the meeting;5. Export relevant profiles to third-party applications or native integrations;6. Attendees can ask questions during webinars. | 1. It is ease of use and has an enormous compatibility;2. Excellent video and audio quality;3. Can host a larger number of attendees;4. Works great on webcam and screen sharing;5. The webinar can be recorded automatically to your local computer or Zoom iCloud;6. Rich whiteboard tool supporting annotation. |
| Cons | 1. Doesn't work on mobile device;2. No chrome extension to connect with Google calendar;3. Can't schedule polls and offers in automated webinars; | 1. Need to download & install an application to join the webinar;2. Free version ends video meeting at 40 minutes;3. No interactive offers like polls, |
Part 2. Livestorm vs Zoom: Which App Should I Use?
If you're a small business or just for home use, Zoom has the ability to offer you great video conferencing solution for free, as long as the meeting is shorter than 40 minutes. But if you're a larger organization that regularly needs to accommodate more than 100 attendees, upgrading beyond Zoom or Livestorm free version allows more attendees to take part in.
For professional webinars, Livestorm may end up being a better value for you. Livestorm enables participants to engage the conversation, join polls, answer questions, sort using upvotes and more. If your goal is marketing and selling online products, courses or trainings, Livestorm is far better than to Zoom.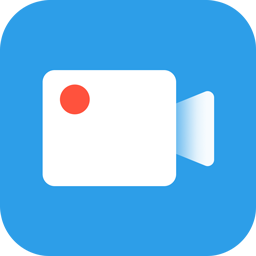 The Most Professional Screen Recorder for Livestorm and Zoom – Vidmore Screen Recorder
Record high-quality video and webcam during video conference.
Capture audio quality from system sound, as well as voice from microphone.
Support annotating on the recording meeting in real-time.
Take screenshots of webinars in full screen or selected area.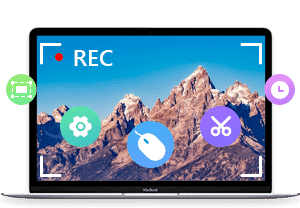 Part 3. FAQs of Livestorm and Zoom
1. Is Livestorm good for beginners?
Yes, it's fairly easy to use, even for beginners
2. Can I try Livestorm for free?
Yes. It provides a free trial for web events. You can hold unlimited HD webinars on any browser, whether on a desktop or mobile device.
3. What are better alternatives to Zoom and Livestorm?
Apart from Zoom and Livestorm, GoToWebinar, ClickMeeting, and Demio are great webinar platforms.
Conclusion
Livestorm and Zoom are both leading choices to satisfy any organization's video conferencing needs. They can provide the high-quality video and audio, along with other collaboration features for online meetings. Choose one that serves you well in terms of your own needs.