InVideo Review: Discover the Features, Pricing & It's Alternative
InVideo is like a creative buddy for making videos. It is a platform that enables users to turn their ideas into videos in real time. It comes with 4000+ custom-built templates, 1 million+ royalty-free images, and video clips. It empowers users to create professional-quality videos. It provides a broad range of editing features to streamline video production. Do you want to learn more about it? If yes, please continue reading. This post will discuss necessary information about InVideo that you should know. Besides, it will present an alternative program you can use to edit your videos. Please get to know them!

Part 1. What is InVideo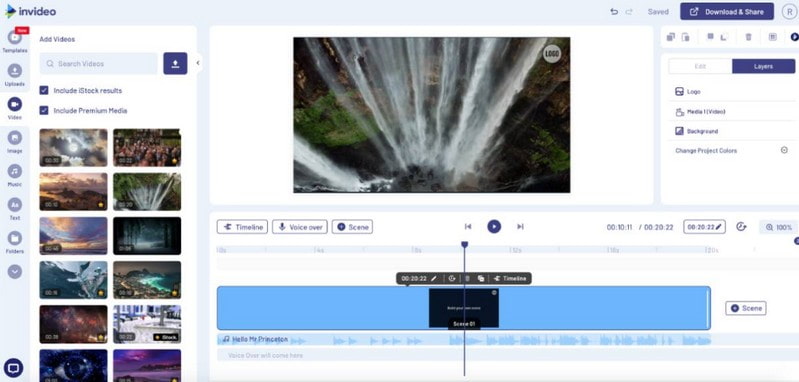 InVideo is a web-based editing platform that allows users to create and edit videos. It combines images, videos, text, music, and effects. Users can create professional-looking videos for social media, marketing, and presentations. It has a lot of ready-made designs that you can use. It is easy to create videos that tell people information. It has over a million sounds, videos, and pictures. So you can make your videos look and sound impressive.
InVideo is like a smart and clever tool. This platform has more than 100 ready designs that are great for beginners. You can start by looking at different types of videos and finding one that fits your desires. You can add stickers, text boxes, videos, pictures, or anything else. It makes video creation easy for anyone who wants to make engaging video content.
Part 2. Popular Tools of InVideo
InVideo offers excellent tools that help you create superb videos without hard work. Let's look at the tools many people love to use on InVideo.
Video Editor
It offers a drag-and-drop video editor to add and arrange elements. Add images, video clips, text, and audio to the timeline. Moreover, you can trim, cut, and change the timing of different elements.
Media Library
It has a collection of stock images, videos, music, and sound effects. You can use them in your videos to enhance visual and audio quality.
Templates
It offers video templates for social media ads, promotional videos, tutorials, and more. These templates serve as starting points to create your videos.
Music and Sound
You can add background music or sound effects from the library. It can enhance the audio experience of your videos.
Special Effects
InVideo offers tools to add special effects, filters, and animations to your videos to give them a unique visual style. These effects can convey emotions, emphasize key points, and make your videos stand out.
Text and Typography
You can incorporate text into your videos using a variety of fonts and styles. It helps add captions, titles, and other textual information.
Stickers and Overlays
Stickers, animations, and overlays can be added to your videos to make them more engaging. Stickers are fun graphics on your video to add personality or emphasize specific points. Overlays, on the other hand, are layers that you can place over your video.
Transitions
InVideo offers transition effects to make your video flow between elements or scenes. It serves to connect different video clips smoothly.
Voiceover
You can record and incorporate your voiceover to provide narration or explanations for your videos.
Export and Sharing
When it is complete, you can export or save your video in various resolutions and formats suitable for different platforms. Besides that, you can directly share your videos to social media platforms or download them for offline use or purposes.
Part 3. InVideo Pricing
Curious about how much InVideo costs? Let's talk about the InVideo pricing as you know what to expect. Understanding how much you might need to pay to use this excellent video-making tool is essential.
1. Unlimited Plan
With this plan, you can export as many videos as you want monthly.
You can use as many unique pictures and videos from the premium collection as possible.
It costs $60 per month if you pay each month or $30 per month for a whole year at once.
2. Business Plan
This plan allows you to export up to 60 videos per month.
You can use up to 300 unique premium videos every month.
It costs $20 per month if you pay each month or $10 for a whole year at once.
So, if you want to make and save a lot of videos and use as many premium pictures and videos as possible, the Unlimited Plan is good. But if you only need a little, the Business Plan is cheaper and lets you make many videos.
Part 4. Pros and Cons
Pros:
Its easy-to-use interface suits newbies and those with limited video editing experience.
It provides a broad range of customizable templates, which can save you time and help you make visually appealing videos quickly.
The platform's features and tools enable you to create videos relatively quickly compared to the more complex video editing program.
Being a web-based platform, you can access and work on your footage anywhere with an internet connection.
InVideo's pricing plans are relatively affordable, especially considering the features it offers.
The platform frequently updates its features and templates, ensuring users can access fresh and relevant options.
Cons:
Despite its user-friendliness, there might still be a learning curve for some users, especially those new to video editing.
While you can personalize your videos, customization is limited compared to more advanced video editing programs.
It limits your creative freedom if you want a highly unique design.
You need a fast or stable internet connection to access and work on your projects.
It may need more advanced features in dedicated professional programs.
The Business Plan limits the number of videos you can export each month. If you need to create many videos, subscribe to the Unlimited plan.
You must stay updated because prices and subscription plans change over time.
Part 5. InVideo Alternative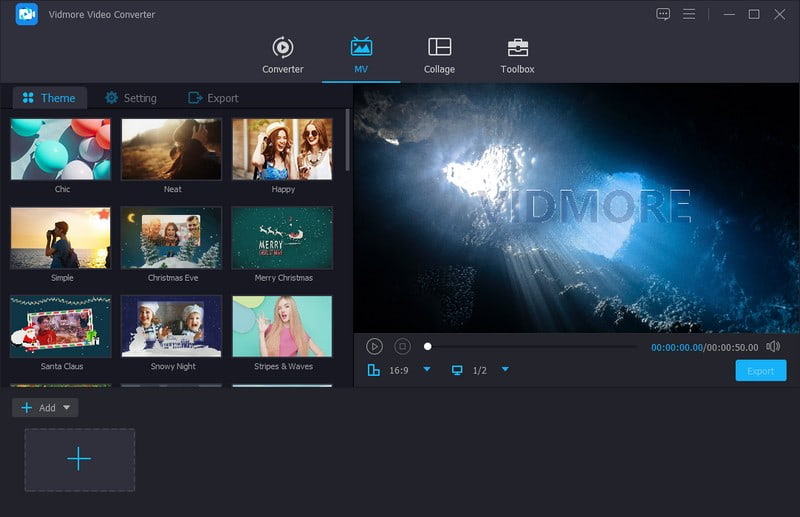 Since InVideo needs the internet to work, you might lose what you are working on if your connection disappears. It can be avoided by using an on-premise program. And the best alternative to InVideo is none other than Vidmore Video Converter. This program stands out as a comprehensive and beginner-friendly program that excels at video conversion and editing. Whether you are a beginner or an experienced video editor, it provides a broad range of editing tools to enhance your video content.
What sets Vidmore Video Converter apart is its robust video editing capabilities. It offers basic editing functionalities like cropping, rotating, trimming, and merging videos. Moreover, It offers advanced editing functionalities, such as adding text, overlays, and watermarks. You can also adjust the parameters like brightness, contrast, saturation, and more. The program provides various effects and filters to give your videos a unique touch. Vidmore Video Converter's intuitive interface ensures a smooth and straightforward editing experience. Indeed, it is the best InVideo alternative you can rely on.
Part 6. FAQs about InVideo
Is it safe to use InVideo?
Yes, it is generally safe to use InVideo. Many people use it to create videos for social media, presentations, and more. Use your content and follow their guidelines to keep things safe and legal.
How long can a video be on InVideo?
If you use the free plan, your videos might need to be shorter. But if you pay for a plan, you can usually make longer videos. Remember that different plans might have different time limits for your videos.
Can I upload my video to InVideo?
You can upload your video to InVideo. This way, you can edit and add things to your video, like text, images, or music, to make it even better. Follow the instructions in Invideo to upload your video and start working on it.
How big can you upload to InVideo?
Remember that the largest upload size for your files is 20 megabytes. It ensures you can work on your project without experiencing performance issues.
How do you change the duration on InVideo?
Drag the scene handle to the right to increase the duration or to the left to decrease the duration. Besides that, you can right-click on a scene and set the duration.
Do I need to download anything to use InVideo?
No, InVideo is a web-based platform. You do not need to download or install any program. You can access it directly through your web browsers.
Conclusion
InVideo helps you create cool videos with text, pictures, and music. It is the key to sharing your stories with the world in a fun and impressive way. It is suitable for beginners, and you can use your videos too. But if you want an InVideo alternative, you can have a Vidmore Video Converter. It offers basic and advanced editing options for editing your videos. You can make your videos even better and more enjoyable. Try it and see how it can make your videos more extraordinary!