A Thorough Review of Avidemux - Free Video Editor for Beginners
If you are a novice who just stepped into the video editing industry, you would not wish to miss Avidemux. As it is quick to access and use, Avidemux is mainly picked by first-time users who are fresh to video editing. Here, we will present an in-depth review of Avidemux and walk you through everything you must know about this freeware. Besides that, it will present an alternative video editor that can help you accomplish your editing tasks. So, start reading to learn more.

Part 1. What is Avidemux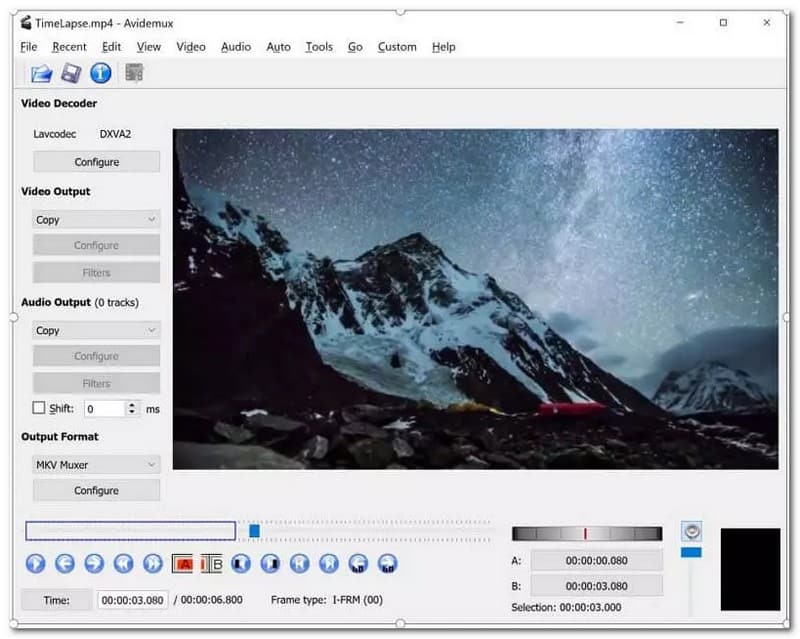 Avidemux is a free, fast, easy-to-use video editing program that can transform your videos into compelling ones. It is designed to create video editing that is entirely manageable for first-time users. It is an open-source video editor with many editing options, including cut, filter, and encode. In addition, users can convert and compress their files to another format and a smaller-file size. Besides that, it offers basic editing options that you might use. Do you wish to learn what they are?
Avidemux trim video feature allows users to remove the unnecessary parts of the video that are not needed. Users can only retain the necessary parts and remove the unneeded ones. Avidemux adding images to video is possible by overlaying your selected images to your existing videos. Avidemux adds text-to-video features that users commonly use to embed essential information on their projects. Avidemux adds subtitles feature is one of the most used, enabling users to incorporate subtitles on the videos they are working on. With that, viewers will have something to read based on the subject appearing in their videos. In addition, Avidemux rotates video features, enabling users to correct the presentation of their video file by rotating clockwise, counterclockwise, and more.
Indeed, Avidemux has basic and advanced editing options that can help any user to produce impressive video outputs.
Supported Operating Systems: Linux, macOS, Windows
Part 2. Key Functions of Avidemux
When searching for a video editor, you look forward to and consider the key functions it provides. Because you are relying on the editing options it has so that you can accomplish the task you will be working on.
Here are the following key functions of Avidemux:
1. Audio Track
Avidemux adding an audio track to video is one of the program's features, allowing users to accompany their videos with music.
2. Cutting
Users can cut the imported video clip according to their preference by eliminating the unnecessary portion of their video. The unnecessary portions can be located at their video clips' start, middle, or end parts.
3. Merge Videos
Users can merge various video clips using the program. They can add numerous video clips to combine and export them as a single video.
4. Compress Video
The program provides a different option to compress your videos to a lower-file size. However, the compressed video will have a lower resolution than the original one.
5. Text
Avidemux adds text to the video feature, allowing users to incorporate necessary details that should be put into the video.
6. Video Conversion
This program enables users to convert their video files to another format. It helps them convert videos to their preferred format according to their requirement.
The supported input and output formats are the following:
Input Formats - ASF, 3GP, FLV, AVI, JPEG, H263, MP4, MKV, MPEG, MPEG4, OGM, and MPG.
Output Formats - FLV, AVI, M1V, M2V, MP4, MKV, MPG, MPEG, TS, and OGM.
Part 3. Pros and Cons of Avidemux
This section will list the following advantages and disadvantages of the program. With that, you will have an extensive background on what to expect. Without further discussion, proceed to the following details.
Pros
It has a beginner-friendly interface that makes it easier to navigate and understandable for first-time users.
It has an excellent encoding option, in which users can convert the video format to other types so that they can be viewed or played by other players.
It allows users to store custom scripts, which they can use for future purposes. These custom scripts include specific audio and video filters and video encoders.
Users can incorporate subtitles into their videos.
It provides sharpening and de-noising filters beneficial for improving the video's appearance and outcome.
Cons
The interface needs to be updated and offer more editing functions.
It does not have a timeline, which makes it hard for users to have control of their imported video clips.
The cutting option needs to be clarified at times.
The rotating option takes work to control.
Users experienced an issue regarding filters as they cannot be appropriately previewed, leaving them any clue what the outcome of their video would be.
The audio accompanied by video is distorted when importing.
The application crashes while changing between different filters.
It does not have creative effects and transitions.
Part 4. Avidemux Alternative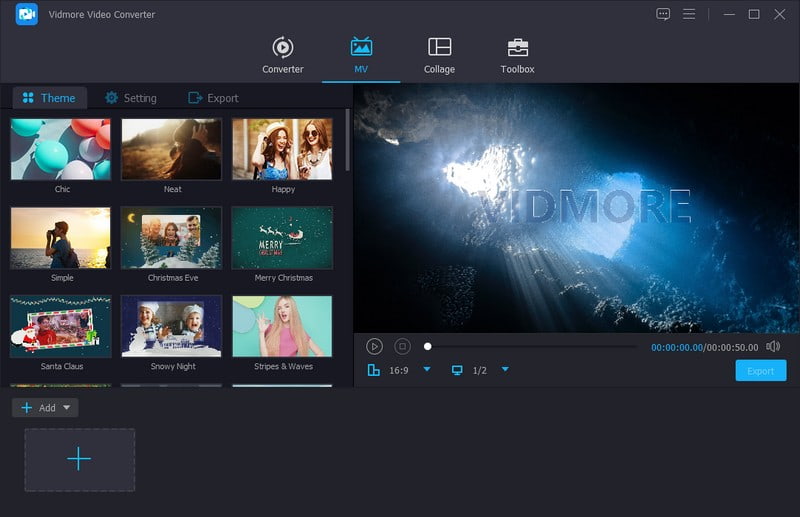 Are you searching for a video editor that has a timeline, allows you to preview effects in real time, and has up-to-date video decoration features? With that, consider using Vidmore Video Converter. This program primarily works as a converter, allowing users to convert audio and video file formats to others. It supports numerous file formats, so you do not have to worry if your file can be imported into the program. In addition, it has a collage maker, enabling users to produce a collage using image and video files. It offers more than thirty-nine bone-structure templates that you can use. Besides that, it has a section with several toolkits for basic and advanced audio, image, and video editing. Impressive, right?
Vidmore Video Converter has a built-in MV feature, permitting users to create great video content. They can create video presentations, slideshows, movie trailers, vlogs, and more, by importing various multimedia files. Users can add text, ready-made themes, music, a watermark, and more for further editing. Besides, they can crop, rotate, select aspect ratio, and apply filters to give the video a professional look. Indeed, Vidmore Video Converter is the best alternative to Avidemux you can count on. Try it now!
Part 5. FAQs about Avidemux
How do I reduce the size of a video in Avidemux?
Run the VirtualDub, head to Video, select Compression, and a menu will show on your screen, and pick Xvid MPEG-4 Codec. After that, press OK, and choose Save from the file menu, and your video will be compressed without quality loss.
How do I change the aspect ratio in Avidemux?
Go to Output Video Encoder, then Filters, and choose Add Borders. Then, set the values needed to achieve the preferred aspect ratio and resolution.
What video output should I use in Avidemux?
It is recommendable to pick OGM, a compressed video container file format containing audio, video, text, and metadata streams.
Conclusion
In this post, we have tackled the features and usability of Avidemux. Undoubtedly, Avidemux is a good application, but there are now more advanced and beginner-friendly applications. One of them is the Vidmore Video Converter, which has a broad range of features with ease of use. It is the best alternative to Avidemux to help you produce amazing videos without hassle.