Best Online and Offline Split Screen Video Editor That You Can Try
Nowadays it is just usual for everyone to post a story on their social media accounts. But sometimes one video is not enough to dictate the whole scenario of their experience that is why they wanted to post more. And the good news today is, we can now make a split screen video with the use of the split screen video editor.
You may be wondering what these apps are and we are glad to inform you that in this post we will give you the split screen video editors that you can use to combine your clips. Scroll down on this post so you can choose which one suits your device.

Part 1. Professional Split Screen Video Editor for Windows/Mac
Vidmore Video Converter is the first app on the list for making a split screen video and it is accessible for both Windows and Mac. Since this tool has an easy-to-use interface, you can easily combine your videos. Aside from that, this has a variety of themes in their music video section.
Their built-in templates and filters will undoubtedly assist you in making your split screen more appealing to viewers. Finally, a step-by-step process is provided below to demonstrate how this application works.
Step 1: Get the Split Screen Video App.
To begin, click one of the buttons below to download the split screen video maker. Then, on your device, install and launch the app.
Step 2: Insert Video Clips
After you've launched the app, navigate to the upper-right corner of the main interface and select the Collage option. Select the Template you want and add the video clips you want after you've been directed to the Collage section.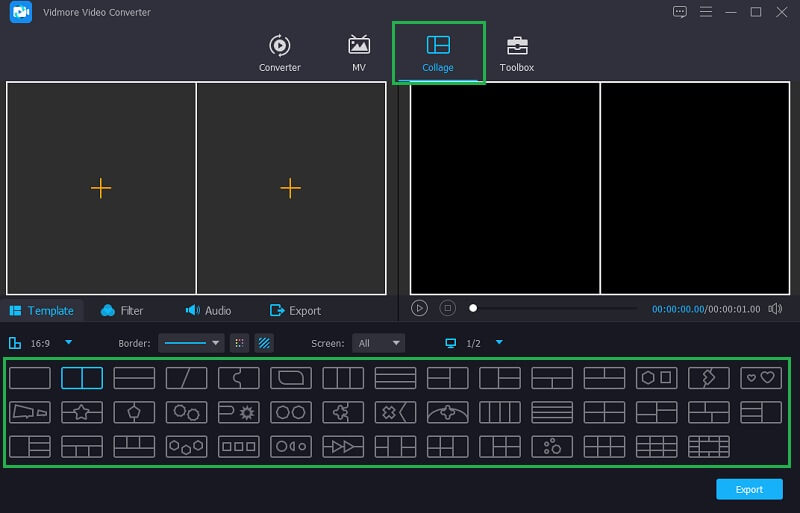 Step 3: Organize and Edit Your Video Clips
After you've placed your video clips on the layout you want, you can enhance their appeal by using the Filter panel to apply the effect you want, or you can trim and rotate them. You may also add background music by selecting the Audio tab from the Filter drop-down menu.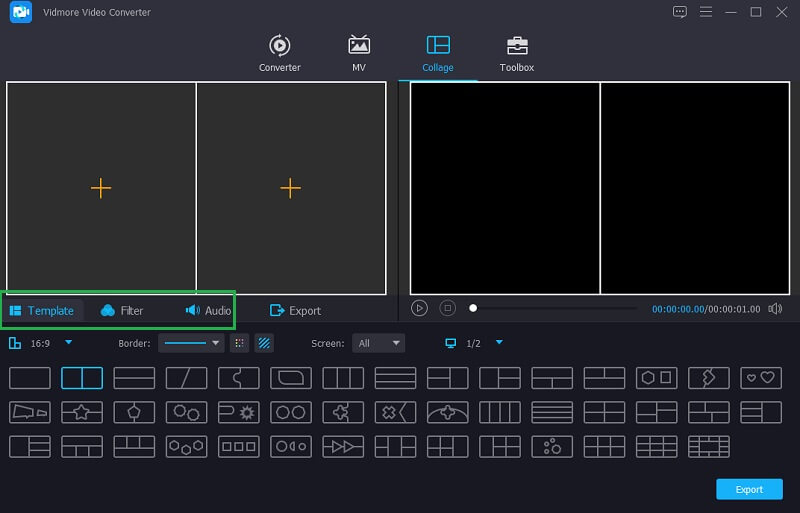 Step 4: Save the Video Collage
When you're happy with the results, click the Export tab in the tool's lower right corner, then select the format frame rate, resolution, and quality that best suits your needs. To successfully upload the file, click Start Export.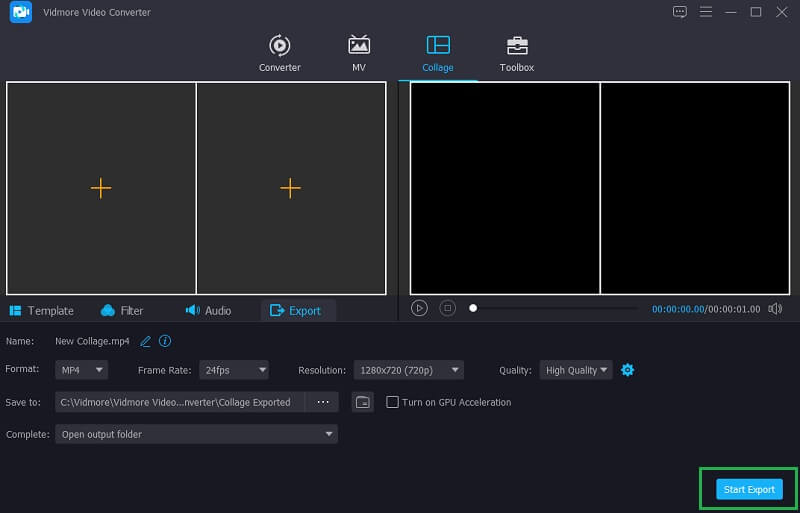 Part 2. Split Screen Video Editor Online
If you are one of those people who saves device storage yet you really want to make split screen videos, worry no more as there is a split screen online video editor that you can count on. Here we list down the four most recommended split screen video editors online so you can still combine your videos.
1. Kapwing: Online Collage Maker
Kapwing is the first video creator on the list of online video makers. This program helps you to organize your photographs, videos, and GIFs according to your needs. Even though it is a web-based program, it has extensive editing capabilities that elevate video clips to new heights. And to know how to utilize this online tool, here is a simple guide below.
Step 1: Go into the Kapwing's official page, then click the Add Media to enter the files you wish to collage.
Step 2: To construct a collage, drag and drop the file onto the main interface of the web tool, then modify the size using the four dots in the corner of the videos.
Step 3: When you're happy with the split screen you've created, select the Export Video button, then the Download tab after it's been processed, and you'll have a split screen video.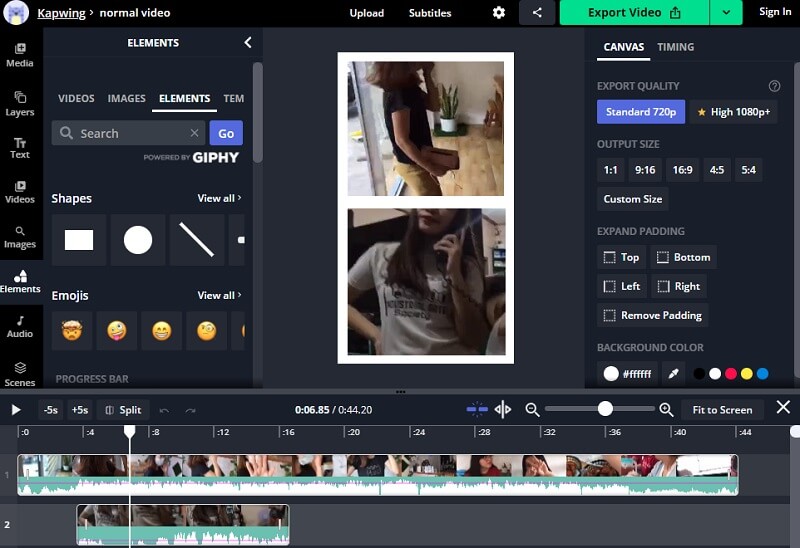 2. Typito
Try Typito if you want to learn how to make a split screen video with music without having to download any apps. It's a web-based program that makes it simple to mix video clips. Feel free to use the information provided below to create a split screen video with this app.
Step 1: First, create an account on this app, then upload the video clips you'd like to use in your collage.
Step 2: Arrange your video clips by trimming, chopping, or altering their size. After that, add music and text to give your video clip some spice.
Step 3: When you're finished, click the Export button in the tool's upper right corner. You may also post your video collage to your social media stories immediately.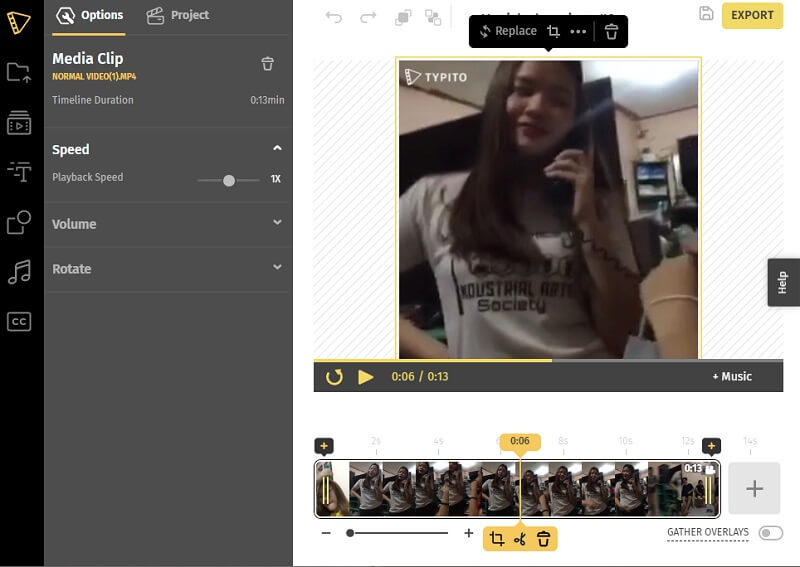 3. Canva
Canva is another browser-based split screen video editor. It is a well-known online program that allows you to create a split screen video using various styles. Below is a step-by-step approach for you to follow.
Step 1: Go to Canva's home page, then search for Video Collages and select the type of design you desire.
Step 2: After that, drag your selected video clips down into the template after uploading them.
Step 3: After you've finished making those modifications, click the Download button to download your video collage.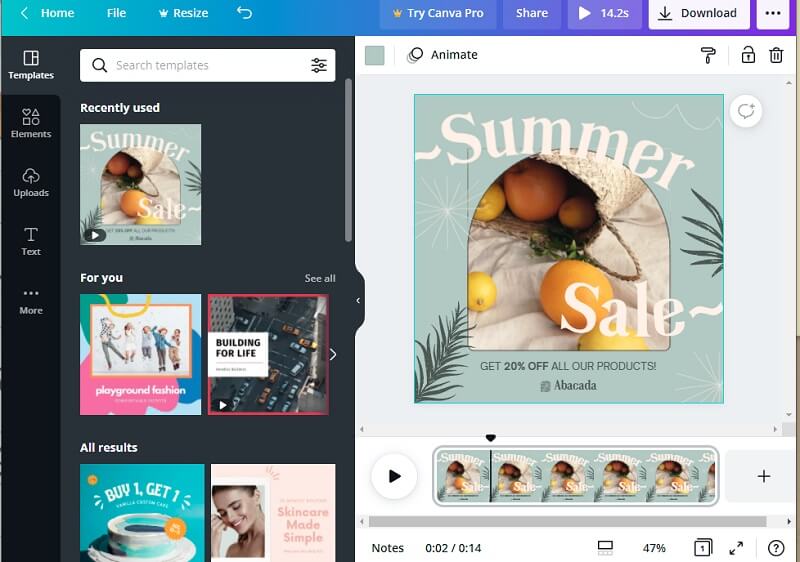 4. InVideo
InVideo is an online tool that allows you to edit your recorded video and photographs using a variety of editing tools. This is one of the best editing programs that many people recommend. It has both a free and a premium edition. It's also a great way to make a split screen video for your social media stories. Take a look at the steps below to better understand how to utilize this web-based tool.
Step 1: Go to the official InVideo page and register to utilize the tool. Then, under the Make a Video menu, select the Blank Canvas and paste your video clip.
Step 2: After that, click Upload Media to add various photographs and videos to your library. Then, on the left side of the screen, click the dropdown arrow and select Collage. Select the one that you require.
Step 3: After placing your clips on the collage that you have chosen and satisfied with the changes, click the Download and Share button above the screen then click the Export tab next. The exporting process may take some time, once it is finished click the Download to get you video collage.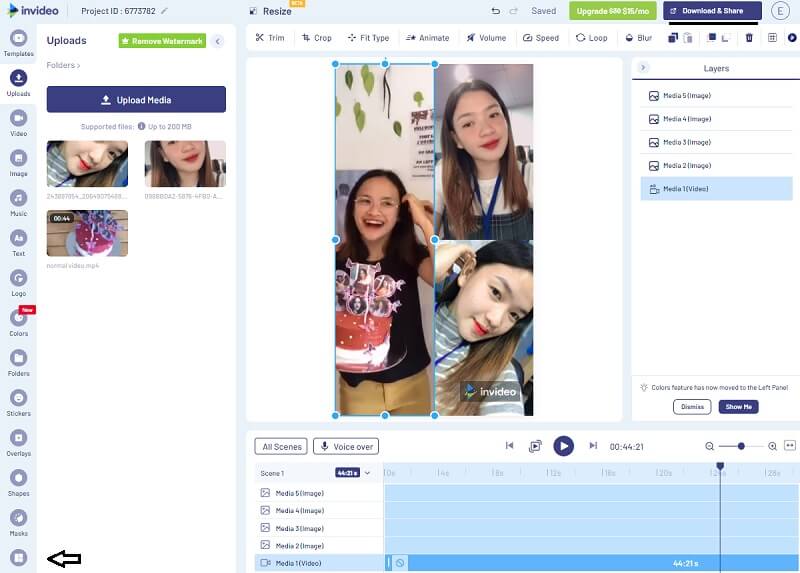 Part 3. FAQs about Split Screen Video Editor
1. Can I use InVideo on my mobile app?
Unfortunately, it will be available to use in your laptop or PC. But there are video collage makers that you can download on your phone just like InShot, KineMaster and iMovie apps.
2. Is Kapwing Collage Maker safe to use?
Yes it is safe. Actually it is different from other apps as Kapwing doesn't contain any spam ads. And they take the privacy of users seriously.
3. What are the disadvantages of a web-based tool?
First thing is the performance, due to the limitation then the next one is the security because some of the web-based tools contain spam ads.
Conclusion
With these split screen online video editors, combining your videos is still possible as you don't have to install an app anymore. But if you want to make a split screen video without being limited to its features and security, feel free to use the software that is indicated above.