Best Ways to Do Slideshow on TikTok: Photos, Videos & Templates
TikTok launched a slideshow feature, which enables creators to compile their pictures or videos. It is a feature where creators can create a series of still photos presented continuously as a short video. Therewithal, it permits creators to use the editing options to level up their slideshow presentation. Through this, creators can combine their best-loved images and video clips and share them with more viewers. Do you wish to learn how to make a slideshow on TikTok using your photos, videos, and templates? With that, you landed on the right page, as it will present details about those. What are you waiting for? Proceed to the following information to start creating your slideshow.

Part 1. How to Make a Slideshow on TikTok
1. How to Make a Slideshow Using Photos
This part will present how to make a slideshow using multiple and selected photos. To do that, refer to the steps provided to learn how to do a photo slideshow on TikTok.
Step 1. First and foremost, open your TikTok application on your mobile device. When the application is open, tap the (+) icon on the lower part of your feed.
You are now directed to a new page to access several editing options. Tap the Image icon beside the recording button to open your phone gallery. Select the Photos section on your phone gallery, and then hit Select Multiple to import multiple images for your slideshow.
Step 2. Select the images you want to incorporate into your slideshow. Note that the slideshow moves automatically by default. Now, hit the Switch to photo mode button, allowing viewers to swipe the photos you complied. When you select the photos you want to include, click the Next button to start making the slideshow.
Step 3. You are directed to the new page and will see the built-in editing features. Click the Text to incorporate a caption or message into your slideshow. If you want to add decorations to your video, go to Stickers, and select one. To brighten, darken, or enhance your video, go to Effects and Filters. Moreover, if you prefer to add background music to your slideshow to make it livelier, go to Audio. You can use these editing options to level up your slideshow presentation, which can help you unleash your creativity.
Step 4. When satisfied with the appearance of your slideshow, press the Next button, and publish your work.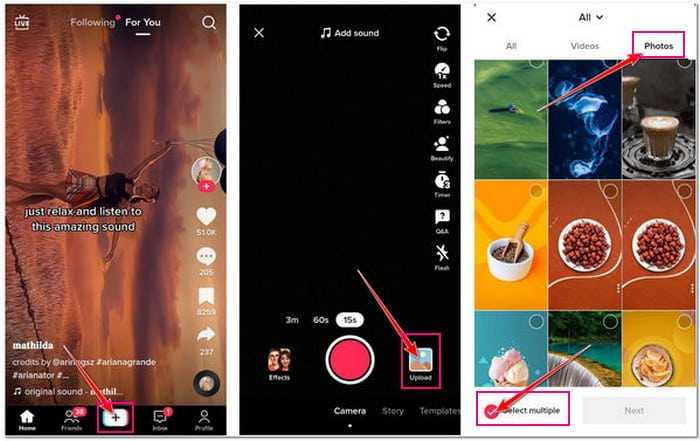 2. How to Make a Slideshow Using Videos
This part will present how to make a slideshow using the compiled videos from your phone gallery. Rely on the steps provided to learn how to create slideshow on TikTok using videos.
Step 1. Launch the TikTok application on your smartphone. Once you open the application, click the (+) on the bottom part of the interface.
Step 2. You will be directed to a new section and see the different features. Click the Image icon, and it will open your phone gallery. Then, access the Video section, select the files you wish to compile, and turn them into slideshows. Once done selecting, hit the Next button, and continue the following process.
Step 3. Once the videos are added, the application will automatically sync the background sound to your videos. Also, you are offered several editing options to apply to your video. These editing features are AutoCut, Text, Stickers, Effects, Filters, Captions, Audio Editing, and more.
Step 4. Once satisfied with the final result of your slideshow, click the Next button. Afterward, do the following procedure to post your slideshow on the application.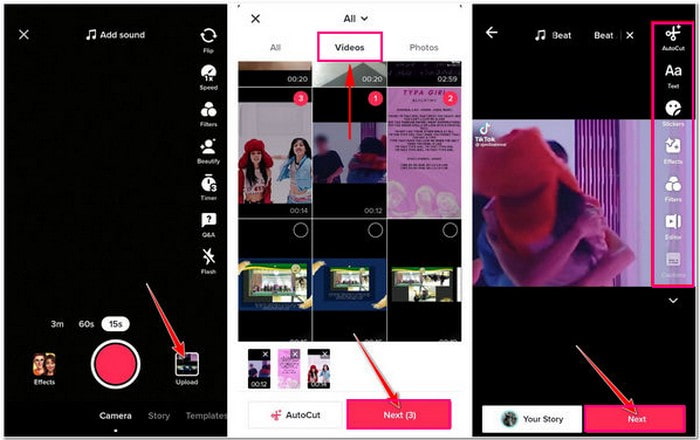 3. How to Make a Slideshow Using TikTok's Template
If you prefer a fantastic slideshow without spending much time editing, you can use TikTok's designed templates. This application offers 116 various templates, which are free to use. It will only require you to select a template and add your image, and you are done. Afterward, you can have the fantastic video you want as quickly as that. But if you want to learn the detailed procedure, read the guide below.
Step 1. Open your TikTok application using your mobile device. Then, tap the (+) icon on the lower center of the interface, and it will lead you to another window.
Step 2. Below the recording button, head to the Templates option beside the Camera option. You will see the different kinds of templates that the application offer. Select one template that catches your attention or what you think will suit your pictures. After that, you will be directed to the library section.
Step 3. In the library section, choose the images you want to add. Then, apply them to your selected template. The selection will automatically dim when you reach the number of images based on your selected template. Next, click the OK button to proceed to the next step, making the slideshow.
Step 4. The application will automatically put in the pictures to your selected template. Use the editing options to change to add text and background music, apply effects or filters, and more to your slideshow. When you are satisfied with the looks of your slideshow, click the Next button, and post your output.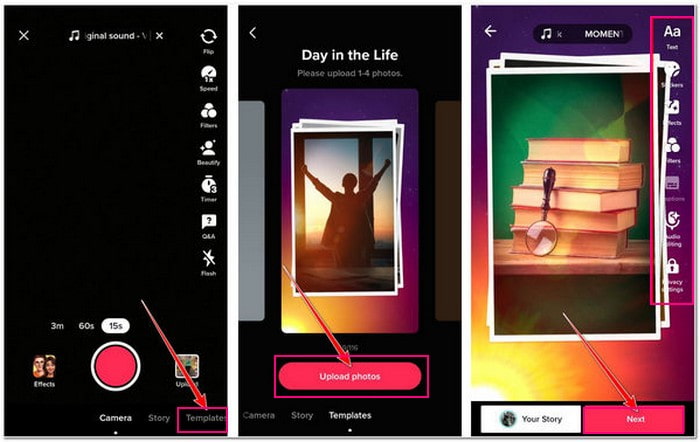 Part 2. How to Make a Slideshow for TikTok
If you plan to create a slideshow for TikTok using a program infused with editing options, you can rely on Vidmore Video Converter. It has a built-in MV section where you can create a fantastic slideshow you can upload on TikTok. Using this feature, you can combine images and video clips, apply a ready-made theme, and tweak the format, resolution, and more. Besides that, you can rotate and crop, apply effects and filters, add audio, and embed a watermark to your output. This program has much to offer when creating a slideshow, not to mention the toolkits in one section. Now, it is time for you to dig deeper into how to make a stunning slideshow for TikTok using this program.
Below are the steps on how to make a slideshow using a TikTok slideshow maker:
Step 1. Download and Install Vidmore Video Converter
To have complete access, download and install the program to your computer device on its official website. After the installation process, launch the program to get started.
Step 2. Select MV Tab
From the main interface, navigate to the MV tab, and you will see an option where you can upload your image or video file. Click the (+) icon in your screen's lower-left corner to open your computer folder, and select the files you want to import. Afterward, drag and drop the image or video files to arrange them based on your preferred sequence.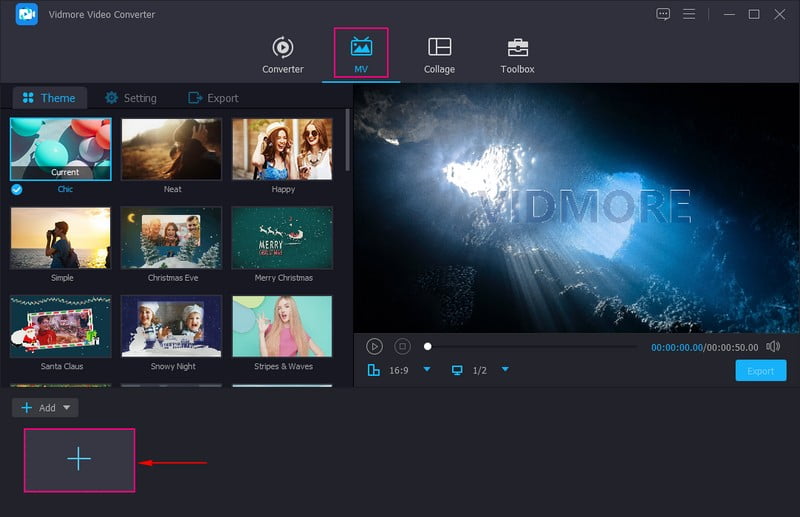 Step 3. Use the Editing Options
Click the Wand icon or Edit button to be directed to the main editing section. On the Rotate & Crop tab, you can rotate your file clockwise, counter-clockwise, and more. Also, you can set a number to crop an area to crop a specific frame from your files. On the Effect & Filter tab, you can modify the basic effects and select a filter you want to apply to your file. On the Watermark tab, you can incorporate a text or image watermark. Lastly, on the Audio tab, you can add background music to give life to your slideshow. Remember to tap the OK button on every change you make.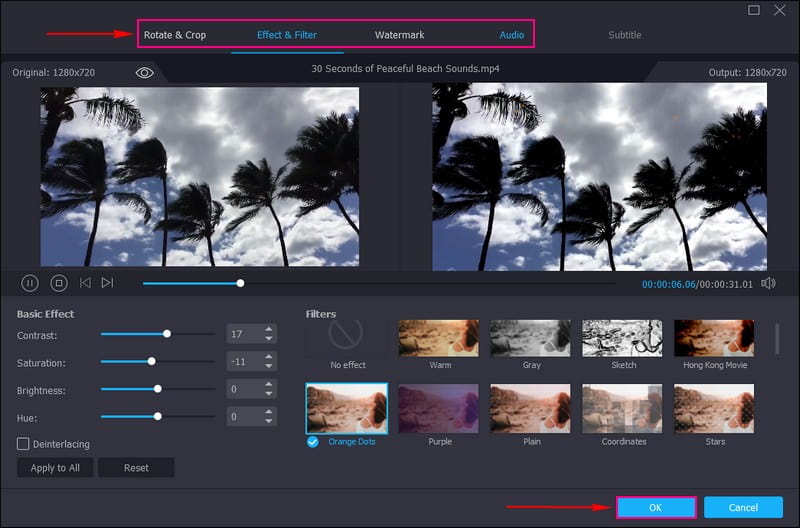 Step 4. Select a Theme
You are back again in the MV section. Now, head to the Theme option, and select one that you think is perfect for your slideshow. Then, move to the Settings option, and input a Start and End title on your slideshow. Also, select a Font style and Color based on your preference. Besides that, you can change, add, and arrange the background music of your output.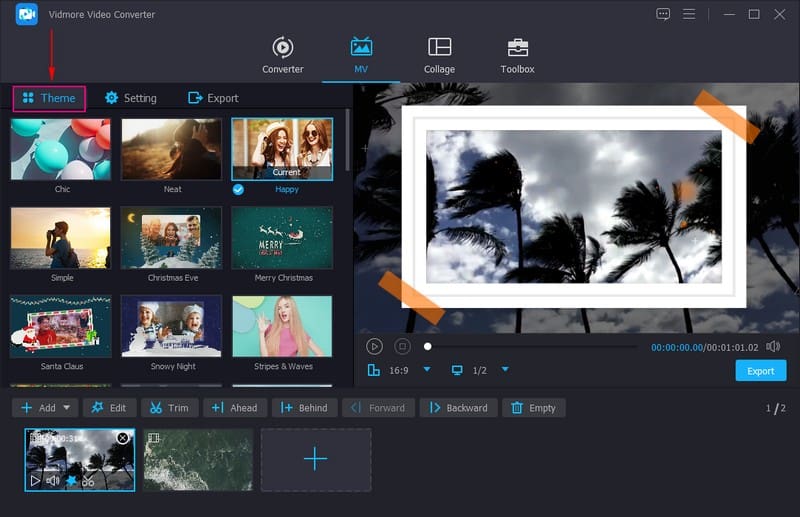 Step 5. Export Slideshow Output
Once satisfied, hit the Export button and choose your desired output Format supported by Tiktok, like MP4 and MOV. In addition, you can also change your slideshow's Resolution, Frame Rate, and Quality. Once done, click the Start Export button to make your slideshow for TikTok.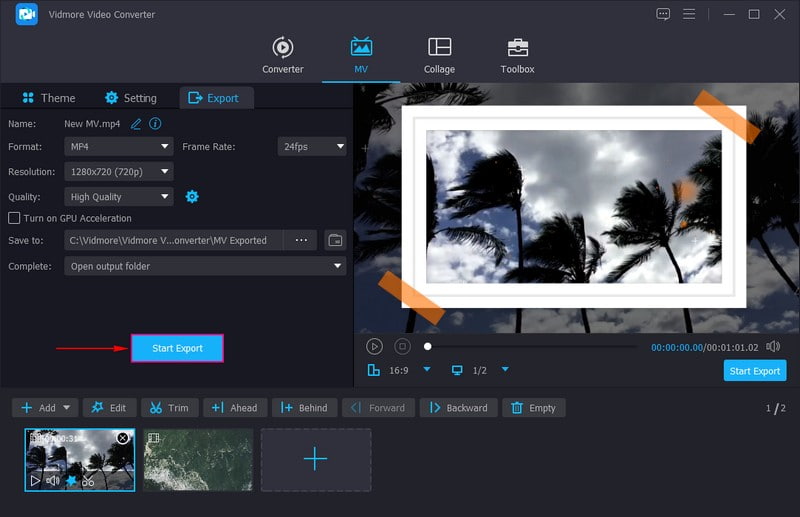 Part 3. FAQs about TikTok Slideshow
How many photos can you put on TikTok photo mode?
TikTok permits users to add 35 pictures in the photo mode from the slideshow feature.
What size is a TikTok slideshow?
The suggested video dimension is 1200 × 720 for landscape and portrait. The portrait aspect should be 9:16, and for video, including links, the aspect ratio should be 16:9.
Why don't I have the photo swipe on TikTok?
Ensure that your device and the TikTok application are updated. If the application is updated, you must wait to see if TikTok rolls it out to more users.
Conclusion
This post taught you how to do a slideshow on TikTok using photos, videos, and templates. In addition, it presents a program capable of making a slideshow for TikTok, which you can upload. If you want to make a slideshow without limitation and meet your needs and expectations, you can rely on Vidmore Video Converter. Feel free to use this program and create the best slideshow you can showcase to TikTok