How to Trim a Video on TikTok with Default and Alternative Methods
One of the trending and latest social networking sites circulating worldwide is TikTok. It is a 60-second video-sharing platform that streams different kinds of content. That includes sports, fitness, jokes, pranks, tips and tricks, promotions, education, and so much more. Hence, if you are fond of sharing the daily activities that you find funny or informative, this is the place to be.
But as mentioned, users can only upload videos with 60 seconds of video length. Most likely, you will need to cut parts of the video that are unimportant or unnecessary to upload. So, how to trim a video on TikTok? In this post, we will demonstrate how this is precisely done.

Part 1. Why You Need to Trim Videos for TikTok
Usually, you may need to trim videos for TikTok when trying to cut certain parts or scenes of a somewhat irrelevant or unwanted video. In addition, you can not successfully upload a video on TikTok unless it is less than or exactly 60 seconds in duration. That is because TikTok requires 60 seconds video length at most for uploading. This scenario applies if the video was taken natively on the app. If you wish to upload videos longer than 60 seconds, they must be created elsewhere. Well, how to trim videos on TikTok? You may look at the alternative and default methods below.
Part 2. How to Trim Videos on Tiktok
There are two ways you can cut videos. Either you cut videos natively taken from TikTok or cut videos from your phone library. So here is the first way.
First Way: How to trim clips on TikTok
Step 1. Open the TikTok app and shoot your video. Tap on the checkmark icon if you have finished and stopped the recording.
Step 2. Now, tap on the Adjust clips option at the top-right menu of your screen. You should see an option slider for cutting the video you just shot at the bottom of your screen.
Step 3. Adjust the sliders on either left and right sides to select the start and end times. Once satisfied, tap Save at the top right corner to apply the changes.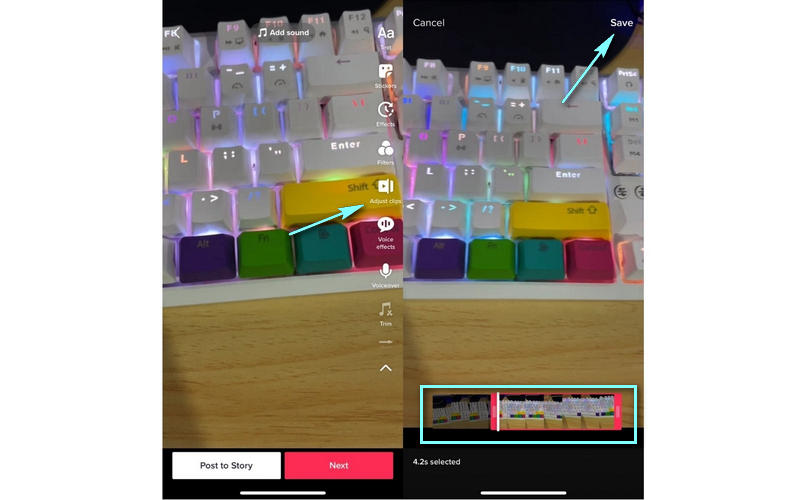 Second Way: How to trim a video on TikTok from phone library
Step 1. Launch the TikTop on your smart device and tap on the Plus icon in the middle bottom part of the screen.
Step 2. Next, press Upload and look for the video you would like to edit or cut from your phone. Tap Next afterward.
Step 3. Once done, you will see the sliders at the bottom of your screen for you to make a selection. After adjusting the beginning and ending time of the video, hit Next at the top right corner.
Step 4. You can insert additional effects and then save the video to your drafts for further enhancement.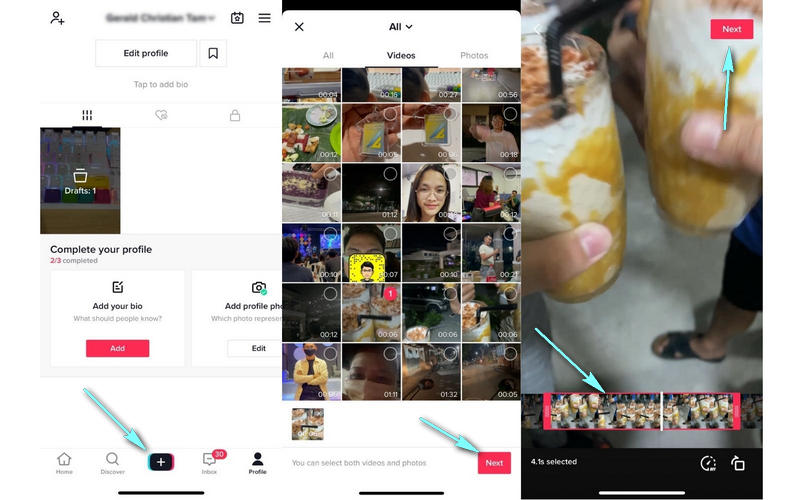 Part 3. Best Alternative When Tiktok Won't Trim Video
One of the most recommended tools you can use to edit and cut videos is Vidmore Video Converter. Using this program, you can cut TikTok videos with several helpful methods. It uses a slider to cut videos, allowing you to select the beginning and ending time easily. It also provides a way to cut accurately by setting the starting and ending in exact time. Moreover, you can cut videos into individual parts to select specific portions and cut them off of the TikTok video. Thankfully, the tool is easy to maneuver, and you don't need serious computer skills to achieve your job.
Interestingly, it comes with video-editing functions that let you put overlays on the video. There is an extensive collection of stylish filters. You can also edit primary effects, like contrast, saturation, brightness, and hue. On top of that, users can add subtitles, watermarks, background music that help make brilliant videos. See the steps below to learn more about how to trim a video on TikTok.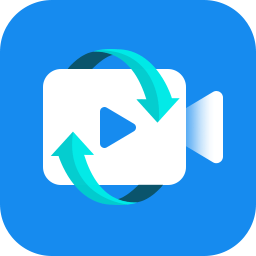 Vidmore Video Converter
Cut video without losing any quality.
Comprises various video-editing functions to edit TikTok videos: MV maker, collage maker, add, overlays, effects, filters, etc.
Supports a lot of video/audio formats.
Convert video with support to many input and output formats.
Offers different video orientations.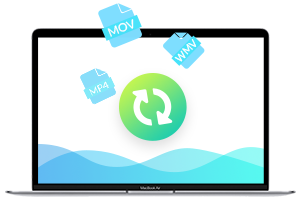 Step 1. Install Vidmore Video Converter
To start, download the program on your computer. Simply hit the Free Download button that is attached. Have the app installed, then launch it.
Step 2. Add a TikTok video
To add a video, go to the Toolbox tab located at the upper menu of the software. From the options, choose Video Trimmer, and the uploading interface will appear. Click the Plus icon, look for the video you like to cut, and select it.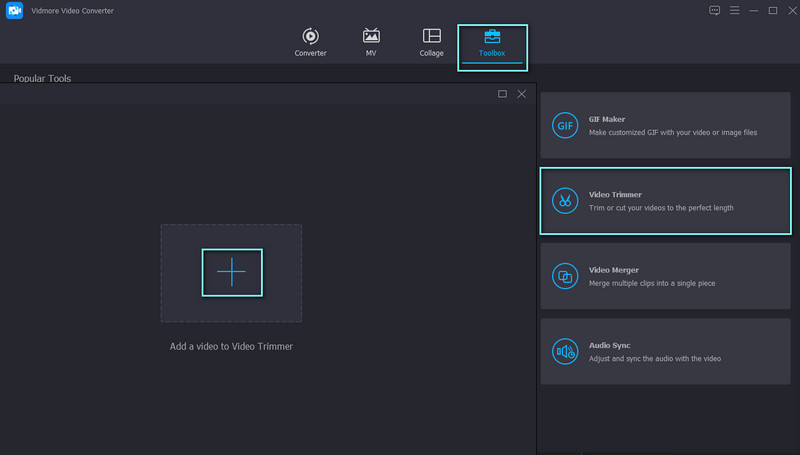 Step 3. Cut the TikTok video
Once done, you should see the cutting interface of the tool. Now, drag the slider either left or right to select the start and end portions. Also, you may enter the exact time duration for start and end as another way of cutting the video.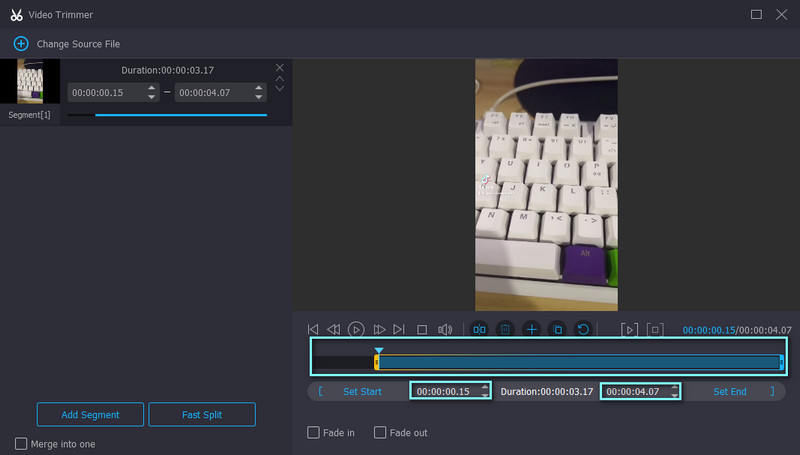 Step 4. Save the video's final version
If you wish to add other effects, you may do so by clicking checking on the Fade in and Fade out checkbox. To modify the output, simply hit the option for output and change the necessary settings. Hit OK when satisfied and click Export for the last step. The output video shall appear in a folder that you can immediately preview.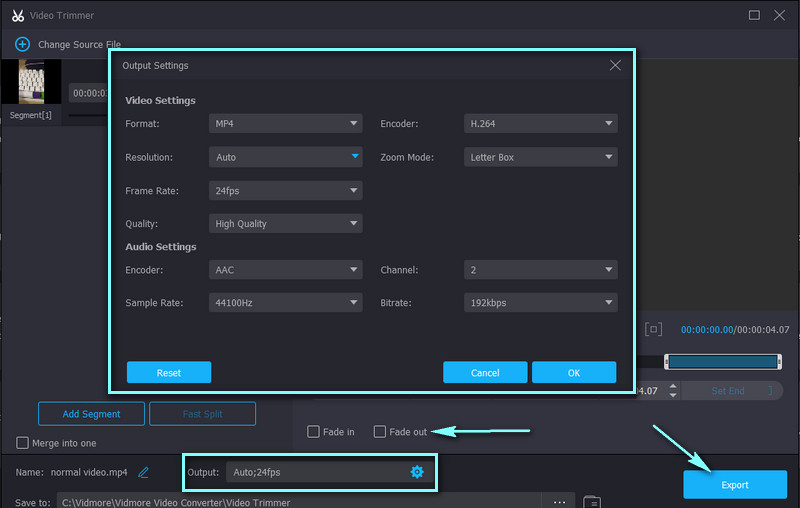 Part 4. FAQs on Trimming Videos on Tiktok
How do you trim music on TikTok?
To trim music on TikTok, reveal more options on the left side menu by tapping the arrow down icon. You will see Trim text and an icon that looks like a note from here. Move to the section you want to feature with your finger to adjust the volume for further editing.
How to trim video length on TikTok?
There is a native way to trim TikTok videos. Go to the Adjust clips options and move the slider to select the portion of the video you want to cut. In this way, you can cut some parts and trim the video length.
Why won't TikTok let me trim a video?
While TikTok is one of the best social media platforms to share and promote videos, it shares its disadvantages. Usually, the inability to trim video is due to the footage exceeding the required video length. If you have recorded with TikTok longer than 60 seconds, you will most likely not be able to cut the video.
Conclusion
Now, learning how to trim videos on TikTok is no longer a struggle. You can choose to accomplish it the default way or use a viable tool to achieve your purpose. Don't be bothered! Now is the time to let your creations be viewed by many and be discovered.