Make Videos on Top of Searches By These MP4 Metadata Editors
Suppose you are an aspiring social media influencer. You want to make your video clips be on the top searches. In that case, it is essential to edit the video's information or known as metadata. You may be wondering how to edit your file's metadata. Worry no more. To help you, you can depend on this post to make your videos at the top. We will give you the four most commendable MP4 metadata editors on Windows and Mac. Please see the list of these programs below and see which one you think will lighten your loads.

Part 1. Four Best MP4 Metadata Editor for Mac and Windows 10
To update your files multiple or individually, use our list of the finest metadata video editors. Anyone looking for your data will be grateful afterward!
1. Vidmore Video Converter
First on the list of the most recommended programs that will help you edit your video clip's metadata is the Vidmore Video Converter. It is a program built with professional editing tools, yet it has a friendly interface. And it is both available on Mac and Windows devices. You won't have to be problematic regarding the tool's compatibility because Vidmore supports more than 200 file formats. With its intuitive editing tools, you can easily modify your most favorite audio or video clips. It allows you to merge, cut, and trim your file. Aside from that, you can input information on your file without hassles, such as the Title, Artist, Themes, Genre, and many more. With the help of its fast conversion process, you can quickly post your video clips. And unlike other MP4 metadata editors, this tool still works efficiently even without an internet connection.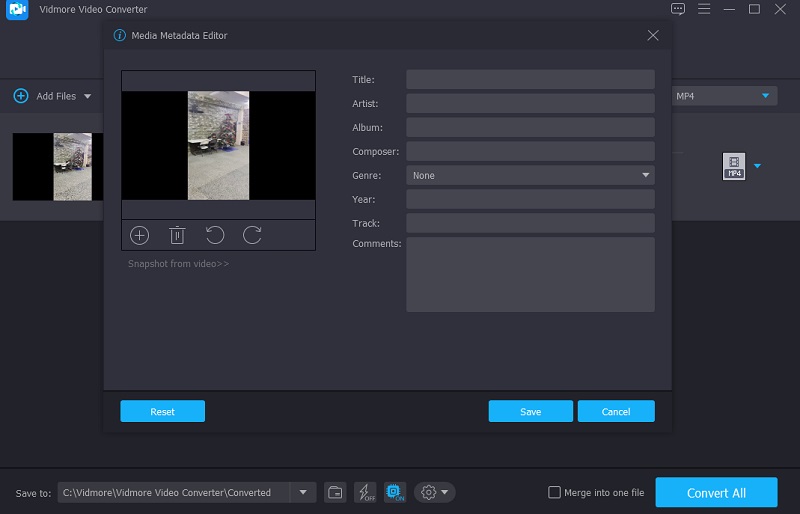 2. MP4 Video Audio Tag Editor
MP4 Video Audio Tag Editor is one of the most capable MP4 tag editors. It also supports editing for other file formats like M4V, M4A, M4B, ALAC (Apple Lossless), and 3GP. It also has a powerful search bar for quickly finding video and music assets in your collection. This utility installs quickly and features an easy-to-use user experience. You may change fundamental details in this software, such as the artist, topic, title, show name, and even the persons engaged.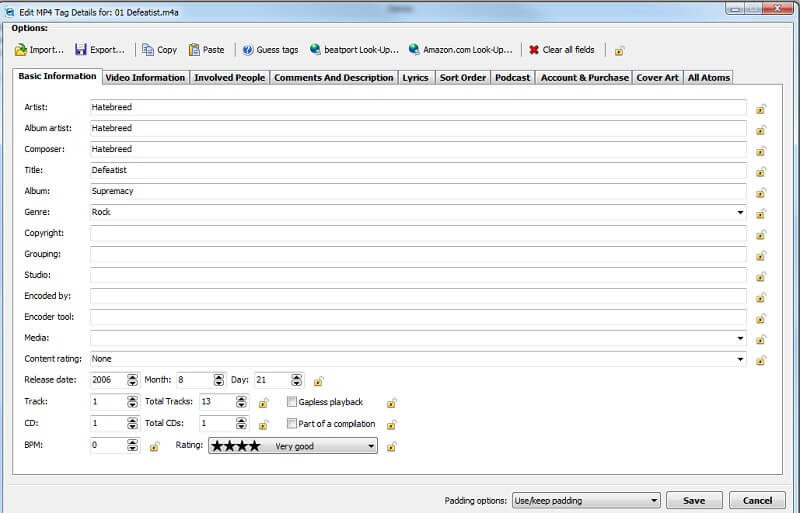 3. MP4 Auto Tag
If you have a Mac device, you should also have software that meets its requirements. As a result, if you're seeking an MP4 metadata editor that works on Mac, MP4 Auto Tag is a good option. You may quickly alter the information of your video clips with this application. Edit tags that are out of date, incomplete, or inaccurate can be added. At the same time, you can quickly add tags to your very own personal films using the app's simplified interface. It's not a fantastic MP4 editing program, but it's enough for metadata modification.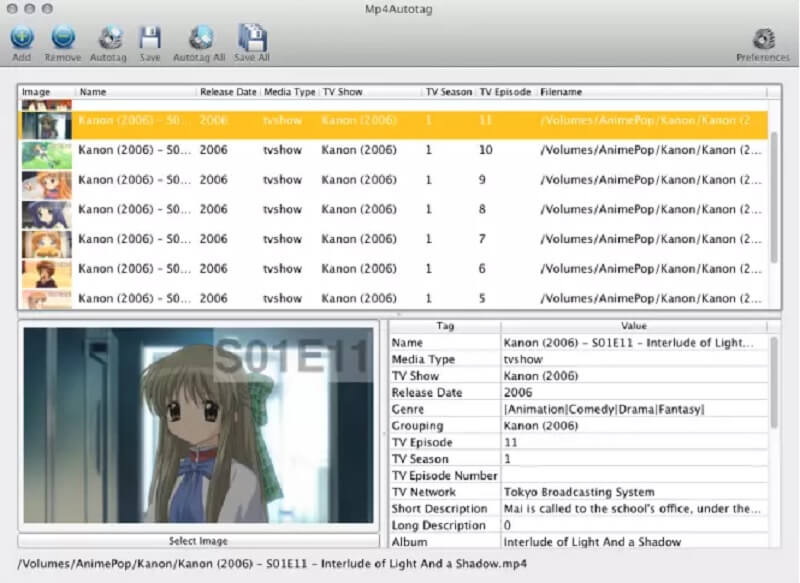 4. VLC Media Player
VLC Media Player is a multiplatform and adaptable media player that comes with a variety of capabilities. It supports the majority of multimedia formats, allowing you to enjoy your favorite audio and video recordings. Aside from that, it has editing tools. One of its numerous functions is the ability to edit the metadata of media files. It allows you to effortlessly add new tags to media files or update existing ones. It is effortless and straightforward.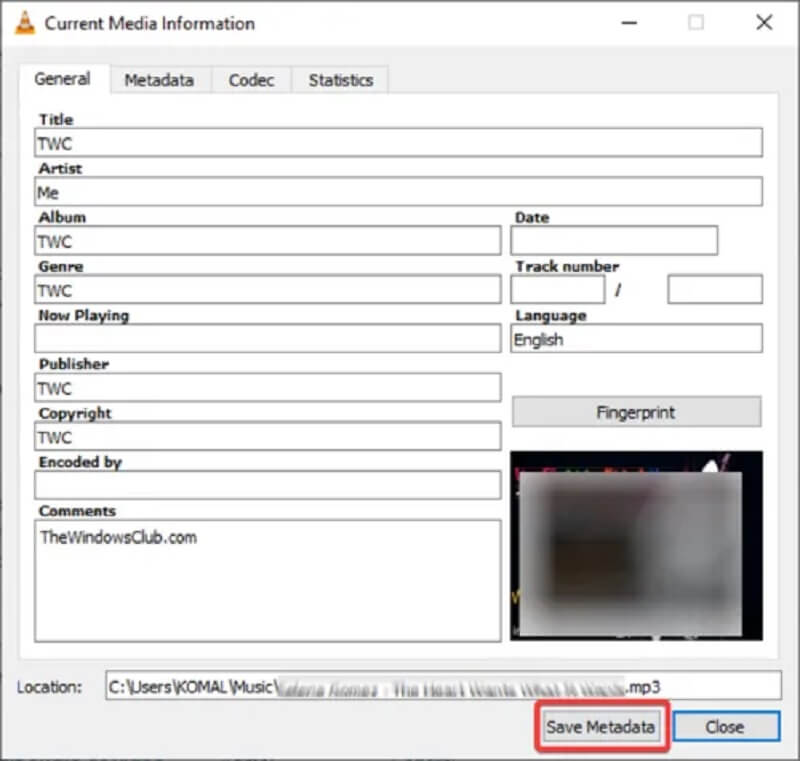 Part 2. How to Edit MP4 Metadata Information
You may be scanning over the internet looking for the most acceptable metadata editor for your file and being concerned about which program to use or which software matches your skill. Therefore, here is a solution for you. You may entirely rely on the Vidmore Video Converter. All you have to do is follow some steps outlined below.
Step 1: Get the MP4 Metadata Editor
You must first download this program by clicking the Download button below. Then, please install the program and permit it to operate on your device. After successfully getting the Vidmore Video Converter, you may now launch it.
Step 2: Add MP4 Files
As you first open the tool, you will see the primary interface. Click the Add Files button in the top left corner of the page, or check the Plus sign in the middle of the screen to add your MP4 files.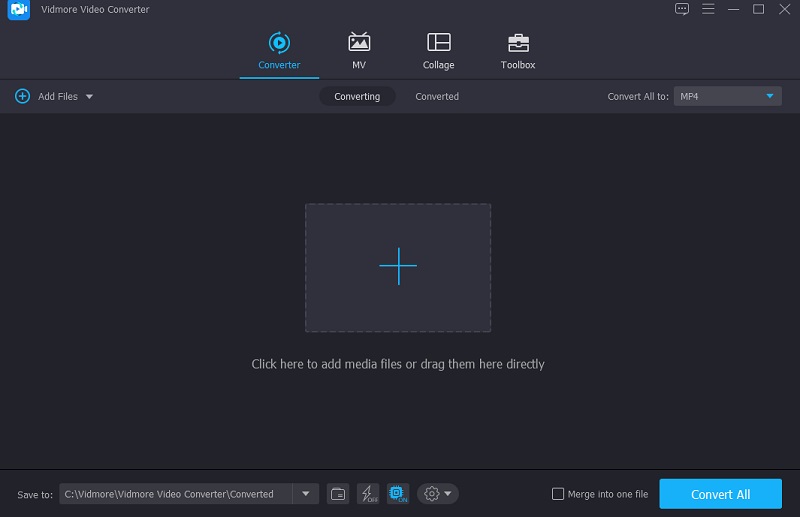 Step 3: Edit the MP4 Metadata
After adding the MP4 file to the Timeline, you may now alter the metadata. Move your cursor on the blue letter i symbol on the right side of the audio track. Then you'll see the fields to fill up, such as Title, Artist, Genre, and so on. Input the details you want to appear on your MP4 file.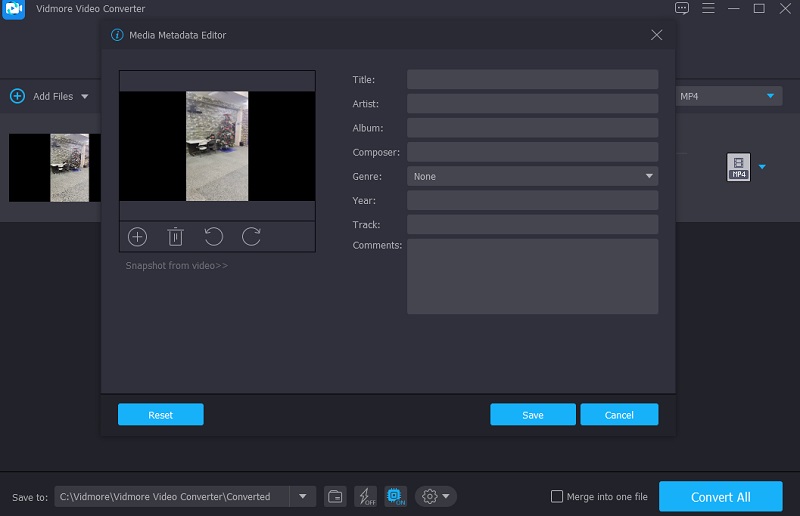 Apart from that, you may change the cover image of the audio tracks. Click the Plus symbol that appears below the frame and choose the photo you want to view every time you play your audio files on your media player from the Library. Then, press the Save button.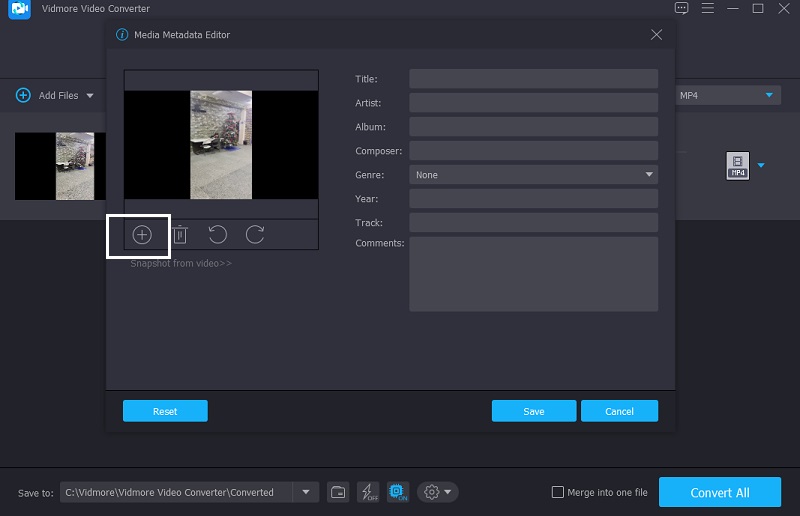 Step 4: Convert the MP4 File
Finally, after entering the data on the video clip and adding a cover photo, you may begin the conversion process. To make the changes permanent, click the Convert All button and wait for the conversion to complete.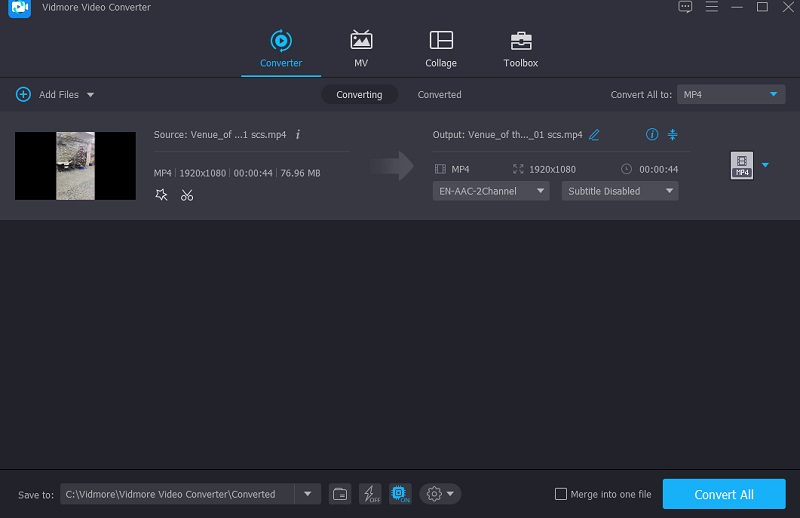 Part 3. FAQs of MP4 Metadata Editor
Is there a metadata editor online?
Yes, you may use GroupDocs for free. Metadata is available on every operating system that has a web browser. This online file metadata editor does not need any program installation.
How can I delete information from an MP4 file on a Mac?
To begin, launch iTunes on your Mac. Then, on the left, select Movies or TV Episodes. Then, choose the video you wish to modify, right-click it, and then select Get Info. Then, click Video, select every field of data, and hit Delete. Finally, click Info, select each area of data, and then press Delete.
Is there an MP4 metadata editor on Linux?
One of the most commendable MP4 metadata editors on Linux is the VLC Media Player.
Conclusion
Through the help of the free MP4 metadata editor on Mac and Windows written on the above post, you now have the opportunity to be a top-notcher in the search results! See? Metadata editing should not be a big deal starting today. Just install the program that you think will help you to edit your file's metadata. But suppose you are looking for an easy-to-use MP4 metadata editor. In that case, you can go to Vidmore Video Converter, as you can change your file's metadata in just a few seconds.