Rotate MP4 Video Files on Mac, Windows, and Mobile Devices
If you happen to record a video in a vertical position when the entire footage should be in portrait mode, that's where rotation comes into play. Most of the time, we are recording using our smartphones or camcorder. And when you are just using your hands to hold the device, it's more likely that the video is recorded in the wrong position because you are not using a monopod or tripod.
Luckily, you don't have to worry about starting all over again because you can simply rotate videos to the required orientation. You can do video rotation to almost any video file extension including MP4. With that being said, here we prepared a tutorial on how to rotate an MP4 video in Windows 7, 10, on Mac, as well as on mobile devices.

Part 1. How to Rotate/Flip MP4 Videos on Windows 10 and Mac
A comprehensive and functional video rotating software that you can use to turn your vertical videos into horizontal is Vidmore Video Converter. This offers you the opportunity to rotate videos by 90, 180, and 270 degrees. In this way, you can get an accurate orientation of your videos. In addition to that, rotating a video is just a click away making the process simplified without any complicated setup. On top of that, it supports nearly all formats including MP4. AVI, MKV, WebM, etc. So whatever video format is your choice, Vidmore can work it out for you. To get a better understanding of the tool, take the following steps to rotate an MP4 video file.
Key Features of MP4 Video Rotating Software
1. Rotate various video formats including MP4, MKV, FLV, AVI, and other famous formats.
2. Rotates clips while preserving the original video quality.
3. Exploit different video editing tools such as crop, trim, apply effects, and many others.
4. Comes with presets for well-known gadgets and devices.
Step 1. Get the app
First, visit the official website of the program and download the app. If you wish to acquire the tool instantly, you may click the Free Download button to get the installer then run it.
Step 2. Add a video clip
Afterward, add a video file that you wish to rotate. Simply click the Plus sign to import a video file from your local folder. You can also drag and drop the video into the interface.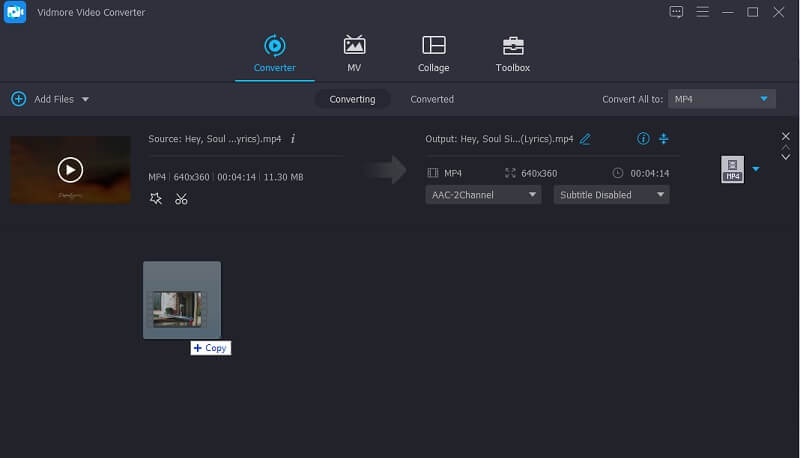 Step 3. Rotate the footage
Alongside the video thumbnail, there is the Edit button. Click it to access the video editing tools and rotate MP4 video. Under the Crop and Rotate tab, look for the Rotate buttons. Keep on clicking the Rotate button until you get your desired orientation. To confirm the changes, click the OK button at the bottom of the interface.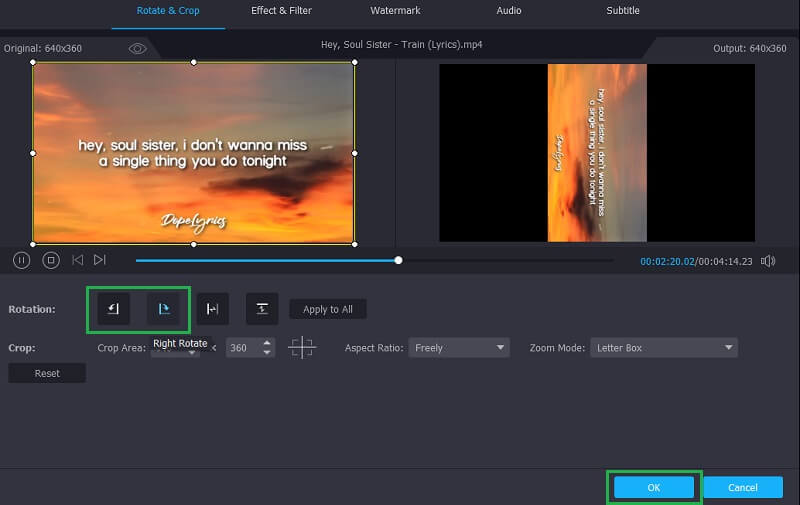 Step 4. Keep a copy of the final version
Go back to the Converter tab and unfold the Profile tab. From here, choose an output format for the video and click the Convert All button once everything is set. The rotated MP4 video file will appear in a folder so you can preview the final version.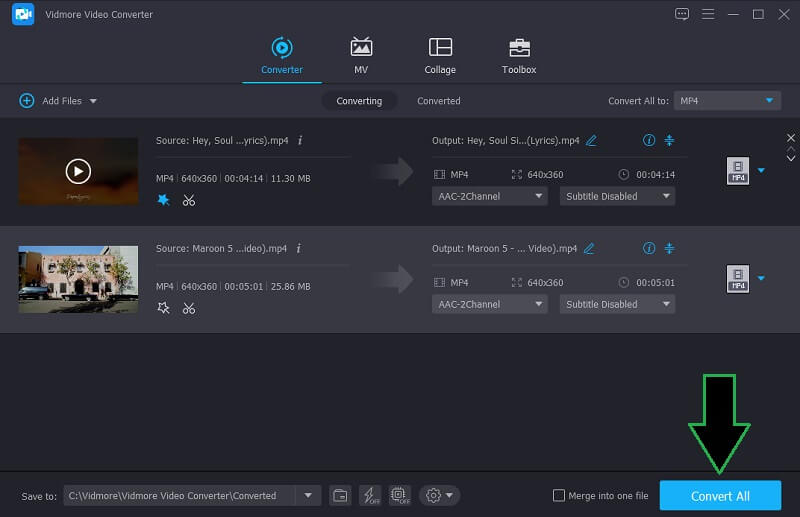 Part 2. How to Rotate MP4 Videos on iPhone and Android
There are also tools available for mobile devices like iPhone and Android. So, in case you recorded using your smartphone, you can directly edit and rotate videos using the mobile apps available for iOS and Android devices. Find out which app is best for each platform and learn how to rotate MP4 video by 90 degrees, 180, or 270.
For iOS Devices
One of the best solutions that you can use to rotate on your iPhone is iMovie. This lets you rotate either clockwise or counterclockwise depending on your requirements. Furthermore, if you are not willing to download third-party software, iMovie is the app for you. To rotate MP4 video files using iMovie, follow the simplified steps below.
Step 1. Open the iMovie application on your device and tap on the Plus icon followed by the Movie button.
Step 2. Select the video from your local phone storage that you want to rotate. Then tap the Create Movie button at the bottom of the screen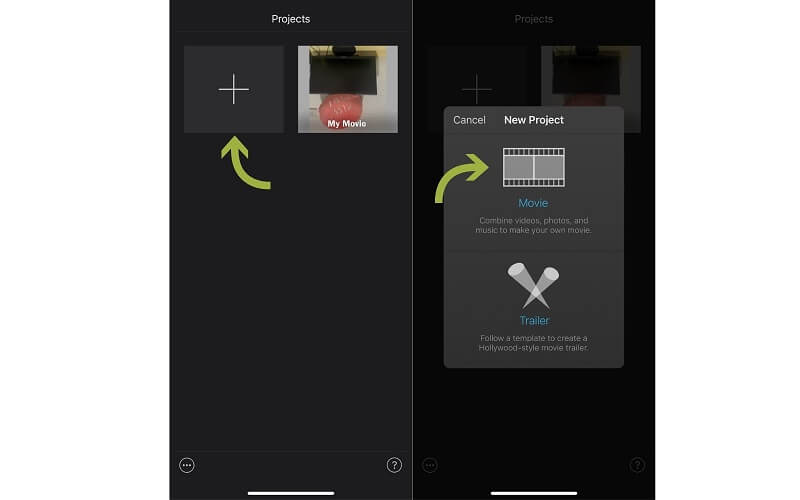 Step 3. Now place two fingers on the preview screen and move them clockwise or counterclockwise.
Step 4. Preview the video and tap the Done once you are happy with the results.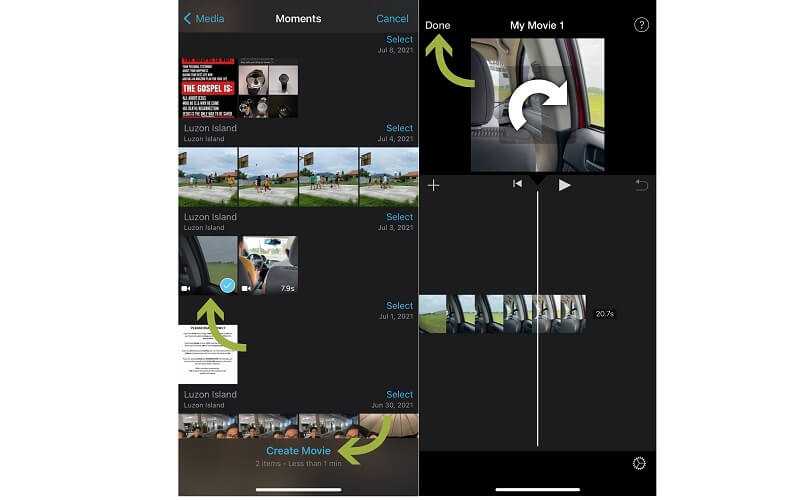 For Android Devices
You can also correct video orientation on Android without the need of downloading a third-party app. That being said, this tutorial will tackle how to rotate MP4 video using a native Android app named Google Photos.
Step 1. On your Android phone, open the Gallery app then tap and hold onto the video that you wish to rotate. Select the Share icon then Upload to Photos. If you have multiple accounts, choose where you want to upload the video too.
Step 2. Open Google Photos then. Tap on the uploaded video and choose the Edit icon at the bottom of the interface. Next, choose Crop and tap the Rotate icon. Keep tapping the Rotate button until you get the desired video orientation.
Step 3. If you are happy with the final version of the video, tap on Save in order to save and play the video from your device.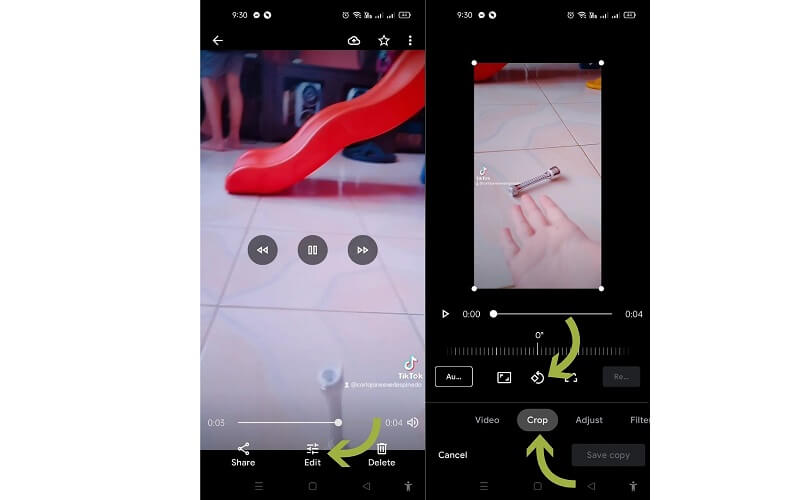 Part 3. How to Rotate MP4 Videos Online
If downloading an app either on your mobile or PC is not your thing, you may use an online video rotator instead. One great program to help you rotate MP4 video files is Kapwing. Apparently, this lets you rotate videos from the webpage directly. With it, you can manually set the angle for an accurate video rotation. Hence, if you want to know how to MP4 video 90 degrees, you may refer to the guide below.
Step 1. Open any browser on your computer and visit the official webpage of Kapwing
Step 2. From the main interface, click the Start editing button and press the Click to Upload button to import a video file from your local drive.
Step 3. Once the file is uploaded, you will jump to the editing panel. Before rotating the video, you can select a range of the video and trim it. Then rotate the video through the toolbar menu at the right section.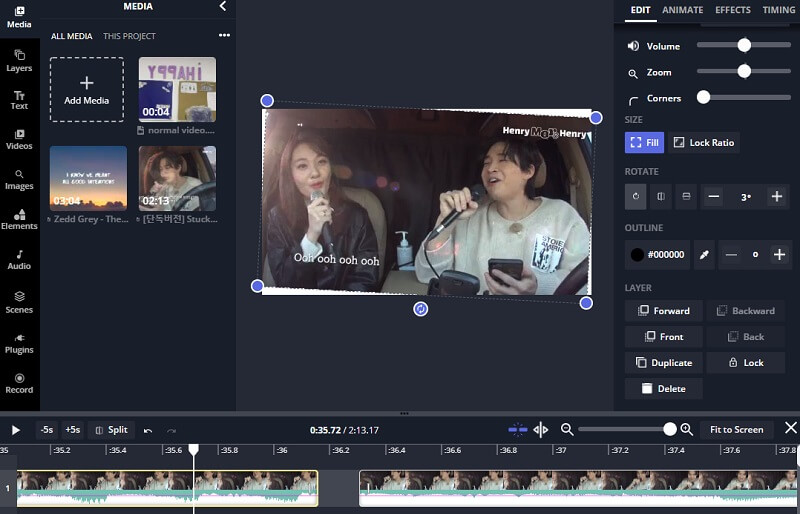 Step 4. Finally, click the Export button at the top right corner of the interface. To save the video on your local folder, click the Download button once the rendering is done.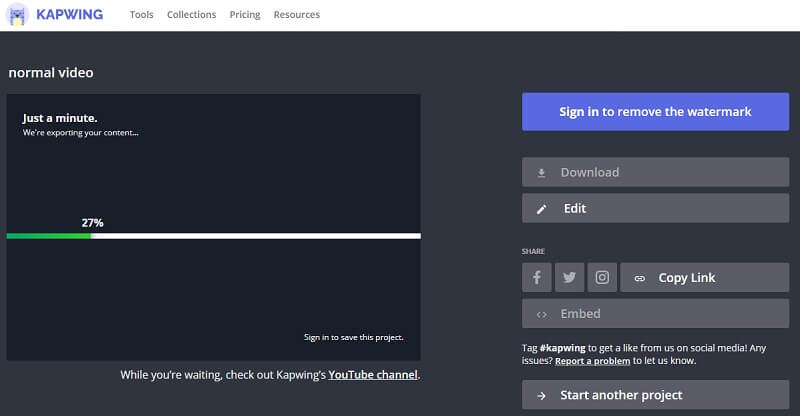 Part 4. FAQs of Rotating MP4 Videos on Android
Can I use Windows Movie Maker to rotate videos for Windows PC?
Yes. However, this is discontinued and the only way for you to access this software is to download Windows Essentials 2012. If downloading other affiliated programs is no big deal for you, then go with Windows Movie Maker.
How to rotate MP4 videos 180 degrees?
Rotating MP4 videos or any other video format by 180 degrees will help you correct a video that is upside down. One of the above-mentioned tools that can help you do this is Vidmore yet you can also use Kapwing is an online method to pull off 180-degree video rotation.
How to permanently save the rotated video?
You may follow the same procedure as above to rotate MP4 videos using Vidmore. After following all the steps, the tool should offer a way for you to save the modified MP4 video.
Conclusion
The need to rotate a video has been in great demand since not all the videos we shoot or download online are in the right orientation. Good thing, MP4 video file extension can be edited using almost any video editor so you can rotate MP4 video without having so much trouble. The cool thing is that this can be done on your smartphone or computer. And to simplify your work, we demonstrated in this post how you can rotate MP4 files using methods for both mobile and computer devices.