Make Animaker Without a Watermark Using 4 Online and Offline Tools
Animaker is a do-it-yourself animated movie-creating program hosted in the cloud. It has built-in functionality to meet the rising need for animated video production. This software makes it possible for everyone to produce an animated video of excellent quality, with a primary emphasis on meeting Studio requirements. Use this program to make videos. However, you should know that the exported videos will have a watermark. That is why we will give you trusted ways and tools to make Animaker without a watermark.

Part 1. 4 Ways to Remove Animaker Watermark
1. Vidmore Video Converter
Vidmore Video Converter is the most helpful tool available to you. It is not only one of the most effective watermark removers for Animaker, but it is also quite simple to use. This tool lets users quickly and easily erase watermarks from any movie with only a few clicks. The best thing is that it does not in any way blur the video that you are recording. It has extensive editing capabilities, and one of those capabilities is a Video Watermark Remover that may assist you in intelligently removing watermarks. In addition to making the undesired watermark less noticeable, it may also remove any extraneous items from the image by cropping them and adding a new watermark. Eliminating a watermark from a video may be helpful regardless of whether the watermark in question is moving or stationary.
Step 1: When you click the Download button, it will immediately save a copy to your computer's hard drive. To begin the process, follow the installation guide instructions.
Step 2: After the watermark remover has started, go to the Toolbox menu and choose the Video Watermark Remover option from the available options. It will allow you to select the technique you will use to get rid of the watermark on the video.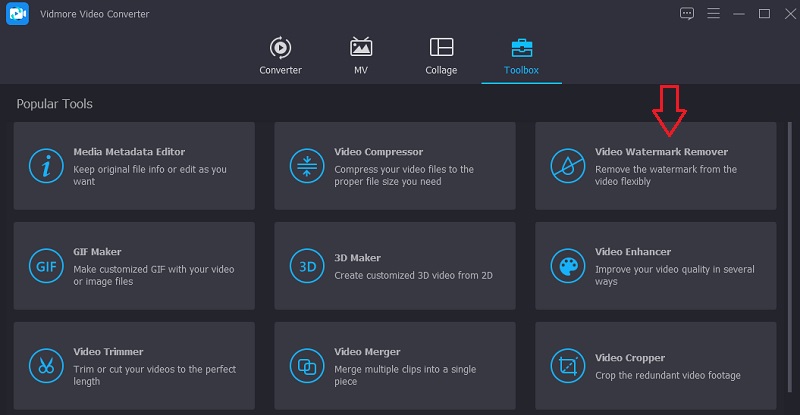 To add a watermark to the movie before uploading it, click the Plus symbol in the window's upper right corner.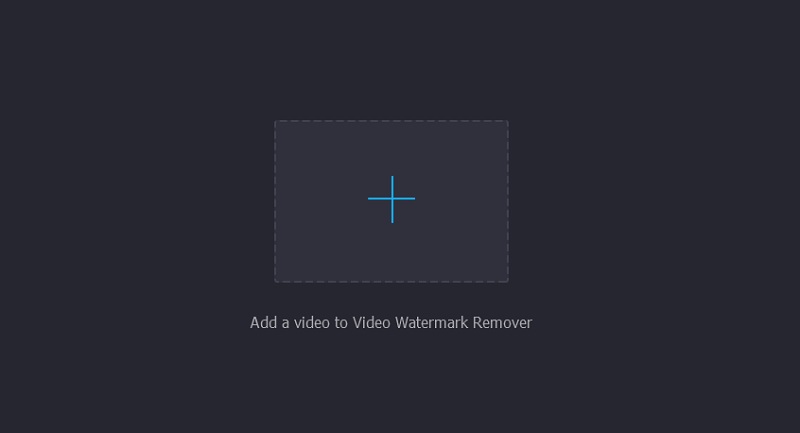 Step 3: Once the clip has been imported into the program, you will be prompted to select the Add Watermark Removing Area button from the menu. Position the box so that it covers the portion of the watermark that you wish to hide.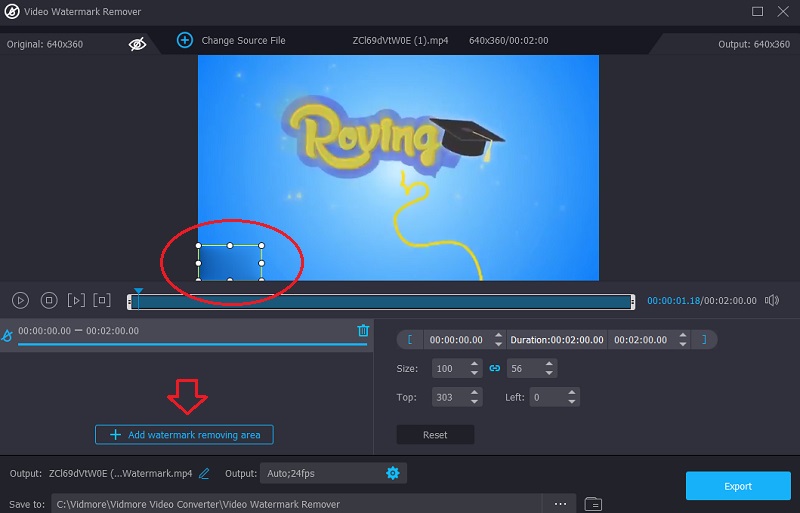 Step 4: Pressing the Export option allows you to begin a procedure after everything is arranged how you want it to.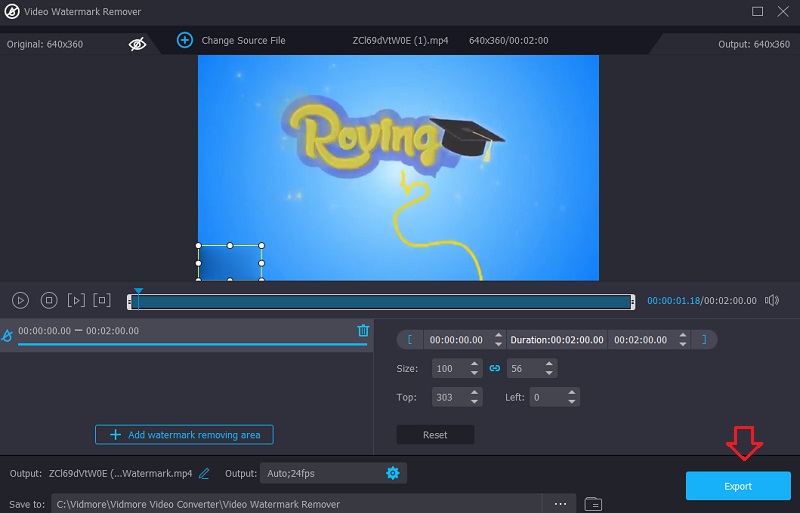 2. HitPaw Watermark Remover
The remarkable HitPaw Watermark Remover is software that lets you immediately remove any watermarks from your videos. Because it can navigate the application's user interface with moderate effort, it is appropriate for use by both seasoned computer users and novices who are just getting out. You can remove the Animaker watermark from your videos using the HitPaw Watermark Remover detailed further down.
Step 1: Obtain the HitPaw Watermark Remover. Then, open HitPaw Watermark Remover and click Remove Video Watermark. Then, choose the video whose watermark you wish to remove and click Choose File.
Step 2: You'll need to apply a watermark to your video at this point. Hold the left click while moving it over the watermark-obscured clip area. By moving the timeline bar to the proper location, watermarks may also be lengthened or shortened.
Step 3: To finish, go to the menus and remove and Export. It will save the changes. Because of this, it will send out the watermarks and both videos. Then, if you choose Open Folder, you might be able to find a video that doesn't have a watermark.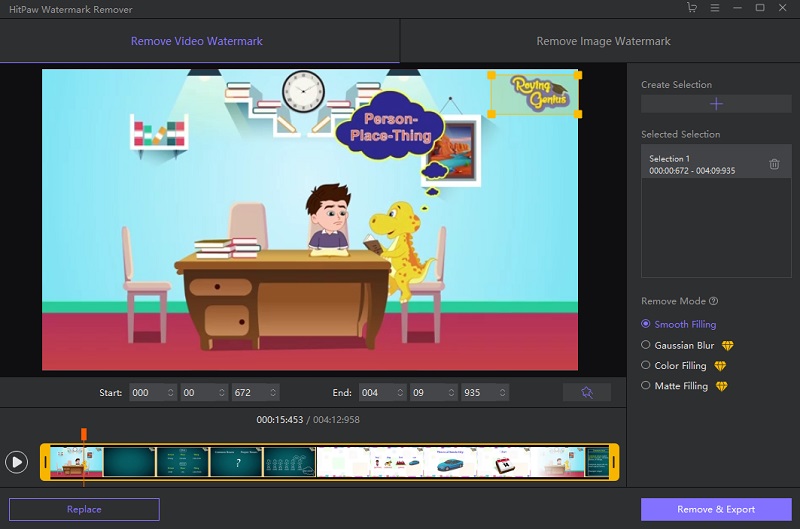 3. Apowersoft Video Watermark Remover
Apowersoft Video Watermark Remover is an available internet watermark removal tool. It makes it simpler to remove the original watermark by blurring it. Alternatively, you may create a series of dots on the watermark that covers the earlier versions. This free tool to remove watermarks works with a small number of online video formats. When you use Apowersoft, you no longer have to worry about combined challenges. Now that your video has been optimized, it will be easy to send it somewhere else. With Apowersoft Online Video Watermark Remover, you can eliminate the watermark from Animaker. Below is a step-by-step instruction.
Step 1: Web browsers can access the site. Click above to continue. This handbook teaches software to use. Remove Watermark From Video, then import the video.
Step 2: After uploading, move the box to eliminate the watermark. After selecting Erase from the toolbar, the watermark will be gone.
Step 3: After deleting the file, go through the Download Files button and choose a place to store it.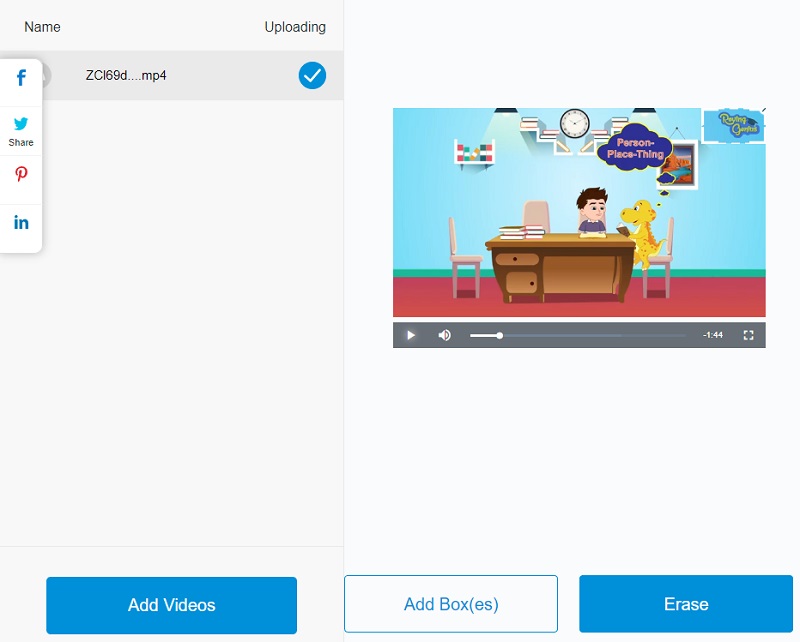 4. Media.io
Media.io removes all watermarks from videos before they are uploaded. When you've selected the watermark you want to use, the program will provide a button you may hit to erase it easily. After you have decided on a watermark that you wish to use, you will be permitted to use it after you have done so. This program can edit, lessen the overall number of watermarks, and delete sounds from movies and images.
Step 1: Once you have arrived at the main page, choose the video clip you want. You can upload from the list of different kinds that are accessible by selecting the button Choose Files.
Step 2: To get rid of the part of the movie with the watermark, choose Add Area from the menu. You can use the menu to do it. After that, use the tool for loops. It is important to remember that you are not limited in any way in how many watermarks you can cover.
Step 3: Use the button labeled Erase watermark in the screen's top right-hand corner to remove the watermark.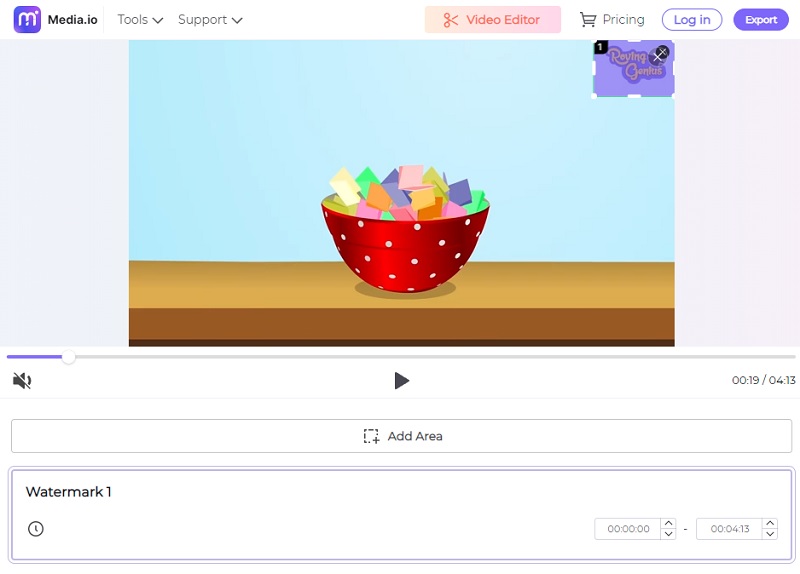 Part 2. FAQs About Getting Rid of Animaker Watermark
What is the maximum length of an Animaker video?
The duration of the video is determined by the strategy you use. If you choose Free, the video will be two minutes long; if you choose Business, it will be thirty minutes long.
How long does it take for an Animaker to export?
When you have finished publishing your video, it will immediately be submitted to be rendered. On the Manage Exports page, you will see a progress bar that displays the current status of your film. Most, or 99 percent, of films, are rendered within twenty-four hours of their first publication.
Is Powtoon better than Animaker?
Reviewers agreed that Animaker is the superior choice when considering the level of continuing product support provided. Our reviewers liked how Animaker was heading in more than Powtoon regarding new releases and roadmaps.
Conclusions
Does Animaker have a watermark? Yes, it has a watermark. If you did not choose a premium package, you wouldn't need to be concerned about removing the watermark from your recordings. Thanks to this page, giving you the best of the finest video watermark removers.