TikTok Filter Remover: Remove Filter From Videos Before Posting
Do you think about removing the filter applied in your video on TikTok? And is it possible to do that? To answer your question, removing TikTok filters from your videos in a few instances is possible. These are when you have a video in your account's draft section and while making a video.
This article will teach you how to remove TikTok filter from your videos if you have second thoughts about your video look. Are you excited to learn more about these? Continue reading to start removing the filters applied to your videos.

Part 1. How to Remove Filter from Your Video Before Posting on TikTok
Can you remove TikTok filters from your video? The answer is - yes! You can remove TikTok filters applied in your video. If you have a video in your drafts or currently editing one, it is possible to remove any unwanted filters.
Step 1. Open the TikTok application using your smartphone. Once opened, hit the (+) at the bottom part of the feed.
Step 3. Once deselecting the filter, shoot a video by clicking the recording button. You can now take a video without a filter applied. When done, click the Next button, and upload your video to the application.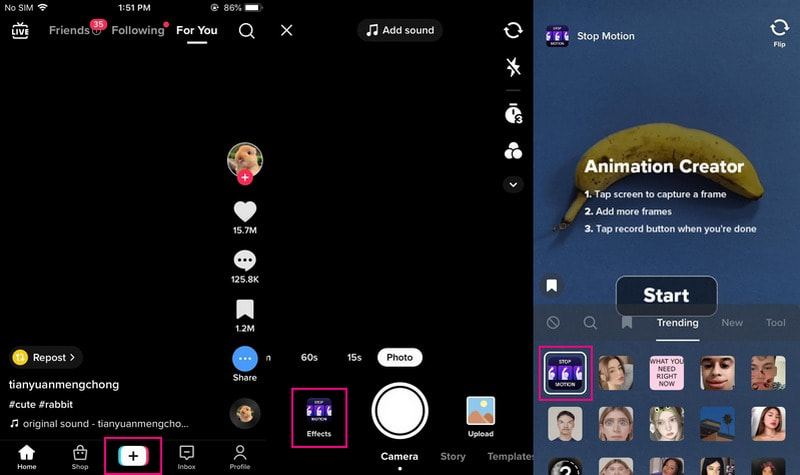 2. Remove Filters from Drafts in TikTok
A draft is a section from the TikTok application where videos still need to be uploaded or published are located. Because they are not yet posted, you can re-edit the video and remove the applied filters from the video.
Follow the steps given to learn how to remove filters applied in the video from the drafts:
Step 1. Open the TikTok application on your mobile device. Once the application is opened, head to the Profile icon in the navigation bar at the lower part of the interface.
Step 2. Below your profile bio, you will see the Draft section where your unpublished videos are placed. Next, pick the video you want to re-edit, leading you to the section where you can see the several editing options. Click the Filter icon on the edit screen, and your video will be placed with the filters section.
Step 3. Hit the Remove icon to leave out the filter. If you apply multiple effects, hit the Undo icon more than once. When finished, click the Save button on the right corner of your screen to remove all the filters from your draft video.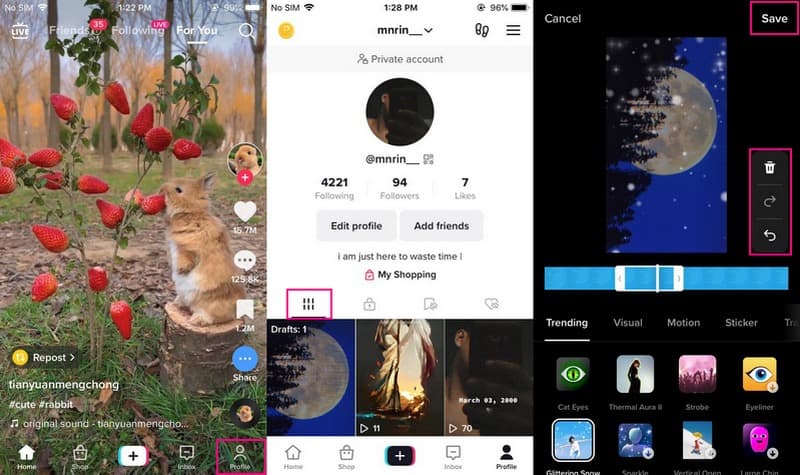 Part 2. How to Make a Video for TikTok Without Filters
1. Built-in Features of TikTok
TikTok has a built-in recording section where users can shoot a video. It lets the users record any content, whether dancing, singing, entertaining, or more, straight on the application. After recording, users can upload the video in a few clicks. Therewithal, it enables users to make a video without applying a filter on it.
Below are the instructional steps on how to make a video for TikTok without using filters:
Step 1. First and foremost, go to App Store or Google Play Store to install the TikTok application on your mobile device. Once the application is installed, continue to open the application to get started.
Step 2. Hit the (+) icon at the upper part of the feed, directing you to the recording section. Before you start recording, select whether to record for 15 seconds, 60 seconds, 3 minutes, or 10 minutes long. In addition, you can enable the Timer if you prefer to record without long pressing the recording button. Besides that, click the Speed and select your desired speed time, whether 0.3×, 0.5×, 1×, 2×, or 3×.
Step 3. When settled, proceed to shoot a video without applying any filter to your video. Then, hit the (✔) icon to save your recorded video. If you want to upload it on the application, click the Next button and post it.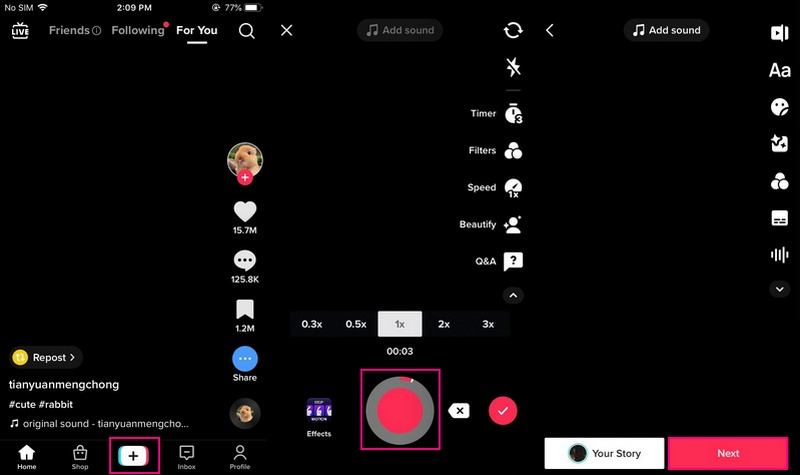 2. Vidmore Video Converter
Vidmore Video Converter is a program that enables users to create a video using their computer that can be posted on TikTok. It is equipped with excellent audio and video editing features that you can access to edit your video. The editing features include rotating and cropping, embedding a watermark, and adding background music and subtitles. Therewithal, it has a section consisting of various useful tools for editing. On top of that, it supports several video formats, including those supported by the TikTok application. Undoubtedly, you can make a video for Tiktok, which can entice viewers quickly.
To learn how to make a video for TikTok without filter using Vidmore Video Converter, refer to the steps below:
Step 1. Download and Install Vidmore Video Converter
First, download and install the program to your desktop device, whether Mac or Windows. After the installation process, launch the program to get started.
Step 2. Upload Video File
Start uploading your video to the Converter tab by clicking the (+) icon on the center part of the screen. Your desktop folder will be automatically opened, and choose the video file you want to edit.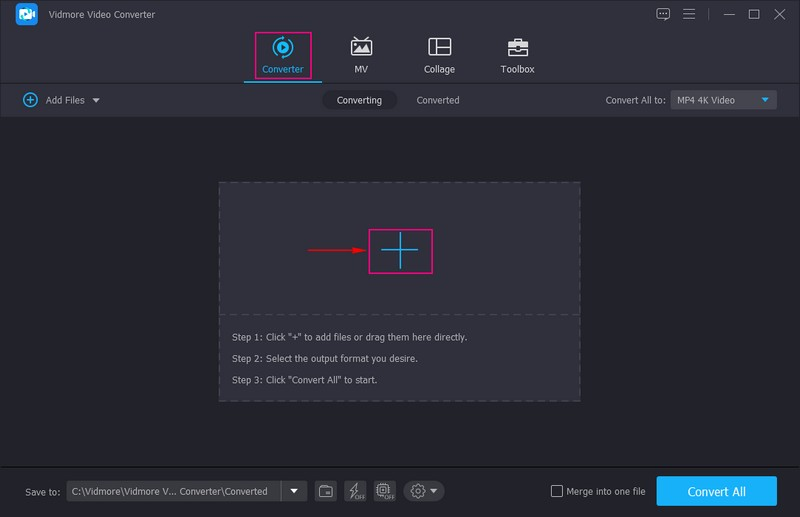 Step 3. Edit Your Video
When your video is placed in the converter section, head to the Wand icon, the Editing option. Afterward, you are directed to the editing options, such as Rotate & Crop, Watermark, Audio, and Subtitle. On the Rotate & Crop, you can correct the frame proportion of your video and leave out the areas you do not need. Next, go to the Watermark; you can add whether a text or image to your video. Next, go to Audio to incorporate background music into the video you will upload. Lastly, go to Subtitle if you need to add a caption that is needed to your video. In every change you make, remember to press the OK button to save them.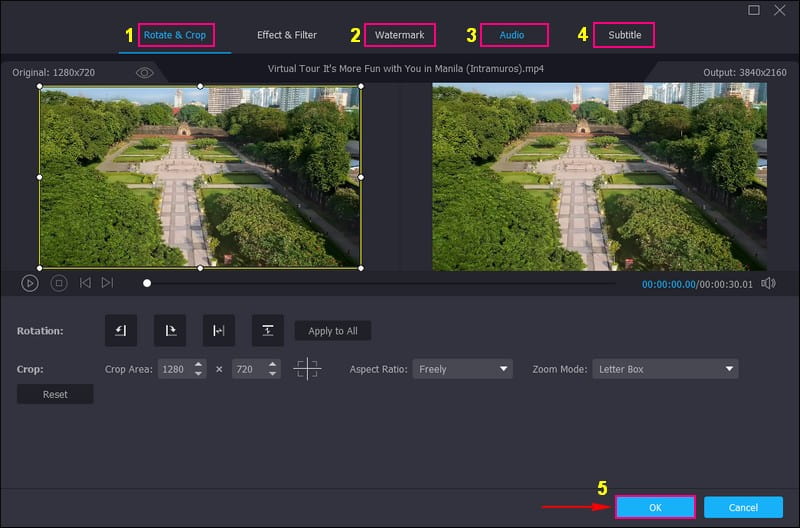 Step 4. Export Video File
You will be back to the converter section. Now, head to the Format option, and choose whether MP4 or MOV as the output format. The MP4 and MOV are only the two video formats supported by TikTok. Then once settled, hit the Convert All button to export your video file, which will be saved to your computer folder.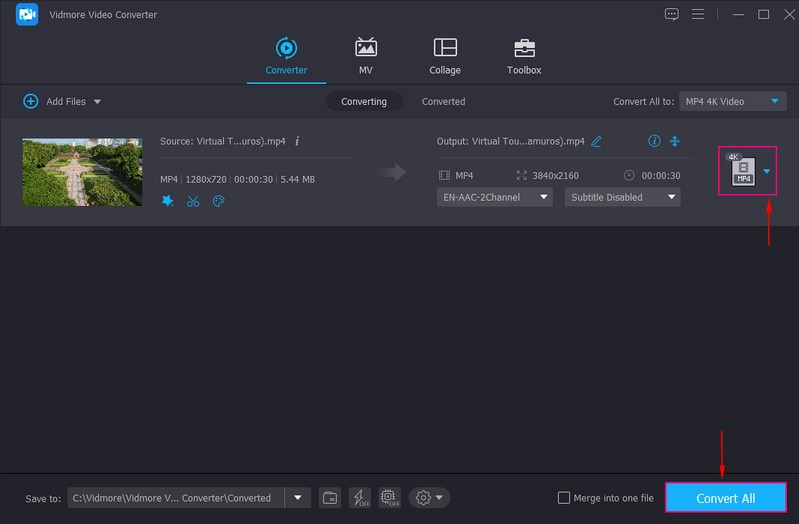 Part 3. FAQs about Removing Filters on TikTok
How many filters can you use at once on TikTok?
TikTok enables users to apply more than one filter to a video. But remember that there are filters that can be applied before filming and after filming.
Can you remove rotoscope filter?
Yes, removing the rotoscope filter from a video before you publish it is possible, just like removing the sound or any effect.
How do you remove TikTok filters from someone else's videos?
Removing filters from TikTok videos uploaded by someone else is impossible because the creator adds the filter, not you.
Conclusion
Despite the booming trend of filters, some users still prefer to shoot a video without a filter. They still prefer a clean video, which is not covered by a filter, and stick to what their camera captured. This post taught you how to take off TikTok filter from the application. In addition, it offers an alternative way to make a video for TikTok without filters using Vidmore Video Converter. This program is packed with editing options helpful in editing your video, which can transform your video into a striking one.