How to Fast Forward a Video on Different Operating Devices
There are several circumstances in which we will need to alter the pace of our video to provide our viewers with a more effective presentation of the scenes and our thoughts. The ability to speed up or slow down movies is a helpful video editing talent since it allows you to show your audience more material in the same amount of time. As a result, content producers make extensive use of this technique. You may speed up movies to create stunning films and significant compilation videos. On the other hand, you can slow down videos to illustrate, for example, people's sluggish motions in slow-motion videos. This post will cover different methods on how to speed up a video on different operating devices.

Part 1. Benefits of Speeding Up a Video
Time-hacking is always famous among viewers, particularly when it comes to entertainment that doesn't need much focus. Video playback speed customization is one option that might be very helpful for them. Modulating the video's playback rate encourages more interactive viewing. Because of this, having more control over the speed of the video has been shown via scientific research to result in increased viewer happiness and improved overall performance. It is evidence that our brains can digest information far quicker than our ability to communicate. Imagine how much time we could save over a day if the movies we viewed were played again at 1.2x the average speed rather than the standard 1x.
Suppose viewers can control the playback speed. In that case, they can better adapt the content of the video to their specific requirements rather than being subjected to a predetermined order and rate of information presentation. As a result, viewers' cognitive processes are less likely to be hindered by the structure of the video. The ability to control the video's pace produces an incredible learning experience. It enables viewers to make the most of their time spent in the course. Viewers may adjust their best learning pace and, as a result, obtain a more customized educational experience simply by speeding up or slowing down the presentation.
Part 2. How to Speed Up a Video on Windows and Mac
Vidmore Video Converter is your best option if you wish to fast-forward your video and use a device that runs Windows or Mac. This piece of software enables users to modify audio and video footage. Vidmore Video Converter is an excellent video editor for amateurs and pros alike.
When you need to speed up movies, you should take advantage of this video speed regulator. It provides speed rates that range from 0.25x to 8x of the initial speed of the object. You are also able to change the frame rate of the video without having any effect on the video's quality in any way. You may use this video speed controller to modify the format of the movies, edit them, cut them, or trim them before you export the films. It will provide you with an instruction booklet that will guide you through the process of finding out how to utilize it.
Step 1: Vidmore Video Converter is available for immediate usage after download to your Mac or PC. Next, we'll test the app to ensure it's working as intended.
You may access the Toolbox by selecting it from the main menu if you wish to use it. Select the Video Speed Controller, then press the plus button when you are ready to slow down the pace of the movies you watch.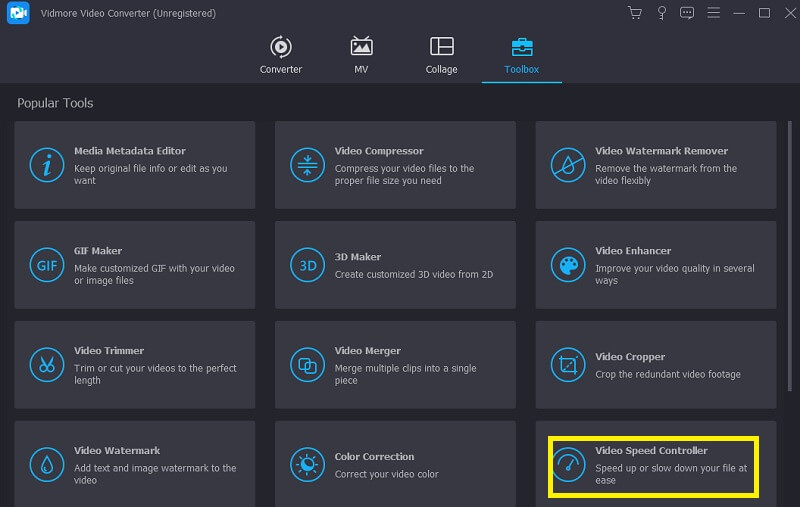 Step 2: You can move at whatever speed you are comfortable with. Only once a live preview of the effect has been seen on the primary screen will the option to export the effect become available. You have complete control over the speed and may adjust it anytime you deem it essential.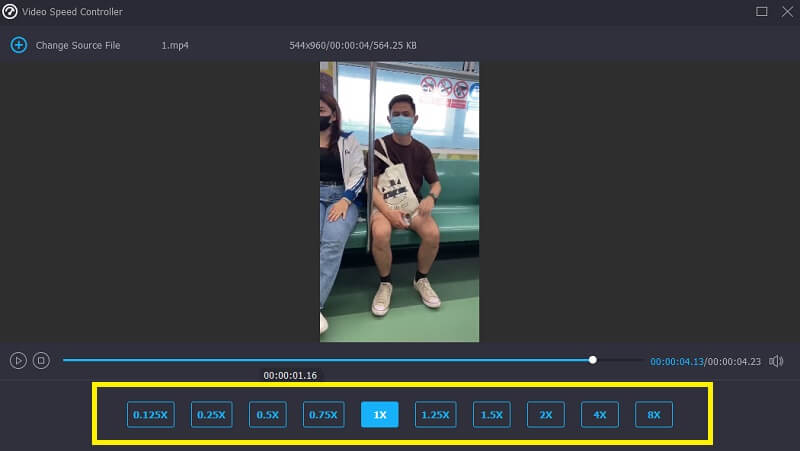 Step 3: When creating your movies, you will be able to choose the export parameters you like. Next, select a directory to utilize as your data repository. After you have made your choice, you may validate it by clicking the OK button in the lower-right corner of the screen.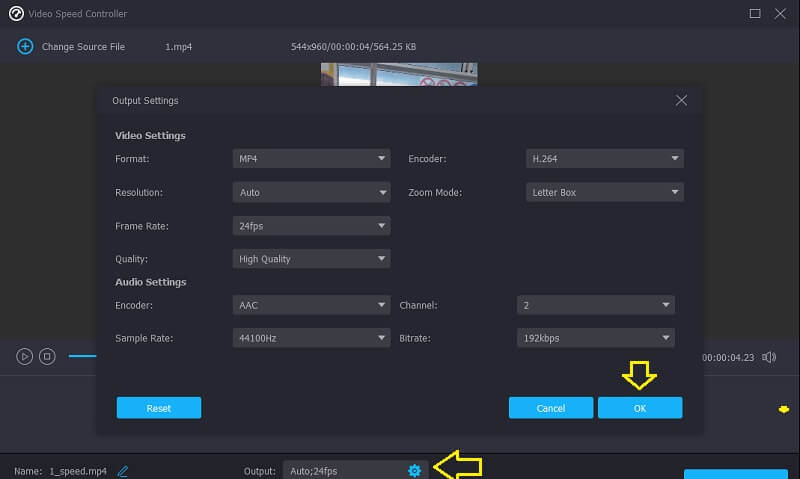 Pick the video you want to retain, and select Export from the menu's drop-down.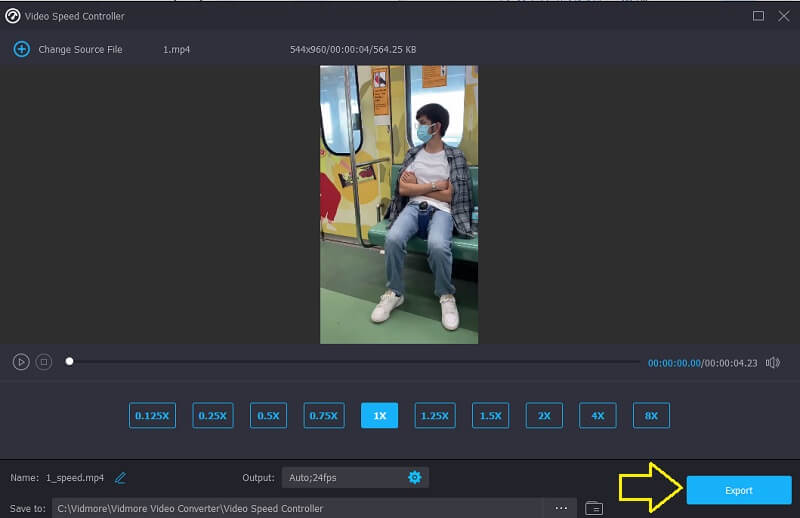 Part 3. How to Speed Up a Video Online
You can find an online tool if you don't want to install software or a video editor on your device. One of these is Clideo Speed Changer. It is an intelligent web app for editing videos that lets users change the speed at which movies play while watching them online. You can change the movie's pace so that it moves faster or faster than it did when you initially viewed it. This feature will be available to you very soon. You may do this by dragging the slider at the bottom of the screen up or down. You can either drag the slider to obtain the maximum possible speed or select one of the six levels that correspond to the alternatives chosen most often from the drop-down menu. It will include a visible watermark. And please make sure you run a strong internet connection.
Step 1: Go to the Clideo site to change the speed of a video in your browser. After that, choose the document you want to import to start bringing the from your hard drive, storage, Google Drive, or Dropbox into the program.
Step 2: We appreciate your patience throughout this upload. From then on, you may adjust the rate of travel to meet your needs.
Step 3: After choosing the speed effect you want to use, you can save the video to your device by clicking the Export option.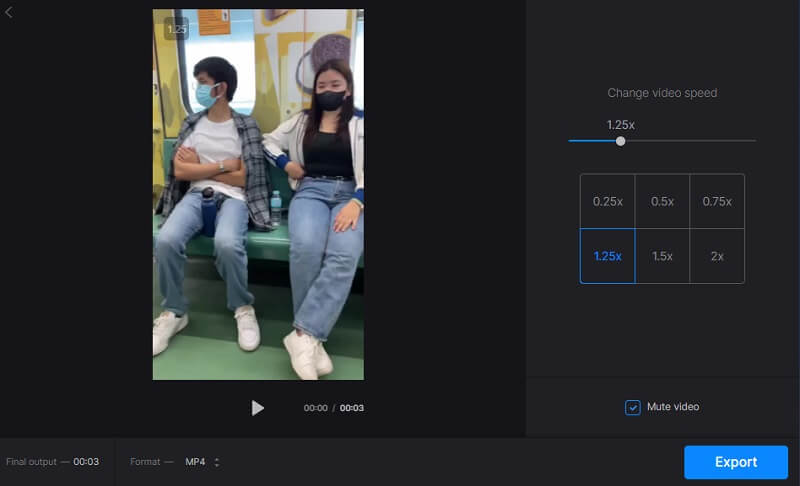 Part 4. How to Make Video Faster on iPhone
1. PowerDirector
Downloads of PowerDirector are now available for Android and iPhone operating systems. Because it is so easy to accomplish, even someone who has never attempted it before has a decent chance of being successful. By allowing learners to choose from a variety of pre-made templates, it has the potential to make the editing process more accessible for novices. You have a few choices that will allow you to smooth down the jarring transitions that occur when the video moves between its sped-up and average speeds.
Step 1: Choose New Project, and give your work a name. Change your name in the correct box, and it will use the new name right away. You can change the ratio of the film to suit your tastes. After making these changes, you can choose a video from the media library on your iPhone or Android to speed it up.
Step 2: Click Media to continue. Speed is under the Media submenu. After clicking, you may modify the speed using a slider. Play the finished product after making changes. Keep testing speeds until you find the right one.
Step 3: Many ways exist to distribute your sped-up movie. Make the video, store it on your phone, and post it anytime you want.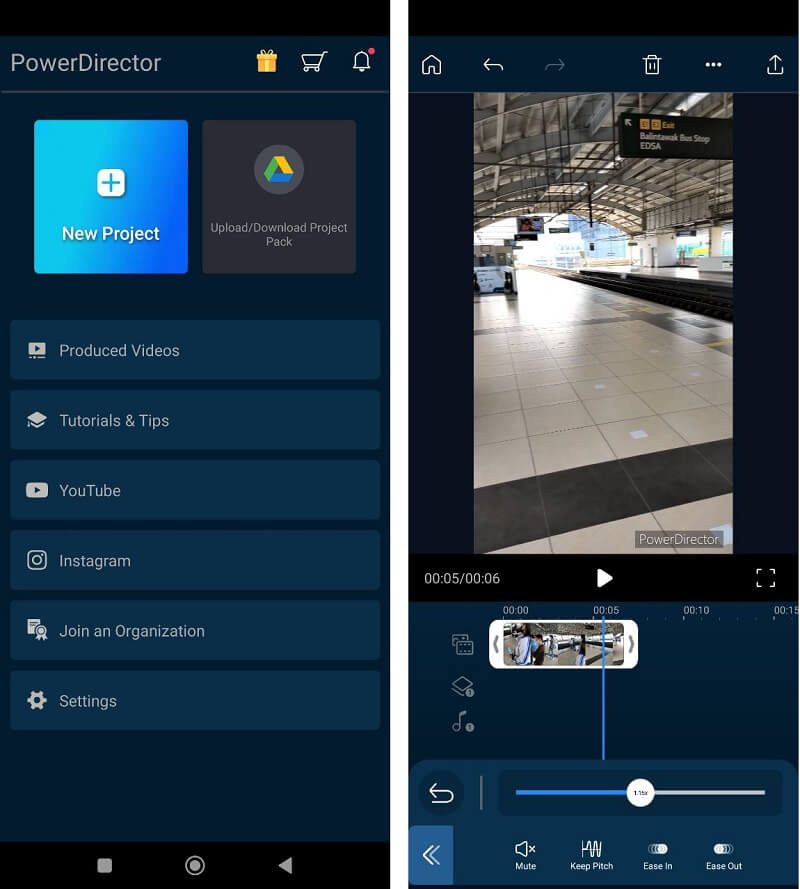 2. InShot
One of the most impressive video-capture applications available for mobile devices is InShot. It provides the standard features of chopping, splitting, and combining video and the ability to regulate the video's pace and specify the filters you will apply. However, it also offers other, more complex capabilities, such as the capability to add music to movies, voice-overs, and a lot of other options. Using the InShot software on an Android phone, how exactly does one convert slow-motion movies to regular speed? You are welcome to use this handbook as an instructional guide that walks you through each stage in sequential order.
Step 1: Open the InShot app and choose Video from the menu under Create New to apply this filter. Then, you may choose the slow-motion movie that needs some tweaking.
Step 2: You may access a speed icon by moving the timeline to the right and clicking on it. Then, drag the orange bar that indicates speed to the right.
Step 3: If you are pleased with how the video came out, choose a resolution by clicking on the icon with the drop-down menu located next to the Save button. After that, you'll need to click the Save option once again to save the movie on your device.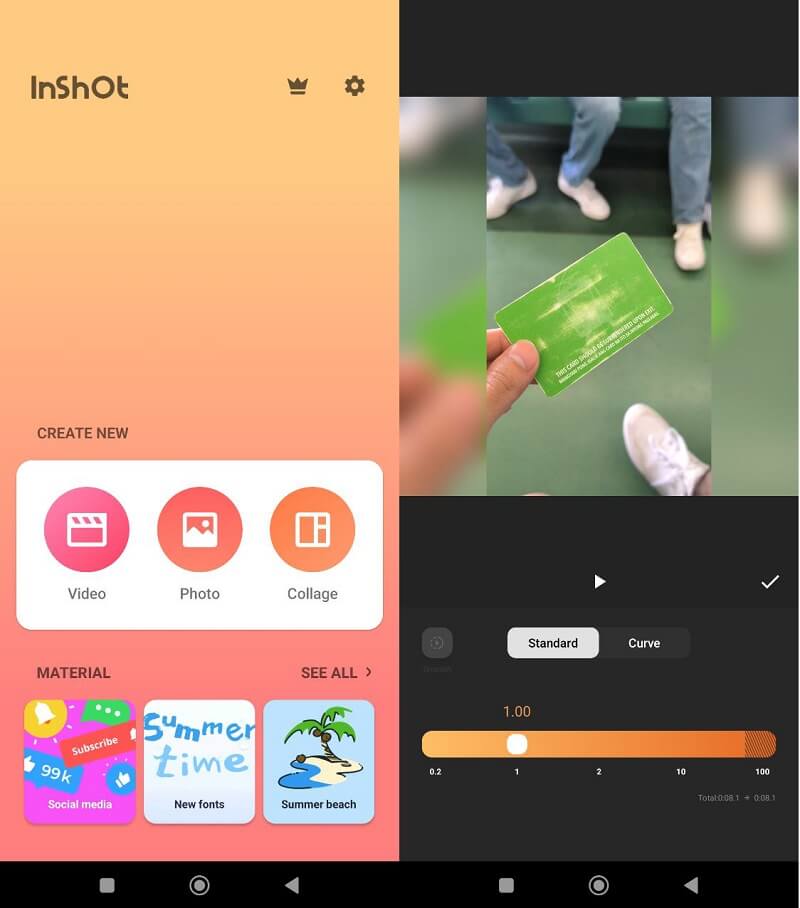 Part 5. FAQs About Speeding Up a Video
Can I bring back a video that is sped up to average speed?
It is possible to return a sped-up video to its original playback speed. However, before you begin, check to be that you have the appropriate instrument close at hand. Because not every video speed editor will keep the quality of your video intact while reducing its speed. Some editors will significantly lower the quality of your file.
What does it mean to speed up a video?
It is when the speed of a video clip speeds up or slows down gradually. There is a smooth change between two different speeds. The technique is a vital part of changing the speed of the video, which gives it a cinematic look.
How to fast forward a video permanently?
You may use Vidmore Video Converter to permanently skip forward in your video if that is something you wish to do. Once installed, it is a piece of software that will allow you to permanently and, in a simple way, fast forward your video.
Conclusions
See? You can quickly speed up a video on your device! It makes no difference what you are using since we have enumerated all the different tools you may use on a particular device. Vidmore Video Converter is the most reliable option if you are concerned about the output's level of quality.