Speed Up MP4 Videos Easily Using Online and Offline Tools
If you've seen a viral video with rapid-fire dialogue, you may have wondered how you accomplished it. The trend of speeding up MP4 recordings to get this look has recently gained much traction on social media. You may speed up MP4 videos to present the whole material more rapidly to viewers if you want to build opening movies or cutscenes with a guideline for your Vlog. These can be created using the software HandBrake. You may modify your videos in several different ways with the help of this effect. Please continue reading this post so that you can learn how to speed up MP4 movies and create more appealing and intriguing videos.

Part 1. How to Speed Up an MP4 Video Offline
Vidmore Video Converter is the most highly suggested application for you if you are looking for an MP4 speed editor of good quality. It is a robust and flexible video editor that allows for the acceleration of MP4, the addition of stunning effects, and the editing of films with all of the fundamental tools. After accelerating the playback of MP4 movies, you can maintain a high level of quality by adjusting the parameters for the output resolution, frame rate, and format. In addition, it offers all the common file types, making it easier for you to post content to various media sites.
Step 1: Vidmore Video Converter may be downloaded for free and started on either a Windows or a Mac computer.
You can access the Video Speed Controller via the Toolbox menu by clicking on it. After that, you can pick the movies you want to add to this MP4 speed controller program by clicking the Plus button.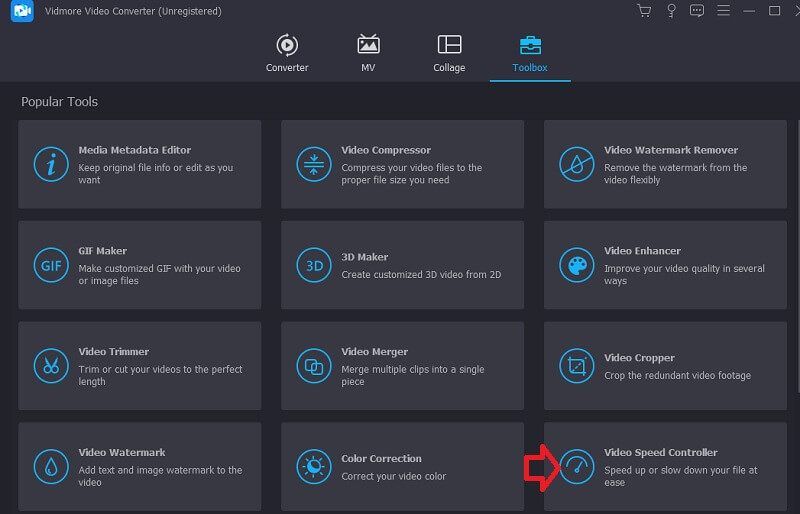 Step 2: When you want to speed up MP4 films, select a speed rate between 1.25X to 8X, depending on how fast you need them. After you have selected the speed rate, you will be able to witness a real-time preview of the effects on the top screen. You will then be able to quickly pick the pace that is best appropriate for the videos you have.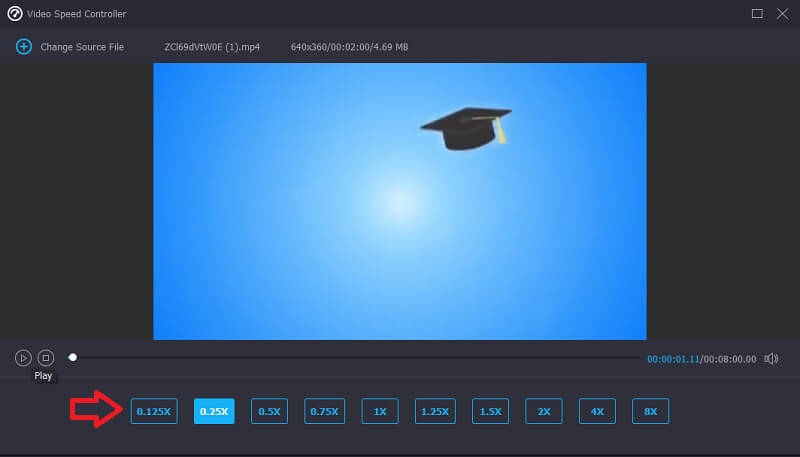 Step 3: Click the Output menu at the bottom to adjust the video output settings. You can also choose the output format of your video. Once you are decided on the file, press the OK button.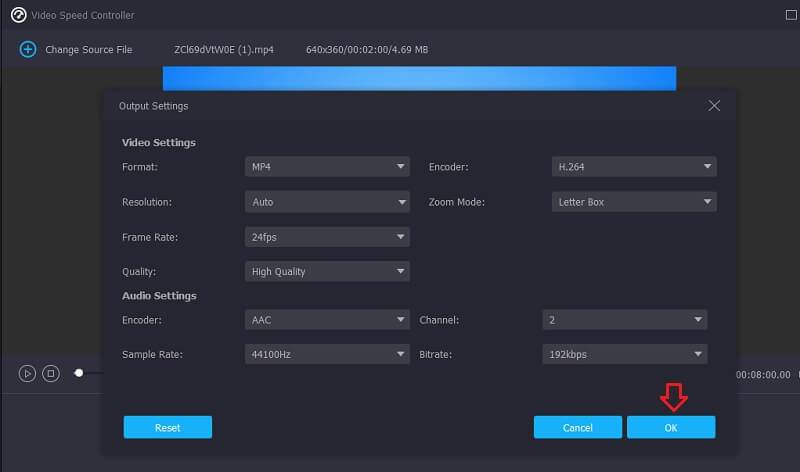 Finally, select where you want the MP4 video to be. And then click the Export button to get started.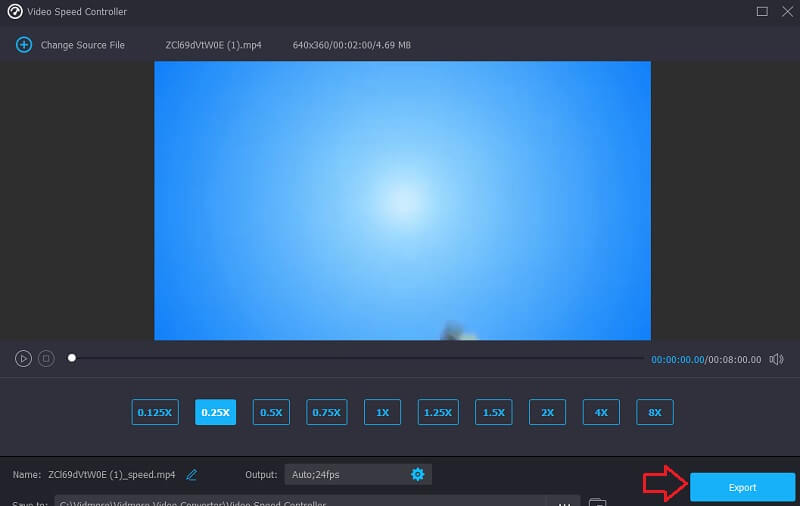 Part 2. How to Speed Up an MP4 Online
The following is a list of some quick fixes that you may use to adjust the speed of your MP4 movies. Because they are online tools, there is no need for you to download and install them on your device to utilize them.
1. VEED.io
You can adjust the MP4 playback speed in VEED's editor. The free software here allows you to quickly and effectively alter the film's pace without affecting its quality. Since they are intuitive, they do not need even the most inexperienced users to fret over the editing tools. Not only that, but it can play a broad range of video formats. The limited number of filter options is a drawback. It will not be able to modify the effects applied to your video clips when you use this tool, which you may do to make your movies more appealing. It just enables the most basic editing techniques for video recordings.
Step 1: Find the video to upload in your folder, and then upload it to VEED. You may also drop your file by dragging it into the editor.
Step 2: Select a speed from the drop-down menu. You may also set the field you want by clicking on the Custom button.
Step 3: Click the Export button to get your video. The file that is created from your video will be in MP4 format.
2. Typito
Another easy-to-use video editor online is Typito. It has limited editing tools and templates, but you can surely use it to speed up MP4. To understand how to speed up your MP4 movie with music without installing any additional software, use Typito. Feel free to use the data provided below to create exceptional video clips.
Step 1: To begin using Typito, go to the website's homepage and click the option labeled Get Started. Following that, choose the aspect ratio that you want for your video. The next step is to add the MP4 to the display by clicking the Plus symbol.
Step 2: Move it to the right and click the Select button. Different editing choices may be accessed, including speed, volume, and rotation. Set the tempo by using the Playback Speed slider.
Step 3: Click the Export icon up top after you are satisfied with everything.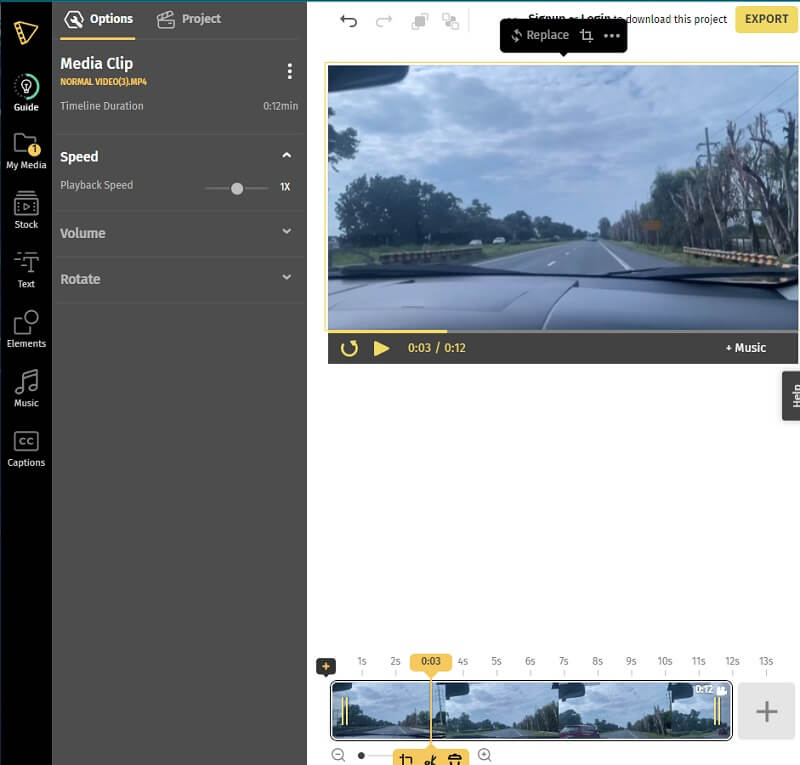 3. InVideo
One of the most useful apps for accelerating videos you can find online is InVideo Online. It only takes the move of the slider to change the speed of MP4. Because of its user-friendly design, InVideo is an excellent choice for users of all skill levels. This tool is hassle-free because you can easily upload your video straight. You will get access to a powerful editor, more than one hundred professional features, an excellent stock music collection, and comprehensive editing capabilities. It can also change the tempo at which your clips play.
Step 1: When you get to the main page of InVideo, click the button that says Upload Video. It will then ask you to subscribe and give your email address. When you click Create New, it will take you to a new window where you can upload your video.
Step 2: Find the speed editing tool after you've uploaded your file and click it. You can choose how much to speed up your MP4 video.
Step 3: In the end, you should click the Export option and wait for the procedure to finish successfully.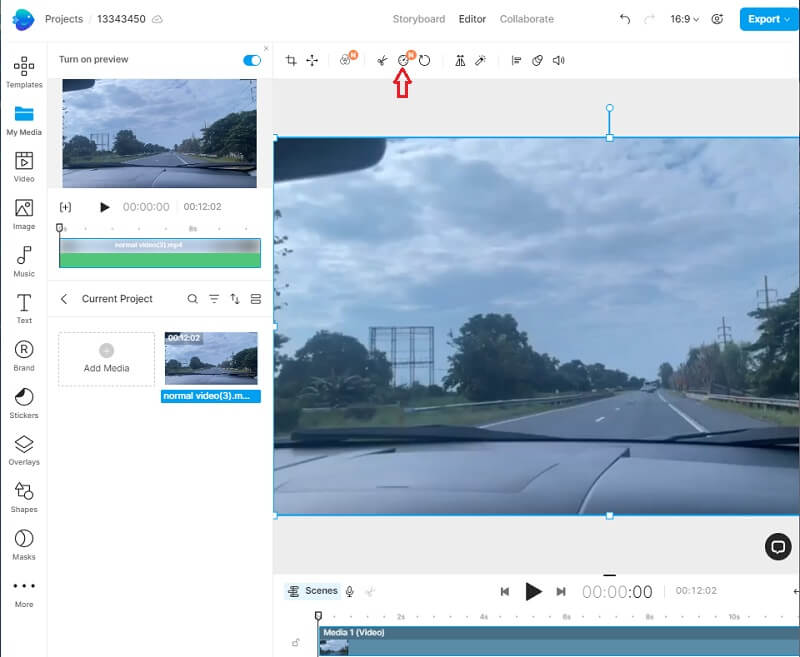 Part 3. FAQs About MP4 Speed Editor
How to speed up MP4 files to make funny videos?
Please find the most engaging portion of the story and use it to adjust the pace. When speeding up MP4 films, you can also use alternative speeds. The last step in generating videos is adding some humorous sound effects.
Can I change the speed of MP4 on Android?
Using third-party software, you may modify the pace at which a video plays on an Android device to either speed it up or slow it down. On Android, there is no built-in option that allows you to change the pace of a movie. However, to access crucial features, the majority of apps demand payment.
Can the iPhone change the speed of an MP4 file?
Yes, you can use iMovie or the Photos app on your iPhone to speed up a video. iMovie's video editing toolbar has a button called Speed that lets you change the speed of a video.
Conclusions
You can easily change MP4's speed with the help of the online and offline tools above. Any one of these will ensure that you are successful. But suppose you don't want to be limited in the time you can spend editing your movie or the tools you can access. In that case, you should stick with Vidmore Video Converter.