How to Create an Instagram Filter Using Desktop Tools
Nowadays, emerging filters are accessible and free to use in different applications. You can use these filters directly with your camera; some can apply to your picture or video. Instagram is a well-known application with countless different types of filters. It is an application commonly used for posting photos and videos. It enables the users to upload and edit their pictures or videos from the built-in filter section. These filters can enhance and bring life to your pictures or videos. To learn how to use a filter on Instagram, proceed to the following parts of this post.
Part 1. Introduce Some Popular Instagram Filters
Instagram has numerous filters you can choose from. There are different types of filters, such as beautifying, color adjustment, real-world, immersive, quiz, random filters, and many more. Despite numerous available filters, this part will only provide some popular ones you can choose and try.
Breeze by
This filter is a low-key filter suitable for landscape shots. It increases the contrast and mutes the exposure of your shot.
Milk*One
This filter gives a beach vibe feeling that adds extra brightness and a summer-time hue.
+3 Blogger Presets
This filter will give your content classic and minimal vibes and can be used indoors or outdoors.
Retro Cam
This filter is perfect if you want your pictures or videos to transform your pictures or videos into a vintage style.
Grainy III
This filter consists of speckled or dusty flecks and three-different grain intensities and upgrades the color of your content.
Part 2. How to Add Filter to Video in Instagram
Suppose that you want to level up your video to something impressive and pleasing to the eyes. Using an Instagram filter can accomplish your goal of having that kind of output. This part will guide you on how to add Instagram filter to existing video. To learn the whole process, read the following information provided.
Step 1. First and foremost, open your Instagram application on your smartphone. Make sure you already have an existing account to proceed with the process. Next, swipe left to open the camera and stories section. Alternatively, you can open the stories section by clicking the (+) icon on your display photo.
Step 2. You can snap a video on the spot or select an existing video from your gallery. Look to the lower left of your screen, and you will see a small square box. Click that small square box to choose an existing video from your phone gallery. After that, your video will placed on the screen. Click the Sparkles icon on your screen to access the saved filter you will apply to your video.
Step 3. Choose a filter you want to add or apply to your video from the saved filters. In addition, swipe left if you want to see more filters available that you can choose.
Step 4. After applying the filter to your video, click the Done button on the upper top corner of your screen.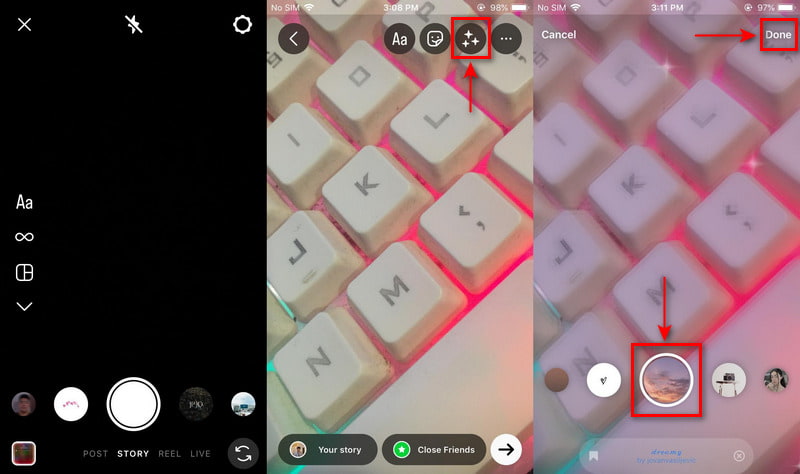 Part 3. How to Add Filter to Video on PC for Instagram
If you want to add a filter to your video using your desktop, you can count on Vidmore Video Converter. This program has a user-friendly interface with numerous built-in features, editing options, and tools. It has a converter section that can convert popular media file formats, collage makers, and many more. Speaking of compatibility, you can access this program using your desktop, both Mac and Windows. Using this program will not take much time, as it is easy to master and not confusing. Therewithal, it has a built-in MV section with plenty of ready-made themes, effects, and filters available. Go ahead with the presented instructional steps to learn how to add filters to your video using this program.
Step 1. Download and Install
First and foremost, download and install the program on your computer to have complete access. Once the installation process is done, proceed to open the program to get started.
Step 2. Upload Video File
On the program's main interface, navigate to the MV tab. From the lower left of your screen, click the (+) icon, which will open your file folder automatically. Choose a video from your folder to apply a filter on.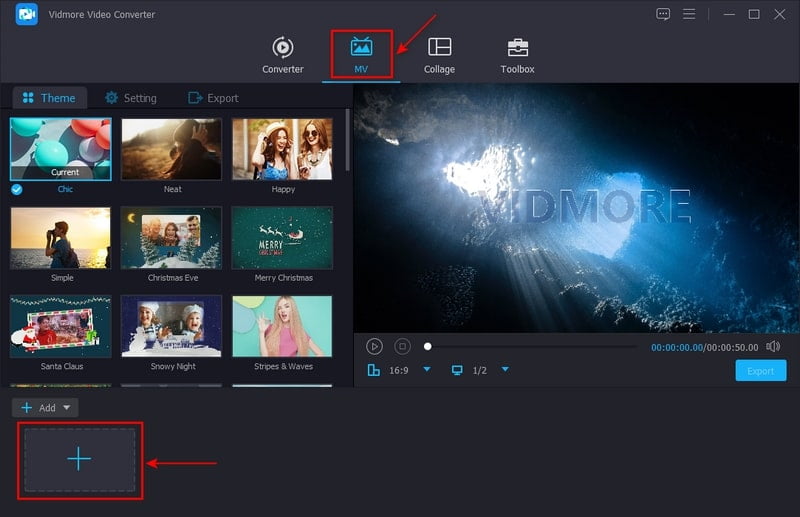 Step 3. Add Filter to Video
Once your video is placed on the screen, click the Edit button, which will bring you to another window consisting of editing options. On the top menu, click the Effect & Filter tab. You will see the basic effect and filter sections on the lower part of the preview screens. By moving your cursor on the line bar from left to right, you can change the basic effects of your video. From the other side, choose a filter you want to add to your video by simply clicking. Once you click a specific filter, you will see the changes directly on the right preview screen. Once done, click the OK button to save the changes you made.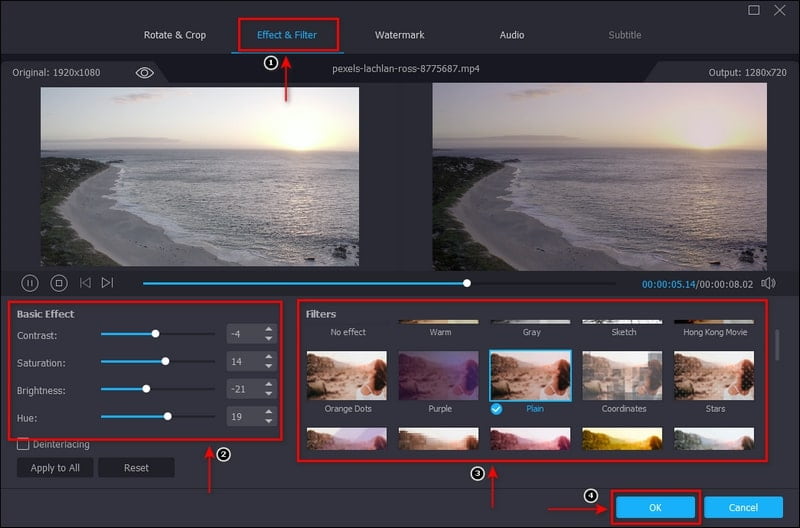 Step 4. Export Video File
Once satisfied with your changes, click the Export button to save your video with the filter you applied.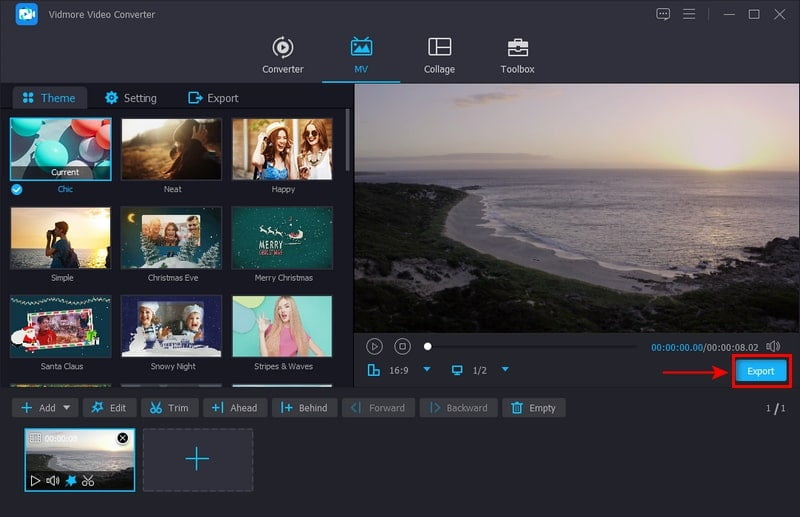 Part 4. Tips of Using the Instagram Filter Function
Suppose that you want to create and design an Instagram filter. And so, you will need an application that allows you to create your filter based on your liking. It is essential to remember that when you are selecting an application, it should meet your needs and expectations. Spark AR Studio is an easy-to-use program that enables you to create effects and filters according to your preference. This program is used to create Instagram filters, so any filter you see on Instagram was created using it. To know how to create a filter on Instagram, refer to the steps given below.
Step 1. The first thing you need to do is to download and install the application on your desktop. Once the installation process is finished, proceed to open the program. Once open, choose whether to begin from scratch or select from the available templates it has.
Step 2. To start creating your filter, proceed to open the control panel. Next, choose a 3D asset you want to use for your filter from the built-in library. Also, you can upload one if you have something on your desktop.
Step 3. Once your 3D asset is uploaded on the central panel, you can edit the appearance. In addition, you can add elements, such as animations, materials, and textures. Also, you can change the color, intensity, and many more.
Step 4. Once done, you can send your newly created and designed filter to Instagram to test whether it works. Alternatively, you can use the Spark AR Player App to test if your filter is working. After that, click the Upload button on the left corner of your screen to save your created Filter.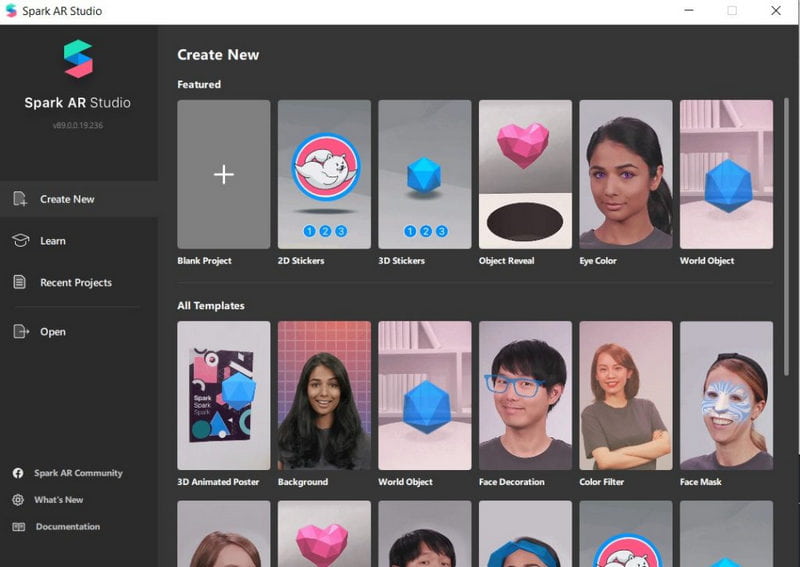 On the other hand, this part will provide information on how to add apply to Instagram story.
Step 1. Open your Instagram account, and make sure that your account is signed in. Once the application is opened, swipe left to access your camera.
Step 2. From the camera's menu bar, swipe to the left until you see the Browse Effects button. Click that button to access the Effect Gallery section. Select and save one that you want to apply to your story from the list of filters. In addition, if you have a filter in your mind, you can enter the name on the Search button.
Step 3. Take a photo or video, or choose from the phone gallery that you want to make a story. Once your video is placed in the story section, click the Sparkles button to access your saved filter. After that, click the filter, and you will see directly that is filter is already applied. Once done, click the Done button on the upper right of your screen.
Step 4. To share your story with your Instagram followers, click the Your Story button on your screen's lower left. After a couple of seconds, your story will be shared successfully.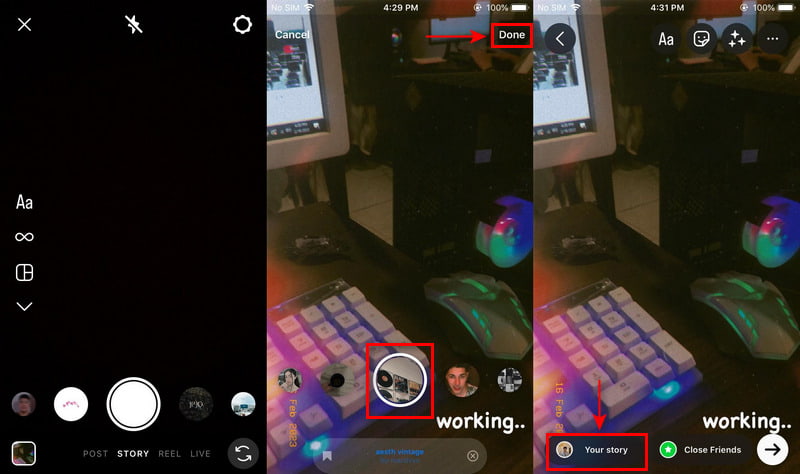 Part 5. FAQs about Instagram Filter
Are Instagram filters free?
Instagram filters are free to create and use and accessible to billion of users. In addition, Instagram filters are not only used for taking selfies or videos, but it is also used for brands.
Why can't I find my filters on Instagram?
If you already restart your phone, but the filters are not still accessible, you should update the application. There are instances that the filters are not working due to a bug caused by the application. Updating your Instagram application can help you fix the issue.
What is the beauty filter on Instagram?
A beauty filter is commonly applied to still photographs or real-time video to enhance the subject's physical attributes. These beauty filters can smoothen skin texture, change the proportions of facial features, and many more.
Conclusion
If you want to add or apply filters to your video, Instagram is the best application you can lean on. It has countless filters you can access and use created by different users. Although these filters are perfectly created, you can use them for free. Suppose you want to learn how to make an Instagram filter: refer to the above methods. Also, if you want to apply a filter to your video using your desktop, feel free to use Vidmore Video Converter.