Sketch Video Filter: Different Approach to Add Filter to Video
Have you ever seen a video resembling a drawing or sketched one? Are you wondering what filter is used to achieve that look? To answer your question, that filter is called a sketch. A sketch is a rough drawing or painting in which an artist notes his initial ideas. It still needs to be completed, but the parts have been highlighted. In the video, a sketch is a filter that changes the whole look of your original video into a pencil drawing version. Would your video transform into a sketch look or a pencil drawing version? If yes, proceed to learn how to add a sketch filter to your video in a different approach. This post will provide what you need to accomplish your goal of having a sketch-look video output.

Part 1. What is Sketch Filter
A sketch filter is similar to the usual sketch drawings or paintings we see in person. It is unfinished work, but some parts are highlighted and must be done later. In video editing, a sketch filter is used to apply to a video to make it look like a drawing. It will turn your video content into a pencil drawing version. Sketch filter is commonly accessible to different applications with a built-in filter section and has plenty of applied types under it. If you want your video to look like a piece of art, you can count on this one.
Part 2. How to Add Sketch Filter to Video Offline
Nowadays, many applications are released that can be accessed online or offline. You would not have a hard time searching anymore because there are many accessible applications you can find online. If you are looking for an application, it is better that you can use it even if you are not connected to the internet. With that, you can use the application without the internet to load its features and get your product hassle-free. This part will provide applications with a built-in sketch filter that you can use and add to your video. To get to know them, proceed to the following information.
1. Vidmore Video Converter
If you want a program that can work without the internet, you can count on Vidmore Video Converter. This program does not require you to connect to an internet connection to reach your goal. The only thing you need to do is to download the program to your computer. Also, it is better to edit using a larger screen to see the changes. This program has a user-friendly interface that is easy to use and master. You do not need to be an experienced editor to use this program. Even if you are a beginner in this field, you can quickly control the built-in features and editing tools. The good thing about this program is that it has numerous built-in features, such as a converter, ready-made themes, and collage makers. Also, it has a section where additional tools are located that you can access. In addition, it has a filter section, specifically a sketch filter, that you can add to your video. To know how to achieve a pencil drawing version of your video using the sketch effect, proceed to the presented steps.
Step 1. Download and Install Vidmore Video Converter
To have full access, download and install the program to your desktop. After the installation process, open the program to start the procedure.
Step 2. Add Your Video
Once the program is opened, your screen is already in the MV tab. To upload your video, hit the (+) icon, and it will open your desktop folder. Select a video from your folder to add a sketch filter. After that, your video is added to the timeline, and you can see your video playing on the preview screen.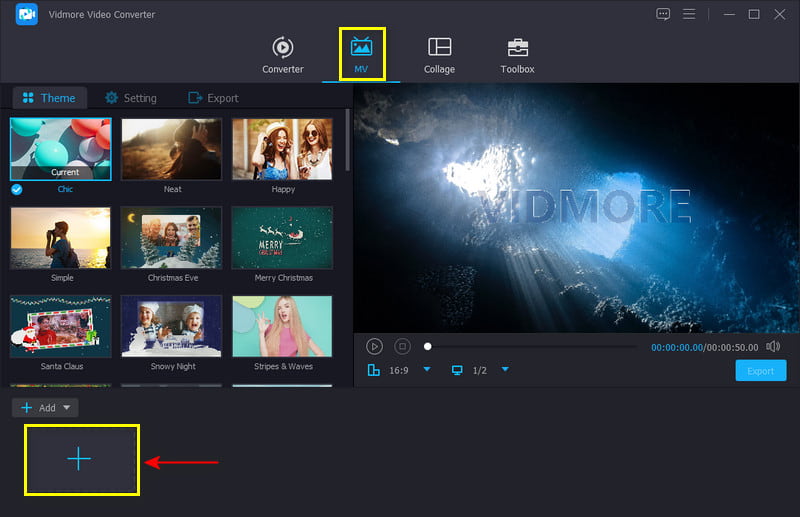 Step 3. Add Effects to Your Video
Hit the Edit button above your video file, directing you to another screen window. From the top menu bar, head to Effect & Filter section. From this section, you will see screens placed from left and right. The left is your original video, and the right is where you will see the changes you made during editing. Head to the Filters section and look for Sketch to achieve your goal. The sketch filter is placed on the first four available filters in the section. Click the Sketch filter and see the changes on the right-preview screen. In addition, you can change the basic effects by dragging the point on the line bar from left to right. Once satisfied with the look, click the OK button to save the changes.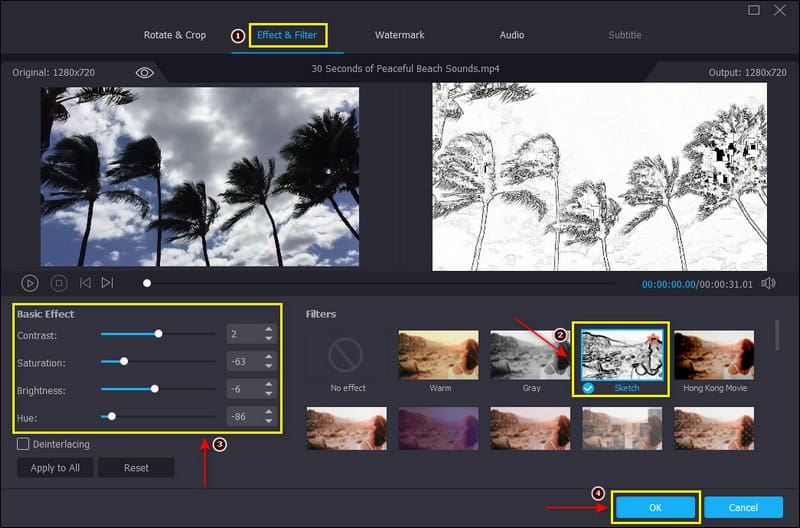 Step 4. Export Your Video
Once done, click the Export button on the lower-right of the interface to save your video with the sketch effect filter.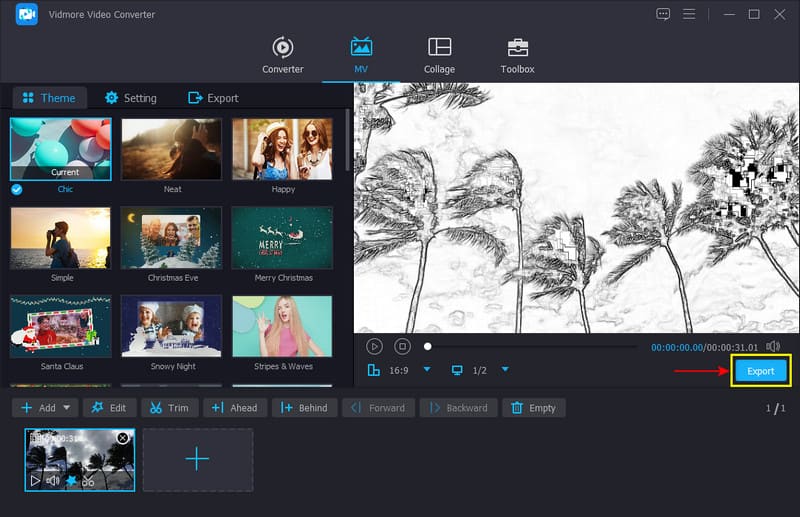 2. Snapchat
Snapchat is an application for communication and taking pictures and videos. It has a built-in camera that allows users to take pictures and videos. Also, it has built-in millions of filters you can use and apply to your video. One filter that you can access from this application is the sketch filter. If you want to know how to add a sketch video filter using this application, follow the steps provided.
Step 1. Open your Snapchat application using your mobile device, and it will lead you to the camera section.
Step 2. On your screen, click the Smile icon beside the camera button. Next, click the Explore button to search for filters. On the search bar, enter Sketch, and choose one Sketch filter you prefer. After that, take a video of yourself or your surroundings using the sketch filter.
Step 3. Once done, click the Save button to export your video to your phone gallery.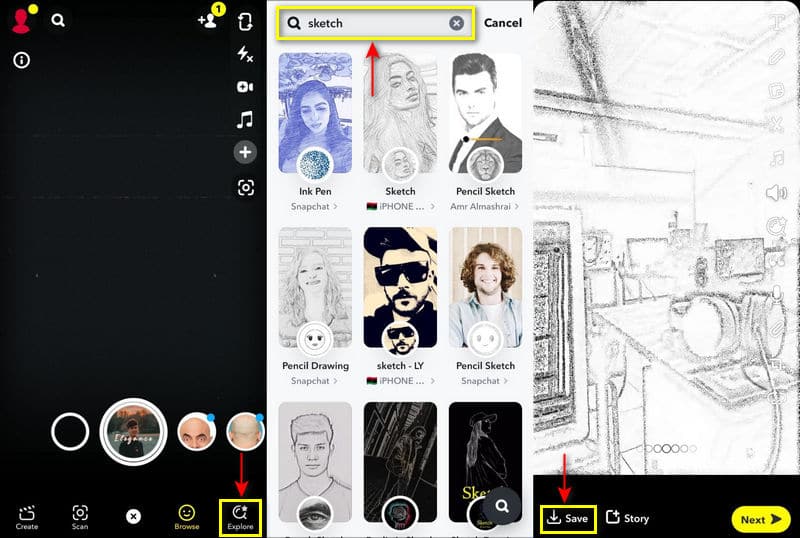 Part 3. How to Add Sketch Filter to Video Online
If you want to add a sketch filter online, you can rely on Capcut Free Online Video Editor. This web-based editing platform is used to create and edit videos for free. You can create stunningly using this online tool, whether a beginner or a professional. This web-based tool has built-in effects that include sketch effects. Follow the steps presented to learn how to add sketch effects using this tool.
Step 1. First and foremost, visit the official website to have full access. Click the Edit A Video For Free Now button on the main interface to direct you to the editing section. After that, click the (+) icon under the blank canvas and Create button.
Step 2. Once in the editing section, click the Upload button, Local, and then select a video from your folder. Afterward, head to the Effects section, look for Comic and then choose B&W Sketch filter. Once done, you can see the changes on the preview screen.
Step 3. Once settled, click the Export button to save your edited video with the sketch filter effect.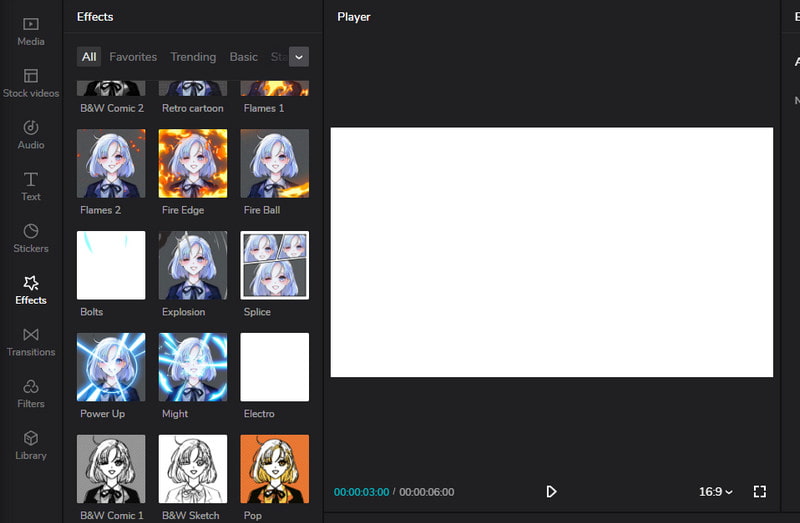 Part 4. FAQs about Video Sketch Filter
What is Sketch filter in Photoshop?
The Sketch filter was initially introduced in Photoshop CS6 as part of the Oil Paint filter group. You can see the Sketch filter under the Filter and then the Oil Paint section. But if you are using the later version of the application, you can find the Sketch filter under the Filter, next is Artistic, and then Sketch.
What are the types of sketch filter in Photoshop?
Bas Relief, Charcoal, Graphic Pen, Note Paper, Plaster, and Stamp, are one of the Sketch filters available in Photoshop.
How do you use sketch filters on Instagram?
Head to Instagram's filter section, take a picture using another filter, click the name, and then proceed to Try Effect. After that, you will see Browser Effects, where you will search for Sketch Face.
Conclusion
These days, you can add and apply different filters to your video. If you want to change the look of your video to something you want, you can count on filters. It will change the whole look of your video if you apply a filter. In this post, you learned how to apply a sketch video filter using offline, online, and mobile tools. Achieve your pencil drawing version of your video using a sketch filter with the tools above.