5 Attested Ways to Fix TikTok Videos Not Playing Issue
TikTok has emerged as one of the major social media platforms. On one side, it allows users to watch unlimited videos; on the other, it encourages users to make videos. However, users often complain about the TikTok videos not playing problem. Despite having a stable internet connection, sometimes TikTok does not play. There can be multiple reasons behind it, but it is a fixable issue. This post will present the possible reasons and solutions to fix the problem. Let's get started!

Part 1. Why Does TikTok Say Could Not Play Video
When you scroll over your feed, you might encounter videos not playing for various reasons. So why does TikTok say could not play videos? What are the reasons behind the error? This section will list the following reasons occurring the problem. Without further discussion, please take a look at them.
Application malfunction
Cache and data corruption
Government banned TikTok
Internet Connection Issues
TikTok servers malfunction
Part 2. How to Fix TikTok Videos Not Playing
This section will list the following solutions that can you help you fix the TikTok videos not playing issue. So, if you are trapped in TikTok videos not playing issue and do not know the root cause, please continue reading. The following are six solutions that are likely to fix the problem.
Solution 1. Force Stop TikTok
The first thing you must do is Force Stop TikTok and restart it. If the application malfunctions, it will get fixed with a fresh start. To do that, follow the steps provided.
For Android users:
Step 1. Head to Settings and then click Apps.
Step 2. Search or scroll over until you find the TikTok application from the list, then click it.
Step 3. Hit Force Stop.
For iPhone users:
Step 1. Open App Manager.
Step 2. Find the TikTok application, and swipe up, down, right, or left to force close the application.
Solution 2. Clear TikTok's Data and Cache
Your TikTok application cache and data may get corrupted. If it happens, it will stop TikTok videos from loading. With that, you must clear the cache and date of the TikTok application and relaunch the application. To do that, proceed to the following steps.
For Android users:
Step 1. Go to Settings and then click Apps.
Step 2. Look for TikTok and click Clear data on the bottom part of your screen.
Step 3. Lastly, press Clear all data, which will clear both cache and data.
For iPhone users:
Step 1. Head to Settings and select General.
Step 2. Press Storage & iCloud Usage and then click Manage Storage.
Step 3. Look for TikTok and click it. After that, please proceed with the option Documents & Data and remove it.
Solution 3. Restart Your Modem and Router
Sometimes the problem is as simple as internet connection disruption. You assume you have a fast and stable internet connection, but that is not the case. You can test if your internet connection works by running the browser on your phone and visiting any website. If the page loads successfully, then your internet connection is working correctly. But if the page fails to load, consider restarting your internet connection to fix the issue.
Solution 4. Use VPN
Many users have raised that installing a VPN on their mobile devices helped fix the problem. With that, you can also give it a try. To do that, check out the steps below.
Step 1. Head to App Store or Google Play Store to install a VPN service, like NordVPN, ExpressVPN, ProtonVPN, or NordVPN.
Step 2. Launch the application and make the connection.
Step 3. Test out if TikTok can start playing videos.
Solution 5. Uninstall and Reinstall TikTok Application
If clearing cache and data and rechecking your internet connection does not fix the problem, the problem is in your TikTok application. With that, you must uninstall the TikTok application entirely from your mobile device and then reinstall the application.
Part 3. How to Make TikTok Videos Play Automatically
Do you want to play and watch videos on TikTok automatically without using your fingertip to scroll over the feed? Did you know that TikTok has an auto-scroll feature that can help you? TikTok has an auto-scroll feature, allowing users to watch videos continuously on the TikTok feed. To learn how to make TikTok videos play automatically, rely on the steps presented.
Step 1. Launch the TikTok application and head to the For You page.
Step 2. Choose and hold on to a video on For You page.
Step 3. A window with the following options will appear on your screen; select Auto-scroll from there.
For instance, you can use voice commands on your device if the auto-scroll feature is unavailable on your account. With that, you need to consider installing a voice commander application. To do that, follow the steps provided.
Step 1. Install Voice Access on your mobile device.
Step 2. Open Settings and select Accessibility and look for Voice Access and click it.
Step 3. Press the Use Service button to enable the Voice Access application.
Step 4. Hit Continue and then Finish to complete the startup. After that, you will see a floating button on your screen.
Step 5. Press the Blue button to activate the Voice Access application. Then, launch the TikTok application and say scroll-down.

Part 4. Best Video Player for Windows & Mac
You can call a video player the best if it provides a satisfactory experience when playing a video, like Vidmore Player. This video player can play various files, such as multimedia formats, ISO files, and folders. In addition, it can play physical media, such as DVDs and Blu-rays. It offers high-quality image playback and perfect sound processing. It has control settings, offering various shortcuts to control the video player. You can play the video in full screen, half size, standard size, double size, fit to screen, and more. Besides that, you can add a subtitle file and modify the audio and video track. On top of that, it supports numerous languages across the globe.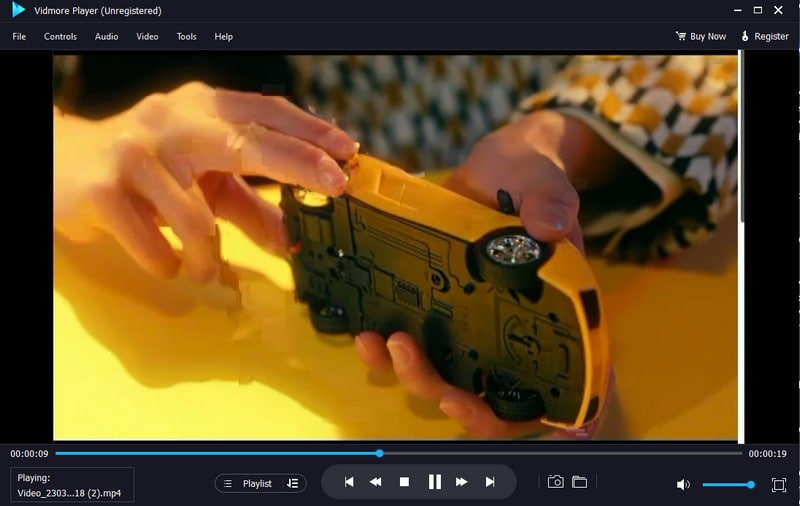 If you want to change your video's appearance, you can change the hue, brightness, saturation, gamma, and contrast from the effects option. The impressive part about this video player is that it enables you to take a screenshot while the video is playing. In addition, you can adjust the volume's sound according to your preference. To learn more about what it can do, do not hesitate to download and install Vidmore Player on your desktop.
Part 5. FAQs about TikTok Videos Not Playing
Why does not my TikTok automatically play?
If you encounter this issue, consider restarting the application and your device. Also, a slow internet connection can affect the performance of playing videos. With that, try to switch from Wi-Fi to mobile data to troubleshoot whether or not the problem is related to connectivity.
Why my TikTok account has no auto-scroll feature?
Unfortunately, only some TikTok accounts have the auto-scroll feature. But if you want to play the video automatically on TikTok, you can use a third-party application, like Voice Access.
Does clear cache on TikTok delete drafts?
Clearing TikTok's cache will not delete your videos in the draft section. Clearing the cache on the TikTok application is to delete the temporary storage and nothing more.
Why are my TikTok videos glitching?
You may experience TikTok videos glitching when you do not have a fast or stable internet connection.
Why does TikTok distort my videos?
TikTok distorts your videos because your device's screen resolution might be too low or high. Ensure you upload a video in 1080p HD video resolution to avoid this issue.
Conclusion
Overcoming the TikTok could not play videos is not a big deal; follow the above workable solutions to fix the problem quickly. But if you want to play your videos without encountering an issue, you can count on Vidmore Player. Its advanced options allow you to control everything on your video hassle-free. What are you waiting for? Install it now!