Apps to Cut Videos for WhatsApp Status: 3 Reliable Approaches
People usually cut videos to remove the unwanted or useless scenes in the footage. For the case of WhatsApp Status, cutting is essential since you cannot WhatsApp Status unless it is no more than 30 seconds in length. However, if you have too long videos for WhatsApp status, you need to find a tool that will help you shorten them.
Actually, there are many programs deemed to help users cut videos effortlessly. But people end up upset due to the inappropriate tool they utilized. Suppose you are one of these people, do not worry! This post will show you practical tools for mobile and computer devices to trim video for WhatsApp Status online. Continue reading to learn more.

Part 1. How to Trim Video for WhatsApp on iPhone/Android
1. Photos
If you're using an iOS device and prefer not to download to cut videos for WhatsApp status, the Photos app is a native way to do it. This is also applicable for users with an iPad. Using this program, you can edit photos or videos by cutting, rotating, flipping, adding effects, etc. Trimming video is very simple since you just have to drag the left or right slider backward and forward to select the video cutting range. To learn how exactly to cut videos for WhatsApp status, follow the list of steps below.
Step 1. On your iPhone, open the built-in video and photo editor named Photos.
Step 2. Look for and select the video you wish to cut for WhatsApp status. Tap Edit at the top right corner. It will redirect you to the editing interface of the tool, where the trimming functionality will be displayed at first.
Step 3. Adjust the left and right sliders and hit the Play button to preview the changes.
Step 4. Next, tap Done at the bottom right corner and choose Save Video as New Clip and Save Video options to save the trimmed video.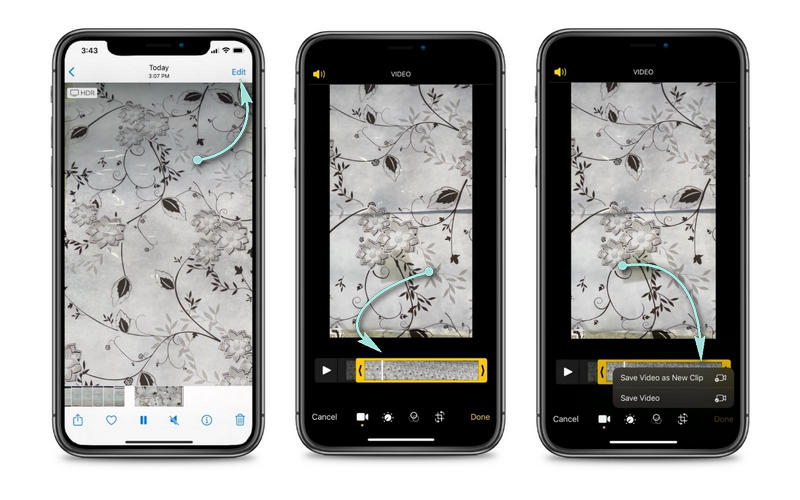 2. Timbre
If you are an Android user, you may use Timbre to cut videos for your WhatsApp status. This mobile app is designed to specifically edit videos enabling users to cut, convert, and join several videos into one. In like manner, it uses a slider to choose a range by dragging to your desired position. Apart from that, you can also set the range by entering the time duration to milliseconds. If there is anything you might find missing is the preview. There is no preview provided before and after cutting the video. Nevertheless, it is an excellent WhatsApp cut pro app to download. Here are the steps on how to use it.
Step 1. Get the mobile app from the application store on your device and launch it.
Step 2. Now, tap Cut under the Video section, then pick and add a video you wish to cut.
Step 3. After that, select a range by dragging the slider or setting the exact time for the range and tap the Cut button to confirm the action.
Step 4. Finally, set the file destination to save the video output.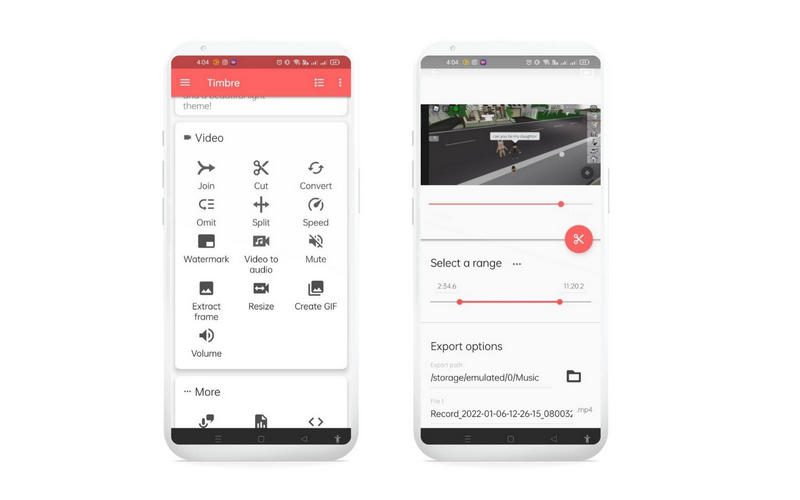 Part 2. How to Trim Video for WhatsApp without Quality Loss
Vidmore Video Converter is an outstanding advanced version of video trimming software having all the necessary functions. Using this tool, you could watch and trim video at the same time since it has a built-in media player. The program is oriented for customers as it provides various ways to cut video.
You can shorten the video using the tool's slider, split the video into individual segments, and define the range for cutting with exact start and end times. On top of that, it facilitates video compression to reduce the video's overall file size. In this way, you won't have any transmission problems, especially when uploading to video-sharing sites. To illustrate the process of trimming videos for WhatsApp, follow the step-by-step procedure below.
Step 1. Launch the WhatsApp Video Trimmer
First and foremost, download the program via ticking on one of the Free Download buttons underneath. After acquiring the file's extension, install it and run the program afterward.
Step 2. Import and add video files
Once you see the main interface, press Spacebar on your computer keyboard to open your file folder, alternatively, click the Plus symbol to browse and add the video file you like to trim or use the tool's drag-and-drop feature tool to add the video to the software.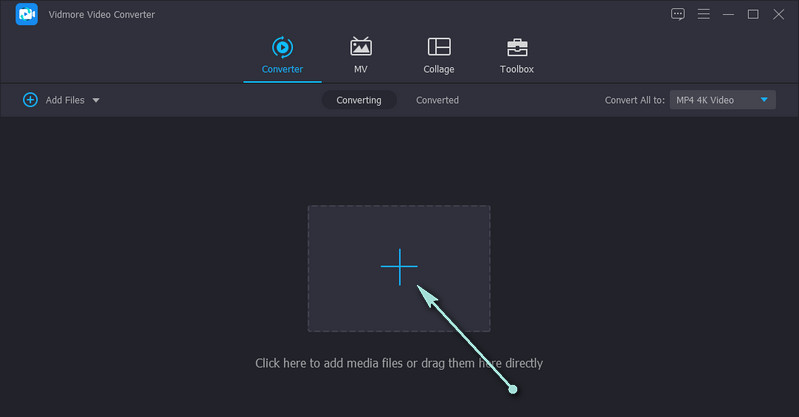 Step 3. Trim the added video
After loading the file, click the Cut button to enter the editing interface. Select the range for cutting by adjusting the right and left sliders. You can also enter the beginning and ending times according to your desired duration for cutting. Once satisfied, hit the Save button to save the changes.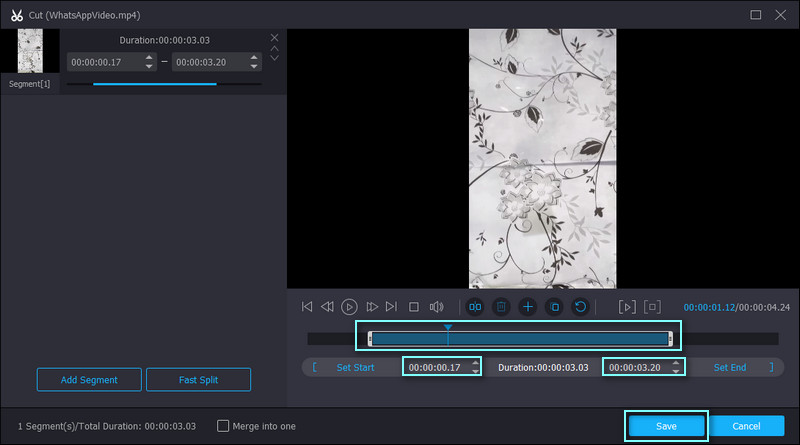 Step 4. Export trimmed video
Go back to the Converter tab and open the Profile menu when you finish cutting. Select whatever format you like for the video to save it. You can choose between video, audio, and device formats. Then, hit the Convert All button to save the trimmed video.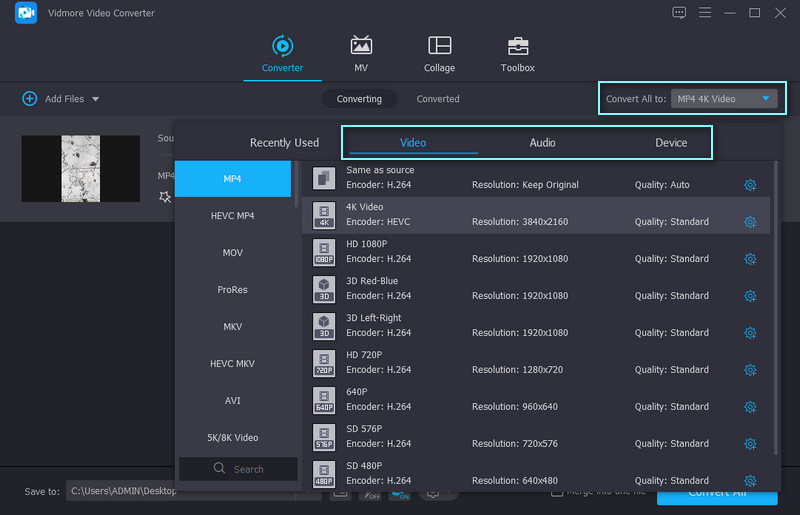 Further Reading:
Ultimate Guide to Trim MP3 File on Windows, Mac, Web, and Mobile
How to Trim MP4 Files with Leading Desktop and Online Trimmers
Part 3. FAQs on Trimming Video for WhatsApp
How to cut and send video in WhatsApp?
If you wish to send the video after cutting it, you can do it without installing additional programs. Simply select the video you want to cut from your gallery and add it to WhatsApp. After selecting, you can choose a range with the slider and tap the Send icon at the bottom right corner of the interface.
Can I edit videos on WhatsApp?
Yes. With it, you can rotate the video, add stickers and smileys, text, or annotate on the video, and apply filters to personalize the video.
Can I crop videos on WhatsApp?
Unfortunately, the tool does not support this function. You may need to install a separate program to accomplish cropping videos. Then, you can add it into WhatsApp in case you want to use it for WhatsApp Status or send it to someone.
Conclusion
Listed above are the three practical and decent tools to help you cut videos for WhatsApp Status. Some false apps are rampant over the internet. Still, these tools are guaranteed to assist you in trimming your videos either from your mobile or computer device. Cutting videos is a necessary task that every editor must learn. This can assist you in getting rid of the unwanted video parts, especially if you are going to upload them to social media pages or sites. Simply choose among the tools based on your preferences.