How to Increase Quality of TikTok Videos for Finer User Experience
Uploading good-quality videos to TikTok is essential because it helps your videos look nice and clear. When your videos look nice, more people will watch them, and you will get more likes and comments. TikTok's system likes good quality videos so that they might show them to more people.
Today, we will talk about how to upload high-quality videos to TikTok. We will show you easy steps to upload high-quality videos that impress your viewers. Whether new to TikTok or a pro, these tips will help your videos shine.

Part 1. Why TikTok Video Quality Bad After Upload
So why is TikTok video quality bad after upload? TikTok video quality might look bad after you upload it because TikTok compresses the videos to save space and make it load faster. The compression reduces the video size, making it quicker to download for viewers. However, this procedure can sometimes lower the video quality, making it appear less clear or sharp than the original video you created.
Part 2. How to Upload High-Quality Videos to TikTok
Have you ever seen videos on TikTok that sometimes do not look excellent? Wonder why? Some users believe it is because their smartphone's video quality is not good enough, but that is not the main reason. TikTok lets you upload videos in high definition, like 1080p HD. However, your videos may still look bad if you have not automatically set TikTok to upload in HD. So, to ensure your videos look great on TikTok, here is how to upload high-quality videos to TikTok:
Step 1. Prepare your video. Press the (+) button to begin uploading your video.
Step 2. You can make a new video or pick one you already have on your smartphone. You can also include text, filters, animation, and other special effects.
Step 3. Click Next to go to the Post settings. Here, you can write a caption, add hashtags, and set your privacy preferences as usual.
Step 4. Tap the More Options button and turn on Upload HD. You can upload your video in high definition on TikTok when it is on.
Step 5. Now, click the Post button to share your high-quality video on TikTok.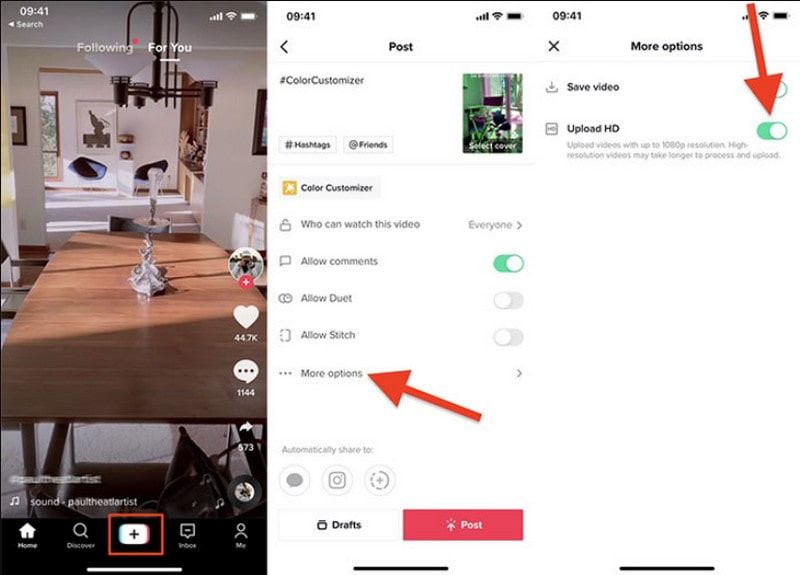 Part 3. How to Increase the Quality of Videos for TikTok
TikTok is all about short, creative videos; good-quality videos are essential to get noticed. Are your TikTok videos not looking as good as you want them to? Vidmore Video Converter is here to help you make your videos look much better! This program is a helpful tool that can make your videos look better on TikTok. It can enhance or improve the quality of your videos, making them clearer and more attractive to viewers. It is like a secret weapon to make your videos stand out with better visual quality on TikTok.
Below are the steps on how to increase the quality of TikTok videos using Vidmore Video Converter:
Step 1. Visit Vidmore Video Converter's official website to download the program on your computer. After downloading, install the program on your computer following the on-screen instructions.
Step 2. Launch the program to get started. Once opened, navigate the Toolbox tab and look for Video Enhancer from the list.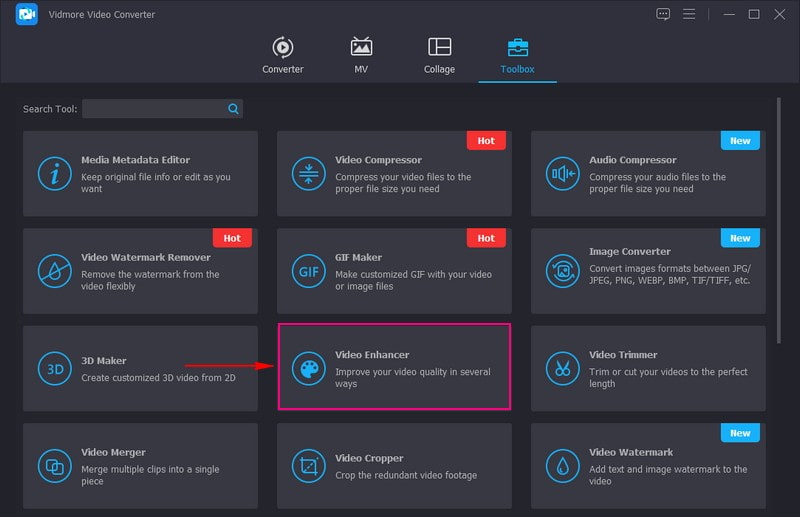 Step 3. Click the (+) button on the newly opened screen to import the desired video to increase the quality.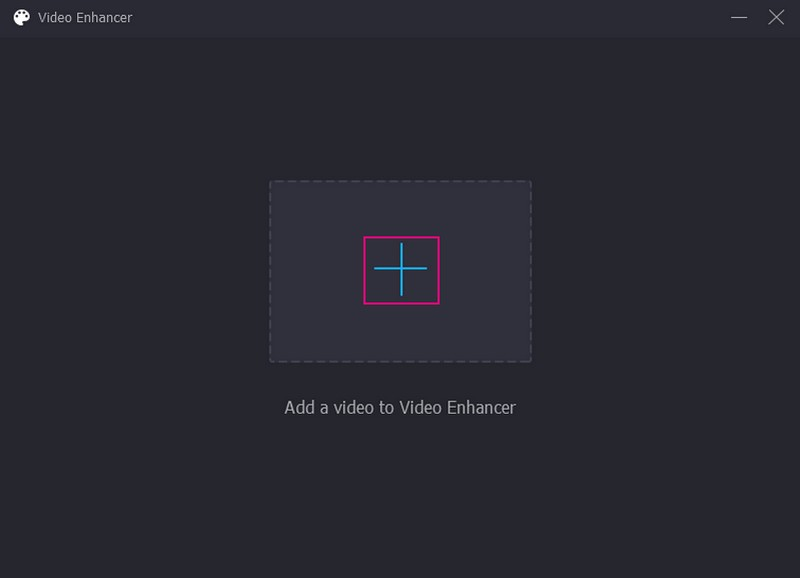 Step 4. There are four options to increase the quality of the video, which are presented on your screen. The options to enhance video quality are Upscale Resolution, Optimize Brightness and Contrast, Reduce Video Shaking, and Remove Video Noise. To enable each option, you only need to put a checkmark inside the box beside them.
Under these options, you can remove unwanted video parts you do not need by clicking the Cut button. From the Format drop-down menu, select MP4 or MOV; these are TikTok video formats supported. Pick your desired resolution from the Resolution drop-down menu, and choose a higher resolution.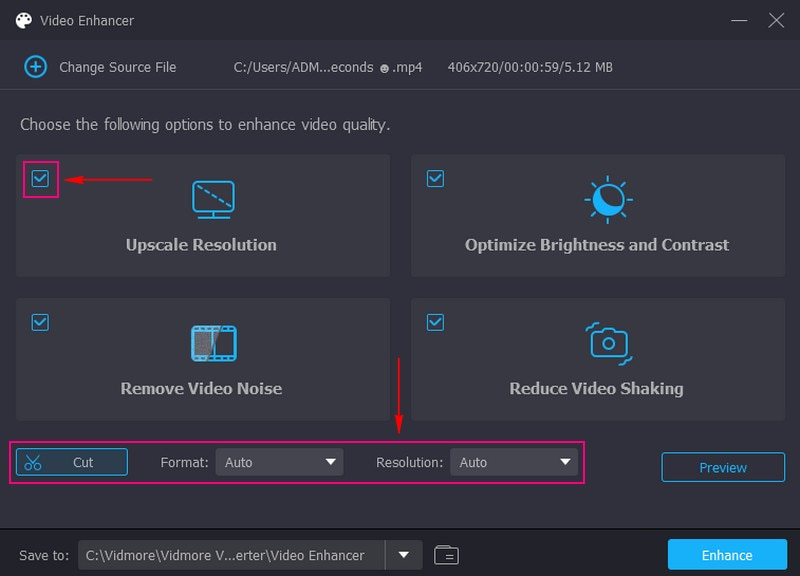 Step 5. If you want to see the changes you apply, hit the Preview button. Once you are happy with the result, click the Enhance button to save your enhanced video on your local drive.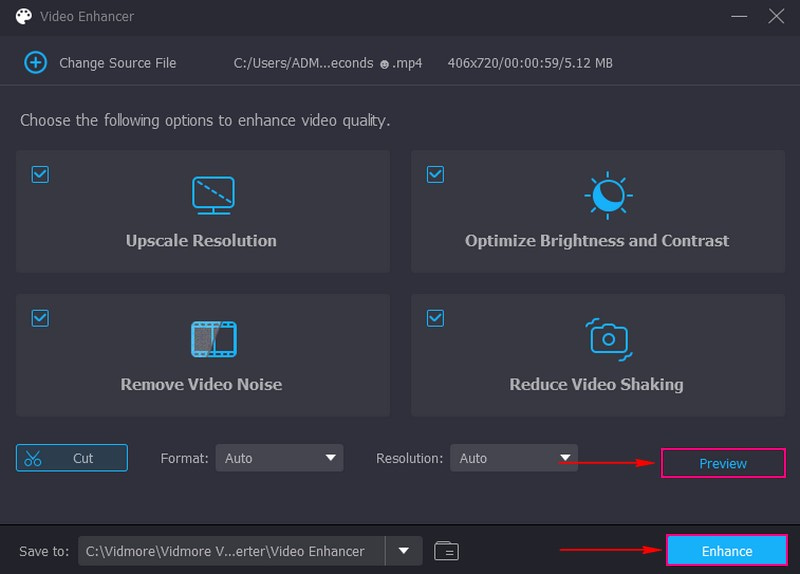 Bonus: Introduce TikTok Video Quality Settings
TikTok Video Quality Settings are like the control panel for your videos on TikTok. It lets you decide how good or bad your videos will look when you share them. Depending on your preferences, you can make your videos super clear and sharp or use less data to upload them faster. So, these settings help you control the quality of your TikTok videos.
◆ Video Aspect Ratio
On TikTok, videos should be taller than wide, like a 9:16 rectangle. While you can use square (1:1) or wide (16:9) videos, they will have black bars on TikTok, and people might now like how they look.
◆ Video Resolution
TikTok only allows videos with a quality up to 1080p. If you have super-quality 4K videos, TikTok will shrink them down, and this might make them not look so good. It is best to use 1080p videos, or if you have 4K videos, make them smaller before uploading.
◆ Video File Size
If you are adding a video from your computer, it can be up to 1GB. But if you add a video from your phone, the size limit depends on whether you use Android or iPhone. Android users can add videos up to 72MB, while iPhone users can add videos up to 278.6MB.
◆ Video Format
TikTok works well with video formats like MP4 and MOV. If you run ads or make special content, you can also use MP4, MPEG, MOV, or AVI files.
Part 4. FAQs about Uploading High-Quality Videos to TikTok
Does TikTok reduce video quality?
Yes, TikTok can sometimes make your videos look not as good as they originally were. It happens because TikTok reduces the video quality to make videos load faster and take up less space on the app.
Why can't I upload high-quality videos on TikTok?
TikTok only allows videos to be as clear as 1080p resolution. So, even if you try to put a super sharp 4K video on TikTok, the app will make it less sharp by making it 1080p.
How do I upload to TikTok without losing quality?
To put a video on TikTok, make a new one or choose one you already have by clicking Upload in the lower left corner. Afterward, click the Next. On the Post page, click More options, and look for the Allow high-quality uploads option.
What should I do if my video file is too large for TikTok?
If your video file is too large, you may need to compress it using video editing software like Vidmore Video Converter. Its built-in compressor helps you compress your video files to the proper file size you need.
Is there a way to prevent TikTok from compressing my videos?
TikTok's compression is automatic and cannot be disabled. It is a necessary step to maintain platform performance.
Conclusion
You have learned how to improve the video quality of TikTok videos, which makes your video more appealing and engaging. A good video can grab people's interest, make you look professional, and encourage others to share your content. You can use Vidmore Video Converter to achieve that. It offers various options to increase and enhance the video quality you primarily need!