Discover the Leading Vocal Removers for Songs & Videos
A vocal remover stands as a technological marvel that has captivated the realms of music and audio editing. It extracts, isolates, or reduces the vocals from a recorded or mixed audio track. The primary purpose of a vocal remover is to separate the human voice from the rest of the audio content, such as instruments and background music. It allows users for various creative and practical applications. This post will review some of the song and video vocal removers you can use online and offline. To get to know them, proceed by reading the following parts.

Part 1. Review 4 Song Vocal Removers
This part will list some of the following song vocal removers you can access offline and online. To get to know these tools, check out the following information.
1. PhonicMind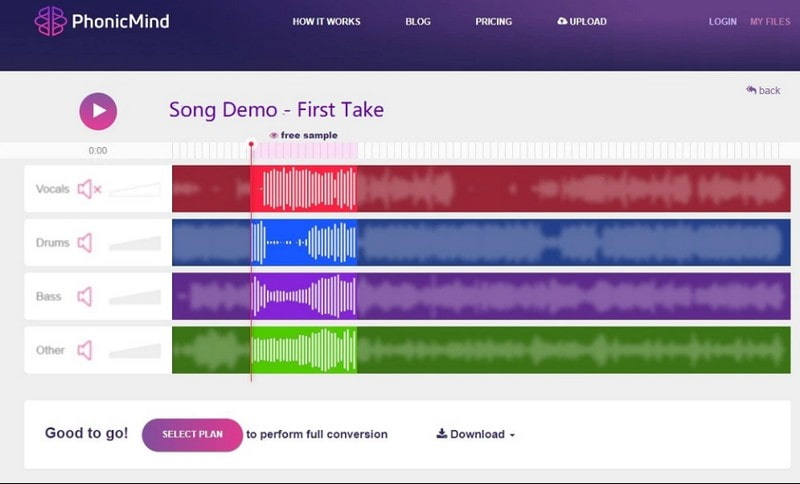 PhonicMind is an AI vocal remover designed to separate vocals from audio tracks, effectively serving as a song vocal remover. It employs sophisticated machine learning algorithms to examine and handle audio material, enabling users to create instrumental versions of songs or acapella tracks without vocals. This platform provides a straightforward and user-friendly approach to vocal removal, making it accessible to casual users and audio professionals. It offers a convenient online interface for uploading audio tracks and obtaining the desired results. PhonicMind's results are often quite good, but the quality depends on the original mix and the specific track. In addition, it offers different pricing tiers depending on the formats and quality you require.
2. Vocal Remover and Isolation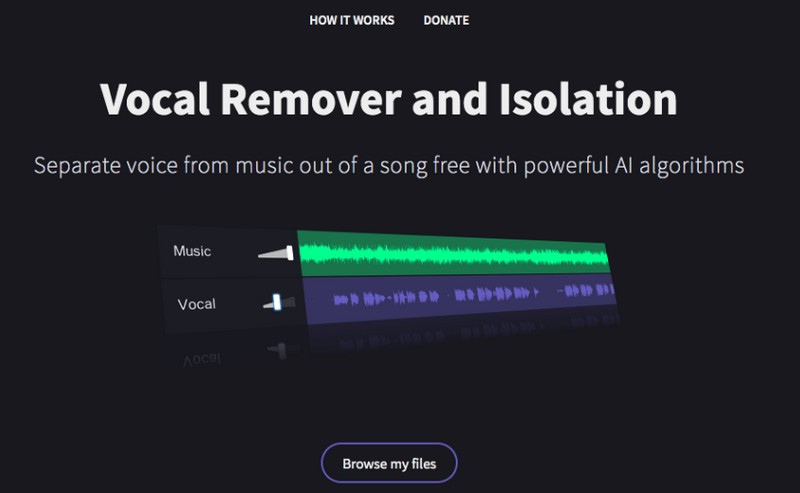 This one is a multi-function application that can do more than remove vocals. It is designed to separate vocals from the rest of an audio track, effectively serving as a vocal song remover. This platform is commonly used by DJs, musicians, producers, and enthusiasts who want to work with audio tracks by extracting or manipulating vocal elements. In addition, it has some tools to edit audio files, such as a cutter, joiner, pitcher, and recorder. When you upload a song, you will get two new tracks. You will have the instrumental of the original song and the vocal as acapella. Whether you are aiming to create acapella arrangements, instrumental versions, or remixes, Vocal Remover and Isolation offer an efficient way to modify existing songs.
3. WavePad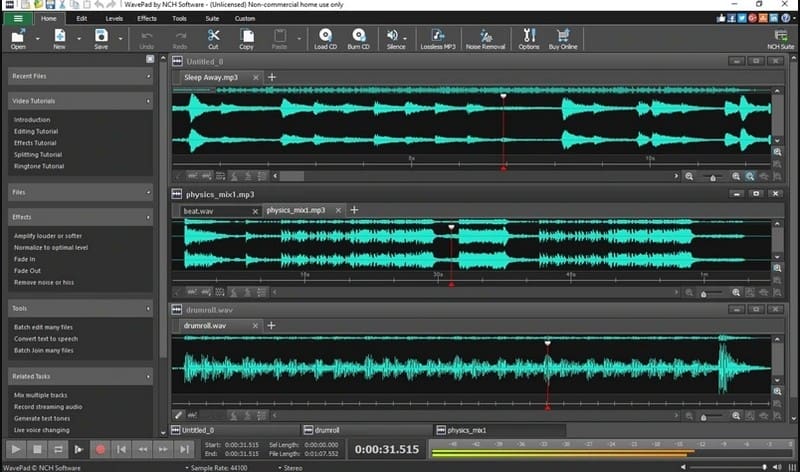 If you prefer to use an audio editor with a built-in voice remover, consider using Wavepad. It offers a user-friendly interface and a variety of audio processing tools that can be used to modify and edit audio content. Besides that, it provides various tools for editing and manipulating audio files. This program is commonly used to create karaoke and backing tracks. It is compatible with various input audio files, and you can use it to create tracks in a broad range of formats. In addition, it offers all effects and filters you might need, such as delay, echo, and reverb. Vocal removal in WavePad may yield poor results and can be limited by the complexity of the original audio mix.
4. MyEdit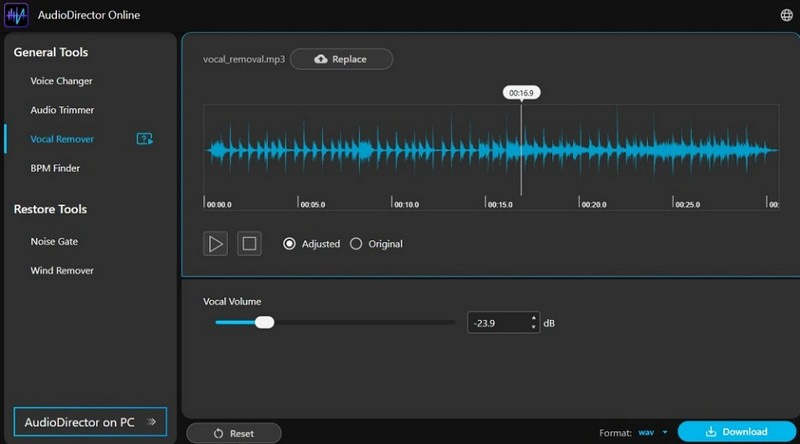 MyEdit is a vocal remover that you can use to remove vocals from audio online. It uses an AI algorithm to remove vocals, including an audio trimmer, wind remover, BPM finder, and other tools. You can convert an audio track into a karaoke version without a vocal element using this vocal remover. The features of this program are basic and designed to achieve one goal. Unfortunately, the website cannot be used for audio production or mixing.
Part 2. Review 4 Video Vocal Removers
This section will list some of the following video vocal removers you can rely on in the market. To get to know these tools, proceed by reading the presented details.
1. Notta Vocal Remover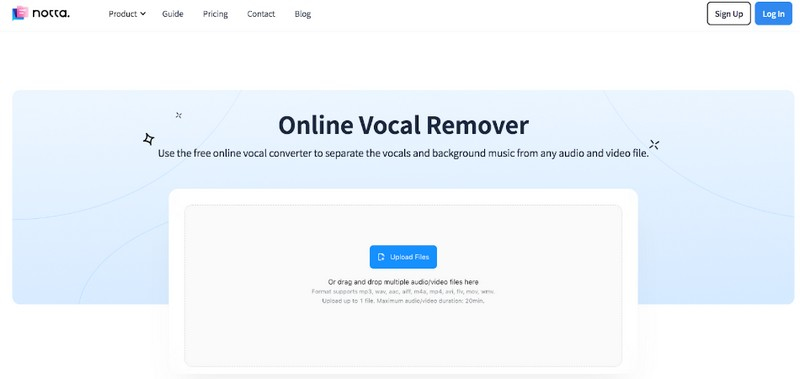 If you want an online vocal remover, you can rely on Notta, which uses AI to remove vocal tracks from songs with unprecedented accuracy. It makes it easy to remove vocals from songs and learn them or sing along in karaoke sessions. In addition, it uses audio isolator algorithms and technologies. It can guarantee that your audio output is of the highest possible standard. This web-based vocal remover is ideal for DJs, Youtubers, and anyone wanting quality audio without artifacts.
2. Adobe Premiere Pro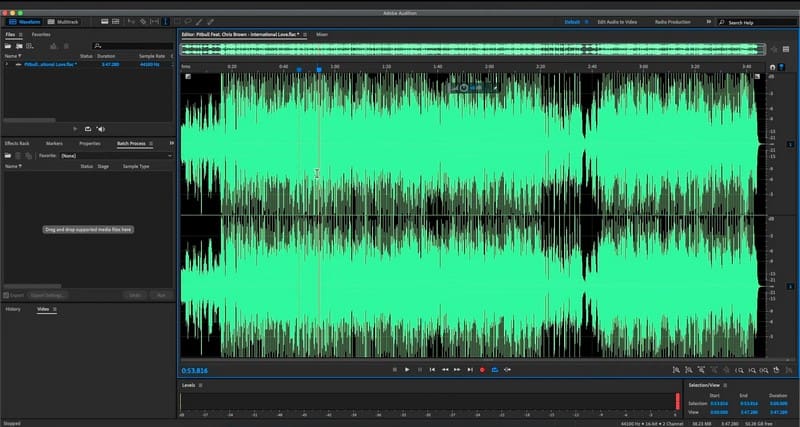 Adobe Premiere Pro is a professional-grade video editing software that provides a broad range of audio and video manipulation features. Adobe Premiere Pro can help you reduce or remove vocals from a video clip. Splitting the audio channels and applying audio effects could eliminate or reduce vocals from video clips. However, the success of this method would depend on the original audio mix and your editing skills.
3. Vocal Remover Pro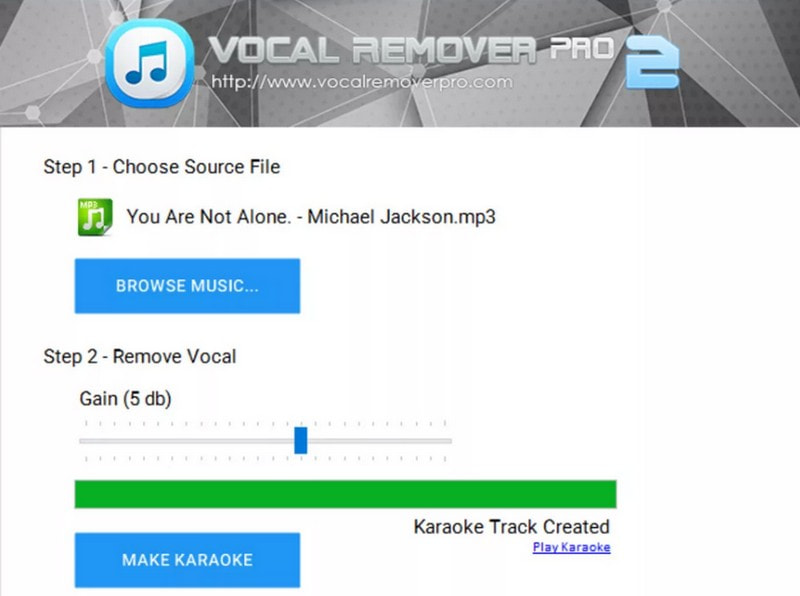 If you prefer a program designed to remove or reduce vocals from audio tracks, including video clips, you can rely on Video Remover. It can help you eliminate vocals from videos while preserving the background music. It employs specialized algorithms and processing methods to separate vocals from the rest of the audio. In addition, it enables you to create karaoke versions of songs or remixes without vocals. Unfortunately, the result could be hit or miss, and the separation quality often depends on the original video's audio mix. The quality of the result may vary, and in some cases, remnants of vocals may remain.
4. Moises.ai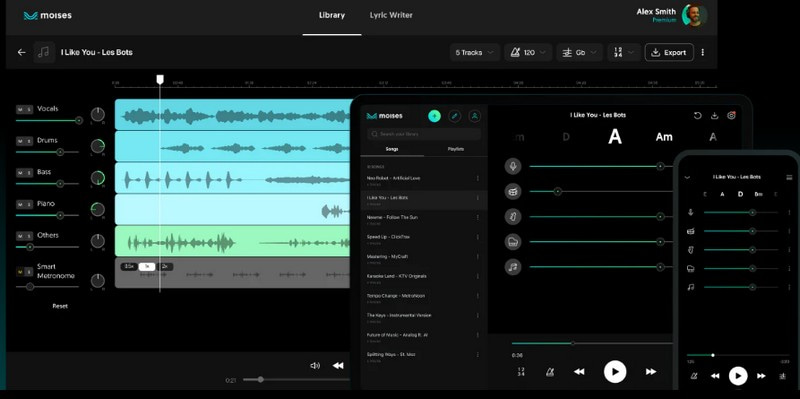 It is an AI-powered platform that focuses on audio source separation and processing. It enables users to manipulate audio tracks by separating components such as vocals, drums, instruments, and more. Besides that, Moises.ai is known for its advanced audio source separation capabilities, which extended its technology to provide video vocal remover. The service intended to use AI to isolate vocals from videos, with potential applications for content creators and remix artists.
Bonus: Best Video Vocal Remover - Mute Videos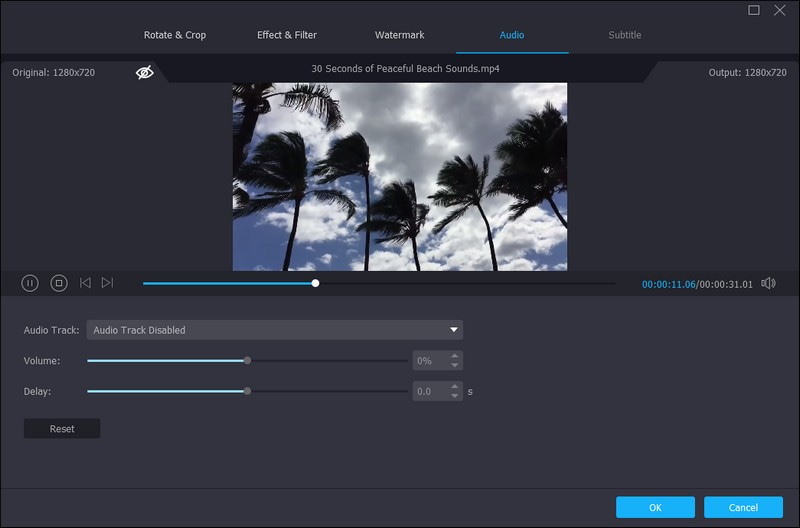 Muting video vocals or removing the audio track from a video can serve various purposes and cater to different needs. If you want to mute videos to focus on visuals, for karaoke or practice video purposes, for copyright considerations, or to reduce noise, Vidmore Video Converter is the perfect solution. For that reason, it allows you to tailor your content to your specific goals and audience preferences.
One of the Vidmore Video Converter's notable functionalities is the ability to remove vocals, granting you the power to mute audio tracks. It offers a straightforward solution for muting videos with efficiency and precision. To do that, navigate to the MV tab, click the Edit button and head to the Audio option. From there, you can disable the audio track or move the pointer to the left corner of the line bar to mute your video. It's that easy! Impressive, right?
Moreover, if you want to enhance your content, you can use the program's other editing features. With that, you will create an engaging video where your audience will focus on your content.
Part 3. FAQs about Vocal Remover
How to remove vocals from a song?
You can use PhonicMind to remove vocals from a song. First, visit the official website, click the Upload button, and select vocal removal or isolation. You can modify the parameters related to audio quality, vocal removal strength, and other aspects. Experiment with these settings to accomplish the desired result. Once settled, click the Process button to see the results when complete. When you are satisfied with the preview, download the final output.
Is it possible to isolate vocals from a song?
It is possible to isolate vocals to an extent using various audio processing techniques and specialized tools. However, accomplishing perfect vocal isolation, where vocals are entirely separated from the rest of the audio. It can be challenging and may only sometimes yield flawless results.
How can I use Audacity to remove vocals?
Open Audacity and import the song you want to work on by clicking the File and then Open. Before proceeding, duplicate the track to have a backup of the original song. Please select one of the duplicated tracks by clicking on its title, head to the Effect menu, and select Invert. Select both tracks with one inverted by holding the Shift key while clicking on the track titles. Afterward, go to the Tracks menu and pick Mix, Mix, and Render. If successful, the vocals should be removed or reduced. Once satisfied with the vocal removal, save the mixed track as a new audio file.
Is vocal isolation the same as vocal removal?
Vocal isolation aims to extract vocals from a mix, while vocal removal aims to remove or reduce vocals. Isolation offers more control, but removal is more common.
Can vocal removal damage audio quality?
Yes, vocal removal techniques can impact audio mainly if not used carefully or applied to tracks with complex audio mixes.
Conclusion
This post presented various tools to remove vocals from songs or videos. While accomplishing perfect vocal removal can be challenging due to the complexity of audio mixes, advancements in AI and audio processing have opened up new possibilities. Whether you are a content creator, musician, or enthusiast, the ability to remove vocals provides a range of opportunities.
If you want to mute your video straightforwardly, you can use Vidmore Video Converter. Besides the mute feature, it offers basic and advanced editing features beneficial for enhancing your content.