Vocaroo: Effortless Voice Recording and Easy-Sharing
Vocaroo is a voice recording tool designed to make recording and sharing brief audio clips easy. With a few clicks, you can use Vocaroo to capture your voice using a microphone and instantly generate a shareable link. Do you want to learn more about the voice recorder? If so, continue reading. This post will highlight Vocaroo and how it works as a voice or audio recorder. Besides that, this post will offer Vocaroo alternatives, which you can use offline or online. Without further ado, continue scrolling, and read the following parts.

Part 1. Vocaroo Review
What is Vocaroo
What is Vocaroo? Vocaroo is an online-based voice recording service that provides users to record and share audio messages. It offers a convenient and straightforward way to make voice recordings without additional equipment or program. With Vocaroo, users can record their voices using a microphone connected to their mobile device or computer. When the recording is complete, they will receive a URL to share with others. The recipients can then listen to the recordings by accessing the URL using their browsers.
Vocaroo is commonly used for various purposes, such as sending voice messages, sharing audio clips, recording interviews or podcasts, etc. It is a popular tool for communication, especially when text-based messages may not effectively convey emotion or tone.
How to Use Vocaroo
This section will teach you how to use Vocaroo to record audio clips and messages. Besides that, you will learn how to copy and send voice recordings to other social media platforms. Without further discussion, proceed to the following details.
Step 1. To begin with, visit Vocaroo's official website using your web browser. If prompted, enable the website to access your microphone. It is essential for recording your voice.
Step 2. On the Vocaroo homepage, you will see a large Click to Record button. Click on it to start the recording. After that, a recording interface will appear. You will see a red Record button, a waveform visualization presenting the audio levels, and a timer displaying the length of your recording.
Step 3. Tick the Record button to start the recording. Speak into your microphone clearly to record your voice. Once you finish recording, hit the Stop button. If you want to review your recording, click the Play button.
Step 4. If you are satisfied with your recording, hit the Save button to generate a URL for your recording. After that, the URL will be displayed on the screen. You can copy the URL and send or share it with others through messaging applications, emails, or any other preferred method. Recipients can open the URL using their web browsers to listen to your recording.
Step 5. If you wish to delete the recording, note the deletion link provided on the recording page. You can use the provided link to remove the recording from Vocaroo's servers.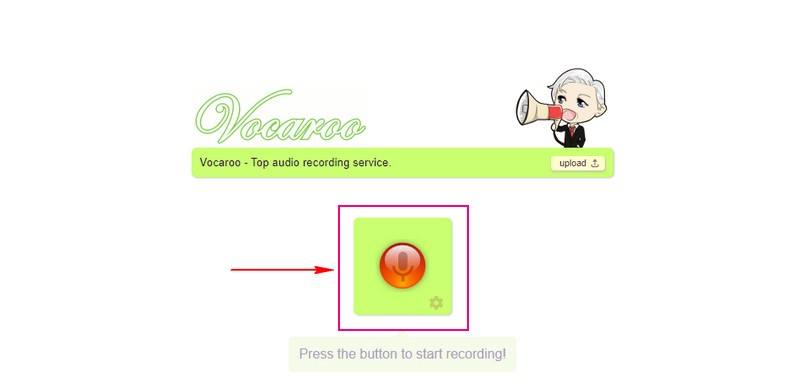 Is Vocaroo Safe
Is Vocaroo safe to use? Vocaroo is generally considered safe to use. It is a reputable online service widely used for sharing audio recordings and has been around for many years. However, as with any online service, exercising caution and being mindful of privacy and security considerations when using Vocaroo is necessary.
Part 2. Vocaroo Alternatives
1. Vidmore Screen Recorder

Do you wish to record your voice or audio without worrying about the time duration or limitation? With that, consider using Vidmore Screen Recorder, which can help you record your voice and audio without limitation. This program offers a built-in recorder, a video recorder, a screen capture, and an audio recorder, which you can use. It has a fuss-free voice and audio recorder and allows you to capture high-quality sound from your microphone, voice chat, music audio, etc. It offers a real-time digital audio recording to record all system audio signals from the internal sound card of your computer.
It can record any from your desktop and microphone and save it as MP3, WMA, M4A, or other audio formats in digital audio quality. You can create a schedule to record the selected sound source to start or stop at a specific time. After recording, you can play back your audio to listen to your entire recording. Besides that, you can trim it freely to save the necessary parts according to your needs. On top of that, you can record your audio without the need or use of an internet connection. Indeed, it is the best Vocaroo alternative you can count on to record your voice or audio hassle-free.
2. 123APPS Voice Recorder

If you prefer to use an online-based voice recorder, you can rely on 123APPS Voice Recorder. It is free, and no sign-up for an account is required. It lets you record your voice using your microphone and save it to your desired file format. Besides that, it comes with a simple audio editor. After the recording, you can leave out the unnecessary parts at the start and end.
3. SpeakPipe Voice Recorder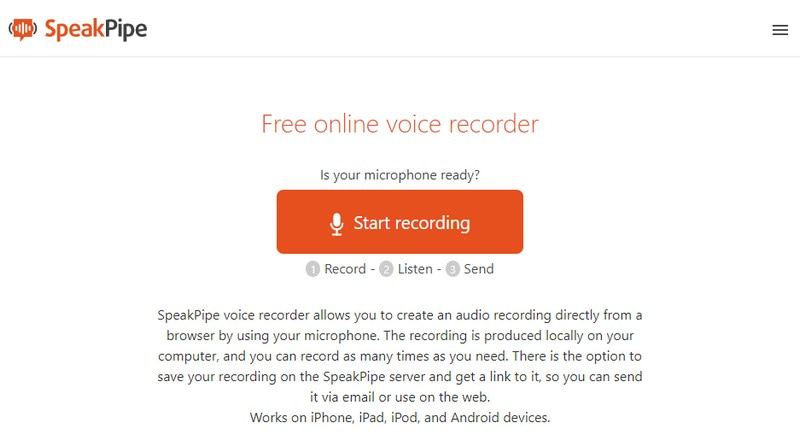 SpeakPipe Voice Recorder works on Android, iOS, Mac, and Windows devices. With it, you can create as many voice-over recordings as possible, as it sets no limits on recording times. However, you can only record up to a 5-minute max recording duration or length. It is also free to use and does not require an account. This online-based recorder lets you save your recorded audio on its server and get a link. With that, you can send it via email or use it on the web. However, there is no option to download the recording locally on your desktop device.
Comparison Table of Vocaroo and Its Alternatives
| | | | | | |
| --- | --- | --- | --- | --- | --- |
| | Usability | Maximum Recording Length | Feature | File Formats Supported | Sharing Options |
| Vocaroo | Satisfied | 5 minutes | Audio only | MP3, WAV | Direct link sharing |
| Vidmore Screen Recorder | Satisfied | No time limit | Audio and Video | Various audio and video formats | Various sharing options |
| 123APPS Voice Recorder | Satisfied | No time limit | Audio only | MP4, WAV, OGG | Download link or social sharing |
| SpeakPipe Voice Recorder | Average | 5 minutes | Audio only | MP3 | Download link or social sharing |
Part 3. FAQs about Vocaroo
How long do recordings last on Vocaroo?
Vacaroo does not offer permanent storage. There is a specific deadline for messages to get deleted. However, it is likely for them to expire after a few months.
Do I need to create an account to use Vocaroo?
No, Vocaroo does not require users to create an account. Users can use the service without signing up or providing any personal information.
Can I download the audio files from Vocaroo?
Yes, Vocaroo enables users to download the recorded audio. After recording, you will be offered a link to download the file in various formats, including MP3.
Does Vocaroo have a mobile application?
Unfortunately, Vocaroo does not offer a mobile application, but users can still use Vocaroo using their phones from the browsers.
Is there an audio recorder that can trim audio after recording?
You can use Vidmore Screen Recorder to record your voice or audio and trim it afterward. With that, you can retain the necessary parts and cut off the unnecessary ones.
Conclusion
This post provided a Vocaroo Recording review, which is necessary and beneficial for knowing what kind of audio recorder Vocaroo is. In addition, you have learned what Vocaroo alternatives you can use. One of the mentioned tools is Vidmore Screen Recorder, which can record audio and video using your computer. It is the best Vocaroo alternative, as it can help you record high-quality recordings hassle-free.