5 Best Voice Recorder Apps for iPhone and Android Phone to Record Voice and Audio Files
What are the best voice recorder apps to capture audio and voice files on a smartphone? Whether you need to record your voice from the upcoming audition, mix songs for the performance at your college function, or record background sound for homemade film. Here are 5 frequently used voice recorder apps you should know. Moreover, when you need to capture a desired audio with the best quality, you can also learn more about the best voice recorder app alternative for a PC or Mac from the article.

Part 1: 5 Best Voice Recorder Apps to Capture Audio Files
Top 1: iOS Voice Memos
Platform: iOS 10.0 and above
Price: Free
If you are still looking for a voice recorder app for iPhone, Apple has already released a default voice recorder to capture audio files from the microphone and music files without paying a penny. (Check details to record screen on iPhone)
Pros
Record voice on iPhone for free.
No need to install an extra voice recorder.
Available to Apple Watch as well.
Support both built-in and external microphone.
Cons
It is only available to iPhone.
It requires an iCloud account.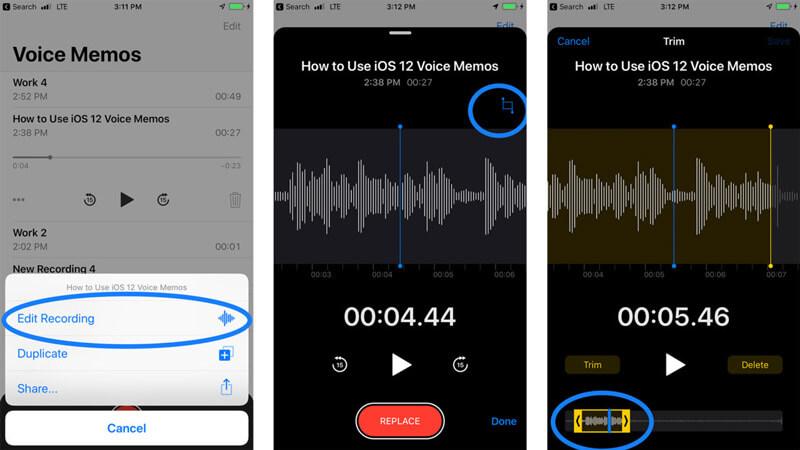 Top 2: Rev
Platform: iOS and Android
Price: Free with in-app purchase
Rev is a powerful voice recorder app for both iPhone and Android phone. It turns your smartphone into a voice recorder. Moreover, it can transcribe your recordings into text directly.
Pros
Record audio on smartphone easily.
Send voice recordings to cloud storage.
Trim recordings to keep the audio you want.
Manage voice recordings quickly.
Cons
The length limit is up to 30 minutes.
It is only available in English.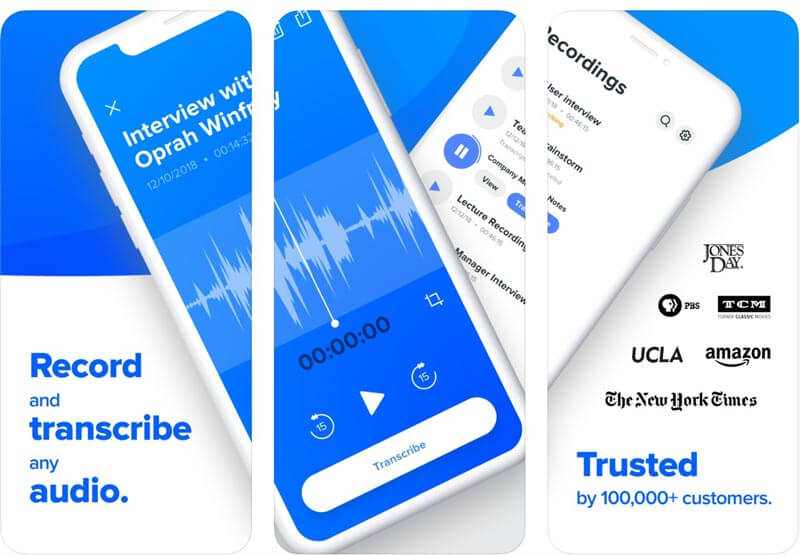 Top 3: Smart Voice Recorder
Platform: iOS and Android
Price: Free with in-app purchase
Just as the name of the app, this voice recorder app is pretty smart. It is able to live transcribe your voice recordings in 15 languages offline. Plus, you can auto backup audio recordings to Dropbox.
Pros
Support live transcription.
Work on audio recordings from other audio and video apps.
Automatic sync voice recordings to Dropbox.
Lightweight and no lag issue.
Cons
The transcription is not always 100 percent correct.
It is available to iOS 13 or later.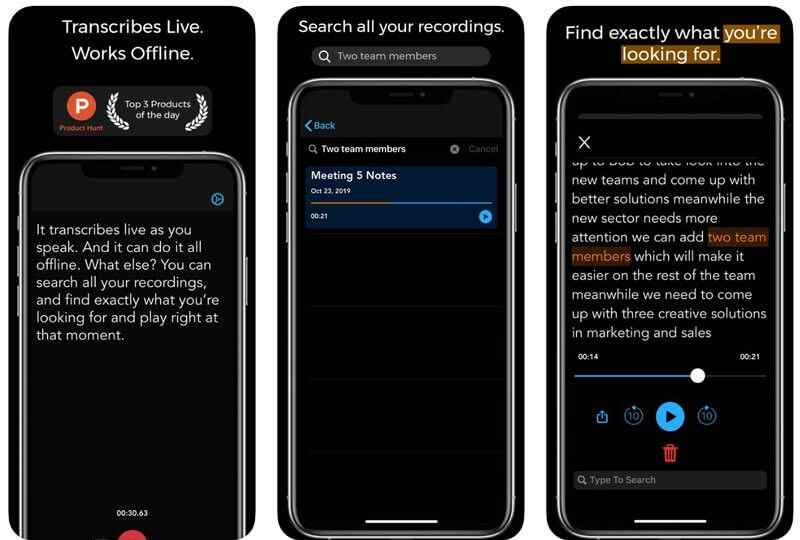 Top 4: Otter Voice Notes
Platform: iOS and Android
Price: Free with in-app purchase
Otter Voice Notes is another voice recorder app for most of the smartphones to record meeting, conferences, voice and more in real-time. It also integrates artificial intelligence for transcription.
Pros
Record any voice automatically.
Share voice recordings via email.
Transcribe audio recordings with AI.
Optimize for iOS devices.
Cons
This voice recorder app is large and takes space.
Advanced features require purchase.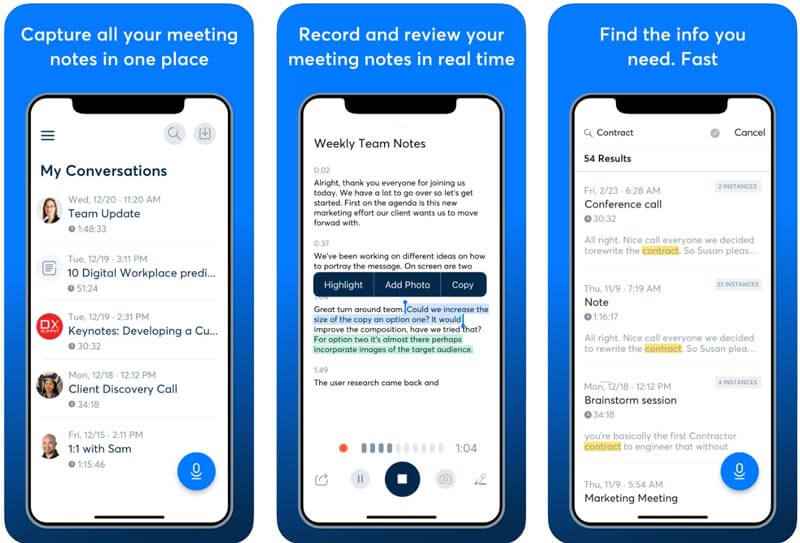 Top 5: Evernote
Platform: iOS and Android
Price: Free with in-app purchase
Evernote is another versatile voice recorder app for iOS and Android devices. It helps you create voice notes on your mobile device for sharing or listening to later. Besides, it contains extensive useful features.
Pros
Create voice notes and other audio.
Turn your phone to digital scan.
Manage voice notes easily.
Available in over a dozen of languages
Cons
It is a bit hard to learn the detailed process.
The subscription is too expensive.
Part 2: Best Alternative to Record Voice on Smartphone
When you want to record audio files with the original quality, tweak the audio parameters, edit and trim the recorded audio files, or even manage the voice files with ease, Vidmore Screen Recorder is an outstanding voice recorder app you can take into consideration. It enables you to get the desired audio with a desired audio code in a high quality.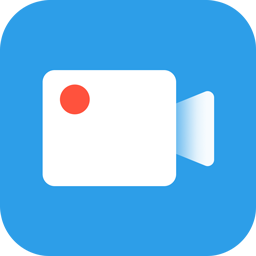 Vidmore Screen Recorder
Record voice on a mirrored smartphone with the original audio quality.
Tweak the audio codec, audio volume, audio quality and more others.
Support internal system audio, external microphones and other devices.
Manage the recorded voice, such as listen, delete, add to folder, etc.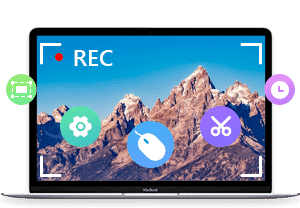 How to Record Voice on Smartphone with a PC
Step 1: Download and install the voice recorder, launch the program on your computer. After that, you can mirror the iPhone or Android phone to the PC to capture the voice files. Different from the voice recorder apps, you can get the audio files with the original quality.

Step 2: Go to the Audio Recorder menu on the home interface. Turn on the System Sound option and the Microphone option on the voice recorder. If you need to record voice files from other devices, connect the device before clicking the REC button.

Step 3: When the voice recording finishes, click on the Stop button to open it in the preview window. Pre-listen to the voice recording. If there is redundant part, you can trim the recorded audio with the Clip tool. Click the Save button to export the recording to your hard drive.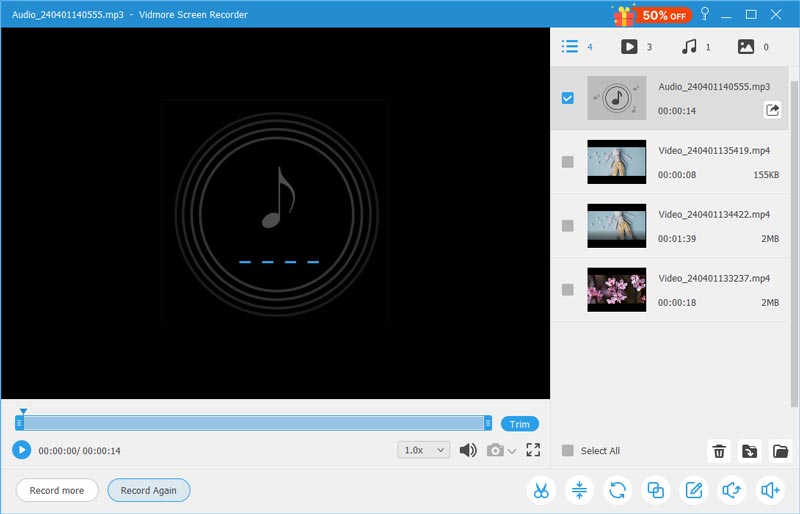 You may want to learn more about: How to mirror iPhone screen to PC
Part 3: FAQs about iPhone Voice Recorder
1. Does A Voice Recorder App Record My Real Voice?
To a certain extent, it will record your real voice. However, you might understand that a recorded voice always sounds different. Moreover, the different voice recorder apps, or the component of the smartphones might have special methods to deal with the recorded audio files.
2. Where Do I Find My Voice Recordings on iPhone?
The stock iOS Voice Memos app provides a simple way to record voice files directly on iOS devices. Recordings are saved with the file extension .m4a. You can find them in Voice Memos app or sync to iCloud.
3. What voice over video apps are best to use?
It is fun to add voice over video. There are some voice recorder apps that allow you to do the task on the iPhone and Android devices according to your requirements, such as Splice, Pinnacle Studio, Clipper, AndroVid, KineMaster Pro and more others.
Conclusion
The article shares 5 best voice recorder apps for iPhone and Android devices. These programs can help you capture your voice with an internal and external microphone. Besides the basic recording files, some voice recorders also enable you to transcribe your voice recordings into text as well. Vidmore Screen Recorder is the best voice recorder app alternative to capture your voice or audio from system on a computer. It is not only easy to use, but also able to produce high quality audio recordings.