Car Screen: Stay Connected and Entertained on the Road
Car screens have become a central component of modern vehicles. They enhance the driving experience by offering accessible information, entertainment, and vehicle access. Besides that, it allows the drivers and passengers to play audio and video to entertain themselves. This article will present a car screen, what it can do, where to buy it, the installation process, and more. So why is it necessary to have car screens? You must read the following information to know the answer to that question.

Part 1. What is a Car Screen
A car screen is a car display installed in the car dashboard or center console. It is commonly used to offer visual information and functionality to drivers and passengers. Car screens come in various types and sizes, including Liquid Crystal Display (LCD) screens, touchscreen displays, and Light Emitting Diode (LCD) screens.
Part 2. What Can a Car Screen Do
A car screen can perform various functions depending on the specific capabilities and features of the vehicle's infotainment system. So what can a car screen do? Here are some common tasks that can be achieved using a car screen:
Navigation
The car screen often includes built-in car navigation screens, like GPS navigation systems or support for smartphone-based navigation applications. You can view maps, input your destination, get turn-by-turn directions, and receive real-time traffic updates through the screen.
Entertainment
The car screen allows you to access various entertainment options, playing music from your smartphones, streaming services, or digital media. You can browse music libraries, make playlists, and control playback through the screen.
Vehicle Settings
The car screen allows you to access and modify various settings related to your vehicle's operation. It controls the climate system, personalizes driver preferences, modifies seat positions, and configures lighting options.
Connectivity
The car screen may provide connectivity options, such as Bluetooth screen for the car, UBS, and auxiliary inputs. It allows you to play media, access applications, and use additional features through the car's screen.
Safety and Driver Assistance
The car screen often displays essential information related to safety and driver assistance systems. It includes alerts for collision warnings, lane departure warnings, blind spot monitoring, and other advanced driver assistance features.
Part 3. Where to Buy a Car Screen
Car screens can be purchased from various sources, both offline and online. Here are some common places where you can buy a car screen:
1. Automotive Electronics Retailers
Many retailers specializing in automotive accessories and electronics offer car screens for sale. Some of them are Best Buy, Crutchfield, and Halfords. These stores typically have a broad selection of car screens, ranging from basic models to more advanced touchscreen displays.
2. Online Marketplace
Websites like Amazon, eBay, and AliExpress are popular online marketplaces where you can find many car screens. These online platforms often have numerous sellers offering various brands, sizes, and types of car screens, enabling you to compare features and prices.
3. Manufacturer's Websites
Some car manufacturers have online stores where you can buy car screens and accessories. Visiting the official website of the vehicle manufacturer or contacting their customer support may offer information on how to purchase car screens.
Part 4. How to Install a Car Screen
This part will teach you how to install a car screen. Remember that the process of installing a car screen can vary, depending on the specific model of your vehicle. Besides that, it can vary depending on the type of screen you are installing. Nonetheless, here are the instructional steps you can follow for car screen installation:
Step 1. First and foremost, gather the necessary tools, like screwdrivers, trim removal tools, wire strippers, crimping tools, electrical tape, and more.
Step 2. Disconnect the vehicle's battery before working on electrical components to avoid electric damage or shock. If your car already has a factory stereo or infotainment system, you must remove that to make way for the new screen.
Step 3. Install the car screen mounting bracket following the manufacturer's instructions to attach it securely to the dashboard. Next, connect the wiring harness by matching the color-coded wires from the screen's harness to the corresponding wires in the vehicle's wiring harness. You can use wire connectors, soldering, and crimps, as needed.
Step 4. Carefully position the car screen into the mounting bracket and secure it based on the manufacturer's instructions. When the screen is securely installed, reconnect the vehicle's battery by attaching the negative terminal.
Step 5. Turn on the vehicle's ignition and test the functionality of the car screen. Check if it powers on, responds to touch, and more. Ensure that all connections are secure and there are no problems with functionality or wiring.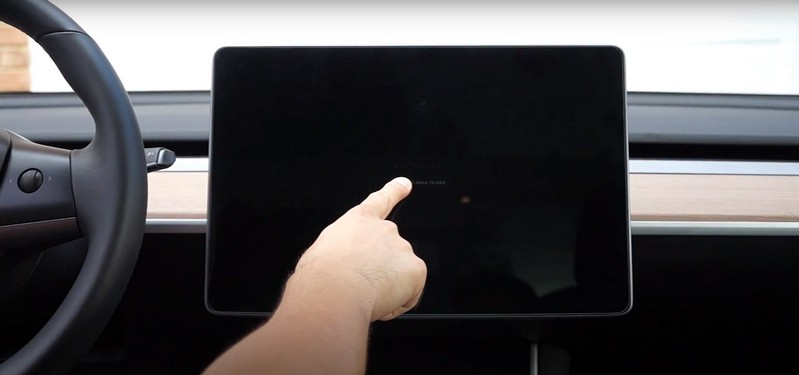 Part 5. What if Car Screen Not Working
If your car screen is not working or you are encountering issues, there are several troubleshooting steps you can take to resolve the problem. Without further ado, check out the following details.
Check the power source
Ensure that the car screen is receiving power. Check the connections, including the power supply and wiring harness, to ensure they are securely connected.
Restart the system
Consider restarting the car's infotainment system by disconnecting the battery for a few minutes and then reconnecting it.
Update firmware or software
Look for any available firmware or software updates for your car screen because installing the latest updates can often resolve software-related problems.
Reset to factory settings
Consider resetting the car screen to its factory settings. It will revert all settings and configurations to their original slate.
Test with other inputs
If the car screen has multiple input sources, consider connecting different devices or sources to see if the issue lies with a specific input.
Part 6. Can I Use Car Screen to Watch a Movie in the Car
The car screen supports video playback, and the necessary audio-video connections are in place. However, the specific capabilities and compatibility of your car screen may vary. Can you use the car screen to watch a movie in the car? The answer is yes! You can use your car screen to watch a movie in the car if you convert the video to a proper format supported.
The car screen commonly supported video formats are MP4, AVI, MKV, WMV, MOV, and MPEG, which Vidmore Video Converter supports. This software converts the movie or video files to compatible formats for your car screen. Besides that, you can customize the video quality, resolution, frame rate, bitrate, and more according to your needs. On top of that, it offers the following options to upscale video resolution, optimize brightness and contrast, etc. Impressive, right?
With Vidmore Video Converter, you can now play unsupported video files on the car screen through conversion. It helps you convert your video files and upscale your video's resolution to make it clearer and more realistic on screen.
Part 7. FAQs about Car Screen
How to mirror iphone to car screen?
Ensure that your car is compatible with a wireless CarPlay feature. Tap the Voice Control button on your steering wheel. Turn your Bluetooth on your iPhone and pair it with your car. To connect successfully, head to your iPhone Settings, General, and then CarPlay choose your Car to mirror your iPhone to your Car's screen.
How to reset the car touchscreen?
Open the car's settings menu on the touch screen. You can do this by pressing the Settings or Menu buttons on the touchscreen or the car's dashboard. Head to the touchscreen settings and locate the reset or restart option. Select the reset or restart option and follow the prompts to confirm. The touchscreen should be restarted and restored to its default settings when the reset is complete.
How to connect Waze to the car screen?
One way is to use the Waze application on your phone to connect to your car's infotainment system. Go to the Settings menu on the Waze application and select the Connect to Your Car option.
How do I connect my smartphone to a car screen?
To connect your mobile device to a car screen, you can use Apple CarPlay for iPhones or Android Autio for Android devices.
How do I control a car monitor screen?
The car screen can be controlled using touchscreen gestures, physical buttons, voice commands, or controls on the steering wheel.
Conclusion
There you have it! You have learned comprehensive details about screens for a car where you can play video and audio smoothly. If you cannot play a movie because of the incompatibility issue of your file, Vidmore Video Converter is here to resolve the problem. All you need to do is to convert your video file to the supported format of the car screen, and there you go! You can now watch a movie without experiencing an issue.