What is Drone: A Deep Dive Into Everything You Need to Know
In modern technology, few innovations have captured the imagination quite like drones. These flying devices have now become accessible to individuals and industries worldwide. With their ability to soar effortlessly through the skies, drones have opened up new vistas of possibility. From their origins to their boundless potential, the story of drones is one of human ingenuity. It pushes the boundaries of what is possible and invites us to view the world from a higher perspective.
This post will provide comprehensive information about drones. It will introduce drones, types of drones, where to buy them, what they can do, how to get a license, and more. In addition, it will present details about the drone's registration, laws, and a video editor to edit drone footage. As mentioned, it will provide a program capable of editing drone videos, which you can count on to improve your drone footage's output. Are you excited to learn all of these? If yes, proceed to the following parts.

Part 1. What is a Drone
So, what is a drone? A drone is an aircraft that operates without a human pilot onboard. Operators can remotely control drones or fly autonomously according to pre-programmed instructions or real-time data. They come in various configurations and sizes, from small consumer-grade quadcopters to larger, more sophisticated military or industrial drones. It is equipped with cameras, advanced sensors, and navigation systems that allow it to perform various tasks. With the ability to navigate the skies and gather data from previously inaccessible vantage points, drones have ushered in a new era of innovation. With that, it enables us to explore, capture, document, and understand our world in ways never before imaginable.
Part 2. What Can a Drone Do
Drones are versatile devices with a broad range of capabilities and applications. Here are some of the things that drones can do:
1. Aerial Photography and Videography
Drones with cameras are commonly used for capturing impressive aerial photographs and videos for various purposes. These purposes include landscape photography, filmmaking, and real estate.
2. Agriculture
Agricultural drones monitor crops, assess plant health, and even spray fertilizers or pesticides over large fields.
3. Surveying and Mapping
Drones are used in land surveying and mapping applications to create detailed and accurate 3D models of landscapes, construction sites, and other areas.
4. Environmental Monitoring
Drones monitor and collect data on environmental conditions, such as wildlife populations and air and water quality.
5. Search and Rescue
Drones infused with thermal cameras can use as a guide in search and rescue operations by finding missing persons or identifying hazardous areas.
6. Infrastructure Inspection
Drones can inspect hard-to-reach or dangerous structures, like bridges, pipelines, and power lines, reducing the need for human inspectors to perform risky tasks.
7. Disaster Response
Drones can quickly assess disaster-stricken areas, offering real-time data to emergency responders and aiding decision-making during accidents or natural disasters.
8. Scientific Research
Drones are employed in scientific research to study ecosystems, geological features, and wildlife behavior.
9. Delivery Services
Some companies are exploring using drones to deliver goods and packages to remote or hard-to-reach locations.
10. Military and Defense
Military drones are used for surveillance, reconnaissance, and sometimes even offensive operations in combat situations.
Part 3. Types of Drones
Drones come in various types and categories, each designed for specific purposes and applications. The following are some of the types of drones:
1. Consumer Drones
Enthusiasts and hobbyists commonly use these drones for recreational purposes and aerial photography.
2. Fixed-Wing Drones
These drones resemble traditional airplanes and have fixed wings for lift. They are more efficient for covering larger distances and can stay aloft longer. In addition, it is commonly used for surveying, mapping, agriculture, and long-range surveillance.
3. Multirotor Drones
Quadcopters
Drones with four rotors, providing stability and maneuverability, are commonly used for aerial photography and recreational purposes.
Hexacopters and Octocopters
Drones with six or eight rotors can carry heavier payloads and offer redundancy in case of motor failure.
4. Underwater Drones (ROVs)
It is a submersible drone designed for underwater exploration, inspection, and research. It is used in marine biology, underwater archaeology, and oceanography.
5. Cargo Drones
It is a drone delivery designed to carry and transport cargo, from medical supplies to packages. It is commonly used for delivery services and humanitarian aid.
6. Nano Drones
Nano drones are tiny and often used for indoor or close-quarters surveillance. Besides that, it is typically used for education, research, and specialized applications.
7. Single-Rotor Helicopters
It is similar to traditional helicopters but unmanned. These drones can hover in place and have more lifting capacity than multirotor drones. It is commonly used for tasks requiring stability and lifting capability, like heavy cargo transport or search and rescue.
8. Hybrid VTOL Drones
Hybrid VTOL Drones combine the features of both multirotor and fixed-wing drones. These can take off and land vertically, like a quadcopter but transition to horizontal flight for efficiency.
9. Fixed-Wing VTOL Drones
These drones can take off and land vertically, like a multirotor but then transition to horizontal flight for longer distances. It offers a combination of vertical takeoff convenience and fixed-wing efficiency.
10. Racing Drones
It is lightweight and agile for high-speed racing through obstacle courses. It is commonly used for competitive racing events and recreational flying.
11. Solar-Powerd Drones
Drones equipped with solar panels to harvest energy from the sun and stay airborne and extended periods. It is used for tasks that require prolonged surveillance or environmental monitoring.
12. Military and Surveillance Drones
It ranges from reconnaissance drones to armed UAVs for surveillance and combat missions.
Part 4. Where to Buy
Drones are widely available for purchase from various online and offline sources. Below are the popular drone shops where to buy drones:
1. Online Retailers
Amazon
It provides a wide selection of drones from various brands and price ranges.
DJI Official Store
It is a leading drone manufacturer, and its official website often has the latest models available for purchase.
Best Buy
It is an online store with a range of consumer drones and accessories.
B&H Photo Video
B&H is known for its extensive electronics inventory, including drones.
Newegg
It specializes in electronics and often has a selection of drones for sale.
2. Specialized Drone Retailers
Numerous online retailers, such as RaceDayQuads, GetFPV, and DroneNerds, specialize in drones and related accessories.
3. Electronics And Hobby Store
Many local electronics stores and hobby shops carry drones, especially consumer-grade models.
4. Brick-and-Mortar Retailers
Major retailers like Target, Best Buy, and Walmart often have drones in their physical stores.
5. Direct Manufacturers
Some drone manufacturers sell their products directly from their official websites; one of the drone companies is DJI.
6. SecondHand Marketplaces
Platforms like Craigslist or eBay may have used drones for sale, though caution is advised when buying secondhand items.
7. Drone and RC Clubs
Local drone or remote control (RC) clubs may have members searching to sell or trade drones.
Part 5. How to Get a Drone License
You may need a drone license or certification to work a drone for commercial purposes legally. To get a drone license, proceed to the following details:
Step 1. Before applying for a drone license, ensure you meet the eligibility criteria, which typically include being at least 16 years old. You must be good at reading, speaking, writing, and more. In addition, you should be in good physical and mental condition to operate a drone safely.
To prepare for the knowledge test, you must study topics related to drone regulations, weather, airspace, flight operations, and more. Resources for studying include the Federal Aviation Administration (FAA) and other online educational materials.
Step 2. Create an account on the FAA's IACRA system and apply for the Remote Pilot Certificate. Schedule an FAA-approved Knowledge Testing Center appointment for the Part 107 knowledge test. The test contains multiple-choice questions and covers the material you studied. A passing score is commonly 70% or higher.
Step 3. When you pass the knowledge test, you can complete your application on the IACRA system. You will need to provide your test results and other required details.
Step 4. After the FAA drone registration processes your application and reviews your information, you will receive your Remote Pilot Certificate through the mail. This certificate enables you to legally operate drones for commercial purposes under the Part 107 rules.
Step 5. Your Remote Pilot Certificate is valid for two years. To maintain your certification, you must pass a recurrent knowledge test every two years. In addition, staying updated on drone regulations and best practices is crucial for safe and legal operations.
Part 6. Other Things You Should Know
1. Register Drone
In many countries, drone registration is required for specific types of drones and operations. In the U.S., the Federal Aviation Administration (FAA) mandates registration for drones used for recreational and commercial operations under the Part 107 rules.
First and foremost, determine whether your drone falls under the commercial or recreational category. Commercial drones are used for business purposes, while Recreational drones are flown for leisure and fun.
For Recreational Drones:
Step 1. Visit the FAA's drone registration website.
Step 2. Click the Fly Model Aircraft under 55 lbs Recreational Flyers to register as a recreational drone operator.
Step 3. Follow the instructions to create an account, provide your personal information, and register your drone.
Step 4. Pay the registration fee.
For Commercial Drones (Part 107):
Step 1. Go to FAA's drone registration website.
Step 2. Click the Fly UAS under Part 107 to register as a commercial drone operator.
Step 3. Create an account, provide your personal information, and complete the registration process.
Step 4. Pay the registration fee.
You will get a unique registration number when you have completed the registration process. This number must be affixed to your drone. For drones under the Part 107 rules, the registration number can be stored within the drone's software.
When registering your drone, it is necessary to fly it responsibly and follow all relevant laws and regulations. Be aware of airspace restrictions, privacy considerations, and other guidelines to ensure safe and legal drone operations.
Additionally, registration requirements and processes may differ in other countries, so research and follow the rules applicable to your location.
2. Drone Laws
Drone laws vary from location or country to country and even within different regions of a single country. These laws are implemented to ensure the safe and responsible operation of drones, protect airspace, and address privacy and security concerns. This section will present common drone laws and regulations that are often observed in various countries:
Registration and Identification
Many countries require drone operators to register their drones with the aviation authority. It often involves offering personal and drone information, receiving a registration number, and affixing it to the drone. In addition, drones may need to display the operator's contact information for identification purposes. With that, it is necessary to register drones for professional use.
Remote Pilot Certification
Commercial drone operations operators may need a remote pilot certification or license demonstrating their knowledge of aviation rules and drone operation.
Flight Restrictions
Drones are typically prohibited from flying in specific restricted airspace, such as near airports, military installations, government buildings, and other sensitive areas.
Visual Line of Sight (VLOS)
In many places, drones must be operated within the operator's visual line of sight, meaning the pilot can see the drone with unaided eyes.
Time of Day Restrictions
Some countries may restrict drone flights to daylight hours only, ensuring better safety and visibility.
Max Altitude and Distance
Drones are often subject to altitude limits to avoid interfering with manned aircraft. The maximum altitude limits may vary depending on local regulations.
Privacy and Data Protection
Operators are generally prohibited from invading people's privacy by flying over private property without permission or capturing images of individuals without their consent.
No-Fly Zones and Restricted Areas
Specific areas, including wildlife reserves, cultural heritage sites, and national parks, may have restrictions on drone flights. It is to protect the environment and public safety.
Licensing and Permits
Depending on the country and purpose of drone operation, operators may need to obtain specific licenses or permits from relevant authorities.
Emergency Services and Right of Way
Drones are required to yield the right of way to manned aircraft and emergency services in emergencies.
Please note that specific drone laws can change and vary according to local circumstances and regulations. Researching and understanding your location's drone laws and regulations is necessary before flying a drone. Stay updated on the latest guidelines and rules to ensure safe and legal drone operations.
Please note that specific drone laws can change and vary according to local circumstances and regulations. Researching and understanding your location's drone laws and regulations is necessary before flying a drone. Stay updated on the latest guidelines and rules to ensure safe and legal drone operations.
3. Drone Video Editing
Vidmore Video Converter is a versatile program that extends its capabilities beyond simple video conversion to offer powerful video editing features. With that, it makes it an ideal tool for editing drone footage. Whether you are a drone enthusiast capturing breathtaking aerial shots or a professional videographer working on drone-related projects, Vidmore Video Converter can help you enhance and refine your drone videos.
How to use Vidmore Video Converter for Drone Video Editing:
Step 1. First and foremost, visit Vidmore Video Converter's official website to download the program. Once downloaded, click the file from the lower left corner of your screen to install the program on your computer. When installed, proceed to run the program to get started.
Step 2. Hit the Add Files button on the Converter tab to import your drone videos to the program.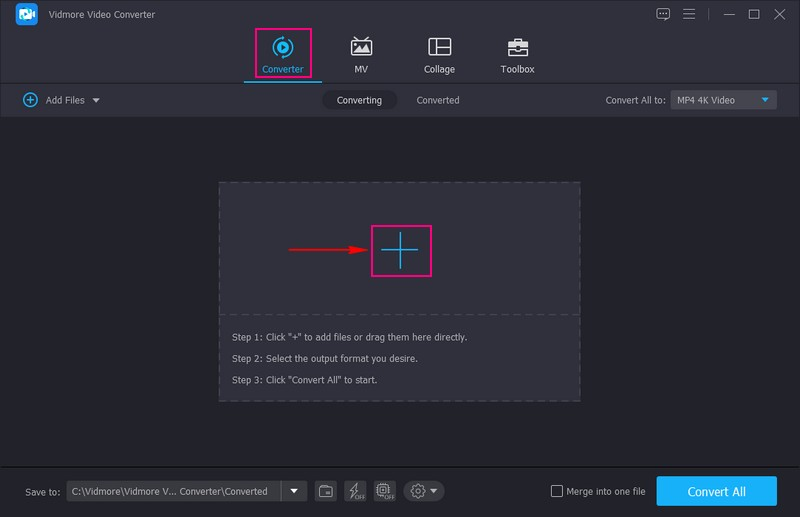 Step 3. Under your imported drone video file, click the Wand button to open the program's editing features.
On the Rotate & Crop, you can correct the presentation of your drone video. You can remove unwanted parts and rotate clockwise, counterclockwise, and more, according to your requirements. On the Effect & Filter, you can modify the basic effects and apply filters best suitable for your drone videos. You can incorporate Text and Image watermarks to put ownership on the Watermark. On the Audio, you can add music to your drone videos livelier. Lastly, on the Subtitle, you can incorporate captions needed for your videos, which you want your audience to see and read.
Click the OK button to apply and save the chances.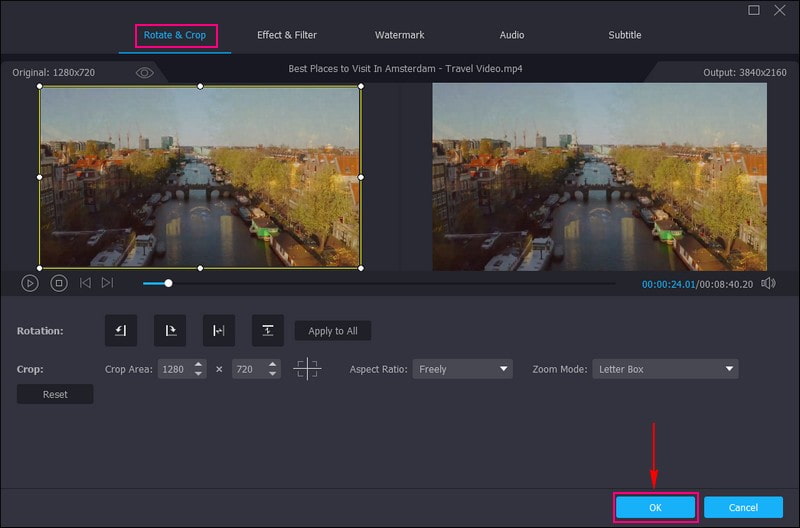 Step 4. Click the Scissors button if you want to leave out unnecessary portions on your drone videos. Besides that, you can apply Fade in and Fade out effects if you desire to. When done, click the Save button to retain the highlighted parts.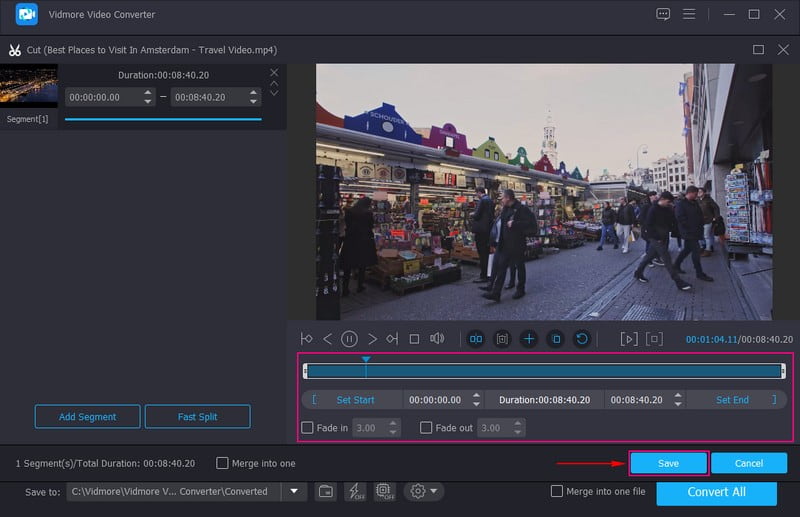 Step 5. Click the Paint button to open the following options to enhance video quality. These options are Optimize Brightness and Contrast, Upscale Resolution, Reduce Video Shaking, and Remove Video Noise. Put a checkmark beside them to enable the options. When settled, click the Save button.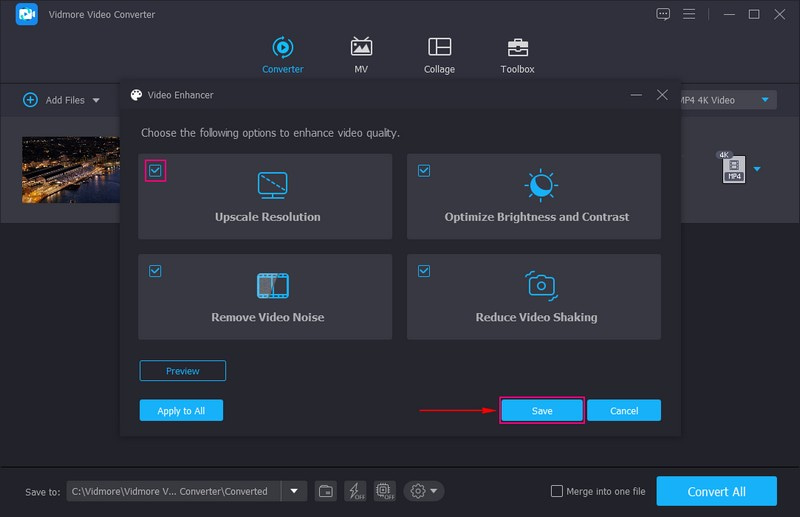 Step 6. Once satisfied with your drone video edits, press the Convert All button to begin the procedure. After that, your edited drone video output will be saved on your local file. Check it out, and enjoy watching!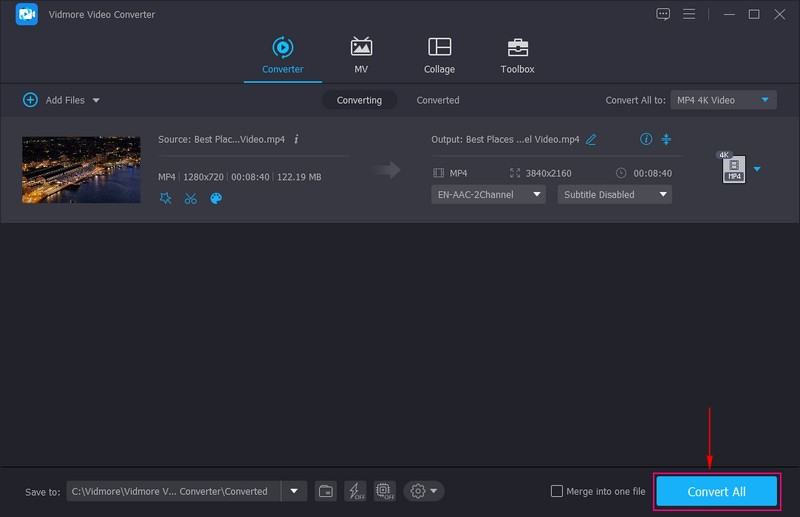 Part 7. FAQs about Drone
How much does a drone cost?
A drone's cost may differ depending on several factors, such as the type of drone, brand, features, capabilities, and more. The price range for entry-level consumer drones is $50 - $300 USD. The price range for mid-range consumer drones is $300 - $1000 USD. The price range for prosumer drones is $1000 - $3000 USD. The price range for professional and commercial drones is $3000 - $10,000+ USD. Lastly, the price range for specialized and industrial drones is $10,000 - $50,000+ USD.
When were drones invented?
The idea of drones, or unmanned aerial vehicles, dates back several decades. The development of UAV technology has evolved, with various milestones and contributions leading to the modern drones we know today.
How to become a drone pilot?
Becoming a drone pilot involves a combination of education, training, and certification, especially if you want to operate drones for commercial purposes. First, you must learn about the different types of drones, their features, and their applications. Second, you need to select your drone pilot category. Follow safety practices, fly in approved areas, and respect privacy and airspace restrictions. Third, you must get a certificate or license to use drones for commercial purposes. Once your application is approved, you will get your remote pilot certificate through the mail. After undergoing these processes, you can now become a drone pilot.
What is an FPV drone?
An FPV (First-Person View) drone that enables the pilot to experience flight from the drone's perspective in real-time. FPV drones are equipped with cameras that offer a live video feed to a display, such as goggles or a monitor, worn or helped by the pilot. This immersive experience gives the pilot the feeling of being in the drone's cockpit as if flying onboard the aircraft.
How long can a drone fly?
Flight times vary depending on the drone's battery capacity and weight. Consumer drones generally have 20-30 minutes flight times, while professional drones may have longer flight times.
What are cheap drones?
Several affordable and budget-friendly drones are available in the market. Holy Stone HS170 Predator Mini Drone, Potensic A20 Mini Drone, and JJRC H36 Mini Drone are some cheap drones.
Conclusion
Drones have transformed the way we see and interact with the world. It offers a new perspective on everything from breathtaking landscapes to intricate details. From their humble beginnings as military tools, drones with cameras have evolved into versatile and accessible devices. Whether capturing stunning aerial imagery or providing hours of recreational enjoyment, drones have become a symbol of exploration and innovation.
As technology advances, the possibilities for drones are limitless. However, with this exciting potential comes the responsibility to use drones ethically, safely, and harmoniously with the environment and society. By adhering to regulations and practicing responsible flying, we can ensure that these flying devices continue to soar to new heights.
We highly recommend Vidmore Video Converter as the leading program to edit your drone videos. It offers various built-in features and editing functionalities beneficial for enhancing drone footage. You can unleash your creativity or artistry to edit your drone videos using this program. Indeed, Vidmore Video Converter can help you level up your project to something you desire to have.