Unveiling the Best Drones for Video for Captivating Video Footage
In aerial videography, finding the best drone for video is necessary to capture breathtaking footage that leaves a lasting impression on audiences. The perfect drone for video should combine advanced camera capabilities, stability, ease of use, and versatility. It allows filmmakers and content creators to unleash their creativity from the skies.
This post will present the best video drones, their video recording capabilities, and some key points when choosing drones. In addition, it will provide a program that best match drone. Without further discussion, check out the following details.

Part 1. Best Video Drones in 2023
Drones with different characters refer to drones with unique features, capabilities, and use cases that set them apart. Each drone may have specific strengths and weaknesses, making them suitable for specific tasks or users with verifying desires and preferences. These characteristics could include camera quality, size, flight performance, portability, obstacle avoidance, battery life, etc.
The following are the leading five drones with different characters and related information about their differences in video recording capabilities.
1. DJI Phantom 4 Pro V2.0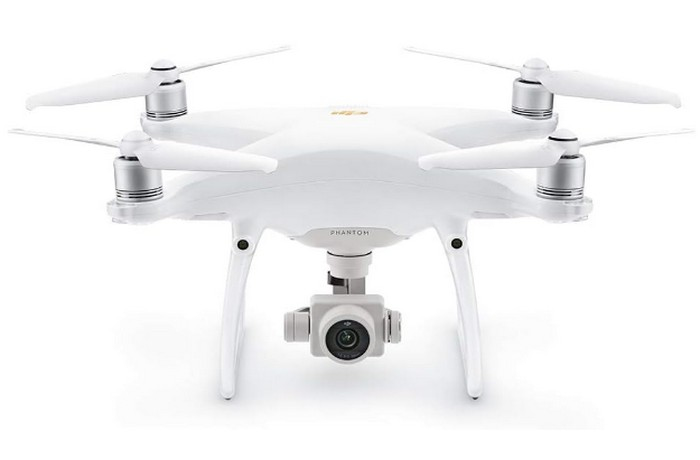 The DJI Phantom 4 Pro V2.0 was an upgraded version of the original Phantom 4 Pro, providing numerous improvements and enhancements. The drone features a dependable and stable flight system with several flight modes and intelligent functions. It is infused with a 1-inch 20-megapixel CMOS sensor, capable of capturing high-resolution still images. Its 4K camera drone can capture 4K video at up to 60 frames per second. In addition, it offers H.265 video compression, resulting in higher image quality at lower bitrates. The drone's 3-axis gimbal ensures smooth and stable footage.
2. Autel Robotics EVO II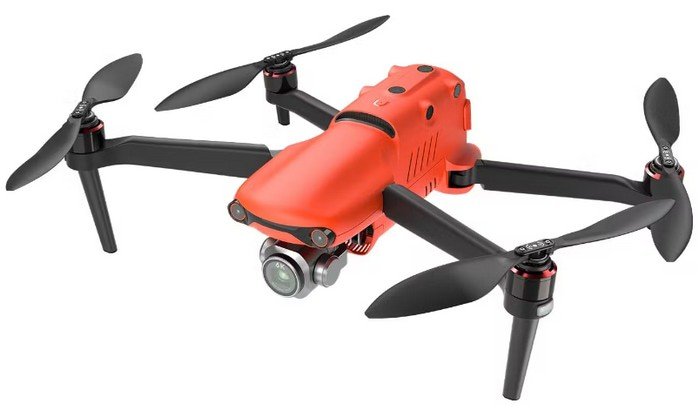 The Autel Robotics EVO II stood out for its spectacular specifications and capabilities. It makes it an attractive option for professional aerial photographers and enthusiasts alike. One of the standout features of the EVO II is its modular camera system, enabling users to select from various camera options to suit their specific needs and preferences. The EVO II boats an impressive 6K camera with a 1-inch sensor. With that, it enables it to record 6K video at 30 or 4K at up to 60 frames per second.
3. Parrot Anafi USA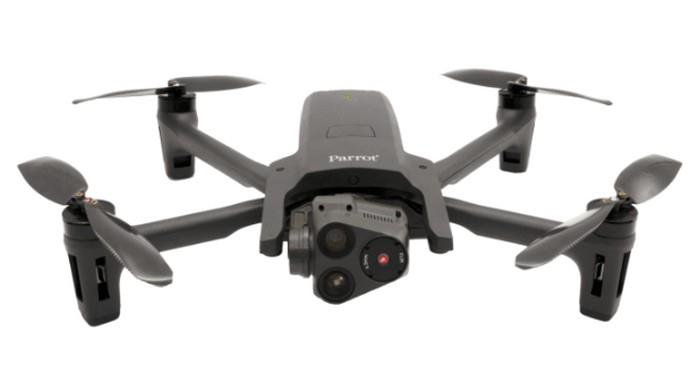 If you are looking for a drone with a thermal camera designed specifically for professional use, you can rely on Parrot Anafi USA. The Anafi USA has a high-resolution camera featuring an impressive 32x zoom capability. It enables users to capture detailed and realistic imagery from a considerable distance. It makes it ideal for applications such as surveillance, inspection, and search and rescue operations. This drone supported 4K Ultra High Definition video recording with High Dynamic Range (HDR) capabilities. The HDR allows the camera to capture a broader range of colors and tones, producing more vibrant and visually appealing footage.
4. Skydio 2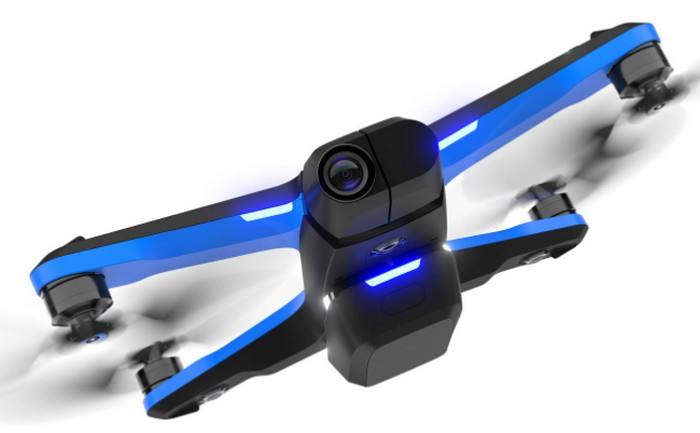 If you prefer a drone that stands out for its remarkable obstacle avoidance and tracking capabilities, it is Skydio 2. It is one of the best drones for beginners and an excellent choice for capturing dynamic and action-packed shots with minimal pilot intervention. It used an array of high-resolution cameras and sophisticated Al-powered algorithms to avoid and detect real-time obstacles during flight. It allows the drone to navigate complex environments with high autonomy, decreasing the likelihood of collisions and crashes. The drone has a 12-megapixel 4K camera capable of recording high-quality video at up to 60 frames per second. Besides that, it supports High Dynamic Range (HDR) imaging, resulting in enhanced color and contrast in the captured footage.
5. DJI Mavic 2 Pro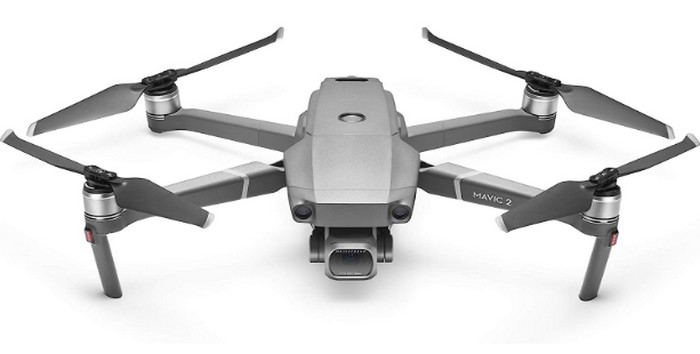 One of the most advanced consumer-grade drones designed for aerial photography and videography enthusiasts is DJI Mavic 2 Pro. The standout feature of the Mavic 2 Pro is its Hasselblad-branded camera. This drone is one of the fast drones with a 1-inch CMOS sensor with a 20-megapixel resolution, co-engineered by DJI and Hasselblad. This collaboration resulted in a high-quality camera capable of capturing extraordinary still images and 4K video at up to 30 frames per second.
Part 2. How to Choose the Best Drone for You?
Choosing the best drone for you involves considering various factors to match your specific needs and preference that fits your budget. Below are some key points to consider when choosing a drone:
Price - So, how much is a drone? Drones come in a broad price range, from affordable entry-level models to high-end professional drones. Determine how much you will spend on a drone and set a budget aligning with your required features and capabilities.
Battery Life - Consider the flight time provided by the drone's battery. Longer flight times are generally better, enabling you to spend more time in the air and capture more footage.
Portability and Size - Evaluate how portable you need the drone to be. If you plan to travel frequently or carry the drone on outdoor adventures, look for compact designs that are easy to transport.
Camera Quality - If aerial photography or videography, search for drones with good camera quality, preferably 4K drones or higher. A higher resolution allows for more detailed and cinematic footage.
Flight Range - Consider the drone's maximum flight range, which indicates how far it can fly away from the remote controller. A more extended flight range enables more versatile exploration and shots.
Brand Reputation - Select drones from reputable brands known for their reliability, after-sales service, and customer support. Established brands often offer firmware updates and continuous enhancements to their products.
Built Quality - Check the build quality and materials used in the drone's construction. A durable and robust drone can withstand harsh weather conditions and minor accidents.
Part 3. Best Match for Drone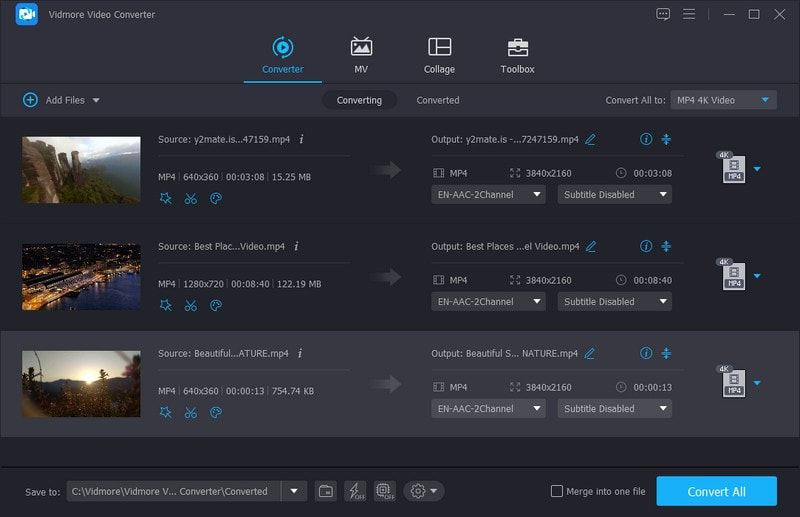 The best match for a drone would be a video converter that can handle the high-resolution video footage captured by the drone's camera. An ideal video converter for a video drone should support numerous video formats, handle 4K and higher resolutions, offer efficient video compression, and provide editing and enhancement tools. One such video converter that meets the mentioned qualifications is Vidmore Video Converter.
Vidmore Video Converter is a powerful video conversion software that handles various video formats and resolutions. It is an excellent choice for drone enthusiasts, filmmakers, and anyone working with high-quality video footage. Here are some key features of Vidmore Video Converter:
Format Support
Vidmore Video Converter supports several video formats, including popular ones like MP4, MOV, AVI, MKV, and more. It can also handle high-resolution formats, such as 4K and even 8K, making it suitable for drone footage captures in ultra-high definition quality.
Fast Conversion Speed
The program utilizes advanced hardware acceleration technology to ensure efficient and fast video conversion without compromising quality. This feature is particularly beneficial when working with large drone video files.
Batch Conversion
For efficiency, Vidmore Video Converter supports batch compression, allowing users to process multiple drone video files simultaneously. This feature saves time, especially when dealing with a large volume of footage.
Video Enhancement
Vidmore Video Converter provides a video enhancement feature. It allows users to upscale resolution, optimize brightness and contrast, and remove video noise to improve the overall visual quality.
Video Editing
This program contains essential video editing tools beneficial for editing drone footage. It enables users to crop, trim, add watermarks, apply effects and filters, and perform other adjustments to their drone footage. It enables users to customize and enhance their videos before sharing or further editing.
Compression and Size Adjustment
This software allows users to compress large video files to decrease size without significantly losing quality. It helps optimize drone videos for online sharing or storage.
Part 4. FAQs about Best Video Drones
How to make money with a drone?
Making money with a drone can be rewarding, and there are various ways to monetize your drone skills and equipment. Here are some potential ways to make money with a drone: aerial photography and videography, surveying and mapping, inspection services, search and rescue operations, and more.
What is an FPV drone?
FPV (First-Person View) drone is a remote-controlled drone that offers a real-time, immersive view of the drone's flight through a video feed. It is widely prevalent among drone racing enthusiasts and experienced pilots looking for an immersive flying experience.
What is a headless mode on a drone?
Headless mode, also known as Car-Free mode or Orientation-Lock mode, is a feature commonly found in consumer-grade drones. Headless mode can be helpful for beginner pilots who find it challenging to keep track of the drone's orientation during flight. It simplifies the controls and lets beginners focus on flying without worrying about the drone's rear or front orientation.
What are drones used for?
Drones, or Unmanned Aerial Vehicles (UAVs), can be used for aerial photography and videography, environmental monitoring, surveying and mapping, search and rescue, etc.
Do I need a license to fly a drone?
The requirement for a drone license depends on your country and the specific regulations in place. Some countries have specific rules governing the operation of drones, including requirements for licensing and registrations.
Which is the best drone for long distances?
One of the best drones for long distances is the DJI Mavic 2 Pro. It provides a dependable and extended range, making it suitable for flying long distances while maintaining a stable connection with the remote controller.
Conclusion
Whether you are a professional filmmaker, a hobbyist photographer, or someone seeking thrilling aerial adventures, video drones have become indispensable tools in the visual storytelling journey. These versatile flying cameras provide a unique perspective, capturing impressive vistas, action-packed scenes, and moments previously inaccessible. For instance, if you want to convert, upscale the video quality, and edit your captured footage, consider using Vidmore Video Converter. This program has what it takes to customize and level your captured footage!