From Drone Video to MP4: A Guide to Convert Stunning Aerial Videos
Drone videos are a captivating way to record stunning aerial footage and immerse in breathtaking landscapes. However, converting these videos to the popular MP4 is crucial to make them editable and shareable. By converting drone videos to MP4, videographers, content creators, or enthusiasts can ensure seamless playback on various devices and compatibility. This article will teach you how to convert drone videos to another format, specifically MP4. Please read the following parts to learn how to convert drone video to MP4.

Part 1. What Is the Default Format of Videos Recorded by Drone
The default format of videos most consumer drones recorded was MOV or MP4. To further explain, MOV is a video file commonly used for drone videos. It is a container file that can hold video, audio, and other media in a single file. In addition, MP4 is a widely used video container format that offers good quality while keeping file sizes manageable.
Drone manufacturers often enable users to customize the video settings, such as bit rate, resolution, and frame rate. These parameters can affect the final video quality and file size. By accessing the drone's settings or control application, users can find the available video format options and pick the one that best suits their preferences.
Part 2. How to Convert Drone Video to MP4 (Take DJI as an Example)
DJI is a renowned brand in the drone industry, known for producing high-quality consumer and professional-grade drones. One of the key features of DJI drones is their ability to capture stunning aerial footage. In addition, they often record videos in popular formats, like MOV.
So, what if you want to convert the format of a drone video to another format, like MP4? Is it possible? To answer your question, yes, it is, and this section will present that. To convert drone video MOV to MP4 format, follow the steps below.
Way 1. Vidmore Video Converter
If you prefer to convert drone footage to another video format without an internet connection, you can count on Vidmore Video Converter. This software is available for Mac and Windows operating systems. Whether you are a professional videographer, content creator, or someone who needs to convert videos for personal use, Vidmore Video Converter provides a straightforward solution to meet your needs. It supports various video formats, enabling you to convert drone video files to popular formats, like MP4. In addition, it ensures high-quality output during the conversion procedure, preserving the original video as much as possible.
Below are the steps on how to convert drone video to Vidmore Video Converter:
Step 1. Go to Vidmore Video Converter's official website to download and install the program on your computer. After installation, proceed to run the program to get started.
Step 2. Click the (+) button from the Converter tab to import your drone video. Look at the video file on your desktop and click Open to add it to the conversion list.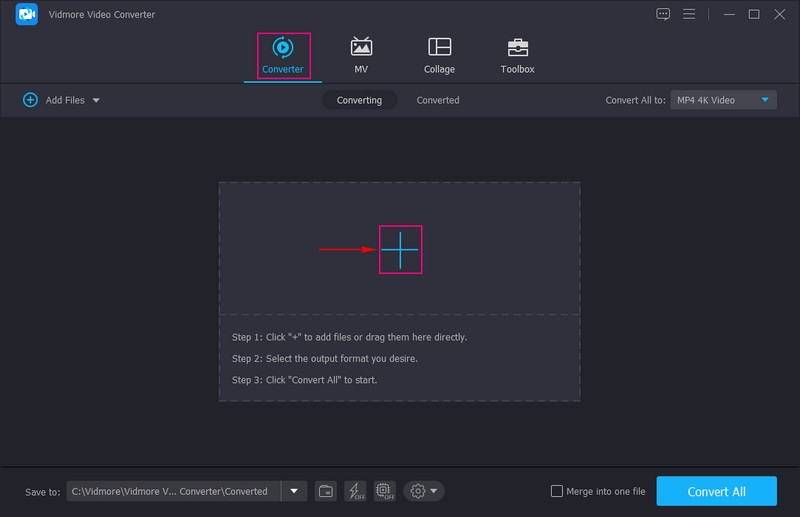 Step 3. Head to the Profile drop-down menu and select MP4 as the output format from the left corner of the newly opened window. This program provides various MP4 presets with different resolutions and quality settings. You can pick the one that best suits your requirements.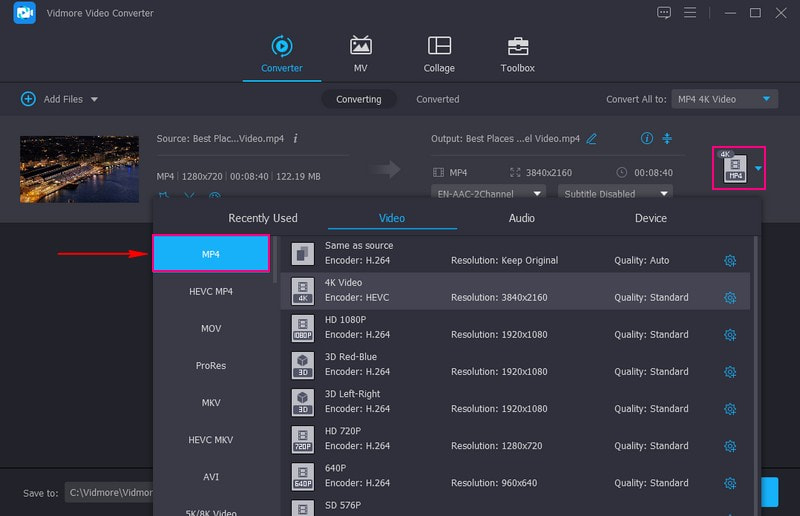 Step 4. If you wish to adjust the video before converting, click the Wand button. You can do basic editing features like cropping, rotating, embedding watermarks, applying filters, and modifying video effects. When settled, press the OK button to apply the changes.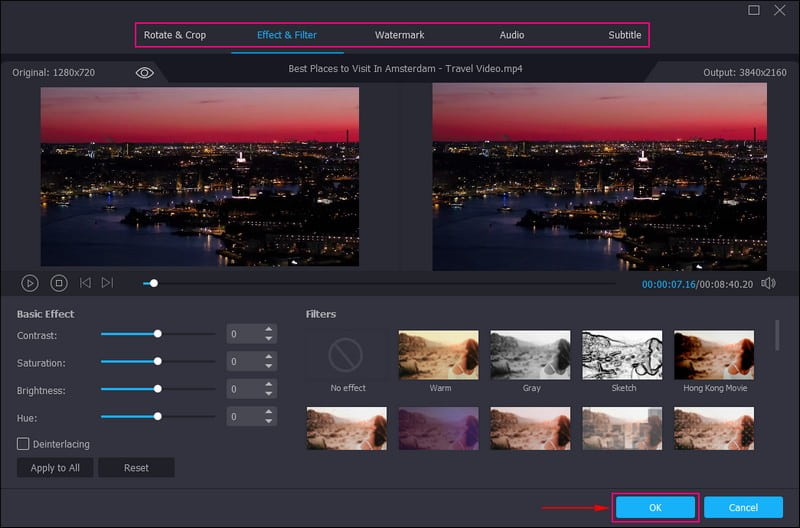 Step 5. When you have set everything up, press the Convert All button to initiate the conversion procedure. This program will convert your drone video to MP4 according to your settings.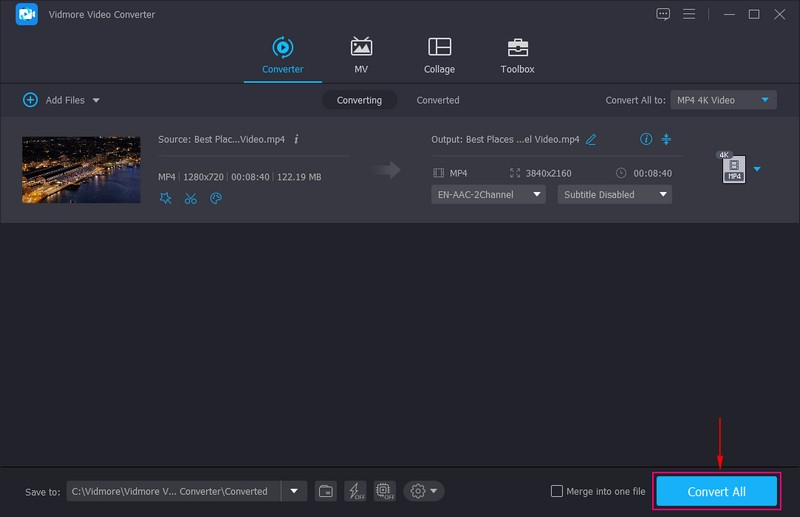 Way 2. Vidmore Free Video Converter Online
If you are the type of user who prefers to do your task online, consider using Vidmore Free Video Converter Online. This web-based converter is free and can be used in all modern browsers. Its easy-to-use interface makes it easy to convert video format to another format. It can help you convert your drone video to another format, like MP4, without losing quality. Besides that, you can modify the video settings according to your needs or preferences. This video converter offers a free and quick way to convert and customize your drone video.
Without further ado, follow the steps below to learn how to convert DJI video to MP4 online:
Step 1. Visit Vidmore Free Video Converter Online's official website using your browser.
Step 2. Hit the Add Files to Convert button, and it will require you to download and install Vidmore Launcher to continue. Once installed, proceed to add the drone video file to the converter.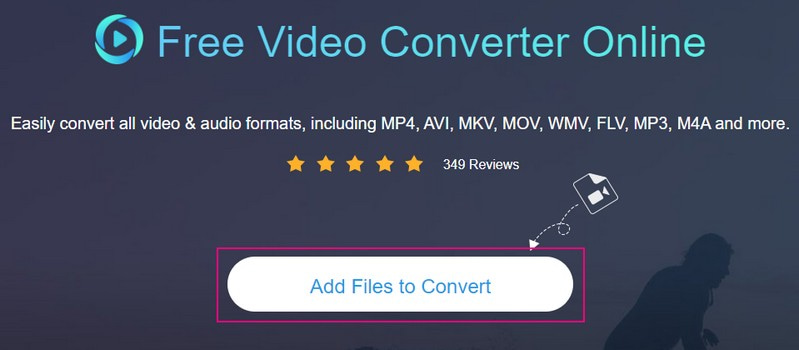 Step 3. A window display will appear on your screen, presenting the video formats on the lower part. Head to the format section and select MP4 from the list. Optionally, you can modify the Video Settings by clicking the Cogwheel button beside your imported file. You can modify the video codec, bitrate, resolution, frame rate, and more here.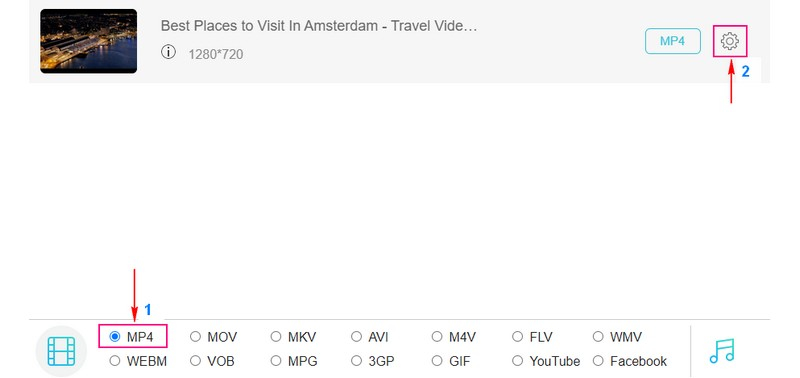 Step 4. Once settled, hit the Convert button to initiate the conversion process. After that, your drone video will be converted to MP4.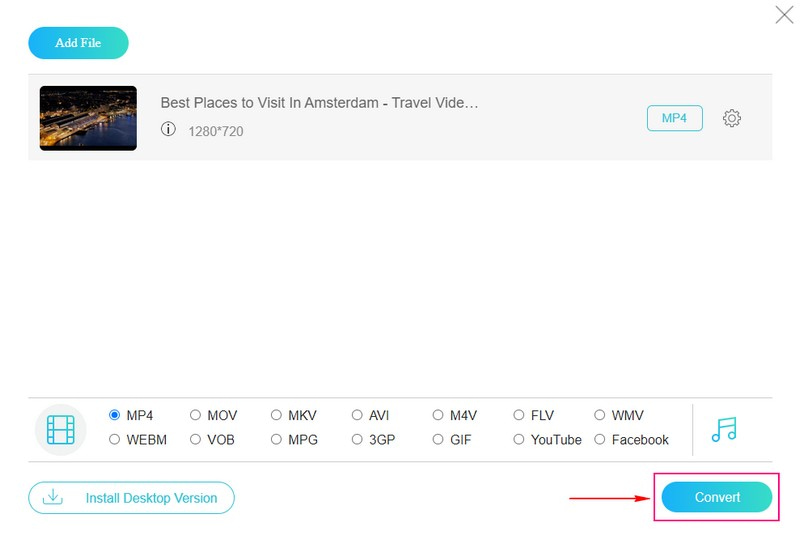 Part 3. FAQs about Converting Drone Video to MP4
What do people use to edit drone footage?
People use several video editing software to edit drone footage, like Vidmore Video Converter, Adobe Premiere Pro, Final Cut Pro, iMovie, and more.
How do I transfer a DJI video to my computer?
Use a USB-C cable to connect your drone directly to the desktop. Alternatively, you can remove the SD card and use an SD card reader to transfer the video file to your desktop.
How can I put drone videos on my iPhone?
You can upload your drone videos to a cloud storage service from your computer. Install your iPhone's corresponding cloud storage application, like iCloud Drive, Google Drive, or Dropbox. Sign in to the application with the same account for uploading the videos. After that, locate the drone videos in the application and download them to your iPhone for offline access.
How long does it take to convert a drone video to MP4?
Using Vidmore Video Converter will only take a few seconds to convert your drone video because it uses hardware acceleration and optimization techniques.
Can I convert multiple drone videos to MP4 at once?
Indeed! Many video converters, like Vidmore Video Converter, allow you to convert multiple drone videos to MP4 simultaneously, saving time and effort.
Conclusion
Converting drones from MOV to MP4 format offers a versatile and widely compatible solution for editing and sharing. It provides seamless playback and easy editing, allowing you to unleash your creativity and share captivating aerial moments. To efficiently convert drone videos to MP4, we highly recommend Vidmore Video Converter. It allows you to convert your drone videos quickly and hassle-free! Besides that, you can also use Vidmore Free Video Converter Online if you prefer to convert your files online.